Venison Shank and Barley Soup
It's chilly this morning at our house, with spitting snow and a wind chill hovering awfully close to single digits. Our first taste of real cold in what has been an extremely mild winter so far. Days like this put me in the mood for a rich and hearty soup.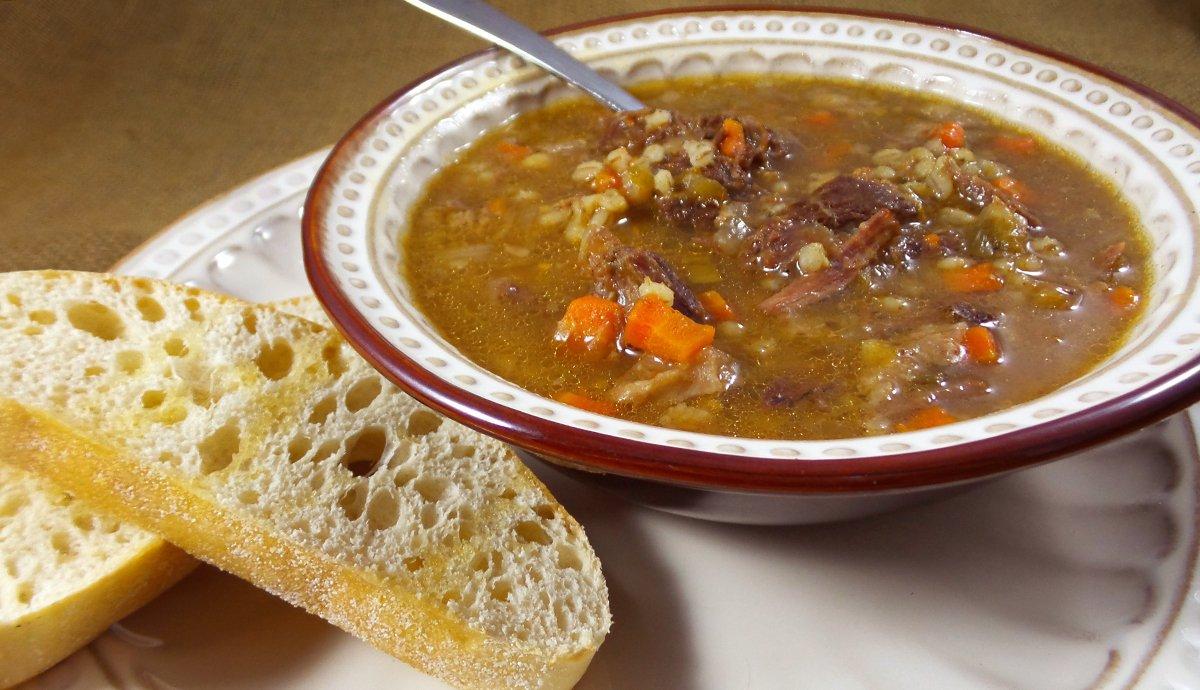 Since the shanks are mostly bone, it takes several pounds, say four or five, for the recipe. The cut needs a long, slow-cooking process to make them tender and a Dutch oven is just the ticket. Start the dish on the stovetop by browning the seasoned shanks in hot oil, then pour in the beef broth, cover the pot tightly with a lid, and move the Dutch oven to the oven at 300 degrees for a long braise.
Once the meat is tender enough to fall from the bone, move back to the stovetop to finish the soup.
Ingredients
4-5 pounds venison shanks
Salt and pepper
1 onion, diced
2 cups leeks, chopped
2 whole carrots, sliced and chopped
1 stalk celery, chopped
2 cloves garlic, minced
2 sprigs fresh thyme
3 bay leaves
1 quart beef broth
1.5 quarts water
1 tablespoon Worcestershire sauce
1.5 cups barley
4.5 cups water
Cooking Instructions
Start by pouring a tablespoon or two of oil into the bottom of your Dutch oven on a medium-high stovetop. While the oil heats, season the shanks well with salt and pepper. Brown the shanks, a small batch at a time to avoid overcrowding the pan, on all sides. Add additional oil to the pan between batches if needed. Once each batch has browned, move it to a platter and start the next. After you have browned all of the venison, add the vegetables to the pot. Season with salt and pepper and stir till the vegetables begin to soften and brown along the edges, about 10 minutes.
Add the shanks back to the pot and pour over the beef broth. Add the thyme and bay leaves, cover tightly, and place the pot into a 300-degree oven for three to four hours.
With 30 minutes of cooking time to go, heat 4.5 cups of water to a boil in a large saucepan. Add the barley and simmer, uncovered, for 30 minutes. Drain and set aside.
Once the soup has finished braising, remove it from the oven and take the shanks out of the pot to cool. The meat should pull from the bone easily by this point. Return all of the meat to the pot and resume the heat on the stove top. Add the cooked barley. Pour in enough water for a thick soup/stew consistency. Add the Worcestershire sauce and check for seasoning then add more salt and pepper if needed. Simmer the soup for an additional 30 minutes. Remove the thyme and bay leaves before serving.