Venison Shawarma and Tomato Salad Pita Pocket
If you like Mediterranean-style food, this venison shawarma sandwich is for you. Featuring warm pita bread pockets loaded with tender marinated grilled venison, pickles, onions, tomatoes, and crumbled feta cheese, this sandwich is an explosion of flavor perfect for a warm spring or summer evening.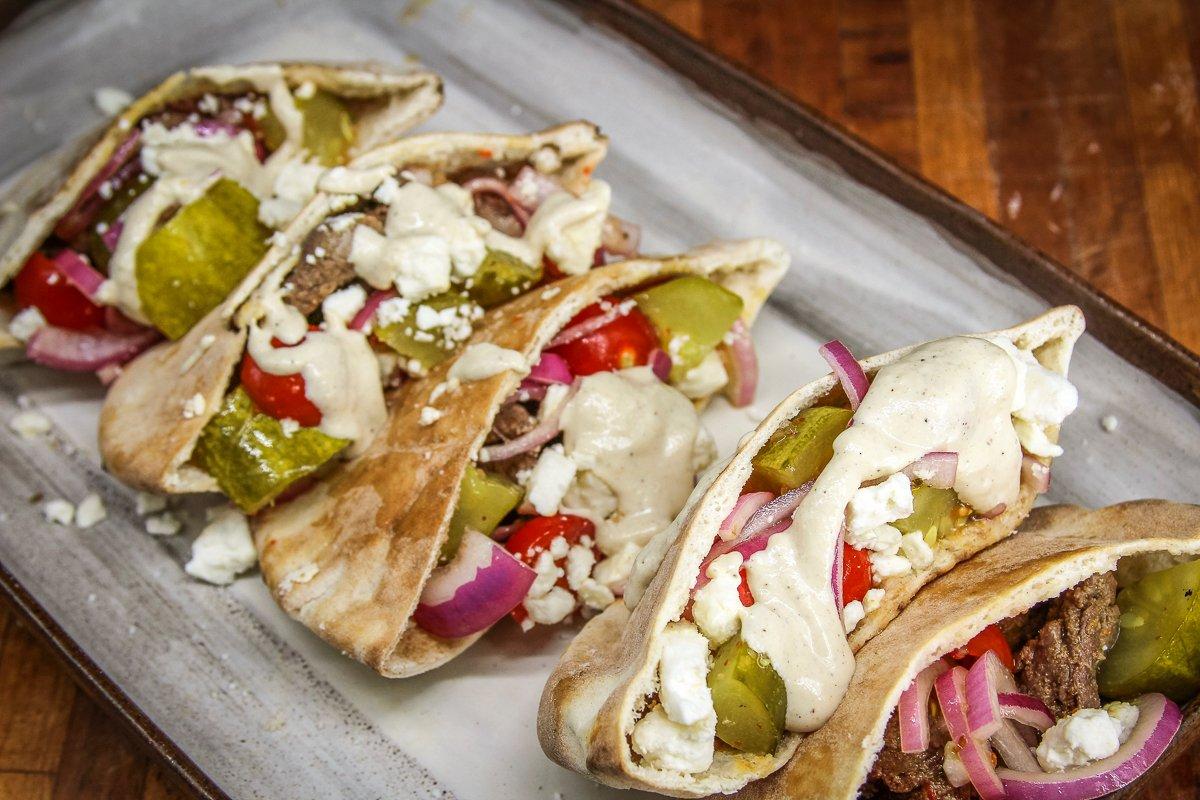 While shawarma is traditionally roasted on a vertical spit, we cook ours on our Traeger Grill to add a bit of wood-fired flavor. Since the venison is sliced into thin strips then marinated, you get all of the flavor of traditional spit-roasted shawarma without needing a vertical spit.
To get uniform thin slices of venison, use a sharp knife and slice the meat against the grain while it is still partially frozen. To make the task even easier, use your Weston Realtree Meat Slicer set for about 1/8-inch thickness.
Ingredients
Roast and Marinade
2-pound venison roast, thinly sliced
1/2 red onion, sliced
1/4 cup white wine vinegar
Juice and zest from 1 lime
2 teaspoons ground cumin
1 teaspoon ground coriander
1 teaspoon smoked paprika
1/2 teaspoon cayenne pepper
1/2 teaspoon ground turmeric
1/2 teaspoon ground cinnamon
Tomato and Pickle Salad Topping
2 cups ripe tomato cut in 1-inch pieces, or 2 cups cherry tomatoes, halved
One 16-ounce jar dill pickle spears
1/2 red onion, thinly sliced
2 cups zesty Italian dressing of choice
To Assemble
4 pita bread rounds, cut in half to make pockets
8 ounces feta cheese, crumbled
Tahini sauce (from the store or homemade)
Cooking Instructions
At least 8 and up to 24 hours before you want to eat, make the tomato pickle salad. Cut the tomatoes into roughly 1-inch pieces or halve cherry tomatoes. Slice the dill pickle spears into similar-sized pieces. Place both in a glass or plastic bowl, then add 1/2 of a thinly sliced red onion and 2 cups of your favorite zesty Italian dressing. Toss well. Cover and refrigerate.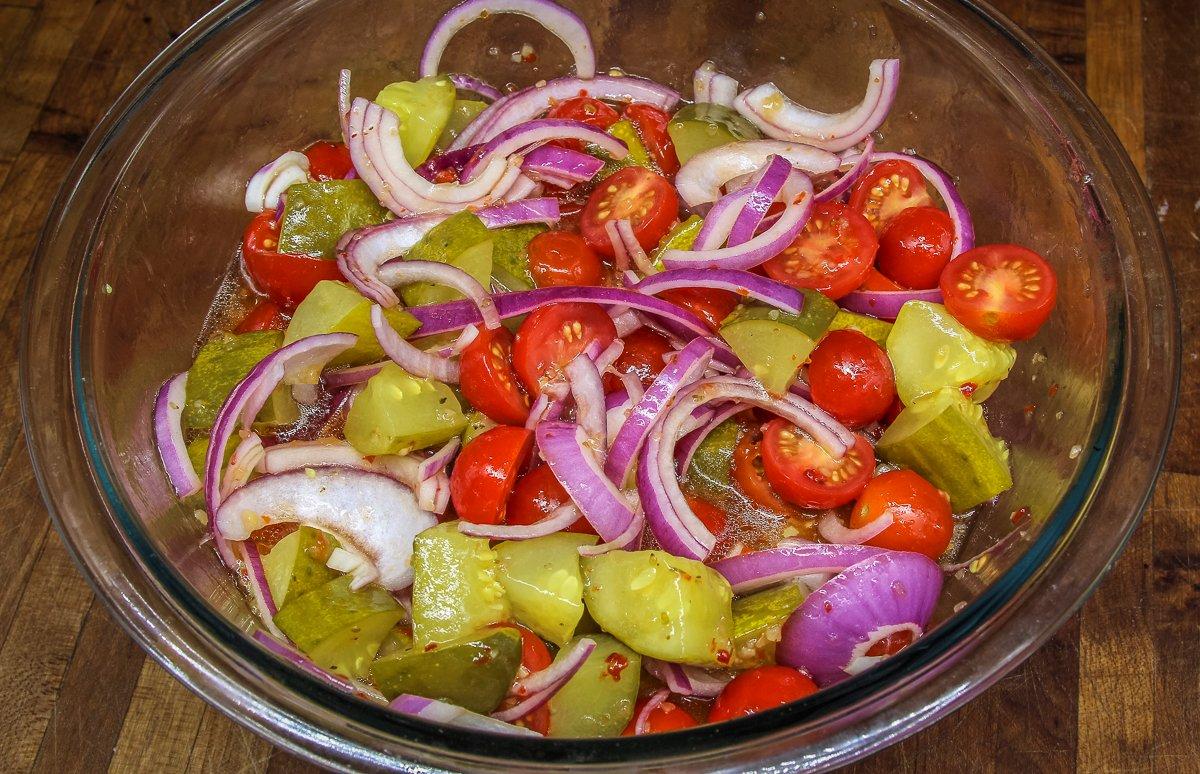 Place the meat in a bowl, along with the remaining half of the sliced red onion. Mix the marinade ingredients: the vinegar, lime juice and zest, and spices. Pour over venison, stir well, cover, then refrigerate for 4 to 8 hours.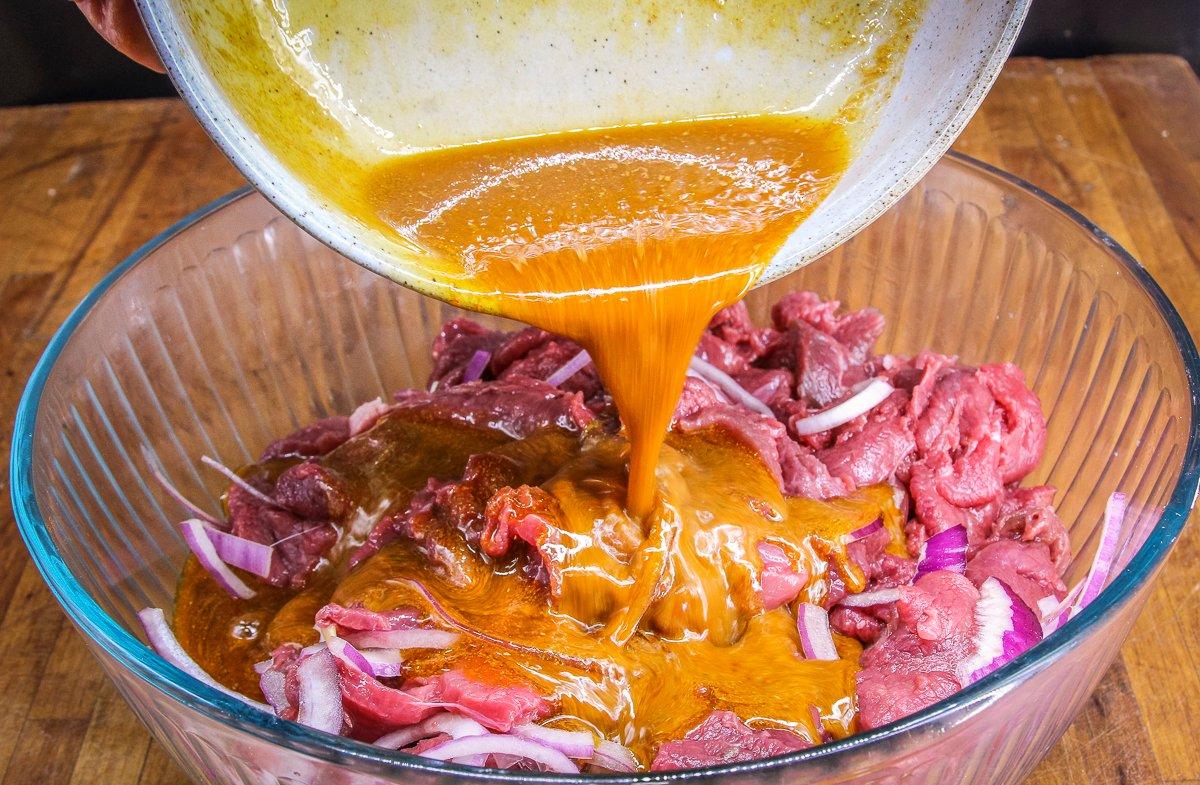 Place a large disposable aluminum pan on your Traeger Grill at 325 degrees. Drain most of the marinade from the meat, then spread the venison and sliced onion evenly in the pan. Grill, tossing the slices every few minutes. Grill for 20 to 25 minutes, stirring occasionally, or until the venison is just cooked through but not overcooked.
Remove the meat from the grill. Assemble the sandwich by slicing the pita bread rounds in half to form pockets. Warm the bread in the oven. Partially fill the pocket with the grilled venison and onion mixture. Top with the tomato and pickle salad and a sprinkle of feta cheese. Drizzle with tahini sauce and serve.