It's time to break in that fresh pair . . .
As the saying goes, Never wear new boots on your season's first hunting trip. You don't want to break them in as you hunt. Conditioning—both for you and your boots—should go on well before the season starts.
Like now.
In the good old days of the previous century, leather (and rubber) boots were the main option. Advice then included quick-shot solutions for your leather pair: Get 'em wet, inside and out, and walk—a lot. You did this daily because the older hunters you knew said it worked. Eventually the boot leather gave up and went soft as a comfortable baseball glove. Walking around in damp boots isn't all that much fun, but it worked back then; still does.
Of course leather boots are still around, including this classic from L.L. Bean. These days though the boot options are superior to anything we ever imagined back then. Some even feel pretty comfortable the first time you wear them, depending on how much you walk the woods. Best to still try them out before the season just to be sure. Models and styles vary . . .
NEW IRISH SETTER BOOTS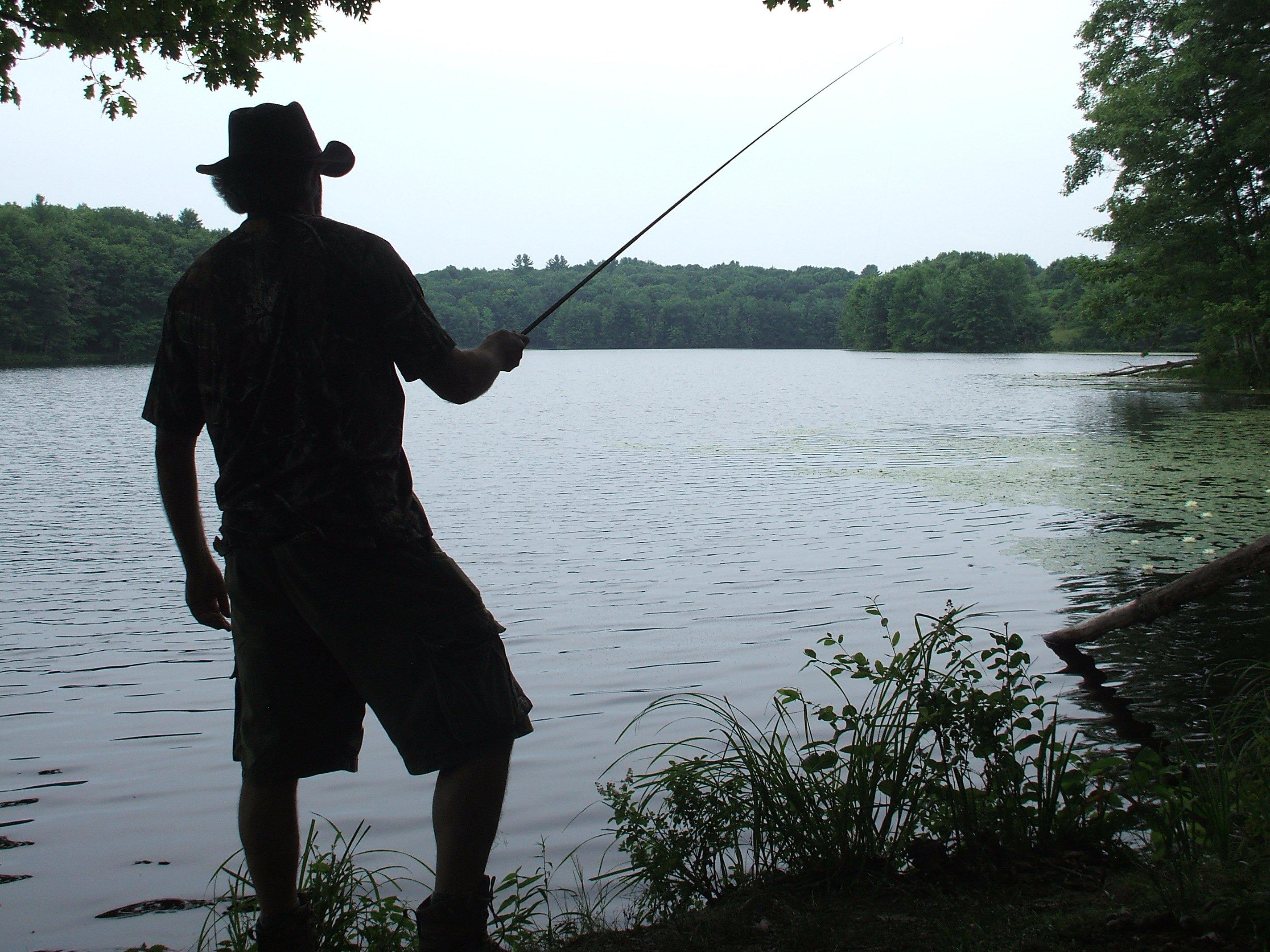 Like the rest of you, I'm looking forward to fall. Right now though, I'm fishing and in my case, scouting turkey flocks. And while I'm fly casting and scouting, I'm breaking in several pairs of new boots. But not at the same time. Uh, you get the idea.
One is the Irish Setter ®VaprTrek 8-inch non-insulated boot with Realtree Xtra® camouflage (MSRP: $149.99).
The spin on this model is that it's 40% lighter than traditional big game boots; this goes for their mens, womens and lightweight snake boot options (on this, more shortly). The insulated version, available as of July 2014, offers 400 grams of PrimaLoft® insulation in Realtree Xtra® camouflage (MSRP: $159.99).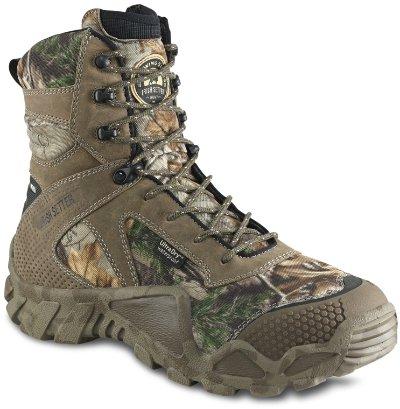 The first thing you notice with these new Irish Setter boots, and some others on the market, are the serious, aggressive soles. Traction and balance are surely factors when you wade mucky swamps, shallow creeks and steep ridges. True to marketing claims, what this boot offers is a sleek, athletic feel. You could probably play Thanksgiving Day touch football in them. My pair were comfortable as soon as I put them on and every day since. And so far the waterproofing claim has held up; including occasional panfish slime as part of the break-in.
Though I haven't field-tested them, Irish Setter's 17-inch, non-insulated, lace-up snake boot with Realtree Xtra® Green camouflage (MSRP: $209.99) is something you might consider for this coming 2015 spring turkey season, especially if you hunt rattler-happy states like Texas and others.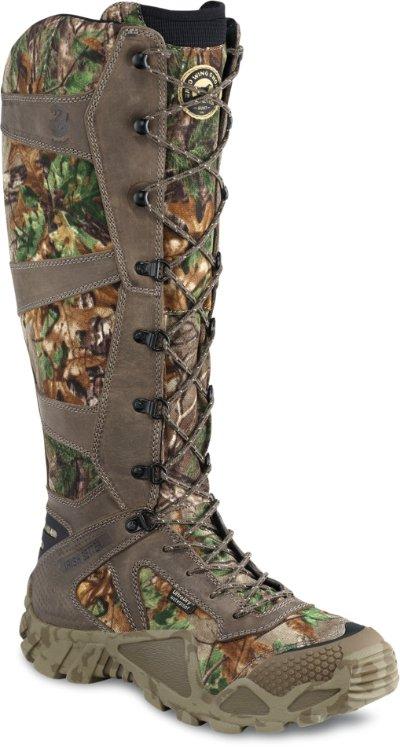 Want another serious Irish Setter boot to consider? That would be the Deer Tracker 7-inch, non-insulated (MSRP: $169.99) or 10-inch insulated (MSRP: $194.99) lace-up boot with Realtree Xtra®. Where their ®VaprTrek has a lighter feel, and is probably better for your hardcore running-and-gunning, this option is one you'd want hunting with rough stuff underfoot—but yeah, even blind sitting too. As you can see from the photo, this boot isn't messing around.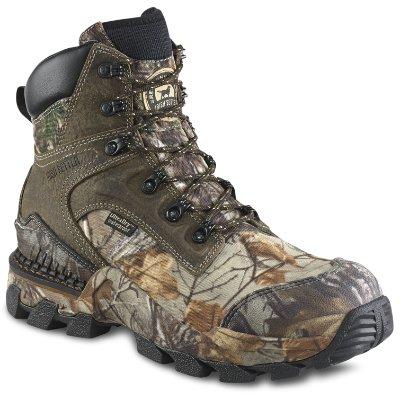 Irish Setter has many other boot styles, too.
OTHER OPTIONS AND FAVORITES
I have a cap on my old pickup truck because, like you, my bed is full of gear. This includes boot options, from some of the styles we're talking about here to patched rubber hipboots and chest waders. (Sometimes turkeys are on the other side of a steam.) Want more?
Go here for Bass Pro Shops hunting boots.
And of course there's Danner and the new Pronghorn, their self-proclaimed "most iconic boot."
Plus LaCrosse, Rocky, Wolverine, and others I've no doubt overlooked, with apologies. (If I missed one of your favorites, please let me know in the comments section below.)
Over the last several seasons I've hunted turkeys around the country wearing some of these other boots. UnderArmour's site currently offers 53 cool options. My personal experience is with their ever-evolving Speed Freak series (this past spring, it was their "Chaos" option), which has morphed somewhat into the UA Brow Tine Hunting Boot.
So many boots; so little time. I know, you've only two feet. Me, too.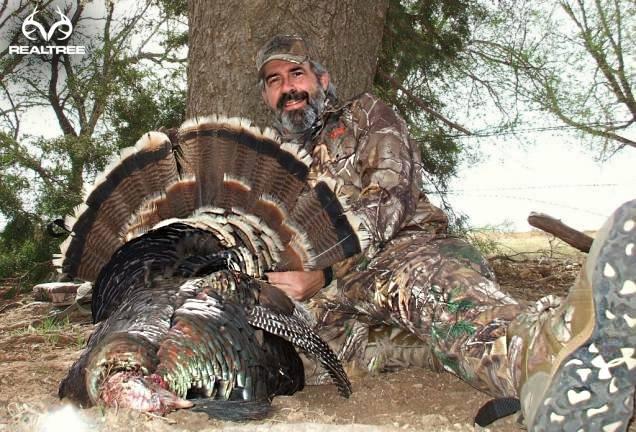 Steve Hickoff, grinning here with his fat spring 2014 Oklahoma longbeard and size 13 UnderArmour boot soles, is Realtree's turkey hunting editor and blogger.