Top stops and first-hand advice for one of turkey hunting's greatest challenges
Spanish moss draping down from high branches. White sand trails. Steaming swamps as day breaks, with overhead roost cover. Hardwood hammocks. Cypress holes full of gators. Piney woods, creek bottoms, and foggy pastureland flanking wooded areas of habitat. And you had better bring a good flashlight for when you're done roosting birds. In some ways, everything looks the same.
A guy can get lost down here without due care, eagerly hurrying to a distant gobble while simultaneously scanning the ground for snakes underfoot — and I have a time or two. Truth is though, Florida is a wonderful place to spring turkey hunt. If you've yet to try it, you need to, and maybe this season.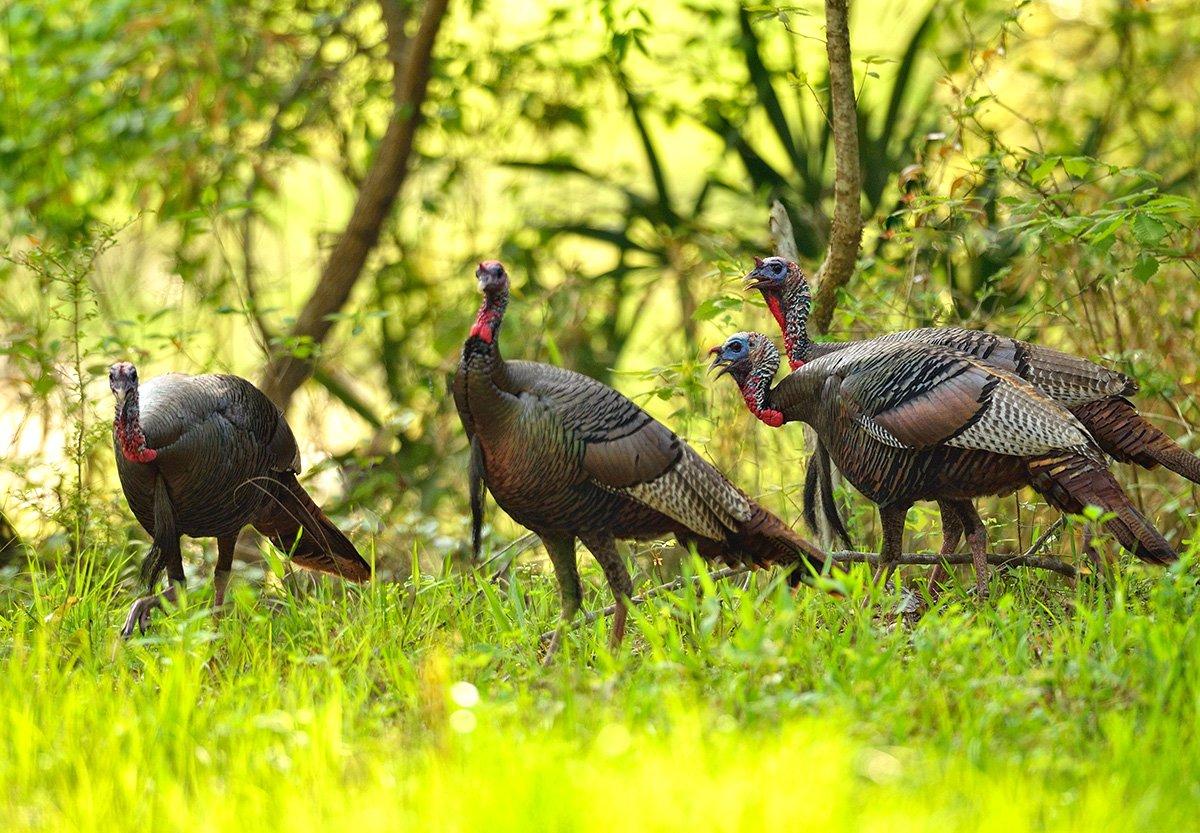 Easterns, Hybrids, and Osceolas
In Sunshine State habitats that border Alabama and Georgia to the north, Eastern wild turkeys roam the woods. A line of demarcation known as the intergrade zone just south of this geographical reference denotes where a hunter would likely encounter hybrids of the Eastern and Osceola subspecies. The Osceola, or Florida wild turkey, lives south of the panhandle, all the way to the state's southernmost tip.
Grand-slam hunters want what they consider pure Florida birds in the only state that officially recognizes the subspecies. And doing it on public land is a challenge worth taking.
[Tactics: There's Another Turkey Hunter in Your Spot. Now What?]
Several Top Picks
Sure, it's far easier, but more costly, to simply book a Florida hunt with a reputable outfitter who will put you on private leased land where they have roosted and patterned birds for you. Or to hunt with friends who have access to private land, sometimes abutting some public opportunities. But if you want to go it alone, some of the bigger wildlife management areas (WMAs) are surely inviting. (Yep, I've done all three.)
Florida's WMAs are of two kinds: Some allow spring turkey hunts with a quota permit; some without it. To point visiting and resident turkey hunters in the right direction, the Florida Fish and Wildlife Conservation Commission lists public land with the Eastern subspecies up north and Osceola turkeys to the south.
Want to go big? Richloam WMA is one of seven expansive land tracts in Withlacoochee State Forest. The Richloam tract, over 58,000 acres all told, sits in Hernando, Pasco, Sumter, and Lake counties. It's classic Florida turkey habitat, with bottomland hardwoods, cypress swamps, and oak hammocks.
The sprawling Green Swamp WMA — managed in cooperation with the Southwest Florida Water Management District — includes 50,692 acres of hardwood swamps, pine flatwoods, and cypress domes in Lake, Polk, and Sumter counties. Turkey hunting is good, although high water makes hunting tough but not impossible at times. During dry years, access to the interior is far easier, and that's where hunters will feel less pressure.
Apart from these two big chunks of Florida public land, you can find a laundry list of no-quota-permit hunting WMAs holding gobblers, and detailed regulatory brochures to download for each WMA location, here.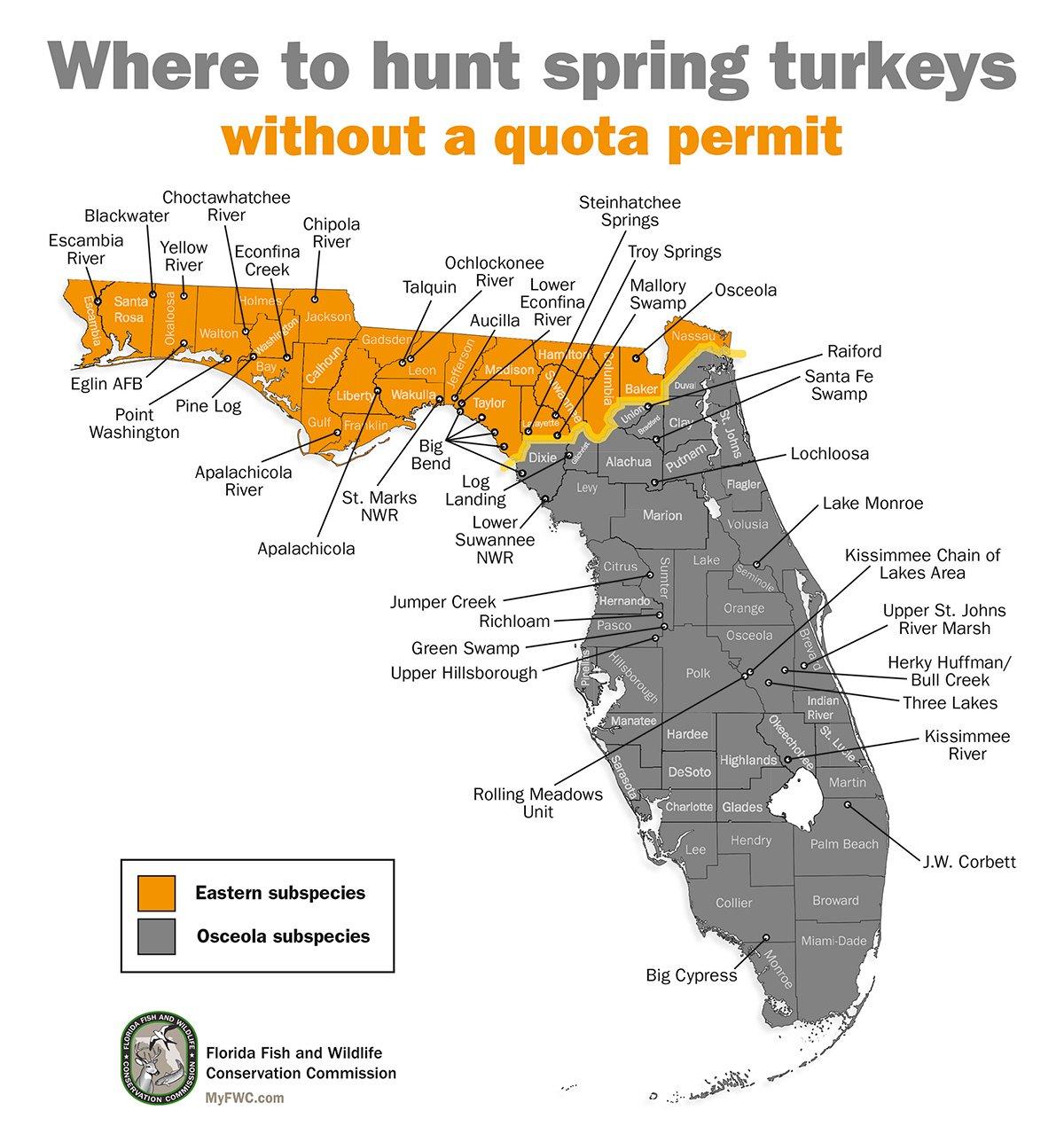 Some Other Tips
You'll hunt tough birds. Florida Osceolas get a lot of pressure. As a slam target subspecies, they are drawn in by private-land feeders; those paying hunters can legally set up within 100 yards. And they're chased steadily on public land, where things are a bit different. Shut-mouthed turkeys are the norm, especially after the opener. Small groups of birds — even swamp-roosting singles — are your aim. Hunt away from access roads and designated parking spaces if possible.
You'll risk your neck. Gators. Snakes. Unexpected deep step-offs into swamp water. Thick cover. Bring your compass if you are of the old school and surely your cellphone for mapping purposes. And a snakebite kit. And some survival gear in case you're lost overnight. And let somebody know where you're going that day.
You'll get wet. Florida pop-up afternoon storms aren't uncommon, so prep for that with rain gear. And you'll sometimes have to wade watery areas — careful now, of the gators and snakes — to access dry-land setups for gobbling turkeys. Bring roll-up chest waders for that deal, or simply tough it out (clothes dry fast in the Sunshine State). Snake boots? Yep, I've worn those too.
You'll get bug bitten. Ticks. Mosquitoes. You can spray your clothes with bug dope, and stoke a ThermaCell. But that stuff only works so well. Toughing it out as a bird bears down on you is a must sometimes. It's worth it.
[Realtree's Turkey Hunting Nation: Florida]
What makes Realtree.com the best online resource for turkey hunters? See for yourself. We cover all things turkey right here.