This time of year, these unconventional stopovers can be just the ticket for light-goose lovers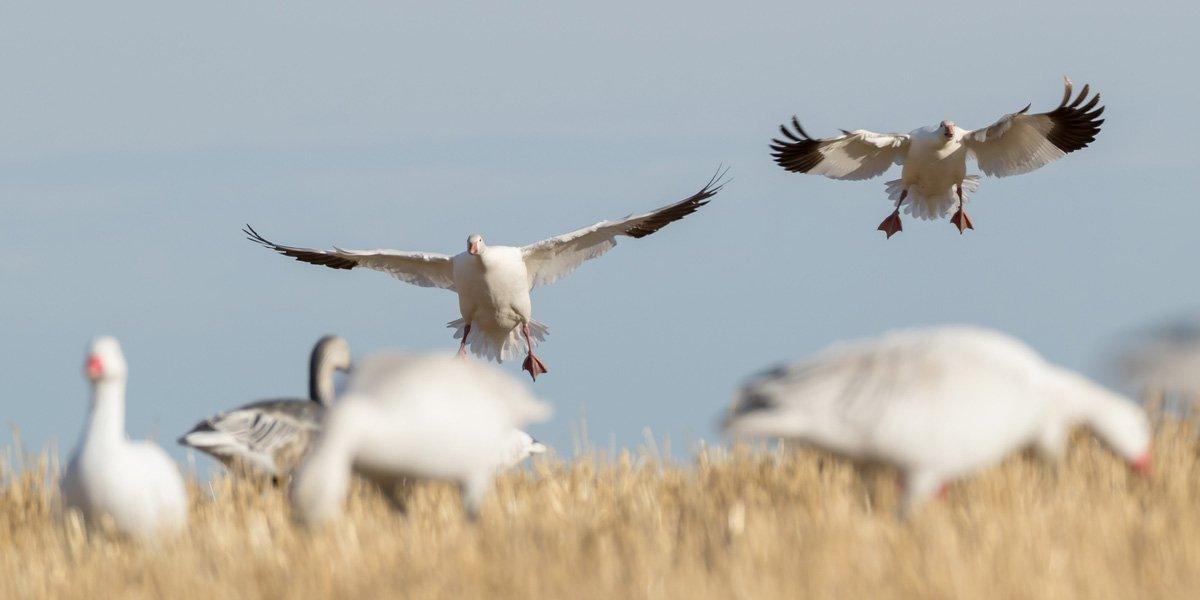 Chasing spring snow geese is one of the fastest growing pursuits in hunting, and with good reason. The most obvious of its attractions are the tens of millions of birds that string out from Texas to the Canadian tundra and from the coast of California to the Eastern Shore.
But as the spring migration has ballooned, so has the hunting competition. Meanwhile, it takes plenty of gear and cash to get into the game: e-callers, massive decoy rigs, pallets of ammunition and gasoline for finding fresh birds for the next day's flight.
You might wonder why we go to the trouble. But if you spend one day under twisting white flocks with 10 shotgun shells in an extension magazine before you run it to the plug again and again, you'll understand. Arkansas, Missouri and South Dakota are the hotbeds for chasing the reverse migration, but a few places are still devoid of big crowds, no matter if you're a do-it-yourself or pay-to-play hunter.
Southern Illinois
Sean Herrick's passion for white geese runs deep. He was one of the first outfitters to plant roots near Carlyle Lake, which can host up to 1 million snows during the height of the migration. He bought a couple old shipping containers and sank them into the ground, fabricating slick roll-cages to hide peeping hunters from white birds. It's one of the most comfortable hunts you can have for snows (much better than lying in the Arkansas mud), and Herrick is far removed from freelancers.
We are away from the ring of fire, where birds fly over spread after spread, Herrick says. By the time they get to us, they think they are safe.
He has dug up and re-sunk pits multiple times to get on the best flight lines, and if the hatch was good and the weather is right, you will kill juvies all day. Plus, he runs permanent spreads, so there's no decoy pickup after grinding all day. My friends and I had a banger couple of days with Herrick's outfit a few years ago in February with the sun shining and a south wind blowing. The action was constant by snow goose standards (a few flocks every hour), and our numbers were in the 70s and 80s each day. That kind of success depends on myriad factors, but if the birds are flying, it's a good bet Herrick will get plenty in killing range.
North Dakota
Scott Butz, the creator of Reel Wings, is so white-bird-obsessed that he keeps in contact with Canadian biologists about the hatch every spring and summer so he knows what to expect come fall and spring. Butz chases snows from Saskatchewan to Arkansas and back north in spring. North Dakota can be phenomenal, he says, but has seen tough times the past few years.
If there's no snow line, they just blow through here in 7 to 10 days, right on into Canada, Butz says. You used to see snows here into early April. Now it's pretty much over by the end of February.
You might wonder why we go to the trouble. But if you spend one day under twisting white flocks with 10 shotgun shells in an extension magazine before you run it to the plug again and again, you'll understand.
Snows can be found from Valley City to Bismarck, but success in North Dakota requires different tactics. Butz doesn't run Vortex machines and complements his e-caller - if he's using one - with a mouth call.
In every flock, there's a dominant bird, and that's why I use a mouth call, he says. Snow geese hear so well and pick up on different frequencies. Using that mouth call gets them in tight. I'm talking 15 to 20 yards.
Access in North Dakota is fantastic. If a field isn't posted, you have permission to hunt. But that can work against you, too, and that's why Butz always calls the landowner, because you might arrive the next morning to find the farmer working the field. Also, with easy access comes competition. If there's a big feed, you can bet multiple hunters or outfitters want that spot. Butz suggested working with other hunters if they are scouting the same piece of real estate.
If someone else shows up, they can join us, Butz says. What's the point of having two spreads in the same field and blowing the whole deal for everyone?
If you can't play nice with others, find a field between the feed and the roost, or a spot you think birds will likely fly over based on the wind and weather. Don't be afraid to be different. Butz has based his entire snow goose career on that, and the proof is in the piles.
A typical outfitter is going to run a 1,200-decoy spread with a couple of Vortex machines and blare the e-caller all day, he says You need to go small with quality decoys or get your buddies together and get a massive 3,000- to 5,000-decoy spread.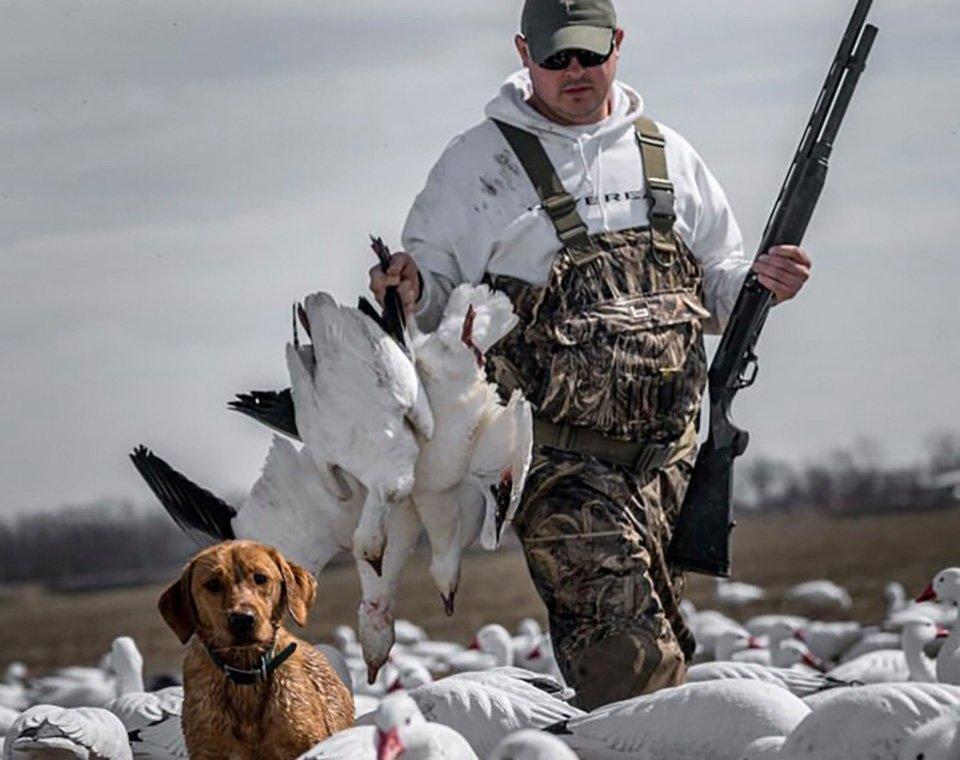 Saskatchewan
Sometimes, Saskatchewan hunters call snows summer geese because you can hunt snows almost into summer there. Even the adults become more susceptible when they cross into Canada. Veteran snow guide Dusty Brown says it's like hunting fresh birds during fall because the geese get obsessed with breeding and feeding, and the pressure they've experienced during fall and spring goes out the window. They basically become new birds. Even during poor-hatch years with few juvies, the hunting in Saskatchewan can be lights out.
A few outfitters specialize in spring snows up North (swiftriveroutfitters.com is a good one), and the hunts can be phenomenal, especially as you get closer to the breeding grounds and birds are feeding hard every morning. Don't be afraid to go it alone in Saskatchewan, either. There are ample freelance opportunities, but like anything worthwhile, it's hard work. You will put birds to bed every night, go in and set up for the morning and tear down every afternoon - unless you get on a burner field the geese just can't ignore.
California
The Sacramento Valley and Northeastern Zone can provide one of the most unique goose hunts of your life.
We're not directly going after snow geese, but our spread looks like it, says Rocque Merlo of merlowaterfowl.com. We use a couple hundred specklebelly decoys and another 400 to 700 snows.
Merlo's outfit chases snows in fall (you can kill 20 a day, plus 10 specklebellies), but you can hunt snows until March in the Northeastern Zone and keep on going north through eastern Oregon and Washington if you have the time and ammo.
The access is extremely tough, Merlo says of his spots in Sacramento Valley. Guides have most everything locked up, but a lot of guys are heading to the northeast. You can still knock on doors and get access up there.
Maryland and Delaware
In the early 1990s, Tommy Marvel began to see greater snow geese push west of Route 301, which runs through Kent County, Maryland, and into Delaware
It used to be greaters would roost on Bombay Hook National Wildlife Refuge, and we targeted them in cornfields, says Marvel, who owns Chesapeake Guide Service (chesapeakeguideservice.com). The biggest concentrations of snows are now farther south at Prime Hook NWR.
Delaware and Maryland are best, but Marvel says New York is on the rise. Greaters typically don't sit on one roost. They use farm ponds and other small waters, and Marvel has seen them on Chesapeake Bay, too.
His outfit hunts primarily fields with 600 to 1,000 full-bodies or 1,800 to 2,000 silo socks. Near the end of the season (typically February or March), when birds have been shot out of the fields, Marvel turns his attention to small roosts and loafs.
We don't do it until we have to, but there's a point when they just won't come to decoys in a field, so we get set up around 9 a.m. and shoot them as they come back to water.
Click here for more Realtree waterfowl hunting content. And check us out on Facebook.