The Duck Commander general manager reflects on life and the simple things that help keep a person happy
The hit A&E reality series Duck Dynasty may no longer be airing, but the good times haven't stopped for one of its stars. Known to many of the show's fans as Friar Tuck or simply Martin, Justin Martin says he's a happy man doing what he loves, which is working for Duck Commander, chasing ducks, and crappie fishing.
Every day when I wake up, brush my teeth, and look at myself in the mirror, I'm happy at the man staring back at me, he says. And at the end of the day, as long as I'm happy, and as long as the good Lord is happy and my wife is happy, we all win.
Martin credits a life surrounded by good people and a career focused on the outdoors for his contentment.
Every day when I wake up, brush my teeth, and look at myself in the mirror, I'm happy at the man staring back at me.
It truly is all about family, friends, and the outdoors, he says. If you want to have fun, go duck hunting. If you want to have fun, go deer hunting. Then if you really want to have fun, take someone who's never been, for crying out loud, and watch their eyes when they see it for the first time. When you see that smile on their face, that's what it's all about. That's why we do what we do.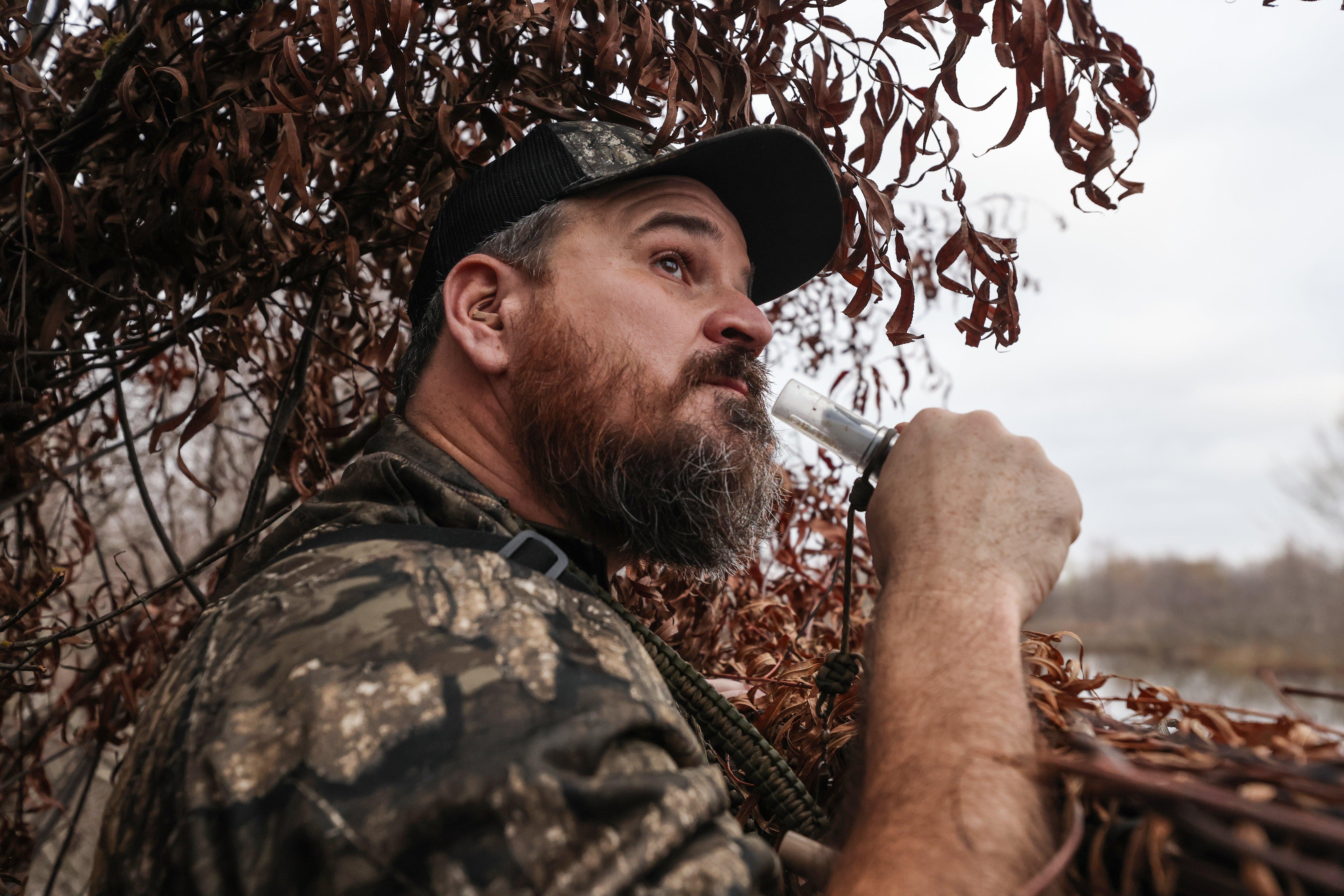 The Duck Hunting Obsession Begins
Martin fondly remembers the first time he watched ducks come to decoys and calling, and he says that experience literally changed the direction of his life. He was just 10 years old when a man who worked at the paper mill with his father asked if he could take the younger Martin duck hunting.
For Martin, who had grown up deer hunting and crappie fishing but had never been duck hunting, it was an experience like no other. I went and I saw those ducks flying and saw them shooting. Of course, I was shooting, too, but not killing anything, he says.
Although he didn't bag a duck that trip, Martin was hooked and desperately wanted to give it another try. He bought his first call, a Duck Commander Cut Down Reacher. That was one of Phil Robertson's original calls that he built [Duck Commander] off of, Martin says. I'll never forget it. I was blowing my duck call at this mallard drake and he came out of the fog and started backpedaling, and I just raised up and shot him.

He's been eat up with duck hunting ever since bagging that first drake. Though he was raised on fishing and deer hunting, as he got older, he just couldn't get enough of waterfowl. Fortunately, his parents recognized his appetite for the sport and supported him in every way they could.
(Cook up Some Duck: Pan-Seared Mallard Breast with Bourbon Plum Sauce)
My parents were awesome in that they told me, 'If you stay out of trouble, keep a job and play football, and keep your grades up, we will always have a place for you to duck hunt,' and that is something I'll never be able to repay them for.

Leaving It Better Than He Found It
Today, Martin loves working the land almost as much as hunting it. He credits his grandparents with teaching him not only to love and respect the outdoors but also how to work on and improve habitat to attract more wildlife. As a self-admitted nerd, Martin says the science behind land management truly interests him. Plus, he says he loves working on grasses, trees, and food plots and wants to leave this world better than he found it. And along the way, I tax it for a few ducks and a few deer, he says. I think it's a pretty even trade for all the habitat work that we do. I love it. I can't get enough of it.
Landing His Dream Job
Martin, who works now as Duck Commander's general manager, says he secured a job with the iconic call company through a friendship with Duck Commander's CEO, Willie Robertson. The two met while Martin was working at T.P. Outdoors, a small sporting-goods store in West Monroe, Louisiana, not far from the Duck Commander headquarters. With a shared love of duck hunting and practical jokes, they became instant buddies. While in graduate school, Martin called Robertson one day with an offer few would make: He asked if he could work at Duck Commander for free, claiming he just needed a break, to clear his head from school and studying.
It's hard to believe I've worked at Duck Commander for a third of my life.
Robertson, of course, took Martin up on his offer of free labor, but he eventually started paying him when he realized how valuable Martin was to the company. Martin says he knew he was an official member of the Duck Commander team when he sent Robertson an email from his new @duckcommander email address. To that, Robertson replied, Well, I guess I'll start paying you now.
(Don't Miss: Advanced Tips for DIY Green Timber Duck Hunting)
That was back in 2010. Here we are, 11 years later, Martin says. It's hard to believe I've worked at Duck Commander for a third of my life. Man, it's something that I'm thankful for because without Duck Commander, I don't know where I'd be. I know I'd still be duck hunting. I do know that. I'd hate to know just how many hours I've sat in this chair building these duck calls. But I'll say this, you miss it when you're not in here. Because I'm not in here much anymore.

Relationships Matter
When Martin looks back over his time at Duck Commander and his success in the outdoor industry, he says it's the people in his life who have made all the difference.
One thing I like to keep in my life, and I highly recommend to everybody, surround yourself with good people. Surround yourself with people that are successful in whatever walk of life that they're in, he says. Surround yourself with people that are arguably better than you because that competition and that kind of drive from those people will bring you up as well, while you're steadily challenging them.

As an example, Martin refers to his friendship with professional fisherman Jacob Wheeler, whom he calls the best bass fisherman in the world.
He says Wheeler challenges him every day to be better, partly because he doesn't want Wheeler to be better than him at duck hunting.
If you will surround yourself with those kinds of people, it makes it so much easier for you to bet on yourself, Martin says. If you stay true to who you are, you find whatever that passion may be. For me, it was ducks. For Willie, it was being a successful businessman. That entrepreneurship drives him. Find whatever that is and challenge yourself to be a better person.
When being real means being your best, that's when you know you've succeeded. Realtree's #BeReal stories offer you great profiles of men and women who took their own path, in their own way, and came out on top.