How Long Have You Been Watching These Shows?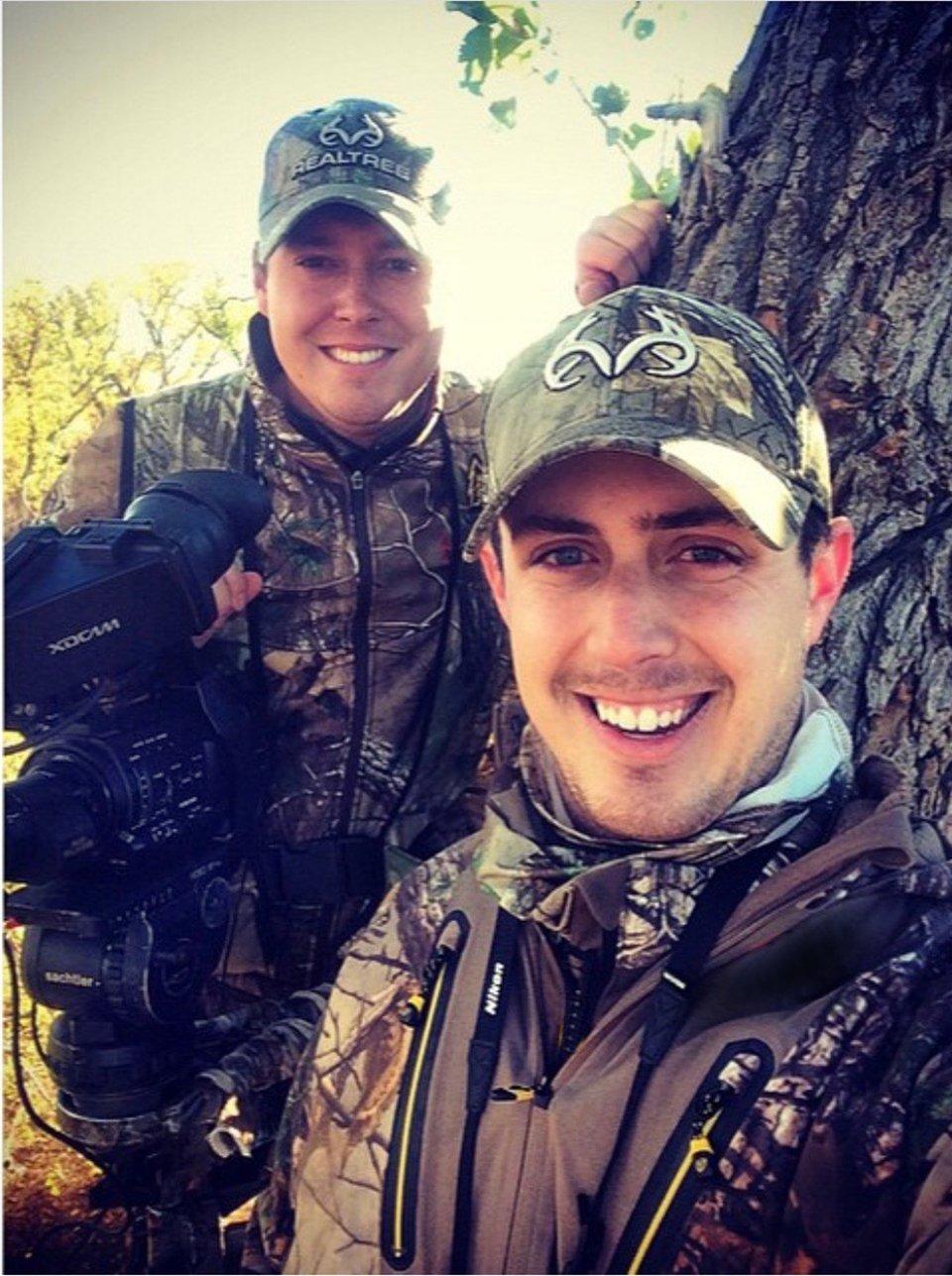 When viewers watch "Realtree Outdoors" and "Realtree Road Trips" on the Outdoor Channel, or "Monster Bucks" on the Sportsman Channel, they see that we're having a lot of fun spending time with each other, traveling the country and hunting in beautiful and remote places. While that is all true, there's a lot more that goes on behind the scenes than just fun and games. What they don't realize is how much hard work is required to produce this show.
We have numerous camera guys who film these hunts. The entire Realtree crew spends a lot of time on the road and puts in many hard hours of work each day. Even though we put a lot of effort into producing these top-notch shows, we do have a great time and realize we're all very lucky to have such awesome jobs.
The Technical Side
Although our shows only last for 30 minutes, they take much, much longer to produce. Filming the hunt usually takes five to six days. We'll film six to eight hours per day (maybe longer), because we film both the hunt and the time in camp.
When we return to the office, we log the footage. Then we actually edit the show we've created. We go in and add interviews, special effects, music and the voice-overs when needed. That process takes another three to four days. Then, we spend a full day of tweaking it before we send it to off to be watched by the viewers.
Becoming an editor and producer makes you a better camera guy. When you start putting the footage into the computer, you realize that you don't have certain footage that you should have taken. You learn to edit the hunt in your head as you film it.
We Never Put the Camera Down
Every trip has the potential to be a good show. It's just up to the cameraman to tell the story with the footage he captures. And, the hunt doesn't have to result in a harvest for it to make a good TV show. Events don't always unfold how you'd like them to. You may have an awesome buck coming in, then the wind changes, causing him to run off. Instead of turning off your camera in disgust, you want to capture the emotion of the hunter and show his disappointment.
One of the best shows we've ever produced took place at Seven J Outfitters in Sundance, Wyoming, when David played cat and mouse with a 160-inch 10-pointer. It lasted for five or six days. We saw him three or four times but could never get closer than 55 yards. We filmed David with Jeff Smith, owner of Seven J Outfitters, glassing the buck, hanging stands, playing the wind correctly and doing everything right for days, but he still couldn't kill that deer. All of the footage we captured told a very interesting story.
Tiffany Lakosky and her husband Lee were also hunting with us. The last evening of the hunt, she missed a really nice deer. Even though no one got a deer during that trip, we caught some awesome footage and were able to tell a story that our viewers not only enjoyed but also could relate to.
Battling the Elements
Later in the year, we filmed a show with David Blanton and Gary Levox with Rascal Flatts at River's Bend Trophy Hunting Services in southern Illinois. That January, there was a lot of flooding, and the Wabash River was rising into the cornfields and hardwoods 2 feet per day. The deer were having to find higher ground to stay dry. Most of the land that River's Bend owned was under water, so we really had nowhere to hunt. By chance, a landowner allowed us to hunt his property that happened to still be dry.
David told Gary to stay in Nashville until he called him so Gary wouldn't have to waist his time waiting on a place to hunt. Once we got permission to hunt, David called Gary who showed up within a matter of hours. We documented everything on that hunt. We captured footage of deer walking in waist-deep water, filmed us trying to crank a boat that wouldn't work, and filmed Gary arriving and putting his gear into the back of our truck. After he joined us, we went to the landowner's property, hung a stand, and two hours later, Gary killed a Boone and Crockett deer.
That was a remarkable trip, and we caught the entire event on film. Even though we were certain we wouldn't take a deer, we kept filming because you never know what can happen. We couldn't have recreated any of that footage.
When it comes to filming these hunts, the cameraman really has to take the initiative. So what if you go home empty-handed without a deer or a turkey? At least you've got the entire hunt on video. You've done your job to capture the story on camera. That's not easy to do. Finding someone who has the technical ability to capture good footage, tell a story with the camera and make it become an extension of his hand and his eyes is not easy. Never putting the camera down is hard work. You have to constantly keep it closeby so you can record when needed.
Bringing It All Together
From September to December, the Realtree Outdoors crew goes wide-open. We have a cameraman filming deer hunts somewhere every single day from September 1 through December 20. We spend about 80 days on the road during deer season. Everyone is away from their families and friends, which can be challenging. Whether you have a family, a dog or a girlfriend, someone gets neglected and stuff piles up at home. After the season, we break for the week of Christmas and for a day or two around New Year's Day, then we're back to work.
Although filming is hard work, it's a blast and I wouldn't trade it for anything in the world. I think everyone here feels that way. How many people can say they get to hunt for a living? We get to go out and hunt these big deer, elk and other wildlife and see some of the most beautiful country on God's earth. Who could ask for more?
Tune it to watch Realtree's TV shows at these times during their respective quarters (EST):
"Realtree Outdoors" on the Outdoor Channel (Mondays at 11:30 a.m., Wednesdays at 1:30 p.m., and Fridays at 5:30 p.m.)
"Realtree Road Trips"on the Outdoor Channel (Tuesdays at 11:00 a.m., Fridays at 3 a.m., and Fridays at 5:30 p.m.)
"Realtree's Monster Bucks" on the Sportsman Channel (Sundays at 11 p.m., Tuesdays at 8 and 11 p.m., and Wednesdays at 5 a.m.)
Don't Miss: 15 Jobs You Can Get in the Outdoor Industry
Are you a deer hunter wanting to learn how to accomplish your goals? Check out our stories, videos and hard-hitting how-to's on deer hunting.