What Subspecies of Caribou Have You Hunted?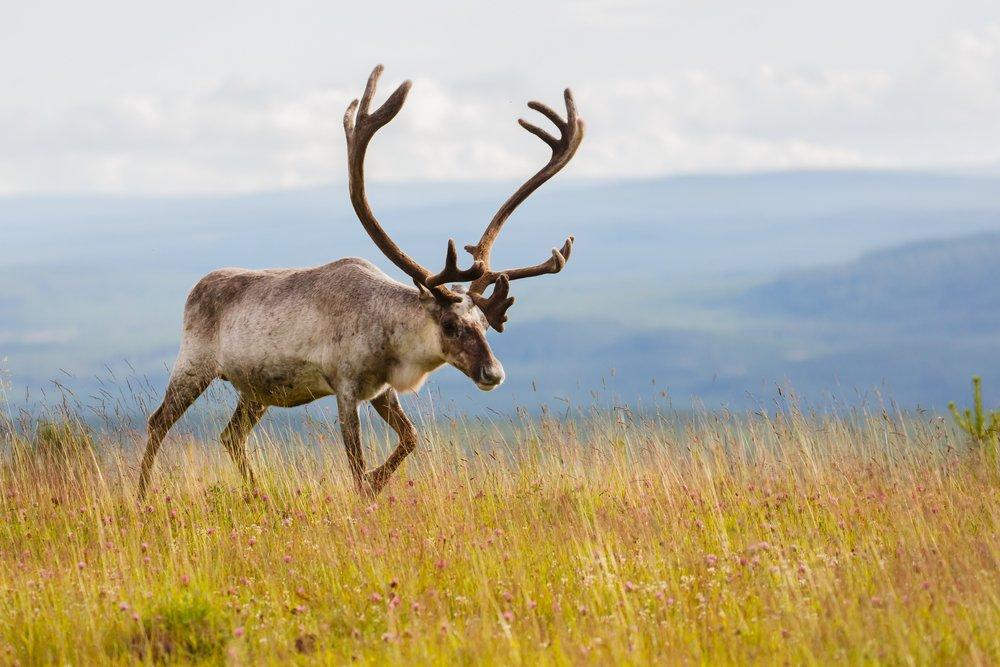 Caribou are some of the most sought-after animals in North America. They provide fun times, an action-packed hunt, and are cheaper than most northern North American big game hunts. Of the caribou subspecies, the woodland might be your best option, though. Here are five tips and reasons why.
1. Patternable Caribou
As a pretty well-traveled bowhunter, I'm often asked about hunts and what I recommend. When it comes to caribou hunting, my answer is usually straightforward. Go for woodland caribou. I know their racks are smaller, but they are the most enjoyable to bowhunt.
Woodland caribou are abundant in most areas of Newfoundland, which is the only area that allows sport hunting. These caribou remind me a lot of mule deer in open country. You simply spot them and plan your stalk. But woodland caribou are much larger, more visible and are easier to sneak up on. This, coupled with the unique experience of pursuing a striking animal in remote, virgin-like wilderness, creates an offbeat adventure any serious bowhunter is sure to enjoy.
Also, these caribou are unlike any other since they are not mass-migrators. They pretty much stay in a given location for quite some time before disappearing into a sea of tundra, as all other subspecies of caribou are prone to do. This means consistent action during your entire hunt instead of the hot and cold action one will often experience during a hunt for Quebec Labrador, barren ground or central barren ground caribou.
I know, I've hunted these caribou and each time it was feast or famine — the faucet was turned on one day and animals suddenly flourished everywhere, but then a few days later, there was barely a cow left in sight, leaving me with nothing but a bleak, lonely tundra to wander until the hunt came to an end.
When pursuing any other caribou subspecies, never could you locate the same racked animal for more than two days in a row. Yet I actually saw the same two bulls day after day, until I shot one of them on day four. For this reason especially I believe woodland caribou make the ultimate caribou to pursue with a bow.
2. Pleasant Conditions
Another favorable aspect of woodland caribou hunting is that you hunt them during the cool part of fall. Although you can hunt these caribou from mid-August all the way through November, most bowhunts are planned for late September through early or mid-October. This is when bulls, or stags as the locals call them, are rutting and you'll likely see more of them during a given trip since they stay more active throughout the day. Bugs are nonexistent, too.
In contrast, other caribou call for earlier hunting, from mid-August through mid-September. This is when weather is still warm and black flies are in full supply. This can create a miserable environment for the hunter and the caribou. In fact, the bugs can get so bad that caribou are often seen running madly across landscapes, doing their best to escape the constant hum and swarm of flies around their face. Stalking or intercepting a caribou in this state of mind can be hopeless.
Additionally, this late-September/mid-October timeframe means booking a woodland caribou hunt doesn't have to conflict with regular big-game hunts for antelope, deer or elk. This makes woodland caribou hunting a shoe-in for me.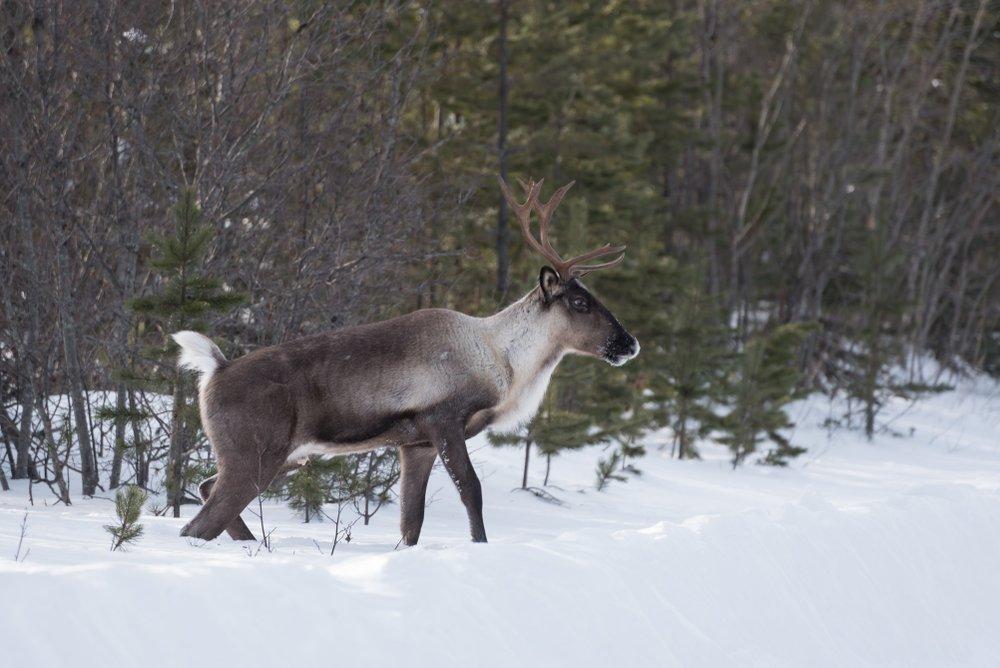 3. Gear for the Hunt
A good rule of thumb when packing for a woodland caribou hunt is to bring two of everything. You're going to get wet, so a change-out of clothes is necessary while the other set has time to dry next to the woodstove. This means two sets of boots, pants, thermal underwear, light sweaters/pullovers, raingear, gloves, stocking hats, ball caps and so on. I prefer wool whenever possible, since it retains its insulating qualities even when wet. You'll also need quality raingear, of course. Since this is spot-and-stalk hunting, bring light to mid-weight layers that you can add or subtract as the conditions deem necessary, rather than heavy gear.
A top-quality, midsize binocular in the 7- to 10-power range is absolutely necessary for spotting game in this country. I prefer using 10x42 binoculars so I can gain additional magnification for sizing up headgear moderately well without using the spotting scope.

If you are trophy hunting, then bring a spotting scope. Nikon's ultra-compact yet optically superior Fieldscope ED50 is an excellent choice. If you don't mind additional carrying weight, go with a slightly larger scope for more enhanced viewing at super-long distances. The Nikon Fieldscope III ED 60 and Swarovski 65 are superb. Be sure to bring a digital camera with a good flash and store it in an airtight/waterproof bag.
4. Comfortable Amenities
If you know someone who has been on a Quebec caribou hunt, ask them about the accommodations. They'll likely look at you with a frown and say something like pretty basic or even shack-like. Not all Quebec caribou hunts offer barebones amenities, but most do. This may not sound important to you hard-core wilderness hunters, but remember, you'll be packed into a small tent or cabin with seven other guys. Things can get wet, cramped and smelly.
On the other hand, woodland caribou hunts are the complete opposite. I've hunted this eastern-most Canadian province seven times with four different outfitters, and each time the accommodations have been the same — topnotch. I could never say the same for caribou hunts in other regions of the continent. The service and hospitality is always personalized, it seems, where you're treated as a friend of the family.
Also, as far as price goes, these hunts remain affordable considering all that you get. With similar accommodations one receives on a woodland hunt, you could pay $1,500 or $2,000 or more elsewhere. Comfort, food and service are important when you're paying for a hunt.
As a great bonus, eastern Canadian moose are abundant in all areas where woodland caribou exist. You'll frequently see the animals roaming the area while you look for caribou. Not only does this up the excitement and adventure, but it could present a chance to combo hunt the two animals. In many cases, you pay only a $1,000 more to go after moose in addition, minus the license costs. Again, the hunting is quite affordable, with combo hunt prices as low as $5,000 to $6,000 — a true bargain in today's market.
5. Caribou Slam
For those of you who are into pursuing grand slams on all species of big game, then woodland caribou are required as they are one of the subspecies recognized by the Pope & Young Club. In recent years, this has increased the woodland's popularity, but this alone is just icing on the cake.
The fact remains, woodland caribou are worthy of pursuit based on their own unique flair, habits and hunting opportunity. Their antlers may be the smallest of all trophy caribou categories, but when sizing up the entire hunting package, this caribou is at the top of the heap.
Don't Miss: The 5 World Record Caribou By Subspecies
Editor's Note: This was originally published on September 25, 2009.
Are you a big game hunter wanting to learn how to accomplish your goals? Check out our stories, videos and hard-hitting how-to's on big game hunting.