Bows for Women: 2013 Review
Our panel of female archers put four new bows to the test in the second-annual Realtree ladies' bow shootout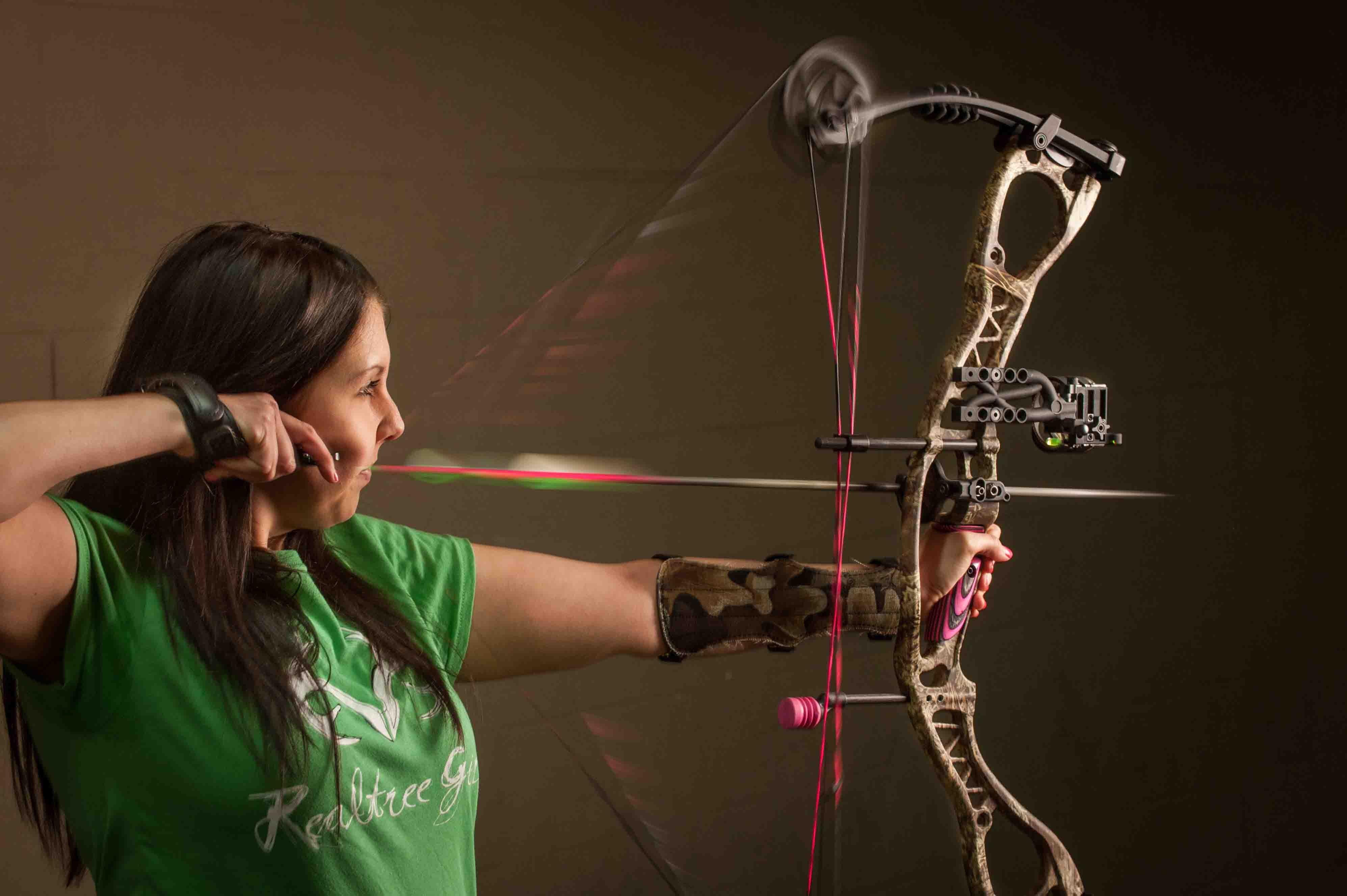 Elite Hunter
Hoyt Charger
Quest Bliss
Strother Hope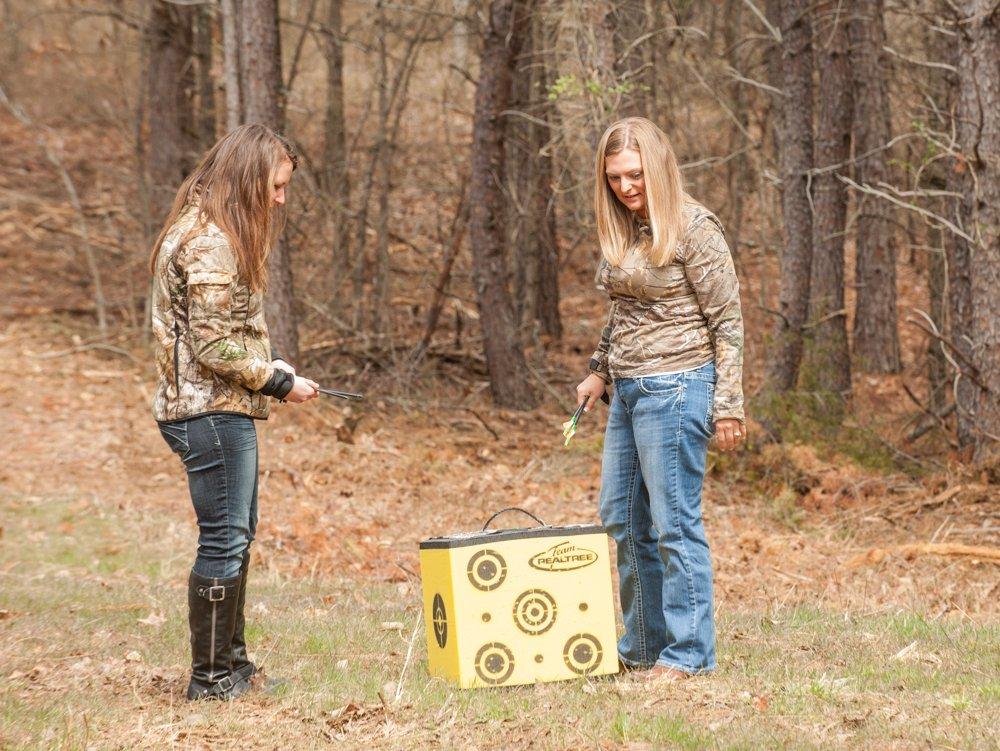 Female hunters are the fastest-growing hunting demographic, and the quality of hunting gear for women has increased in turn. Compound bows for women in particular have undergone huge advancements.
Physiology says that most women have shorter draw lengths than most men. And shooting a bow that's too long for you will absolutely wreck your groups.
Only a few years ago, to get a bow with a draw length that fit, women were forced to use a youth and ladies model. Youth and Ladies was often synonymous with scaled-down junk. They had little, inefficient cams, making a bow already handicapped by light specs even slower. They rarely had the tolerances of the men's bows, either, which led to sloppy draw cycles, stretchy strings and generally bad performance.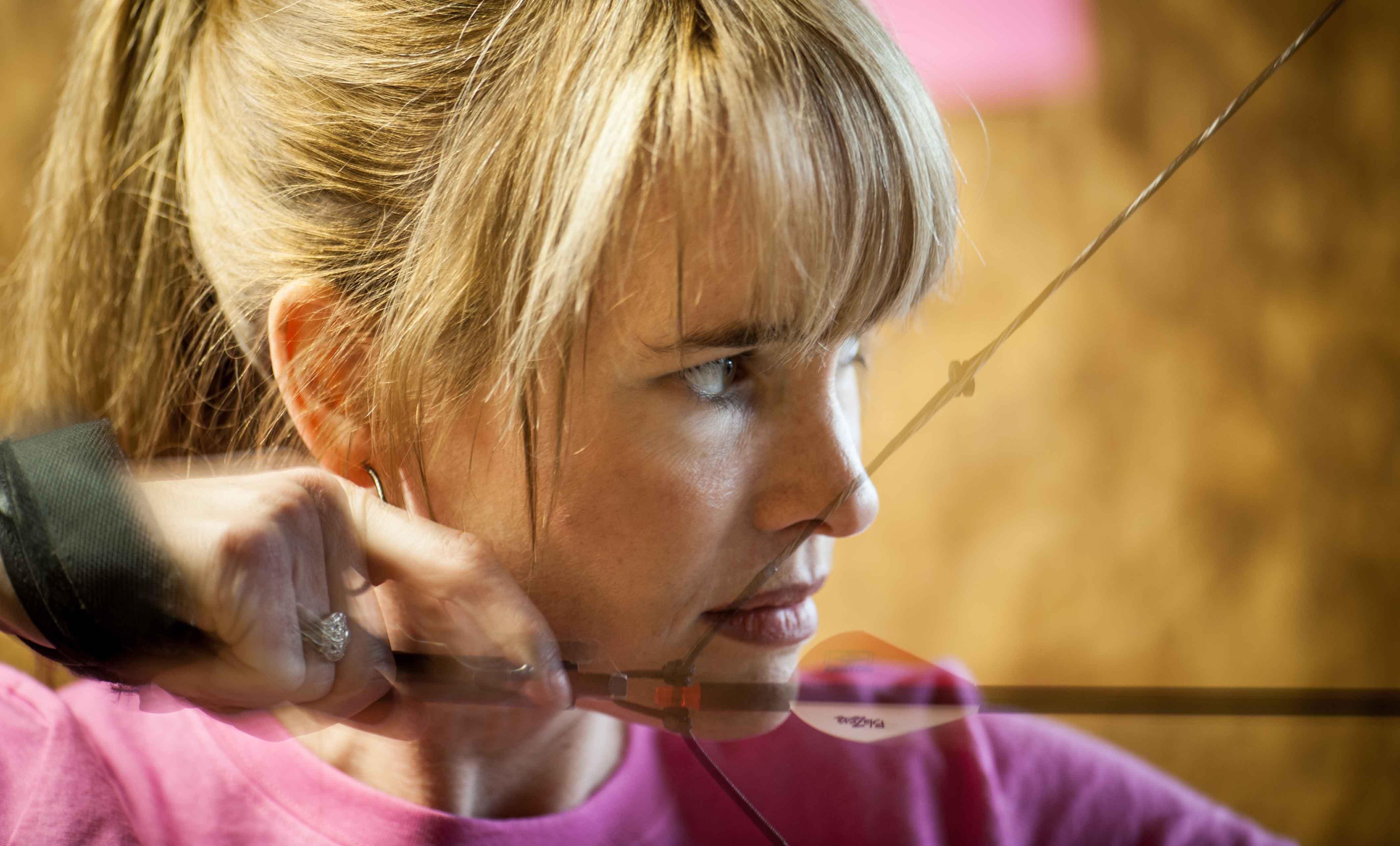 For a time, it seemed the solution for separating the women's bows from the kid's bows was to slap some pink on one of them and call it a woman's model. That might have added shelf-appeal for some, but it did nothing to increase the performance. In many ways, because they're handicapped by light draw weights and short arrows, a woman's bow must be flawlessly efficient and accurate to cleanly kill big game animals.
These days, all the major bow companies are competing to make not only top-quality bows for male shooters, but also high-performance bows for women. But who's making the best one? Our panel of shooters put four new models to the test to find out. (Look back at our review of 2012 bows here).
(Editor's Note: Before anyone gets up in arms about their favorite brand of bow being absent from the list, understand that, since this is Bill Jordan's website, we only tested bows available in Realtree camo patterns. Simple as that.)
SPECS, GEAR AND TEST CRITERIA
Specs: All bows were set at 40 pounds with a 24-inch draw length. Test arrows were 324-grain finished arrows fletched with Blazer vanes.
Sights and Rests: All bows were equipped with Trophy Ridge Cypher 5-pin sights and Whisker Biscuit rests.
Ballistics Testing: We used a Velocitip system to measure not only speeds, but kinetic energy and momentum for each bow. Many thanks to Full Flight Technology for loaning us the system.
Critera: Each bow was evaluated on a variety of objective and subjective factors. Before picking any of them up, each test panel member evaluated the shelf appeal of each bow. Not surprisingly, the results of what they found visually appealing varied. Good looks sell, but what looks good varies from one shooter to the next.
After the initial ogling, it was on to the range. Each bow was shot 100 or more times on both a 20-yard indoor range, and then outdoors at 3-D targets set at various distances. The testers evaluated the draw cycle, back wall and valley, as well as the handling characteristics and overall shootability of each bow.
With its AP Snow finish, the 2013 Elite Hunter (a different bow altogether than the 2012 Hunter) is unmistakable. In addition, the metal parts of the bow (cams, modules, cable rods) are Cerakoted, which is a ceramic-based coating used for rust and scratch protection. Its appearance drew mixed reactions, though. Three of the testers gravitated toward it as the classiest-looking bow in the test. The fourth said it was tacky.
Axle-to-Axle Length: 31 1/2 inches
Brace Height: 7 3/4 inches
Speed: 199 fps
Weight: 4.3 pounds
MSRP: $899
Hits: Whether you like the AP Snow finish or not is irrelevant; the Hunter is available in numerous finishes, including standard AP and two-tone. It was dead-quiet (the quietest, actually), and every single tester ranked this bow on top for shootability. The 80 percent let-off and rock-solid back wall made it a hands-on favorite at the range.
Misses: This bow was the slowest of the test, and when you're dealing with light draw weights and short draw lengths, that's a big drawback. In addition, that high-quality feel came with a high-quality price tag. At $899, it's the most expensive bow of the test.
Overall Impressions: The quality of this bow is undeniably top of the line. Everything about it seems glass-smooth and quiet. The testers gave it the highest of marks in every aspect of the draw cycle and shootability. Yet, the Hunter is the slowest and most expensive bow of the test.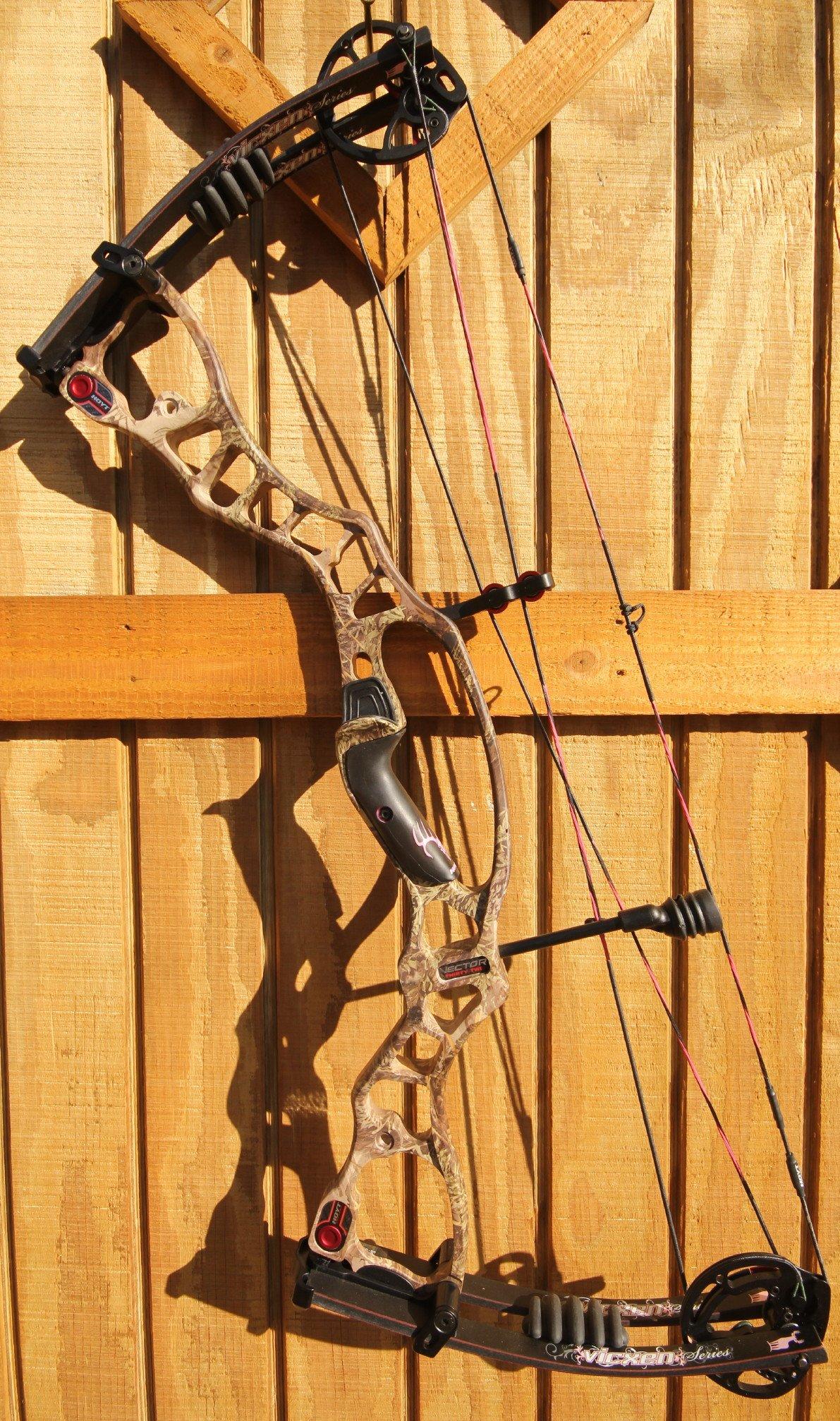 Hoyt introduced the Charger as their price-point bow for 2013. The Charger Vicxen Edition is identical to the men's bow in construction, but is decked out in Max-1 camouflage and highlighted with pink accents.
Axle-to-Axle Length: 31 inches
Brace Height: 6 3/4 inches
Speed: 209 fps
Weight: 3.8 pounds
MSRP: $599
Hits: This smooth shooter threw tight groups and handled well. It was the fastest bow of the test by a good margin. Although $599 isn't cheap, this bow is significantly less expensive than either the Elite or Strother.
Misses: Screamin' Pink. That was the only real complaint about this bow from most of the test panel. They're OK with a few subtle pink accents, but put off by gaudy contraptions that scream, I'm a girl! in hunting camp. In addition, although the draw cycle was smooth, the Charger had a soft back wall and relatively shallow valley.
Overall Impressions: Despite all that pink, this bow's performance spoke for itself. Those speeds are fast for a 24-inch, 40-pound bow, and three of the four testers found it among the easiest of all the bows to shoot. And, losing most of the pink would be a simple matter of swapping the grip and strings.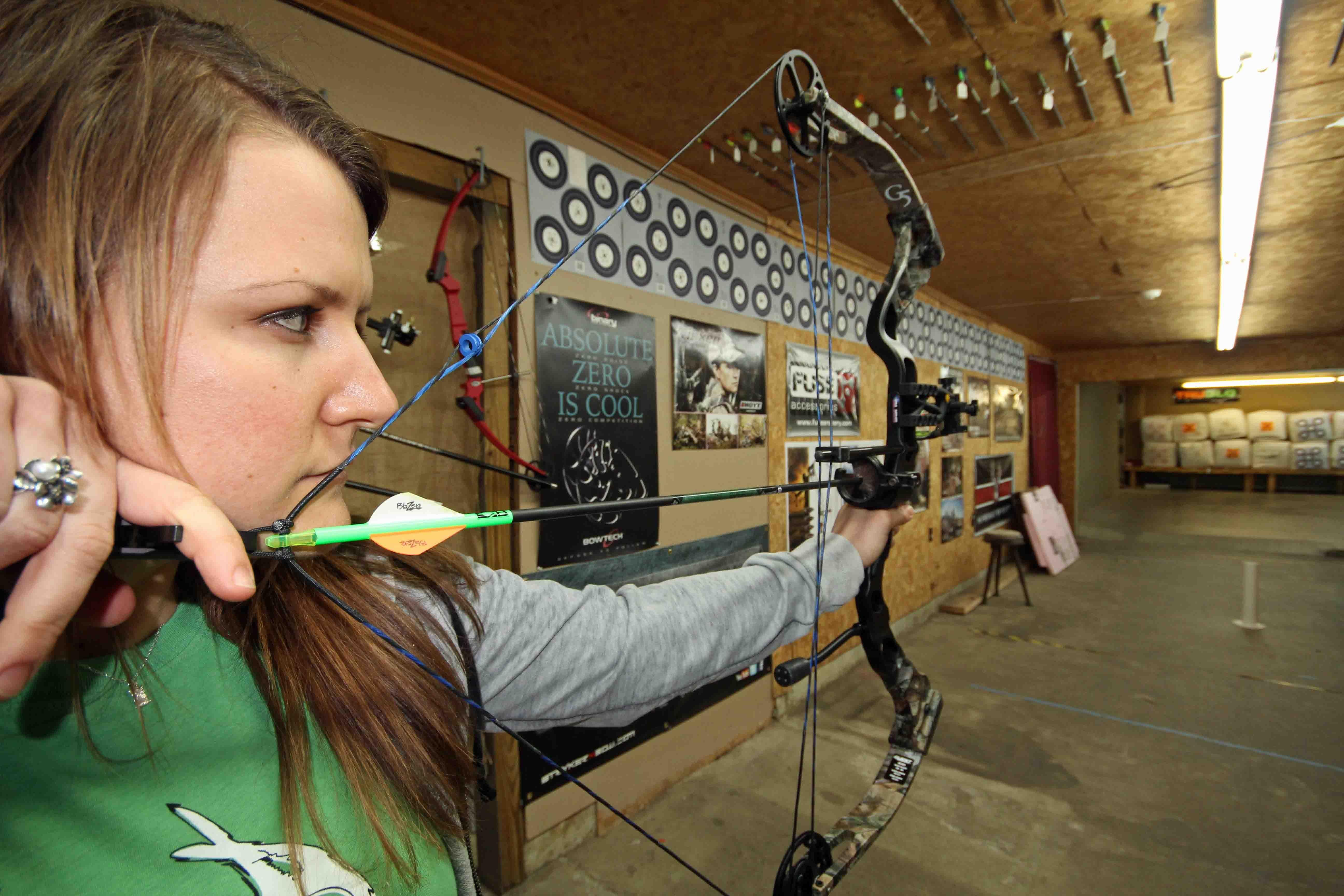 This brand new bow was hot off the assembly line for 2013 - literally. We actually had to postpone the test once because the Bliss wasn't quite ready. Turns out, waiting for it was a good thing. Each member of the test panel loved the G-Fade finish, which is available in AP (tested) or AP Pink. Given our panel's aversion to pink, it's probably a good thing Quest sent the standard camo version.
Axle-to-Axle Length: 31 inches
Brace Height: 7 inches
Speed: 201 fps
Weight: 4.05 pounds
MSRP: $399.99
Hits: The test panel found this bow to be an outstanding shooter. It's not overly fast, but it is quiet, and each of the shooters gave it high marks for shelf appeal. It has a 15-pound range of draw weight adjustment, more than any of the other models. Best of all, the Bliss is significantly less expensive than any of the others at $399.99.
Misses: There weren't many. The testers found the valley to be a bit jumpy, and the bow itself to be a bit top-heavy. Realistically, the other bows beat this one in several performance categories - the Hoyt was faster; the Elite, a little quieter and smoother -- but not by much. Our test panel had few complaints, especially once they saw what the Bliss costs.
Overall Impressions: If there's something to not like about a bow this inexpensive that shoots this good, our test panel couldn't find it.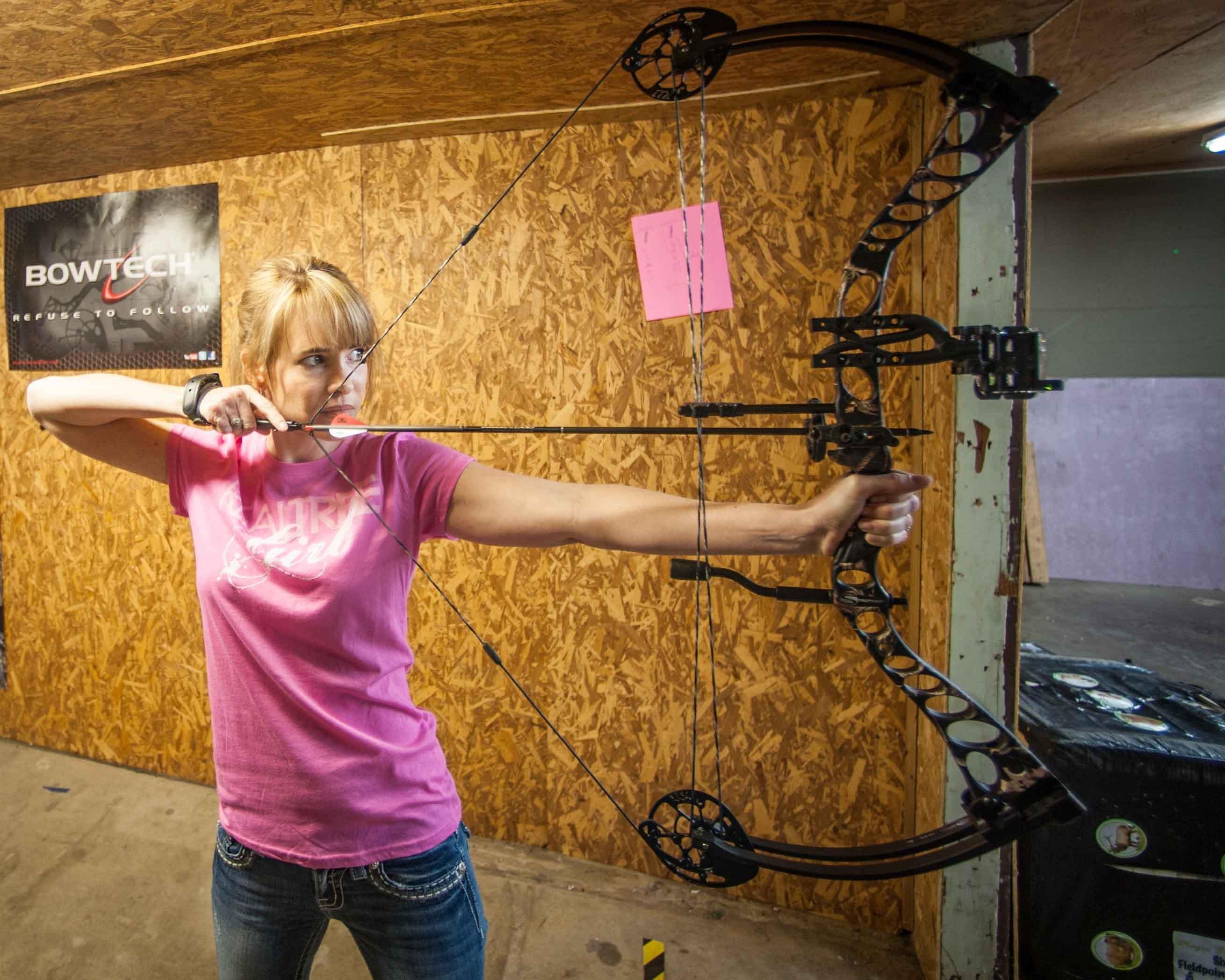 Now in its third year of business, Strother Archery is a company fast making a name for itself for premium compound bows. The Hope, their new flagship ladies bow, sports a distinctive AP Black camo pattern that was highly appealing to two members of the test panel, but not so much to the other two. Each year, a portion of the proceeds from sales of the hope go toward cancer research for women.
Axle-to-Axle Length: 34 inches
Brace Height: 6 1/2 inches
Speed: 203.69 fps
Weight: 3.75 pounds
MSRP: $839
Hits: The test panel found this bow to be well-balanced and easy to handle, with a rock-solid back-wall, draw cycle and noise level that was similar to the Elite, but a tad rougher. The Strother was the second-fastest bow of the test.
Misses: The only major drawback the testers could find to this bow was the steep price tag. It has a longer axle-to-axle length than any of the others, which affects portability, but does add extra stablility for long-range shooting. Two of the testers disliked the Hope's narrow grip, but the other two specifically complimented it.
Overall Impressions: Again, the testers found little to not like about this bow - other than the price.

AND THE WINNERS ARE ...
Picking the top value bow was easy. But picking the top overall model was tough, as all four of them were close. At the outset, it seemed the Elite would be the runaway favorite - and then we revealed the speeds. The Strother was a little rougher than the Elite, but it was faster. Both of them cost a small fortune. In the end, all of these bows have their advantages and drawbacks. They'd all make fine hunting bows. But there can be only one winner. Our panel had to carefully weigh all aspects of the test to make that decision.
Top Overall Bow: Hoyt Charger Vicxen Edition. It was the runaway speed champ of the test, and though it lacked the solid back wall of the Elite and Strother, it did have a silky-smooth draw cycle and outstanding handling characteristics. Pink accents aside, the performance of this bow led three of the four test panel members to choose it as the top bow of the test. Three out of four makes it the winner.
Top Value: Quest Bliss. Nipping on the Hoyt's heals for the top overall spot, right alongside the Strother and Elite, was the Quest Bliss. All of the panel members were wowed by this bow given the price, which is $200 below the Hoyt, and less than half that of the Elite or Strother.
Sidebar
Meet the Testers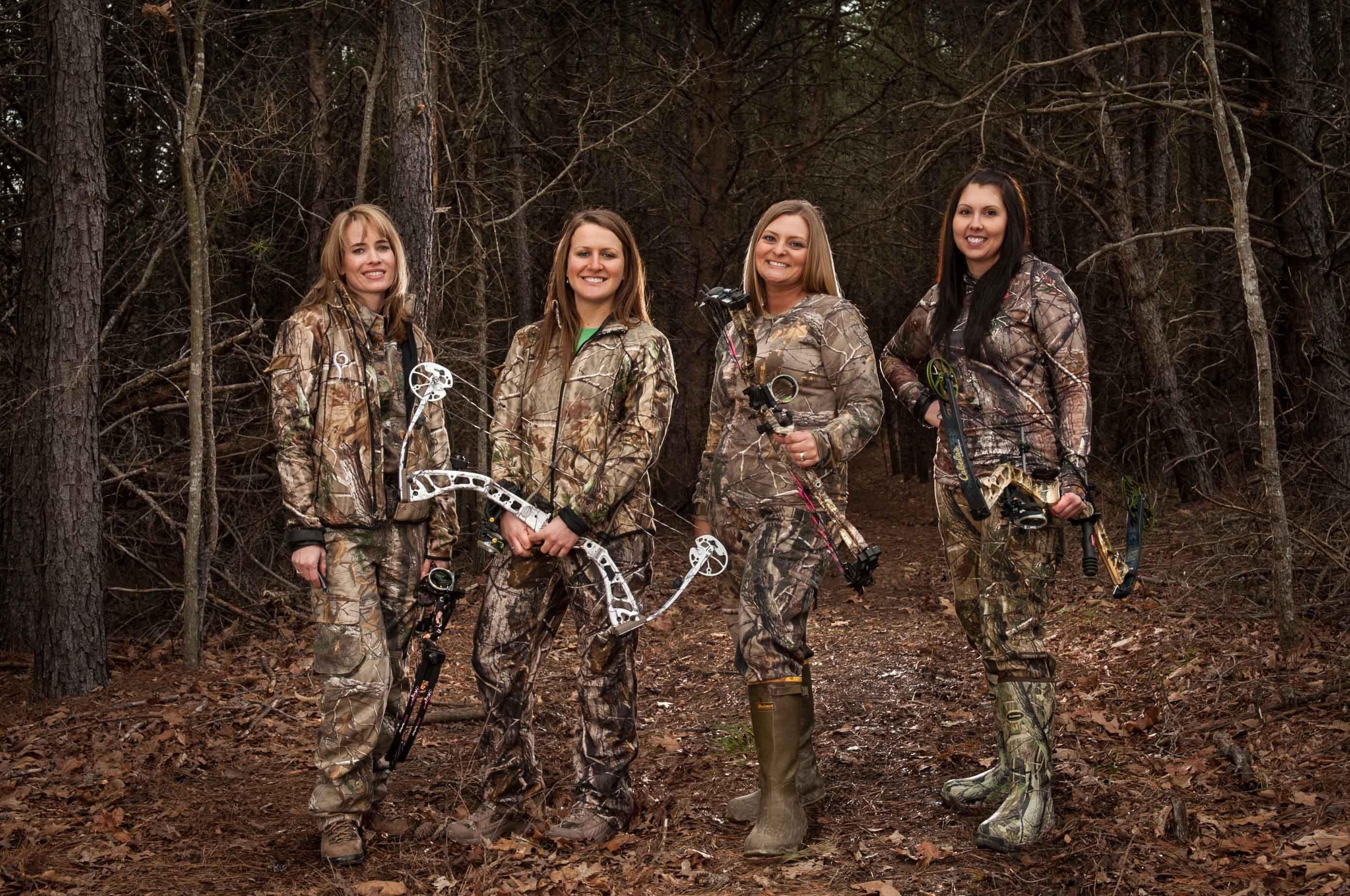 Four shooters participated in this year's test. While all of them are avid hunters, only two of them were, up until this test, bowhunters. We wanted our panel to be made up of shooters who already had an idea of what they wanted in a bow, but also of shooters who had no preconceived notions of what to look for in a bow. The testers weren't allowed to discuss their opinions on the bows until all the testing was complete. The fact that all the testers mostly agreed on the good and bad from one bow to the next is a testament to the fairness of the test.
Michelle Brantley - Michelle is a fourth-grade teacher who kills and/or catches and cooks all manner of walking, crawling, flying and swimming creatures. She can probably shoot a bow better than you, and in fact has arrowed two full-velvet 120-class bucks in the past two seasons. Top Pick: Hoyt Charger
Brita Lewis - Brita is marketing strategist for Gray Loon, the digital marketing agency for Realtree.com. She arrowed a 146-inch buck a few seasons ago, and can hit jumping carp with a bowfishing rig like nobody's business. Brita sustains herself on a rather strange diet of organic vegetables, wild game and beer. Top Pick: Hoyt Charger
Stephanie Mallory - Stephanie is Realtree's PR Coordinator and the face behind the RealBlog. A prolific writer, Steph knows every single person in the outdoor industry and has hunted turkeys, whitetails, waterfowl and a host of other critters throughout the United States. Top Pick: Strother Hope
Julie Wilkins - Julie is Realtree.com's copy editor. She has an eye for detail and low tolerance for nonsense - good qualities to have when evaluating equipment. Julie grew up on a waterfowl refuge, and so the peaceful sounds of ducks and geese in the morning actually give her a headache. But she has gained a newfound fanaticism for hunting whitetails. Top Pick: Hoyt Charger
Sidebar
How Much Difference Does a Little Speed Make?

Looking at the differences in speed on these bows, it might seem that we're being nitpicky on the numbers. After all, there's only 10 feet-per-second difference between the fastest bow (the Hoyt) and the slowest one (the Elite). So what does 10 fps get you? Well, we checked it with the Velocitip system. Here's what we found:
Better on-target speed. The Elite clocked in at 190.65 fps on target at 20 yards. The Hoyt clocked in at 198.9 at 20 yards - nearly as fast as the Elite from the shelf.
More kinetic energy. The Elite produced 28.51 foot-pounds of energy at the shelf. The Hoyt produced 31.22 foot-pounds. When you're talking numbers already this small, 4 foot-pounds can mean the difference in punching through a deer rib. Or not.
Flatter trajectory. See the two charts above. Arrows from both bows drop like lead balloons past their 19-yard zero mark. But 10 extra feet per second gives you a trajectory advantage equivalent to about a yard. That might not seem like much - until your rangefinder is bouncing back and forth between 25 and 26 yards in the woods. In bowhunting, as they say, it's inches that count.