A
750000
Est. Whitetail Population
420000
No. Licenses Sold Annually
$43
Resident hunting license is $19 and a deer permit is $24.
Resident hunting license and deer permit
$149
Non-resident hunting license is $125 and a deer permit is $24.
Non-resident hunting license and deer permit
201 1/8"
Taken by Bradley S. Jerman in Warren County in 2004, ranks No. 11 of all time.
Record B&C Typical Stat
457
Total B&C Typical Entries
328 2/8"
The top-scoring non-typical was picked up in Portage County in 1940 and is the second-highest scoring non-typical of all time. Ohio's top-scoring non-typical taken by a hunter was killed in 2006 by Jonathan R. Schmucker and scores 295 3/8 inches.
Record B&C Non-Typical Stat
283
Record B&C Non-Typical Entries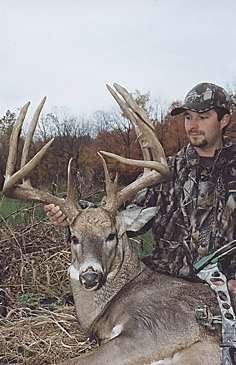 Season Dates (2013): Bow season opens Sept. 28 and runs through Feb. 2. Gun season runs Dec. 2-8. Muzzleloader season opens Jan. 4 and ends Jan. 7.
The Grade: A
While other states have required careful consideration and deliberation to determine a fair grade, Ohio needed none of that: It's an easy A. And it's not just because the state has a reputation for cranking out big bucks. In fact, antler size doesn't have much to do with the Antler Nation grading criteria. What matters most is huntability. Does the state offer hunters opportunity? Ohio certainly does.
It boasts long seasons that run from September through February. It has some of the most affordable non-resident licenses in the Midwest. And they're available over the counter.
And while the state does offer liberal seasons, it has enough restrictions to create a balanced deer herd with older deer -- and older deer have bigger antlers. Ohio allows hunters to take just one buck per year. You can't use rifles during the gun season, and gun season takes place after the rut. All are steps taken to ensure Ohio's deer population is kept in check without overly skewing sex ratios or age structure.
The state has a ton of public land for the Midwest, most of which is located in the southern portions of the state. There's the 250,000-acre Wayne National Forest, the 60,000-plus acres in the AEP Recreation Lands, tens of thousands of arces in Ohio DNR land ... you get the point.
Antler Nation Knowledge: The top-12 typicals in the Boone and Crockett books from Ohio have been taken since 2000, and all but five of the top 25 all-time typicals have been taken since 2000. The oldest was taken in 1981. That's a whole lot of top-end bucks in the past 13 years.