B
250000
Est. Whitetail Population
130000
No. Licenses Sold Annually
193 2/8"
Taken by Glen McClane in 1948 in Sanborn County. Ranks No. 69 overall.
Record B&C Typical Stat
111
Total B&C Typical Entries
256 1/8"
Taken by Francis Fink in 1948 in Marshall County. Ranks No. 59 overall.
Record B&C Non-Typical Stat
52
Record B&C Non-Typical Entries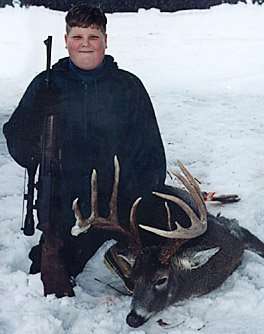 Season Dates (2013): Bow season opens Sept. 28 and runs through Jan. 15 statewide. Rifle season dates vary by unit with the earliest falling on Nov. 1 through Nov. 30 in the Black Hills. The East River gun season will be held Nov. 23 to Dec. 8 and West River unit's rifle season is Nov. 16 to Dec. 1.
The Grade: B
South Dakota very nearly earned itself an "A." With roughly 5 million acres of land available for public hunting, a fairly low hunter density and a history of producing some outstanding whitetails, the state has an awful lot to offer. Unfortunately, you'll have to do a fair amount of research and hoop-jumping to enjoy it as South Dakota's licensing system is complex enough to make figuring out how to get a tag a bit daunting. South Dakota issues all of its deer licenses through a lottery system -- for both residents and non-residents alike. Residents, of course, get first shot at tags in some units with non-residents entering into the mix only if there are tags left over. The state is comprised of several different units, each with its own season dates, bag limits and license quotas.
Getting an archery tag is virtually a lock. Drawing a rifle tag, however, is difficult for non-residents. But if you do draw a tag or opt to hunt during bow season, South Dakota offers a cool mix of terrain that includes rolling, open country farmlands to the East with vast prairie expanses to the West. South Dakota bucks can grow big and old thanks to fairly light hunting pressure and good food.
Antler Nation Knowledge: South Dakota is known far more for its pheasant hunting than its deer hunting. The state produces about one million roosters each fall and has spurred a healthy guiding business. Many of those operations also offer fairly-priced whitetail hunts and generally have more prime dates available than states better known for whitetails.