B
1200000
Est. Whitetail Population
700000
No. Licenses Sold Annually
$24
A gun license for residents is $24; a bow license is $24.
Resident hunting license and deer permit
$160
Non-resident gun tag is $160; non-resident bow tag is $160.
Non-resident hunting license and deer permit
206 1/8"
Taken by James Jordan in Burnett County in 1914, ranked No. 2 of all time.
Record B&C Typical Stat
1025
Total B&C Typical Entries
253"
Taken by Elmer Gotz in Buffalo County in 1973.
Record B&C Non-Typical Stat
421
Record B&C Non-Typical Entries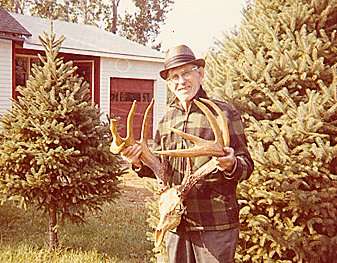 Season Dates (2013): Archery season is Sept. 14 to Nov. 21 and Nov. 23 to Jan. 5. Gun season is Nov. 23 to Dec.15. Muzzleloader season is Dec. 2-11. Some dates vary by zone.
The Grade: B+
When you look at the numbers and factor in the key ingredients to the Antler Nation grading system (amount of public land, cost of licenses, hunting opportunity, etc), it would seem that Wisconsin would be a shoo-in for an A. And a strong case could be made for that grade.
But Wisconsin's dealings with Chronic Wasting Disease and the new introduction of a "deer czar" give us pause. Wisconsin's regulations are cumbersome with a multitude of special hunts, regulations and bag limits that are confusing at best. They may be well-intentioned to combat CWD, but they definitely make it difficult to understand when and where you can hunt as well as what you can legally kill.
Hunting pressure is high but declining -- state license sales have dropped fairly dramatically in recent years and a report from the University of Wisconsin indicates that decline could continue. You will have a tough time finding private land to hunt in the southern reaches of the state. But with so much public land available, finding someplace to hunt shouldn't be a major challenge.
Despite the complexity of the regulations and the high number of hunters, Wisconsin has produced a ton of Boone and Crockett entries and offers nearly 6 million acres of public land, plus a robust commercial forest program that allows public hunting access to private lands enrolled in that program. That's about 17 percent of the state that's open to public hunting.
Toss in non-resident licenses that come in well under $200, and you've got an outstanding state to visit for whitetails.
Wisconsin also offers a variety of habitats that are always: Bluff country farmlands to the south and big, vast timber tracts to the north.
Antler Nation Knowledge: The addition of Dr. James Kroll as the state's deer consultant has already produced a fairly significant change -- the state has eliminated an October gun season that was designed to reduce deer numbers in problem areas. The hiring of Kroll has been controversial, but it seems the elimination of this season has been favored by many Wisconsin hunters. It'll be interesting to see how things pan out.