Hunters are punching tags as cold fronts and the early October "false rut" put deer on the move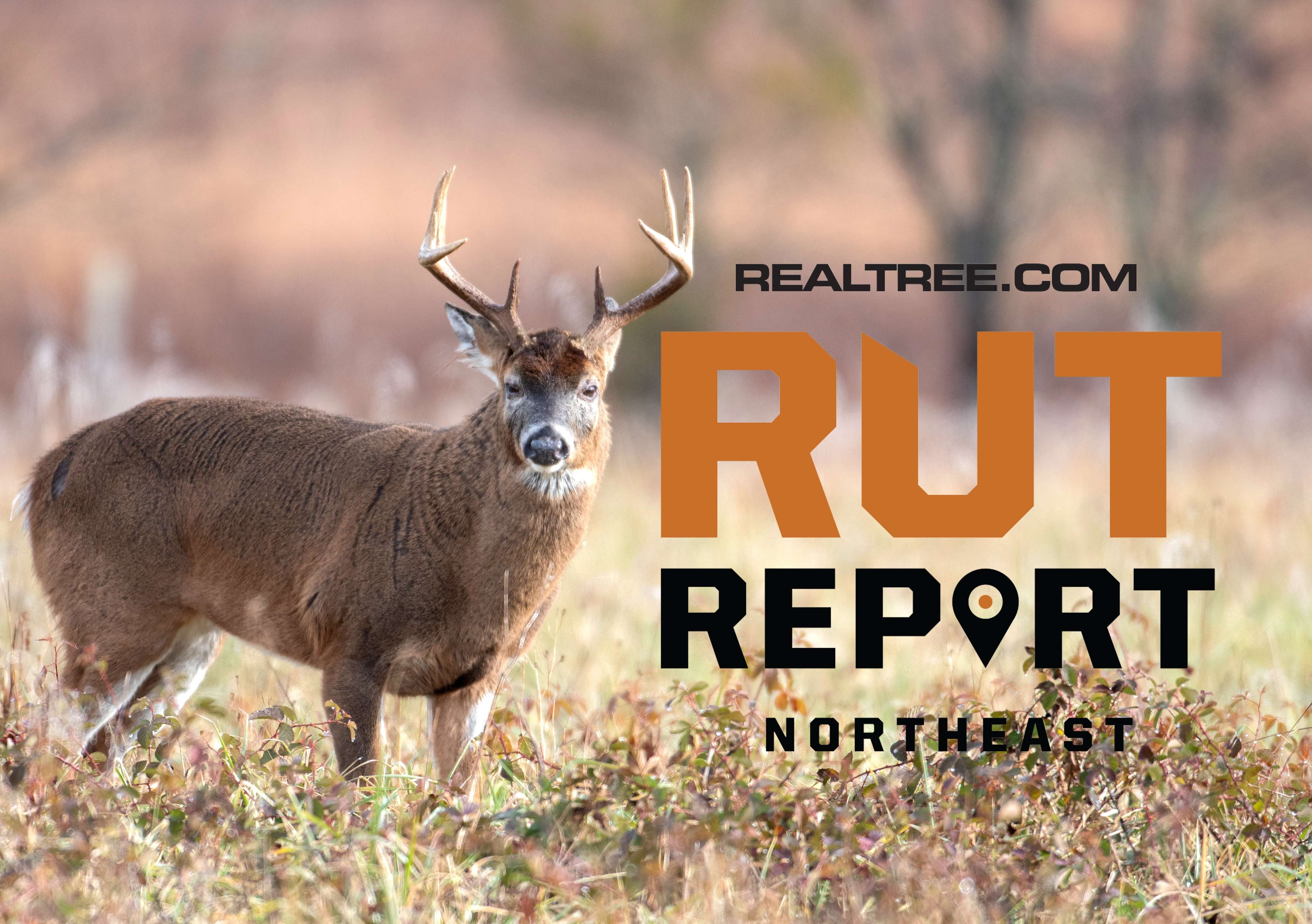 Well, that escalated quickly! What a difference a week can make in the hunting action. Northeastern hunters from top to bottom detailed a distinct shift in deer activity and sightings this past week. It was likely spurred by a major swing in temperatures, from tepid to cooler-than-average, that took place starting last Saturday. Area reports transitioned from, "Well, the fawns are really on the move" to "Wow, I have big bucks daylighting like crazy!" in just a matter of days. I would personally echo their statements, having had encounters with two of my best bucks after the temps tumbled nearly 30 degrees.
As the leaves have continued to transition, so has the deer activity. Brett Joy of Just Hunt Club had a perfect description of this week's activity when he stated, "they're in that transitionary phase where you can still find them (bucks) on summer feeding patterns, while still having interest in marking their territory and maybe checking out some does." After heavy rains on Saturday and Sunday, I received similar feedback from cohorts in New Jersey and Pennsylvania, who told of a heavy increase in deer sightings this week. Each brought focus to more buck activity, especially during daylight hours.
In New York, the weather remained downright hot through last Friday before a cold front pressed through, bringing blasting winds and heavy rains in transition to more favorable hunting conditions. When the weather has been clear and cool, this fall's conditions have been nearly as ideal as you could hope for, with October deer movement following suit. Intermittent rain clutched the area, but that didn't keep diehards from hitting the woods trying to maximize the shift. Several kills came in through text and social media including a handful of beauty bucks in New York, New Jersey, Pennsylvania, and Connecticut.
I personally took advantage of this week's improved weather and arrowed a heavy, wide-racked 8-point buck on Monday evening as he gorged himself on a green food source just before sunset. With lighter winds and cooler temperatures, deer were definitely on the move in my area with a lot of feedback from hunters who had epic sits.
Yesterday, I received a short video from another northeast reporter as he helplessly watched a gorgeous 6.5-year-old buck feeding in a field at 37 yards with no shot! Talk about heart breaking! His following text said, "KICK OFF!", and those words ring true. Each day forward marches us closer to a whitetail's most magical period of the year. From here there will be a lot of change but the activity swing will be significant. Rubs and scrapes are popping up all over with a number of hunters detailing this as being the best scraping activity they've seen in years. Young buck fights are taking place, and even a few stories of bucks trailing does were recounted this past weekend and early last week. The likely culprit would be a few select does going into an early cycle, triggering what many refer to as the "false rut." I feel like we talk about this every year but the question that I beg is, knowing that it happens each year, why do hunters pass up the potential to see a buck in action in early October when there are reports of so much buck activity? As one area bowhunter put it, "October 7, November 7, December 7, BE IN THE WOODS!"
If you missed it, you still have a lot of time. If you capitalized, great! There's still plenty of season to come, and the long-term weather forecast still shows great weather for deer activity. Let's just hope the Northeast's whitetails get the memo along the way.
Don't Miss: The 2023 Northeast Deer Season Forecast
Day Activity

Rubbing

Scraping

Fighting

Seeking

Chasing

Breeding