What deer activity are you seeing?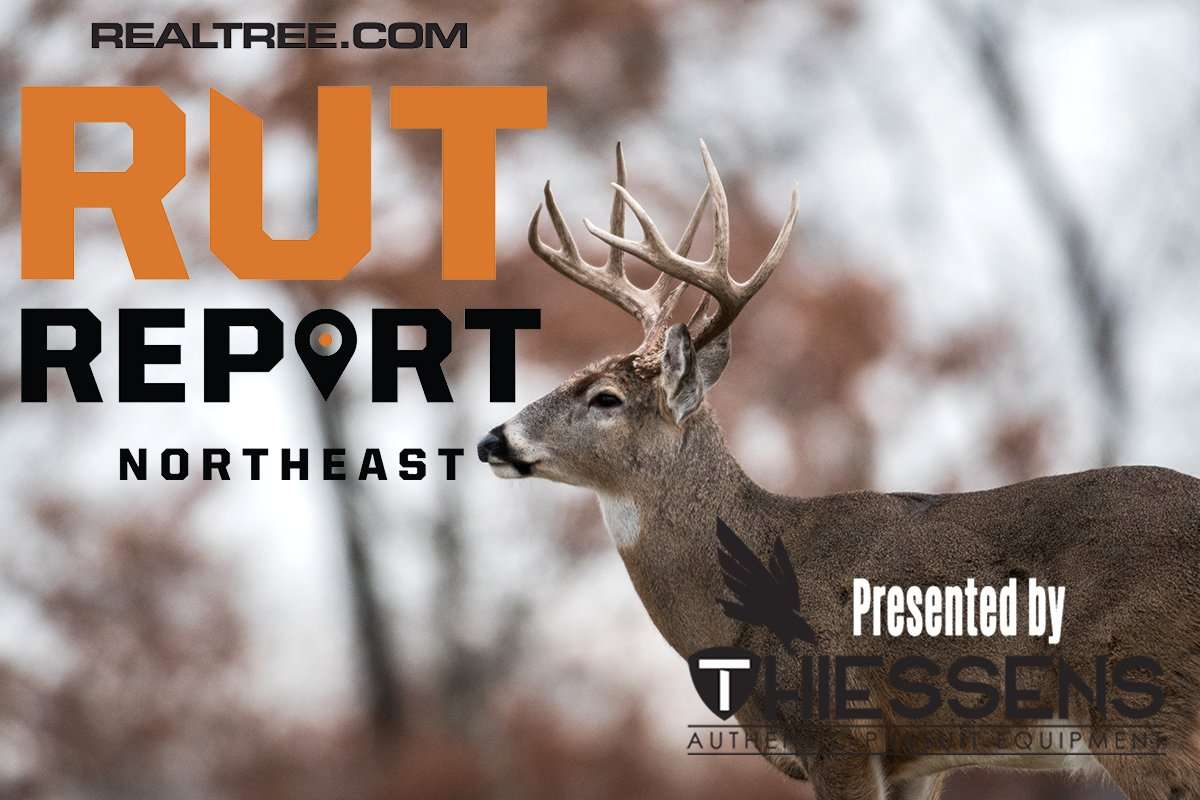 November is here. It's the time of year we all wait for. The weather is forecast to cooperate for the start of November, with temperatures expected to drop throughout the weekend. This should set the stage for some good deer movement.
Pennsylvania
I checked in with Midwest Whitetail pro staffer Garrett Boop in south-central Pennsylvania. He watched as one doe was chased across a picked cornfield by four bucks. Two of them were mature and it all went down an hour before sunset.
As for food, deer have cleaned up most of the white oaks in his area. On the flip side, red oaks are still falling, and corn has been hot, too. Mature bucks are beginning to increase their overall daylight movement. The deer activity was great before the warmup, but he expects that to improve more as it cools down this weekend.
Maine
Moving north, I spoke with Andrew Logan, who is the owner of True North Outfitters in Bangor, Maine. Andrew is starting to see bucks hit scrape lines with regularity. He experienced great movement this past week. Bucks are beginning to test each other. Logan even witnessed a few bucks fighting this week, which proves it's a good time to do some light rattling and calling.
Deer are still eating apples and have been browsing heavily on beechnuts. The area has experienced a bumper crop this year. Andrew said two recent major rainstorms put a dampener on things, but he expects it to get good moving into next week. Temperatures won't get out of the 40s.
New Jersey
I talked with Brian Cronk of northern New Jersey. Cronk hunts in Sussex, Morris and Hunterdon Counties. This past week slowed a bit with warm temperatures overtaking much of the Northeast. But that will soon change.
Deer are still hitting acorns. Most of the white oak seeds are gone, but there are lots of reds still around. Bucks are starting to bump does around a bit. There are a lot of new rubs and scrapes showing, too. He also watched a mature buck chasing a doe the other day for the first time this year. So, that's good news.
Region as a Whole
Scrapes and rubs are popping up all over. Bucks are beginning to wander more, check does and show up in new places. I've had several reports of hunters watching multiple bucks following does in numerous states, which could have been the first hot does in those areas. These reports will begin to be more frequent, especially after this warm weather moves out.
With some of the first good signs of the rut showing up this past week, the best is yet to come. Most of the Northeast will receive a blast of cold air throughout the weekend and into next week. It may be some of the best hunting of the season. And remember, don't forget your grunt call this weekend. It's that time of year.
Stay safe and be ready. You never know when that big one might show up.
Don't Miss: How to Hunt the Phases of the Rut
Check out more stories, videos and educational how-to's on deer hunting.
Day Activity

Rubbing

Scraping

Fighting

Seeking

Chasing

Breeding