What deer activity are you seeing?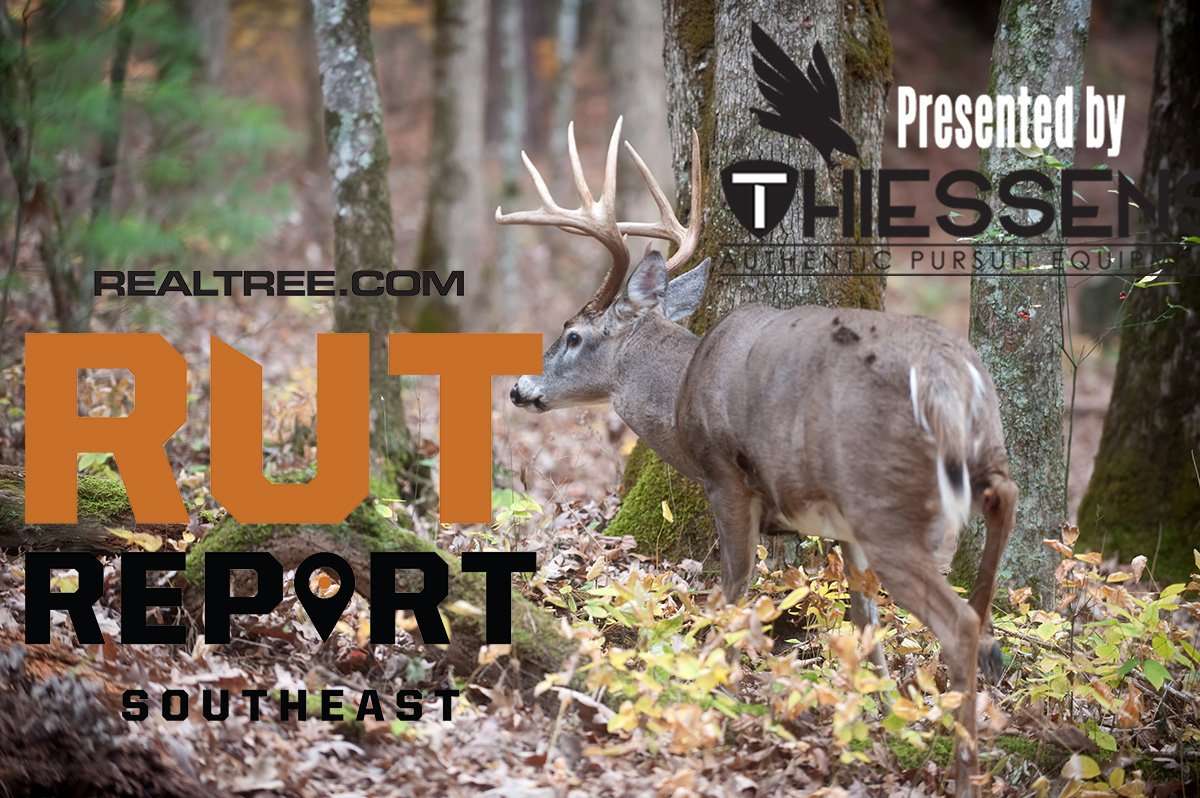 We kicked off the 2019-20 Rut Report on October 2. Nearly three and a half months later, the whitetail madness is finally wrapping up. Deer season is over for most, and it soon will be for others. That said, a few states remain open, and a little rut action is still being seen from the stand. Here's what you need to know and the final Rut Report of the season.
Alabama, Mississippi and Louisiana
The rut is on fire in my area, said Whitetail TV's Bart Goins. Mature Bucks are daylighting. The one I'm after has been there in daylight the last two days. I missed him this a.m. by 15 minutes because we got out of the blind at 10:30 to be at a lunch meeting. He hit the Spartan camera at 10:45.
Well, if that isn't a punch to the gut. But it likely happened to other Alabama hunters across the state, too. According to the historical rut data provided by the Alabama DNR, more than half the state is rutting hard. Madison, Limestone, Lauderdale, Colbert, Franklin, Marion, Lamar, Pickens, Sumter, Choctaw, Marengo, Wilcox, Dallas, Perry, Chilton, Autauga, Coosa, Elmore, Tallapoosa, Chambers, Lee, Bullock, Barbour, Henry, Dale, Coffee and Geneva Counties should see rut activity through the end of the month. Macon, Montgomery, Bullock, Lowndes, Pike, Crenshaw, Butler, Lovington, Monroe, Conecuh, Escambia, Clarke, Washington, Mobile, and Baldwin should rut into early February.
Kinion Bankston said the deer are driving Louisiana deer hunters crazy with their on-again-off-again rut activity. But looking back to the Louisiana Wildlife & Fisheries, parts (but not all) of: West Feliciana, St. Helena, Pointe Coupee, Avoyelles, Iberville, Assumption, Ascension, Washington and Tangipahoa Parishes should produce the best rut activity for the remaining weeks of the Pelican State deer season.
The vast majority of the rut is finally over for Mississippi. That said, the Mississippi Department of Wildlife, Fisheries and Parks reports that select counties are still producing breeding action. Clarke, Wayne, Jones, Forrest, Lamar, Perry, Greene, Pearl River, Stone, George, Hancock, Harrison and Jackson County will likely carry some estrus does over into early February.
Other States Still Open
Again, deer hunters are still chasing the rut in Alabama, Louisiana and Mississippi. However, some diehard whitetail enthusiasts are enduring the elements in Georgia and Florida. In the former, the statewide archery season ended January 22, but in select counties, an extended archery season goes through January 31. In the Sunshine State, Zone B and D gun hunters have until February 23. Zone D muzzleloader hunters wrap things up March 1. All other states closed down days or weeks ago.
Reflecting on the 2019-20 Deer Season
Looking back, the 2019-20 deer season was one of the best ever for the South. Preliminary harvest totals suggest a great season. Most hunters throughout the region seemed to be happy and overall deer populations are mostly trending in the right direction. States also appear to be managing herds quite well, and the future looks bright.
My personal season was the best ever, too. I tagged a great late-season Kentucky buck and doe. I also traveled out of state and killed mature Missouri and Ohio bucks, too. It was a year I'll never forget, and I'm already looking forward to fall.
Don't Miss: Conducting a Post-Season Trail Camera Survey for Whitetails
Check out more stories, videos and educational how-to's on deer hunting.
Day Activity

Rubbing

Scraping

Fighting

Seeking

Chasing

Breeding