Rack Report Details
Buck:
184 2/8"
Time of Year:
November 17
Place:
Pike County, MO
Weapon:
.270 rifle Rifle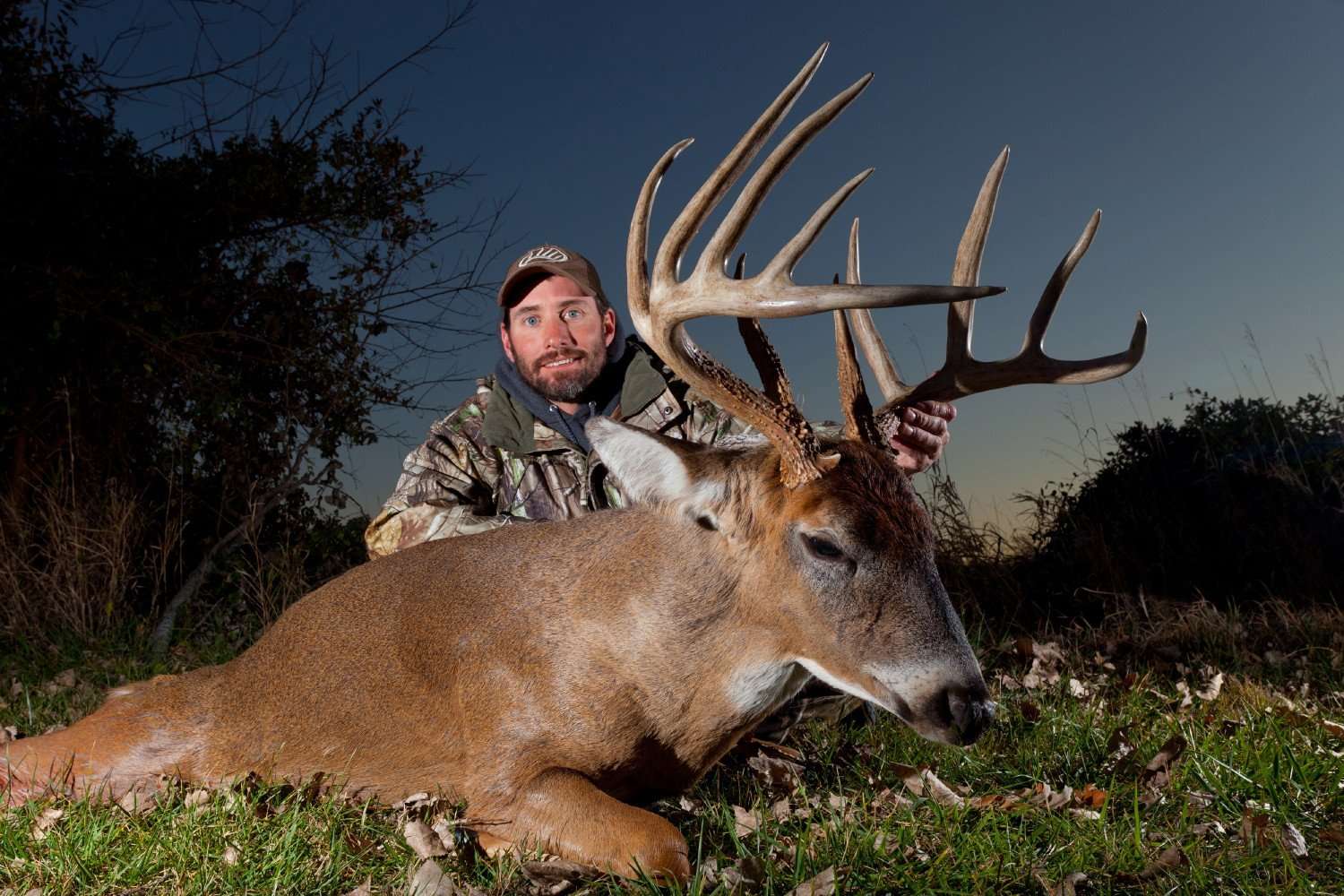 Let's play a little word association game. It's easy. You read the words and then write down whatever it is that instantly comes to mind.
Rack Report.
That's right - stories about big, freaky bucks. Good job. Now let's try a couple more.
Pike County.
Probably got it half right. Yes, Pike County conjures up images of big bucks. But we're not talking about Illinois.
One more.
Dink.
Probably thought of something small, right? Well, not this time. In fact, quite the opposite. In 2010, Jason Cleveland of Whitetail Properties spotted a buck that on a Pike County, Missouri, farm that he manages that featured antlers that were anything but evenly matched.
He had a messed up side that was dinky, which is why we called him Dink. This year, as a 5-year-old, he came out of the dinky side with flying colors. He showed up on many cameras on food and scrapes, and I knew he was going to be my target buck, Cleveland said. I hunted him for two years. I have hundreds of pictures of him. I use Big&J's BB2 during the off-season to feed my deer herd and keep them on my farm. I used Tink's Power Scrape and Reconyx cameras to know where he was living during the season.
When the season finally opened, Cleveland had two areas that he was focusing on in hopes of locating Dink early in the year, but the buck never made an appearance except at night on trail camera.
Then, on Nov. 17, Dink showed up.
We had a southwest wind and the temperatures were finally dropping into the lower 40s after several warm days. I had a double set deep in the timber that I had only hunted twice in two years, so I decided that was the day to give it a shot, Cleveland said. We got in undetected, and in no time we were covered up with several does. As the morning progressed, we saw a young 8-point and another half-racked buck. Finally, at 10 a.m., I decided to rattle. In no time, a young buck ran right in to the base of the tree and busted us. I was so disappointed by this. But as the young buck ran off, I saw another buck off in the timber at 150 yards. It was Dink! Finally, I got to lay eyes on this giant. He ran off with the young buck and my heart just sank. I thought my chance was gone.
But it wasn't. After several more uneventful hours, Cleveland decided to bang the antlers together again. Again, there was almost an immediate response to the mock battle. A doe appeared about 80 yards away through some thick brush - and Dink was hot on her heels.
Cleveland quickly settled the crosshairs and fired his .270. The shot dropped the buck where it stood, bringing a two-year quest to an end. Dink's 11-point rack grosses 184 2/8 and features tremendous tine length, long, sweeping main beams and dagger-like brow tines. In short, he's a Pike County monster...Pike County, Missouri, that is.
Have a big buck story you want to share? E-mail us at [email protected].
Watch all the latest video episodes