Have You Ever Shot a Buck with This Much Antler Character?
Rack Report Details
Buck:
204 Inches
Time of Year:
October 16, 2017
Place:
Northeast Kansas
Weapon:
Hoyt Faktor bow Bowhunting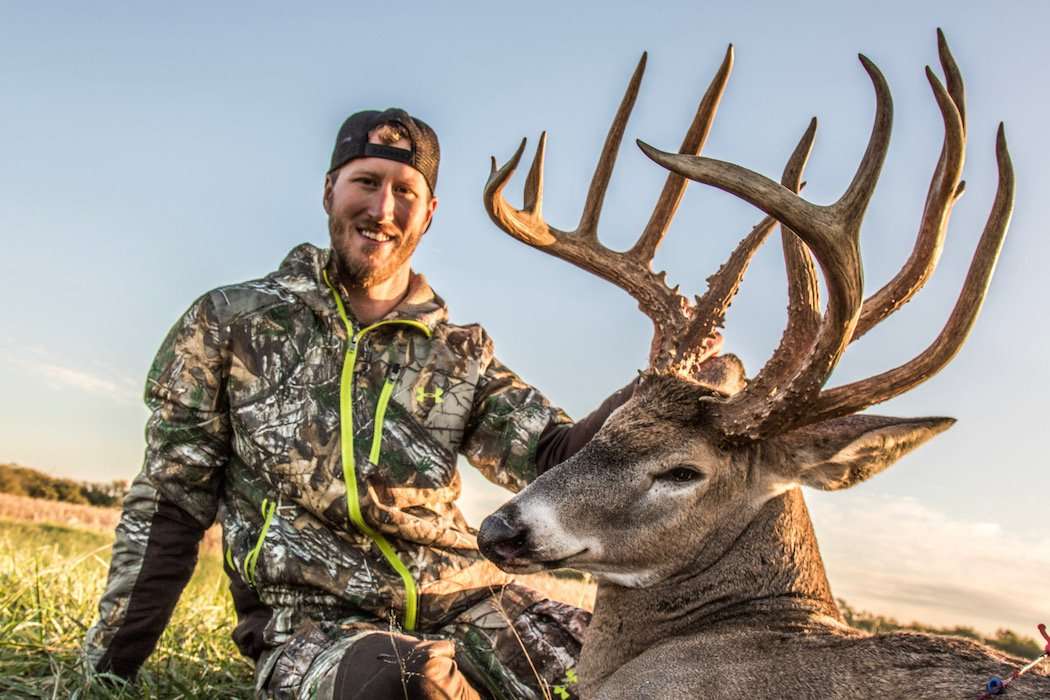 In January 2015 while walking a Kansas property to determine if it was worth leasing for deer hunting, Scott Burton and a couple of friends neared the middle of the 500-acre property in question when one in the group took off running while shouting, It's mine! It's mine! It's mine!
The rest soon saw what instigated the commotion — the skull of a dead whitetail buck sporting huge antlers with a double beam on one side.
Of course, that find stirred the unanimous vote to lease the property. At the time, the property had zero agriculture because the landowner enrolled it into CRP.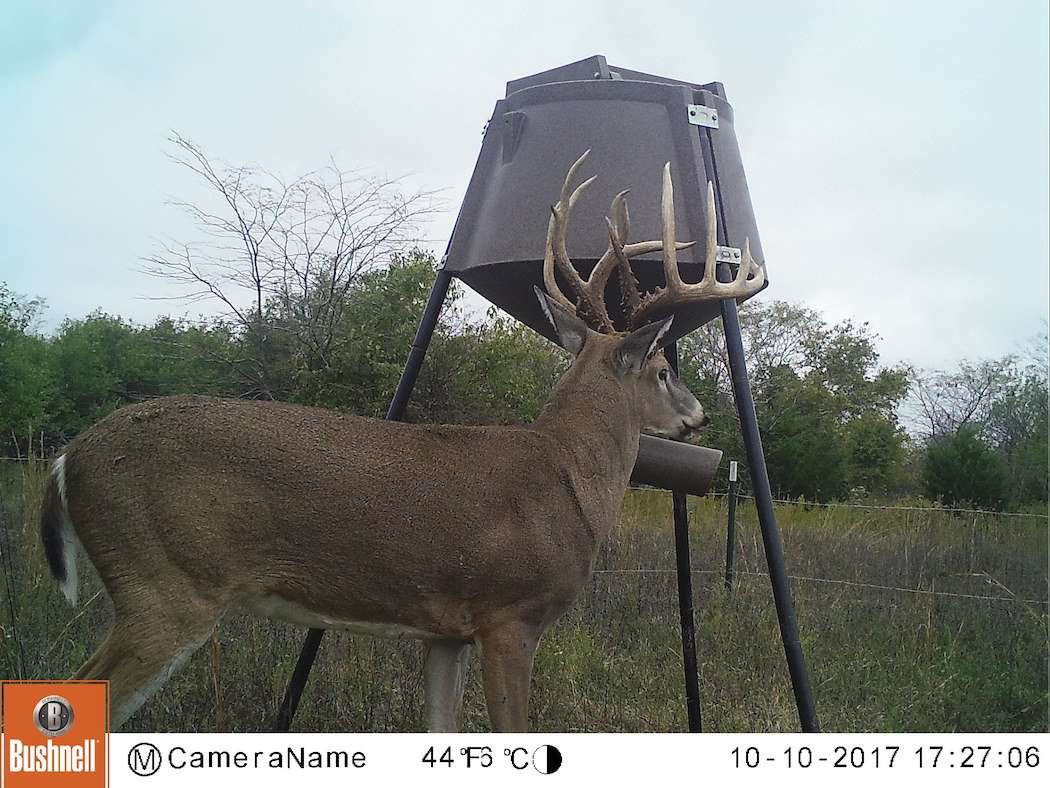 Deer were spending time on the property, but they'd feed on neighboring properties, so we improved the habitat by cultivating three food plots, Burton said.
Leading into the 2017 Kansas deer season, Burton had a few bucks in mind that were at least 5½ years old. However, he kept his options open in case a buck with larger antlers showed up on one of the many trail cameras he and his buddies run on two Sunflower State properties.
Burton went to check on a specific trail camera in mid-October, all while knowing that he was going to hunt for a 170-class buck that had appeared once during daylight on a trail camera at the other property.
Lo and behold, when I checked the camera, I got a giant surprise, Burton said. A huge buck was on the trail camera multiple times over the previous week, and about 25 percent of its images were during daytime. I changed my mind [on hunting] the 170-class buck on the other property right then and there.
Even though the area is secluded and unpressured, Burton said that deer tend to be fairly nocturnal there, so he was elated to see daytime pictures of the 200-class buck, especially in the middle of October. Stranger yet, the buck sported the same double-beamed characteristics of the skull Burton's buddy had found three years earlier.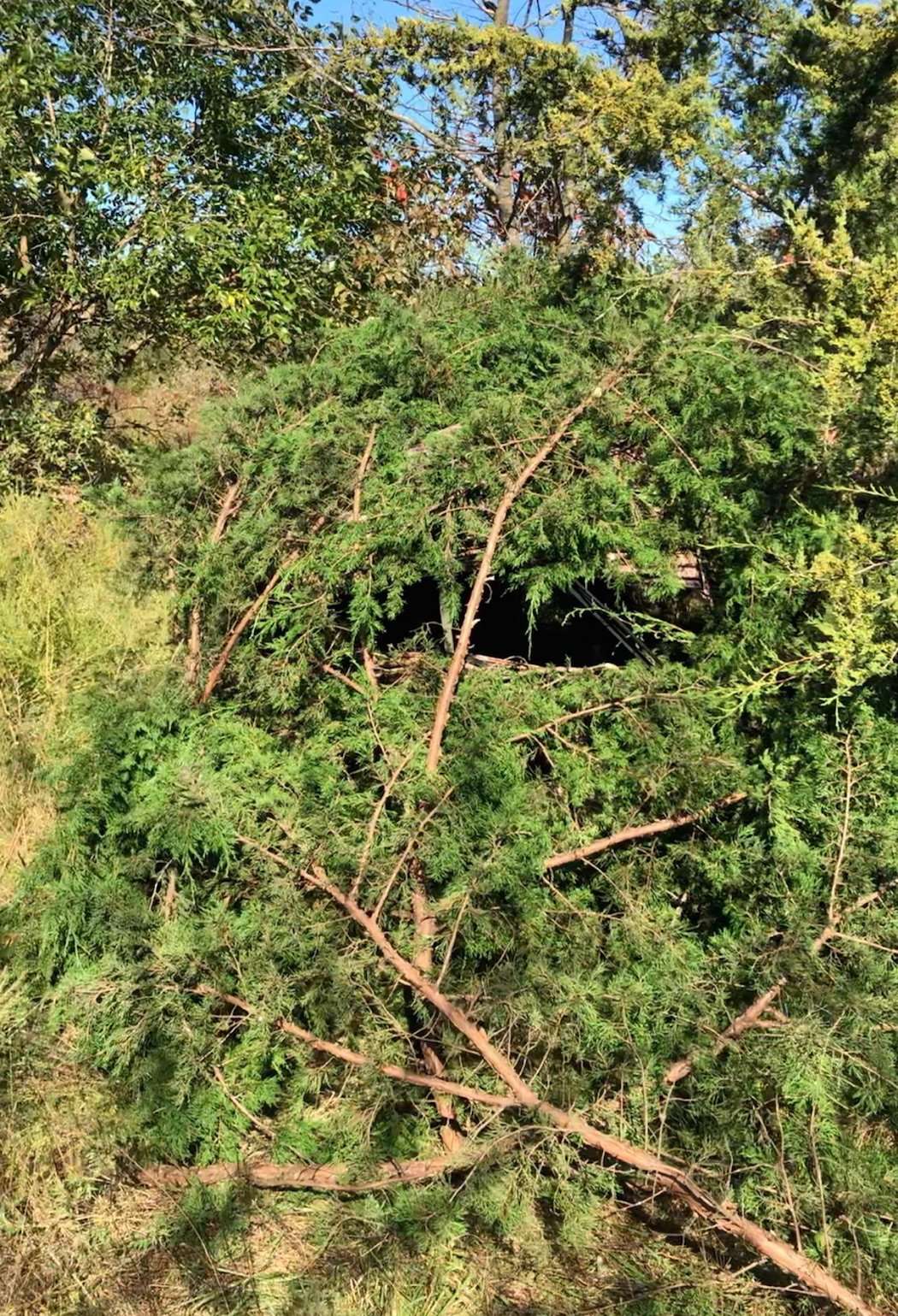 The trail camera on which the buck appeared is located in a thick bedding area of tall weeds, and Burton surmised that the buck was bedding not far away to the southeast of the camera location.
After studying the images back at home, Burton returned the following day to position a ground blind.
I cut down an entire cedar tree with my chainsaw, and I brushed the blind in so well that it practically disappeared, he said. I didn't want to leave anything to chance.
Burton had also brought his Hoyt bow, and despite the temptation to hunt immediately, he identified that, approximately every 10 minutes, the wind was gusting toward the location he expected the buck to approach from. He wisely backed out.
The following afternoon, he slipped away from work early and headed for the blind.
I'd never hunted this part of the property before, so everything was new to me, including accessing the blind, Burton said. In fact, I bumped a couple of deer on my way in. Nonetheless, I reached the blind and got settled in.
Interestingly, the property has wild horses roaming around on it, Burton continued. The landowner put out horses back in the '70s and never fenced them in. At 4 p.m., some does were milling around the blind when I heard some commotion behind me. It was the horses, and the does quickly moved off. One of the horses had me pegged and came right up to the blind. The horses soon scattered, and 10 minutes later, another doe appeared.
Gear Highlight: 2018 Hoyt REDWRX Carbon RX-1 Series in Realtree Edge

Then, I heard a sound where the horses had come from, Burton said. It sounded like a buck grunt, but it also sounded like it could be a horse. I honestly wasn't sure.
A couple of minutes passed, and the source of the noise suddenly revealed itself — the giant buck from Burton's trail camera.
I drew back and almost punched the trigger twice, but I was able to refrain and calm myself so that I didn't rush it and miss or make a poor hit, Burton said. The buck stopped in front of the blind, and I made the shot.
Burton started calling his buddies to inform them that he'd nailed the buck.
I sat there for 20 minutes, and then I started getting nervous and went out to inspect the arrow, he shared. I'm colorblind, but I could tell the arrow was soaked. I started to track the deer, but I just couldn't see blood on the weeds.
To play it safe, Burton backed out and waited for a buddy to arrive to assist with tracking. Once he got on the trail, we found the deer only 70 yards from where he'd been hit, Burton said. Remarkably, he'd gone the opposite way I thought he had.
I've shot a pile of deer over the years, including some 150- and 160-class bucks, but to take a deer of this caliber had me speechless, he concluded. I realize that I might not top this one.
Don't Miss: 8 Effective New Deer Hunting Gear Products You May Not Have Seen Yet
Are you a deer hunter wanting to learn how to accomplish your goals? Check out our stories, videos and hard-hitting how-to's on deer hunting.
Watch all the latest video episodes