An October cold front produces another monster archery deer
Rack Report Details
Buck:
177 inches
Time of Year:
October 17, 2022
Place:
Kansas
Weapon:
Bow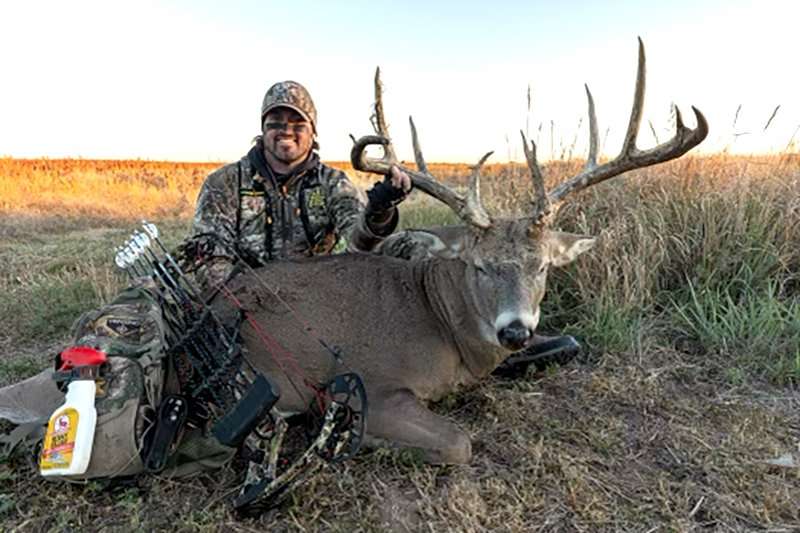 HeadHunters TV's Nate Hosie is no stranger to big whitetails, and this season, he shot a massive one. Hunting with Triple Creek Outfitters in Kansas, he had high hopes of seeing big bucks. He's hunted there for about eight years and knows the area's potential, but he didn't expect this deer.
Hosie was in camp with songwriter Randy Montana, who writes for Luke Combs. They hoped to have a good hunt. Either way, they'd have fun.
On Oct. 17, the second day of the hunt, Hosie eased into a stand for the afternoon sit. He expected to see decent action. The outfitter had some photos of the big deer a few nights earlier, but they didn't think the buck was really in play. That thought would soon change, though.
The weather was calm, with high barometric pressure. Hosie was sitting in a big draw off a CRP field and some plum thickets. He could see about 400 yards to a big water tank deer were frequenting. Kansas is experiencing drought conditions, and Hosie expected deer to hit the water hard. Unfortunately, he couldn't hunt closer to it because of the land layout, but deer were still funneling toward his location after watering.
Soon after Hosie settled in, deer really started moving. It was solid activity, with about 20 does meandering around. Soon, a spike walked into view, and then the big deer. He came out lip curling and checking does around him.
After a few minutes, the big deer worked into bow range, and Hosie prepared for a shot. The buck eventually stopped broadside, and the patient bowhunter seized the opportunity. Hosie drew, controlled his breathing, settled in and released the arrow. The 27-yard quartering-away shot struck the vitals cleanly. The buck spun and ran off. It covered about 80 yards and fell within sight.
Over the years, we've been a part of some great hunts, Hosie said. We appreciate God's creation. It's just an amazing blessing. Score aside, it just comes down to the hunt and the relationships we make. Anytime I punch a tag, I'm appreciative of that deer.
Reflecting on the hunt, Hosie attributes the deer to an October cold front, watching the wind and hunting smart. All said, it led to a 6-½-year-old, 177-inch whitetail.
(Don't Miss: Iowa Bowhunter Arrows Old, Heavy-Beamed Monarch)

Watch all the latest video episodes