A careful approach during an October cold front led to this Southern giant
Rack Report Details
Buck:
166 2/8 inches
Time of Year:
October 18, 2022
Place:
Harris County, Georgia
Weapon:
Hoyt RX-7 Bowhunting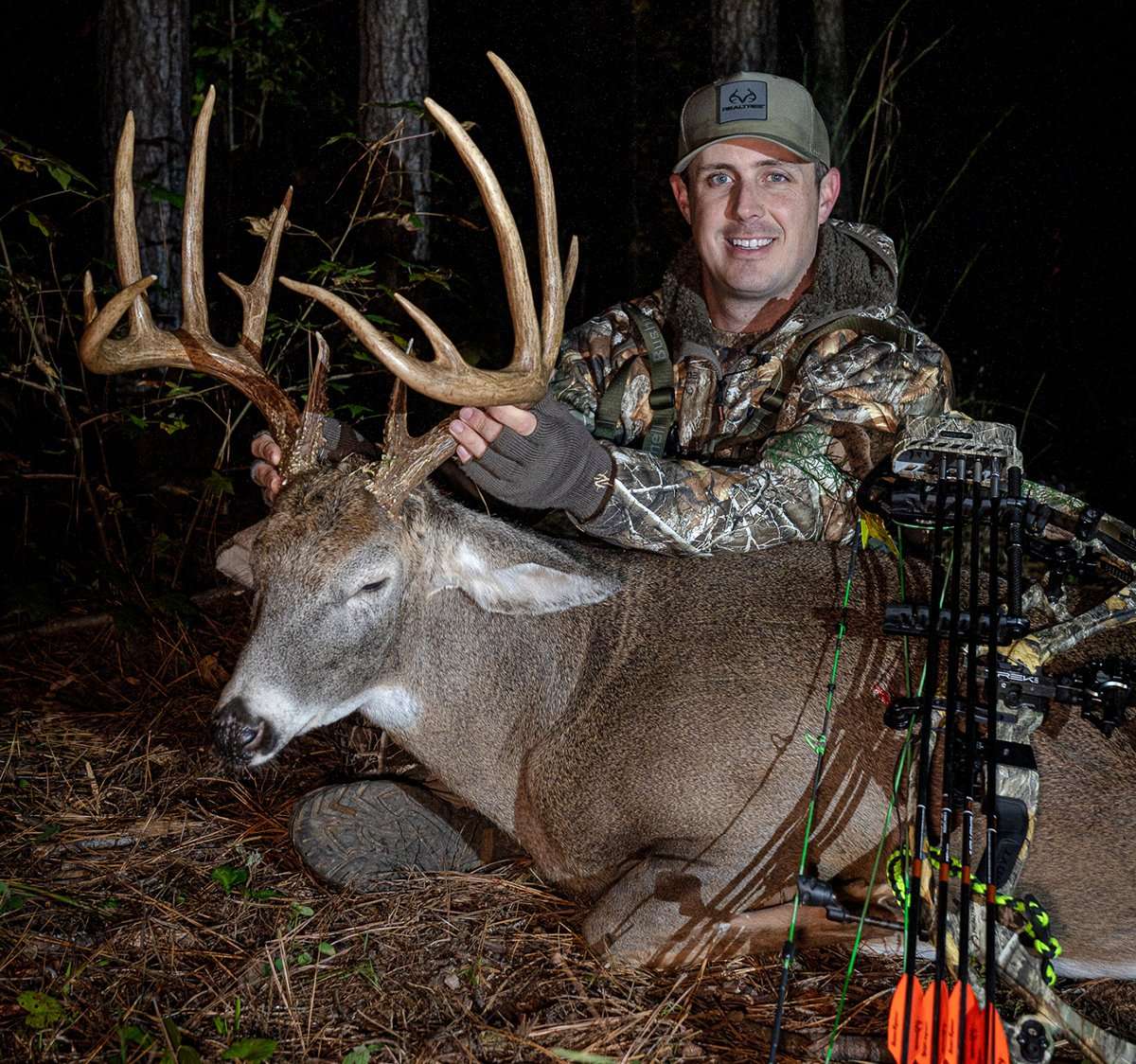 Tyler Jordan needs no introduction. He's been shooting big bucks since he was young — most of which have aired on Realtree Outdoors, Realtree Road Trips and Monster Bucks. This season, he bagged another big whitetail at Realtree Farms. He'd followed the deer for three years, and this season, they greenlighted the buck nicknamed Hayblower.
I love traveling the country and hunting deer, but there's just something about getting the opportunity to hunt a deer like this on your own farm, Jordan said. Being a part of the plan and strategy on this deer is so rewarding. While only [Realtree producer] Matt [Garger] was in the tree with me that night, J.J. Doughman and Bryan Brown have been involved from the start of this journey on Hayblower.
The mature 5-½-year-old whitetail frequented a portion of the farm Jordan hasn't hunted a lot.
I've never hunted this particular food plot before, Jordan said. Not until this deer started showing up there this year.
Oct. 18, 2022, was Jordan's 12th sit for the buck. He'd had one previous encounter, but it didn't pan out. The wind swirled that day, and the buck got away. But Oct. 18 was cold, with a steady wind — the first cold front of the season. Conditions were right, deer were on a pre-rut pattern, and they were sure to pound the green field Jordan planned to hunt.
Careful not to spook deer along his entry route, Jordan eventually reached his Primal ladder treestand. He settled in and started glassing his surroundings. Cold air and thoughts of the big buck brought goosebumps.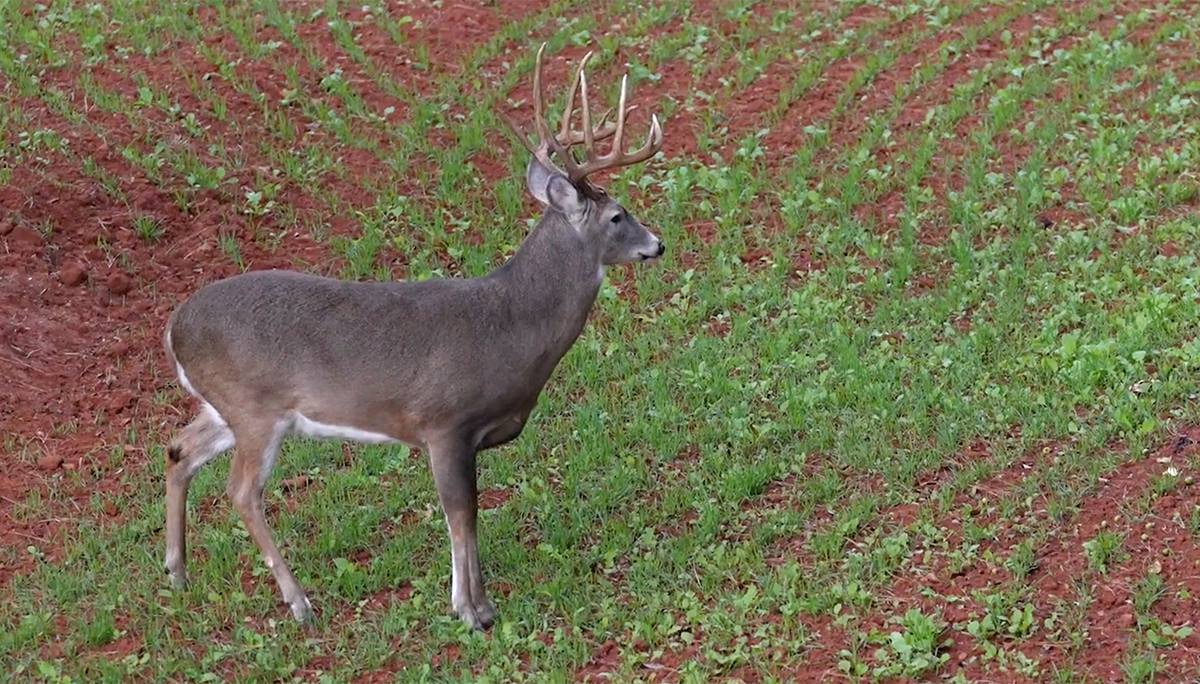 After a while, deer started moving. Six does walked in together and started munching on greens. Jordan and his cameraman watched as they milled around in the open. Eventually, they left.
A few more minutes passed, and then the big deer appeared.
He came out by himself, Jordan said. He walked toward us to one of the crabapple trees that was on the edge of the field. He turned broadside and was about to start eating them.
Waiting for the right moment, Jordan patiently let the buck offer a shot. Then, he drew back, settled the pin and took the 30-yard quartering-away shot. It connected.
After reviewing the footage with a couple of friends, we felt great about the hit and were ready to get our hands on him, Jordan said. The buck only ran about 80 yards and tipped over just out of sight.
Dad may have been the most excited for me, Jordan said. He knew how much time and effort we've put on this deer since summer. The first cold front of the year can be deadly. This deer had not daylighted much since opening week. I loved the way this deer looked because his rack reminded me of a Texas buck with his spindly tines.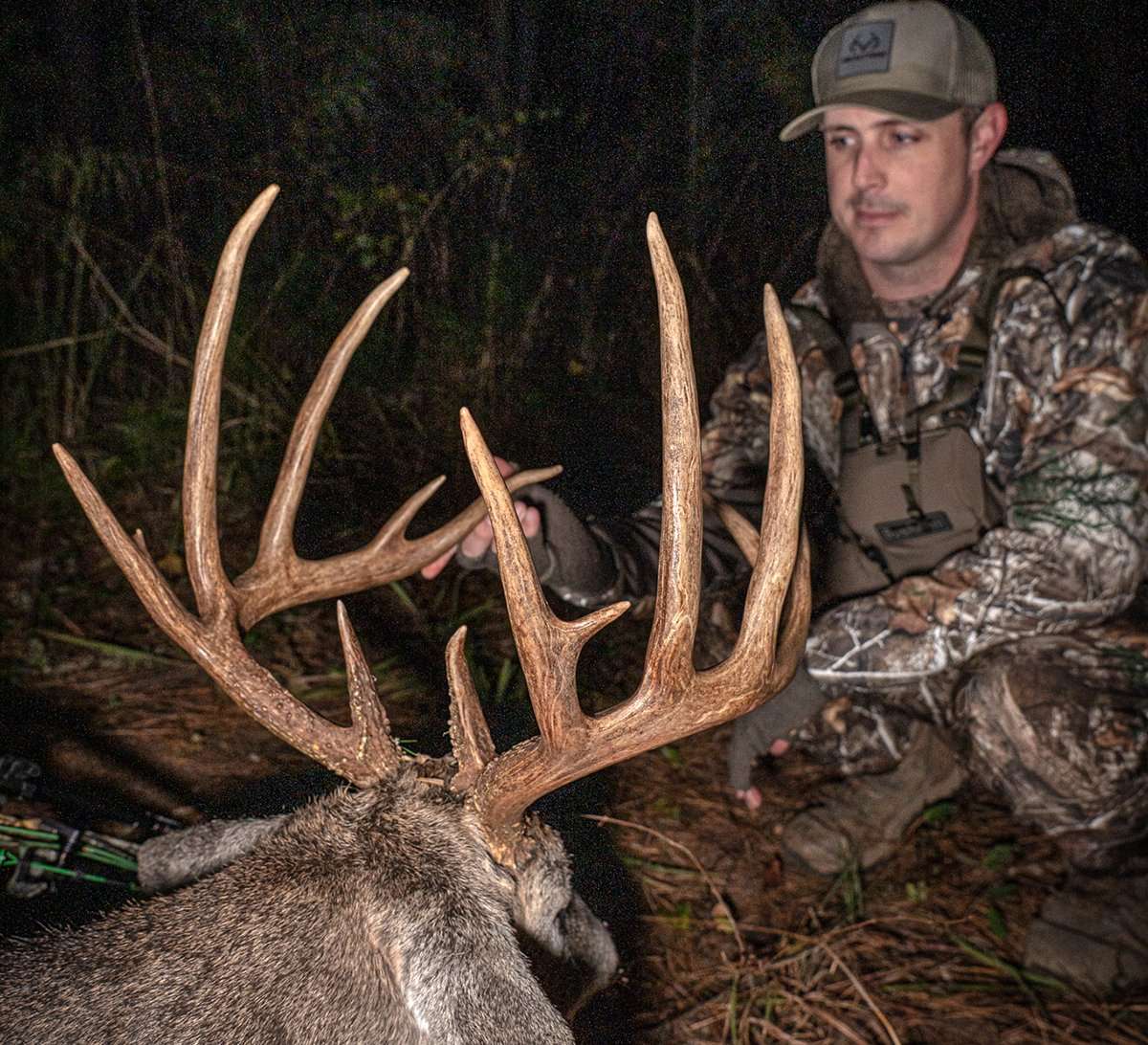 Reflecting on the hunt, Jordan stressed several informative takeaways. First, don't go into an area until conditions are right.
With it being so early in the season, I wasn't going to contaminate that area with scent until I felt the weather and overall situation played to my favor, he said. Patience is key. I don't think it's a coincidence where we first saw him in person that it was the last time he was seen in that area before we picked him up about 300 yards away in a different location. We could have gotten lucky that day, but I pushed in on a light and variable wind. He didn't blow, but he knew we were in the area.
Now that the chess match with Hayblower is finished, it's on to another adventure. Jordan can't wait for it to begin.
It's what I've grown up doing my whole life, he said. It's what I love doing the most with friends and family.
The big Georgia deer scored 166-2/8 inches. You can watch the hunt on Realtree 365.
(Don't Miss: 55 Hours on Stand for a Canada 12-Pointer)

Watch all the latest video episodes