After 3 years of showing up only in the late season, a big buck makes the fatal mistake of arriving months earlier
Rack Report Details
Buck:
173
Time of Year:
September 6, 2023
Place:
Breckinridge County, Kentucky
Weapon:
Bow: Hoyt Alphamax
Some stand locations are just special. Kentucky hunter Jonathan Hayden has one of those. In the past five years, that one stand has produced four bucks ranging from 140 to over 170 inches. So, when a big buck showed up in the area, Hayden knew where he would probably be early in the season.
Hayden had a history with this buck. He and his hunting partners had watched him grow on their trail cameras for the past three years. Unfortunately, the buck would only show up at the very end of season and hang around the farm the rest of the winter and following spring.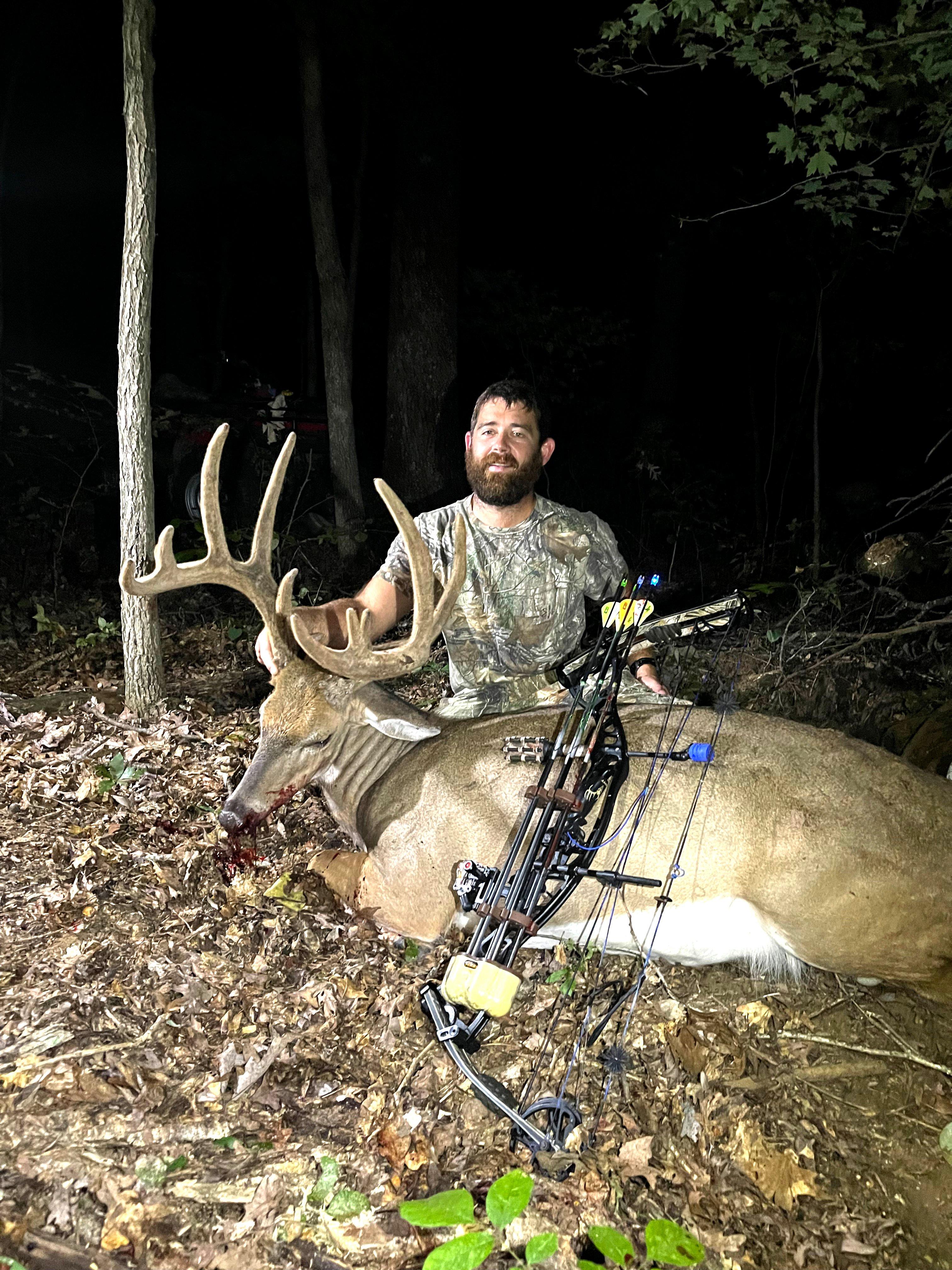 When a stand location regularly produces trophy bucks, you know where you need to be once season comes in.
But this year was different. The big buck showed up during the summer and hung around as a regular visitor to cameras for several weeks leading up to the season. Hayden hunted the Saturday opener and saw a few deer, but not the buck he was after.
"My brother wanted me to go back on Sunday, but it was so hot and the wind wasn't ideal, so I held off," said Hayden. The same conditions persisted on Monday and Tuesday, so he passed on those days as well.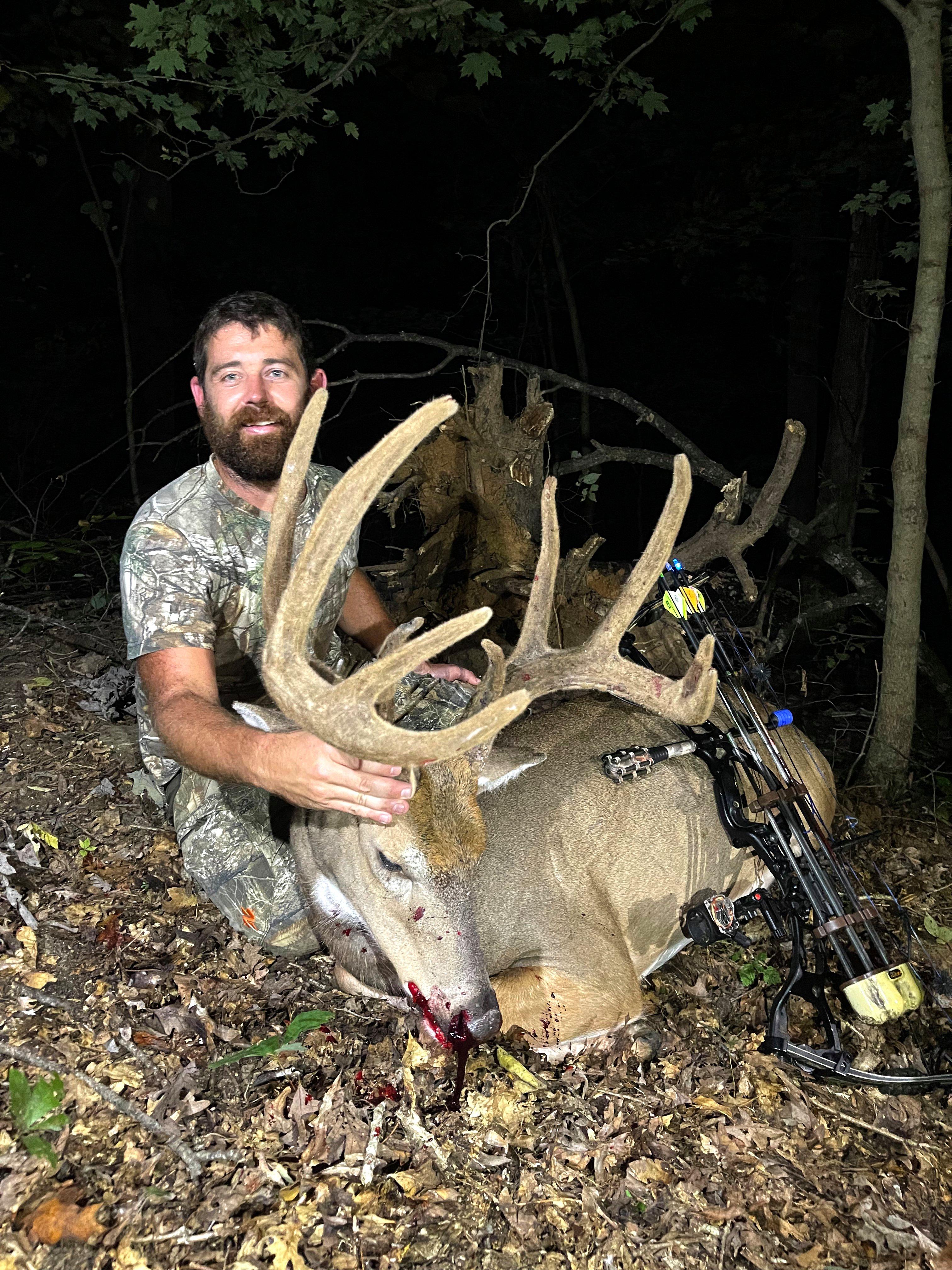 Waiting to hunt the stand until conditions were right resulted in the big buck showing up right on schedule.
With the arrival of a cool front and a little rain on Wednesday morning, Hayden had a hunch that deer would move that evening. He got to his stand early, just after midday. At 1:45, a small buck came through. Just 45 minutes later, another young buck wandered by.
Things were quiet for the next hour and half. Then Hayden saw a deer to his right. Then another, and another. There was a total of four does. They milled around his stand for a while, then two of the does faced off in a battle of flailing front hooves. After enjoying the show going on just 15 yards away, Hayden watched as the does eventually wandered away. Another pair of small bucks came by at 40 yards. At this point, the evening was winding down. Hayden saw movement and watched as a 125-inch 10-point came in. "I perked up at that point, because this was the deer my buck had been running with all summer," said Hayden.
His suspicions were correct. Just a few minutes later, the big buck stepped into the open 30 yards away. Trouble was, he was facing almost straight away, offering no shot. "I was shaking all over and my heart was in my throat as I watched him standing there," he said.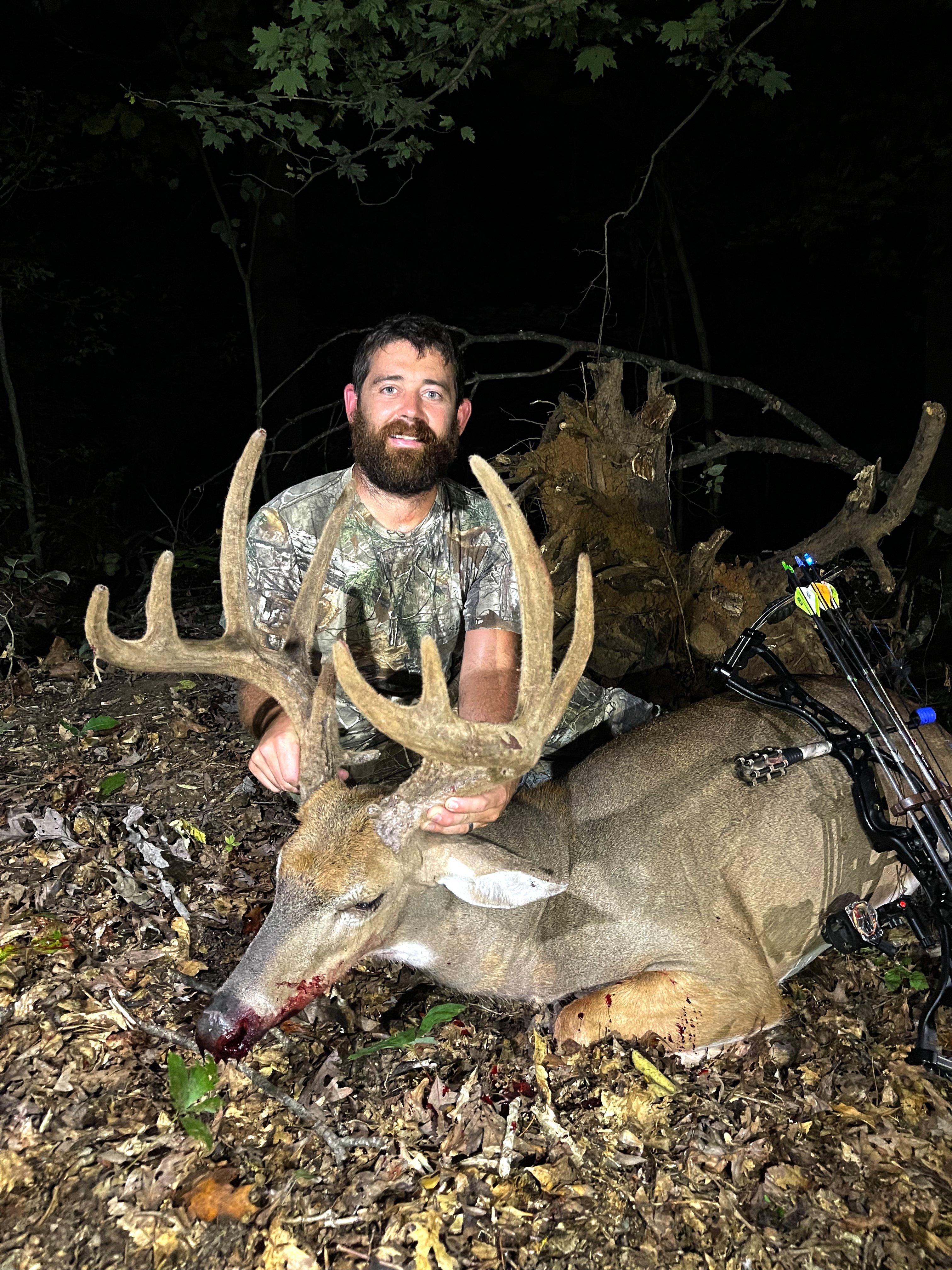 Something in the buck's schedule changed this season and he went from a late season visitor to an early season regular on the farm.
Just then, a doe and another young buck came in. The big buck spun around to push the small buck away. When the buck moved and turned his attention to the other deer, Hayden came to full draw. The buck paused, quartering away from the hunter. Hayden leveled his sight pin and released the arrow. He watched as the broadhead entered just inside the back rib, angling forward into the buck's vitals. The buck bolted into the woods and disappeared from sight.
Hayden called his brother and told him what had just happened. After waiting the final 20 minutes of daylight in his stand, he quietly climbed down. "I could see my lighted nock in the woods about 80 yards in. I hoped the arrow was still in the buck and he was down right there, but I didn't want to take a chance on bumping him, so I eased out and back to the truck."
Hayden assembled a recovery crew that included his dad, cousin, brother, and two brothers-in-law to go back in and look for the buck. As they got to the spot of the shot, Hayden began to search for blood. His cousin called out and asked what he was doing, since he could see the buck's white belly under the glowing nock. The group quickly made their way down to the buck.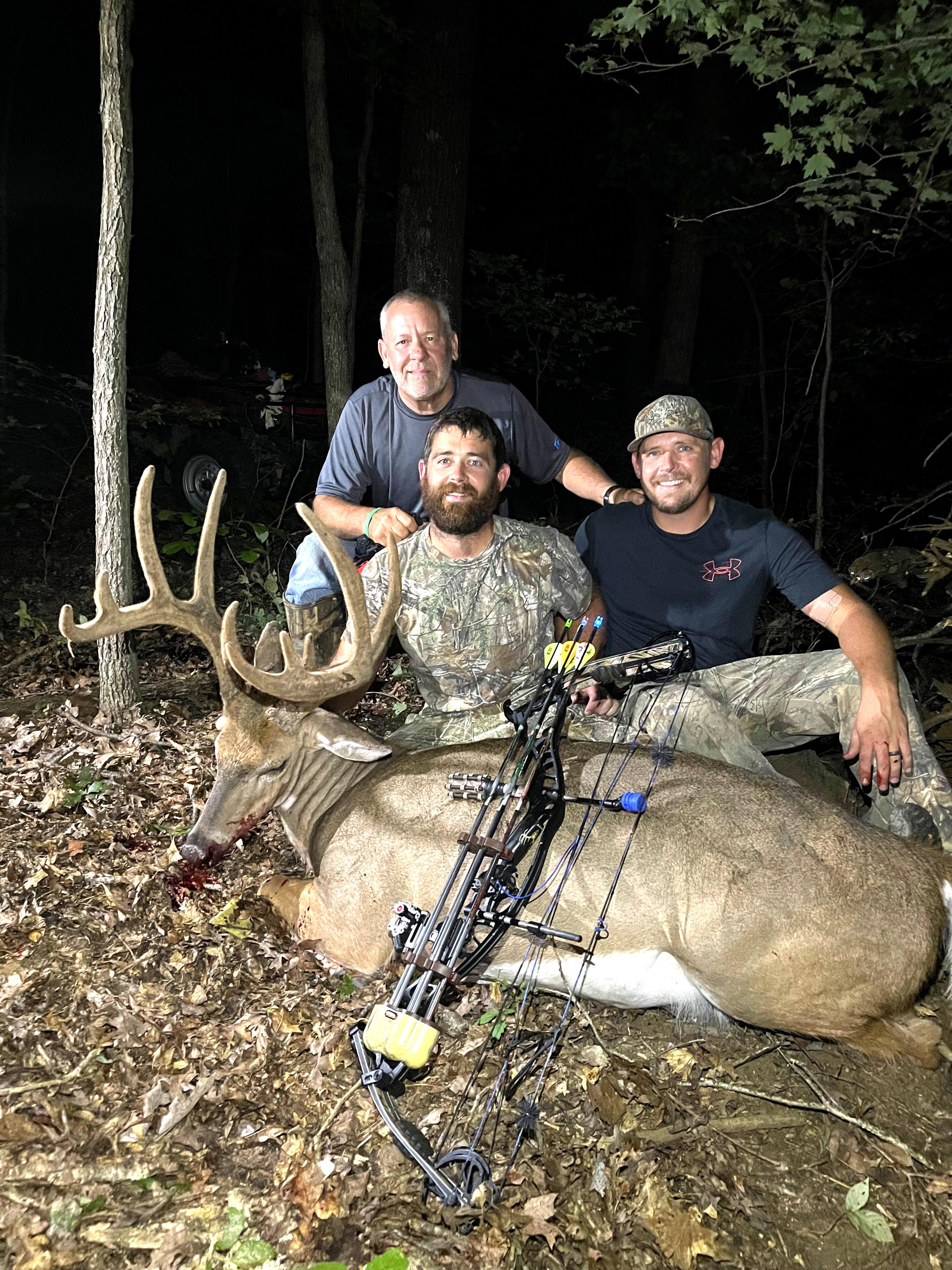 After assembling a family recovery crew, Hayden found his buck just 80 yards from his stand location.
The rack was a main frame 10 with 2-inch kicker off the right main beam and matching 12-inch G3s. The heavy frame boasted 45 inches of mass measurements and looked even bigger in person than it did on camera. "After getting the buck home, we did a quick measurement and came up with 173 inches. When I took the rack to Whittaker Country, a local sporting goods shop, they measured it just under 170. It just so happens that my 150-inch buck from last year was ready to pick up at the taxidermist, so I'm dropping this one off when I pick it up and having him score it. Two or three inches doesn't seem like much, but right now, Dad holds the record from this farm at 170 6/8 and I really hope mine tops him," Hayden laughed.
Watch all the latest video episodes