Gear Review: Post-Season Standouts (What I really, really, really liked)
I'm not exactly a gear nut. I don't often fall for gimmicks. I tend to prefer simple over complex, and I am leery to change what has worked for me in the past. I shoot plain old Federal steel shotgun shells, the same double gun I've owned for years, and I'm a strong proponent of the more moving parts something has, the better chance it has of breaking. That said, each season I find a few gems that really stand out. Mostly it is in the clothing or wader arena, since those segments of consumables are constantly evolving with the technology available.
This season proved no different, with three items in particular that stood out as being staples in seasons to come. Granted, this is only one hunter's opinion and it is based on nothing more than I simply liked the product and found it superior to what I'd been using. Let's take a look at them and see why they made it into the permanent rotation.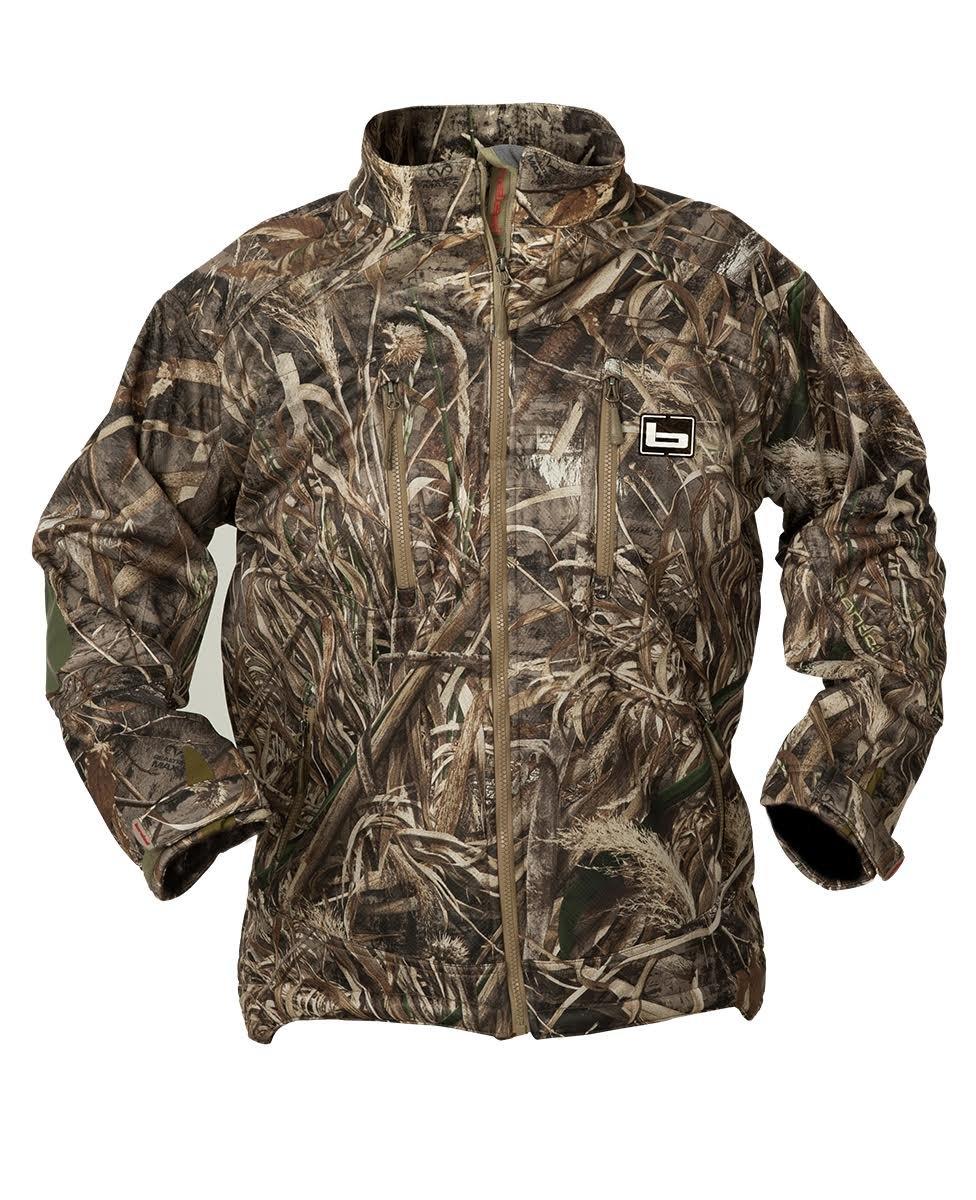 I can't pronounce it, but the Banded Atchafalaya Jacket became my go-to this season for the vast majority of days in the blind. It proved to be just about the perfect weight for 50-degree weather down to some pretty darn frigid mornings when we were breaking skim ice off the holes. The jacket's face fabric is a softshell material that repels boat spray, light mist, snow, and even misty rain. It's windproof, yet breathable so you're not soaking wet from sweat after brushing a blind, setting a big spread of decoys, or hiking through the timber. The interior is lined with coral fleece, which is soft, warm, and will not chafe your neck when your head is on a swivel in the blind. Apart from the jacket's versatility in various weather conditions, the construction is top-notch.
One of my pet peeves is a jacket with those small, fine-tooth nylon zippers. They will fail after little use, are cheap, and tell me that not a lot of thought went into making a quality garment. Banded uses thick, hard plastic zippers that will not corrode, don't bind, and do what they're supposed to do…keep things together without separating or falling apart. The neck is cut extra high to keep you warm right up to your ears and Velcro tabs around the cuffs keep water from draining up your arm when picking up decoys.
One thing I couldn't figure out was what the tiny back pocket is for. It's not quite big enough for a water bottle, you'll smash up a pack of crackers if you put them in it, and I'm pretty sure nobody is flexible enough to grab anything from the pocket while wearing the jacket. If I had one criticism, it would be higher hand warmer pockets so you can have a spot to shield your hands from the cold when wearing chest-high waders. Aside from that, this is perhaps the perfect waterfowl jacket for all but sub-freezing temps.
The Atchafalaya Jacket retails for $189 and is available from a number of retailers.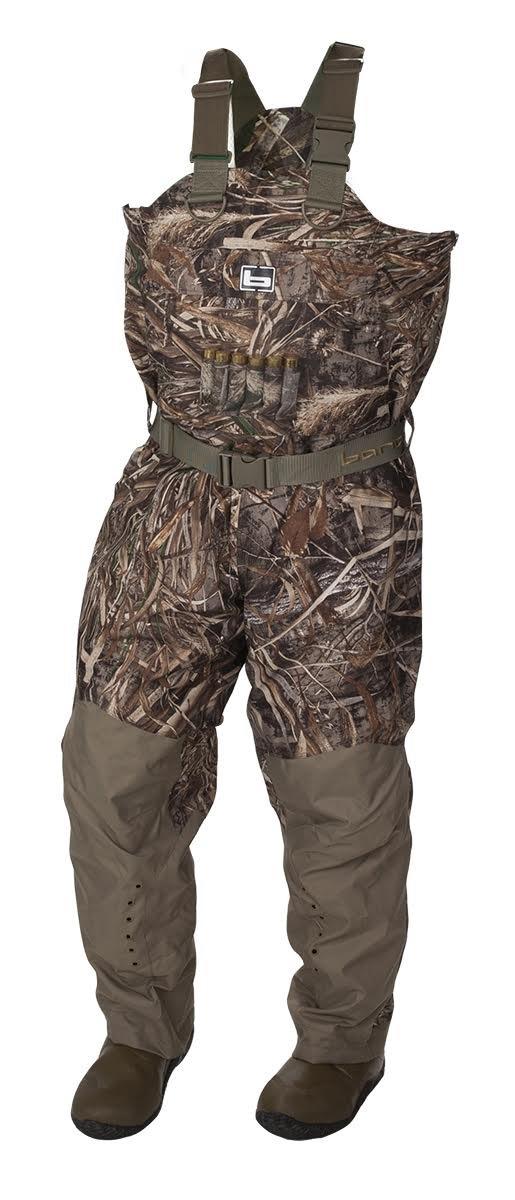 I reviewed the RedZone waders earlier in the season and said I would give an update after I'd had a chance to really put them through the motions. Well, I hunted in these waders pretty much all season, even during a few sub-freezing mornings when thick 5mm neoprene waders would have been the norm. First off, let me say that once you've walked any distance wearing breathable waders, you're going to be hard pressed to go back to thick neoprene. The ease of maneuverability in a breathable wader is far superior to that in neoprene waders and you will find them lighter, less fatiguing, and far more comfortable in terms of fit. I've fished year-round in breathable waders for two decades and there's a reason the majority of anglers don breathables instead of neoprene waders nowadays.
The most common question from my hunting buddies centered on warmth during cold weather. I hunted early teal here in the South and some unseasonably warm days in North Dakota with highs in the 70's and lows in the 40's. While my friends roasted in neoprene waders, I was perfectly cool and not drenched with sweat when I took them off. But, as temperatures began to drop and we found ourselves breaking ice, I did find that an extra pair of thick long underwear bottoms were needed to knock the chill off. I left the breathables home in favor of thick neoprene only on a few days when we were hunting in some cattail stands after a big ice storm and the temperature never got above 17.
Banded does make an insulated model of the RedZone waders, but I cannot comment on their warmth verses the non-insulated or neoprene models. I would imagine the layer of insulation would provide some warmth, but is it enough? I can't say.
The RedZone waders really shined in the timber. They proved themselves durable against branches, snags, and the occasional briar. In fact, the only leak I experienced all season with the breathables was after we waded through a thick briar stand. The leak was easily found with some alcohol spray and patched that night. I walked a lot this season, both scouting and getting into holes off the beaten path. After the longer-than-normal walks required to get to the hole behind the hole this season, my buddies were drenched with sweat under their neoprene waders, making them cold and clammy all morning, while I remained bone dry and warm under the RedZones; layering with a good Capilene base layer, Polartec fleece mid layer, and a thicker Polartec outer layer. This triple-layering system kept me warm and dry on all but the absolute coldest mornings. Even on the morning when the air temps were hovering around the high 20's, I was not uncomfortably cold.
After a full season and dozens upon dozens of days of wear, I can tell you the Banded breathable waders are the real deal. They're tough, comfortable, and I see them being a game-changer in the wader market.
Rig'em Right Mega Motion Jerk Rig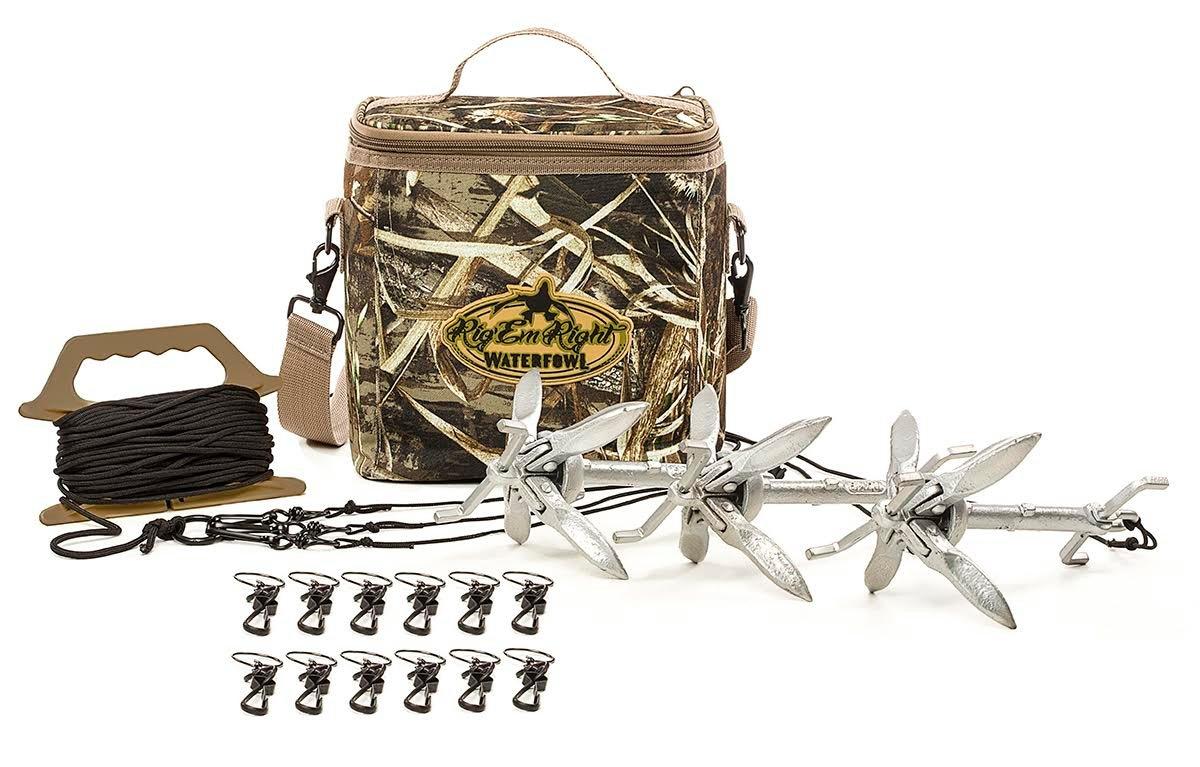 The fundamental of any good decoy spread is motion. You can have the best-looking, fully flocked decoys money can buy, but if they're just sitting there like Terra Cota soldiers, you might as well have Coke bottles floating in your hole. This season had plenty of windless days, so a jerk string became mandatory on pretty much every hunt.
During the early part of the season, we were running around six to eight dozen decoys in our rice fields. We typically hunt three people per hole -- two calling and one running a jerk string. On windless days, this just was not enough motion. Ducks were flaring off motorized decoys and the wobble contraptions just didn't throw enough ripples to really matter. A single jerk string with six to eight decoys was simply not enough to make our spread come to life, and we really didn't want the movement of three guys trying to pull cords.
Luckily for us, Terry, our master pintail caller and chief jerk string operator, showed up with the mother of all jerk rigs. It was the Rig'em Right Mega Motion Jerk Rig. The entire kit comes with three anchors attached to bungees and a length of cord with six rings for attaching decoys. These are all connected to the master jerk string, which runs to the operator. It is not as complicated as it sounds as each section is neatly housed in a sectioned pouch to keep tangling issues to a minimum. One fellow can deploy the entire system, hook up three dozen decoys, and be ready to hunt in under 10 minutes. The amount of motion this system imparts on a large decoy spread is impressive and can bring a fairly large spread to life with a single operator. This cuts down on motion in the blind and frees the rest of us up for other important things like calling and shooting. Sorry, Jason.
The only complaint I have with the system are the rings. They are big and lack snaps to directly attach to the decoy, so you have to use your decoy anchor snaps to clip the decoy directly to the large O rings on the jerk string. This may sound like a small encumbrance, but try doing that in the dark with thick decoy gloves.
Once you have the decoys attached to the cords, a single jerk will move 18 decoys, sending ripples through most of the spread. I considered making my own, but for the price of $109, you're more or less at a break-even point in terms of money, plus you're not going to find anchors with welded brackets to wrap the line around as well as a neat little pouch to carry it all. For my money, it's worth it to just buy one of the Rig'em Right systems and be done with it.