Pan-Seared Smoked Elk Backstrap with Bourbon Pan Sauce
A good friend called a while back and asked if I would be interested in some extra elk meat he had in his freezer. Seems he needed to clear some space for other critters. Being smack out of elk meat at the moment, my answer was an immediate and resounding YES. What I ended up with was a cooler full of roasts, chops, steaks and other tasty elk morsels.
One package in particular caught my eye. It contained a couple of really nice looking bone in backstrap steaks. I thought about what to do with them for a few days and finally settled on this recipe. It will work well for any nice steak, deer, elk, moose, you name it.
The sous vide cooking method has been popular among high end restaurants for a while now. It has now even started to show up fairly often in wild game dishes. The long exposure to relatively low temperatures results in perfectly done meat that is consistent all the way through. I thought for a bit on how to replicate the results but add a bit more flavor at the same time. Then it hit me, my smoker gets down to a pretty low temperature when I am smoking my bacon, and it is capable of holding there at a fairly steady rate. Why not smoke the steaks then pan sear to finish?
I served the steaks over roasted garlic mashed potatoes and topped both with the Bourbon Roasted Red Pepper and Mushroom pan sauce. You can make the potatoes according to your favorite recipe, but I like mine whipped with a head of roasted garlic squeezed into them and some cream and butter mixed in for a bit of extra richness.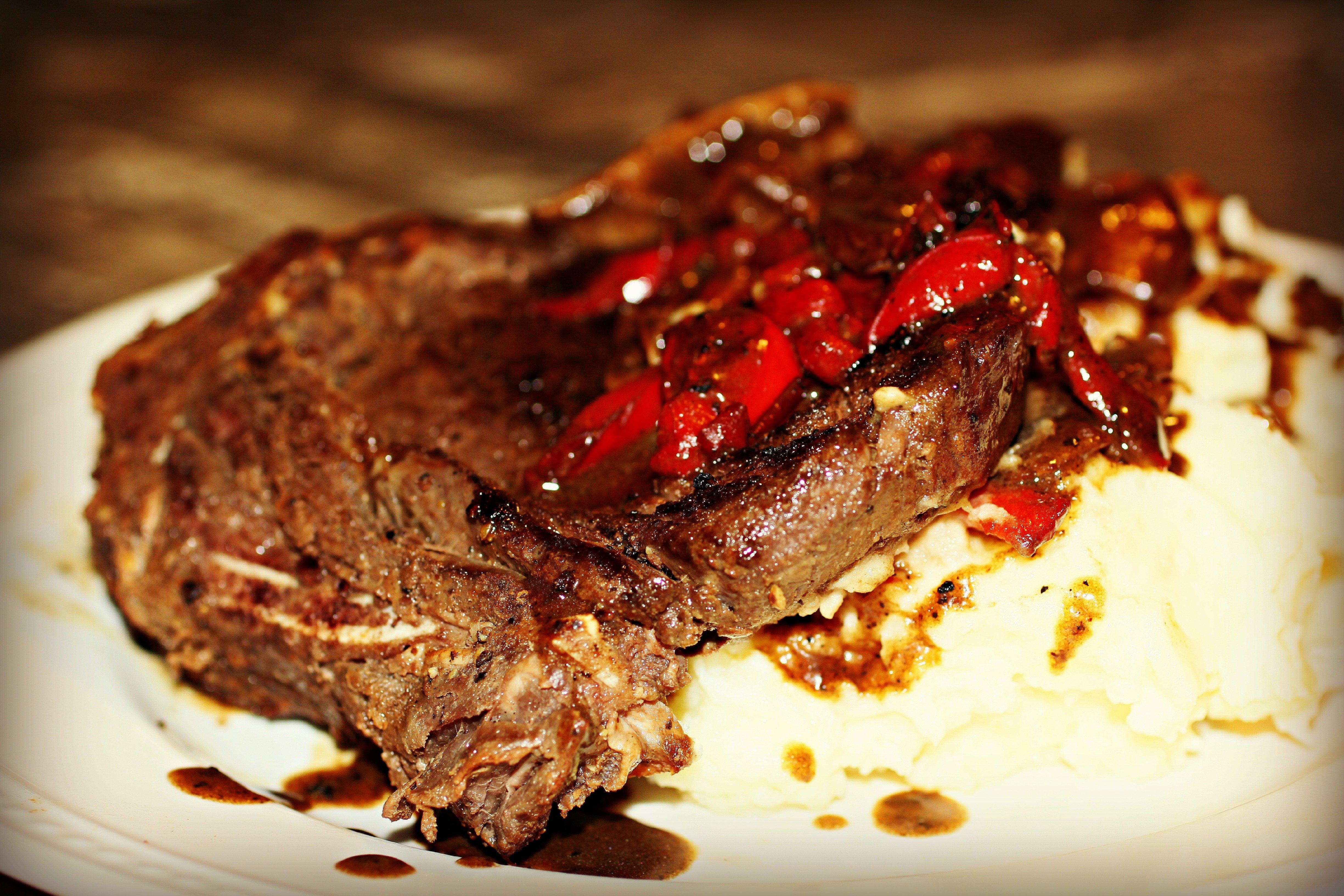 Ingredients
Elk Backstrap Steaks
Salt
Cracked Black Pepper
Cavender's Greek Seasoning
Pan Sauce
Two tablespoons unsalted butter
½ cup bourbon
½ cup beef stock
8 ounces sautéed mushrooms of choice, I used shitakes for this one
A couple of small roasted red bell peppers or one large pepper, julienned
2 tablespoons of beef demi-glace or one pack of the Knorr brand Homestyle beef concentrated stock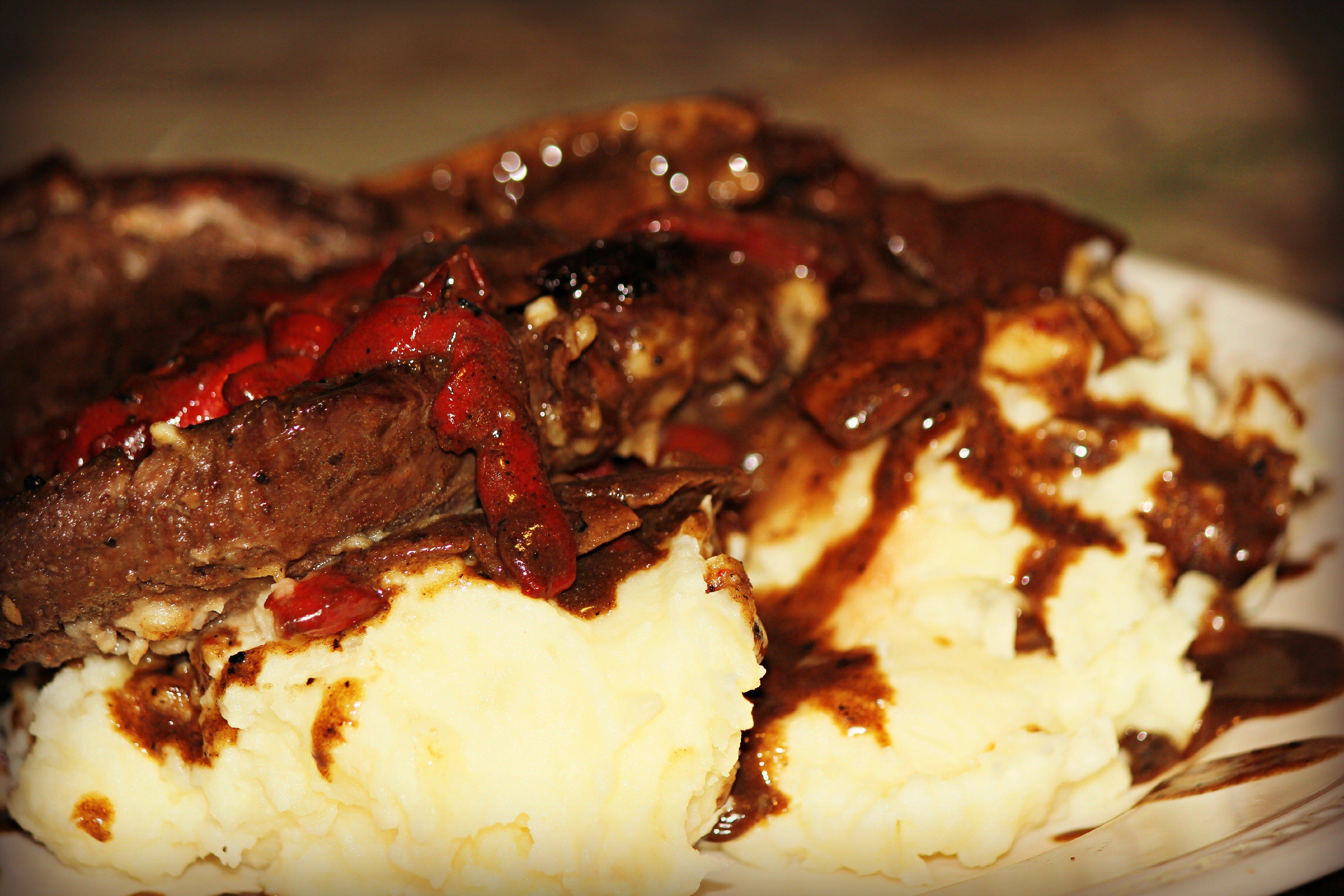 Mashed Potatoes
4 pounds of Yukon Gold or Russet potatoes
1 roasted head of garlic
4 tablespoons of unsalted butter
½ cup heavy cream
Salt to taste
Cooking Instructions
Let the elk come to room temperature and season well on both sides with kosher salt, cracked black pepper and a shake of Cavender's Greek Seasoning. I placed the steaks into the smoker and set the temperature for 150 degrees. To monitor the temperature, I inserted the probe of my meat thermometer into one of the steaks and set the alarm to go off at 135 degrees. It took about an hour and a half of slow cooking to reach the desired temperature.
At this point, the steaks were technically done, but I wanted just a bit of char on the outside and I needed something to base my pan sauce on. I covered the steaks loosely with foil and set them aside to rest for thirty minutes.
While the elk was resting, I heated my favorite cast iron pan to medium high. I added two tablespoons of clarified butter (vegetable, peanut or olive oil would work as well) and swirled it around the pan. When the oil began to shimmer, I placed the elk into the pan and seared for two minutes, then flipped the steaks and seared the opposite side for a couple more. Even though the steaks were at my desired doneness temperature after they came off of the smoker, the long rest period let them cool down and prevented the pan sear from causing them to be overdone. Back under the loose foil to rest again, and it was time to make the sauce
Bourbon Red Pepper and Mushroom Pan Sauce
To make the sauce, add two tablespoons of unsalted butter to the hot pan. Add the previously sautéed mushrooms and bell peppers and heat for a few minutes. Pour in a half cup of bourbon (beef stock or wine would work as well) and stand back, it might flame a bit. Add the beef stock and scrape the fond (all of the good brown bits stuck to the bottom of the pan) into the liquid then let it reduce. Stir in the demi-glace or stock concentrate and reduce to a thick sauce that will coat the back of a spoon.
Potatoes
Peel potatoes and dice into ¾ inch cubes. Place in large pot then fill pot with cold water to an inch above the potatoes. Toss in a tablespoon of salt. Bring to a rolling boil for fifteen minutes or until potato is soft enough to crush easily with kitchen tongs. Drain in colander. Add the potatoes back to pot, mash then stir in butter, cream and squeeze in the cloves of roasted garlic.
Garlic is easy to roast, slice the top half inch from a whole head, drizzle the top with oil and wrap in foil, roast at 400 for 30 to 45 minutes. Do up a bunch at a time and store it in the fridge. When you are ready to use, just grab a head and give it a squeeze. The soft roasted garlic will squeeze out the top where you made the cut.