Venison Freezer Cleanout: Cherry Chutney Sliders
This is a guest Timber2Table blog post by Carrie Nowlen
Shorter days and crisp mornings are a reminder that big-game season is almost here. As summer releases its grip, bull elk begin to bugle in the high country, whitetails, moose and mule deer strip their velvet, and outdoorsmen and women everywhere begin to prep for another season afield. It's a glorious, highly anticipated time of year. And fall means the freezer full of random roasts and last year's ground needs to be cleaned out to make room for this year's big buck down.
Braising is a low-hassle way to empty out the freezer, use multiple cuts of meat at once, and get great use out of Grandma's hand-me-down Dutch oven. Cooking meat slowly, in a simple umami-rich broth, ensures a flavorful result that's pull-apart tender and can be paired with different sauces and toppings to create a variety of meals.
You can have a braised roast on Monday, use leftovers for Philly cheesesteaks on Tuesday, and whip up enchiladas on Wednesday — or invite the neighborhood over for cherry chutney sliders on the weekend.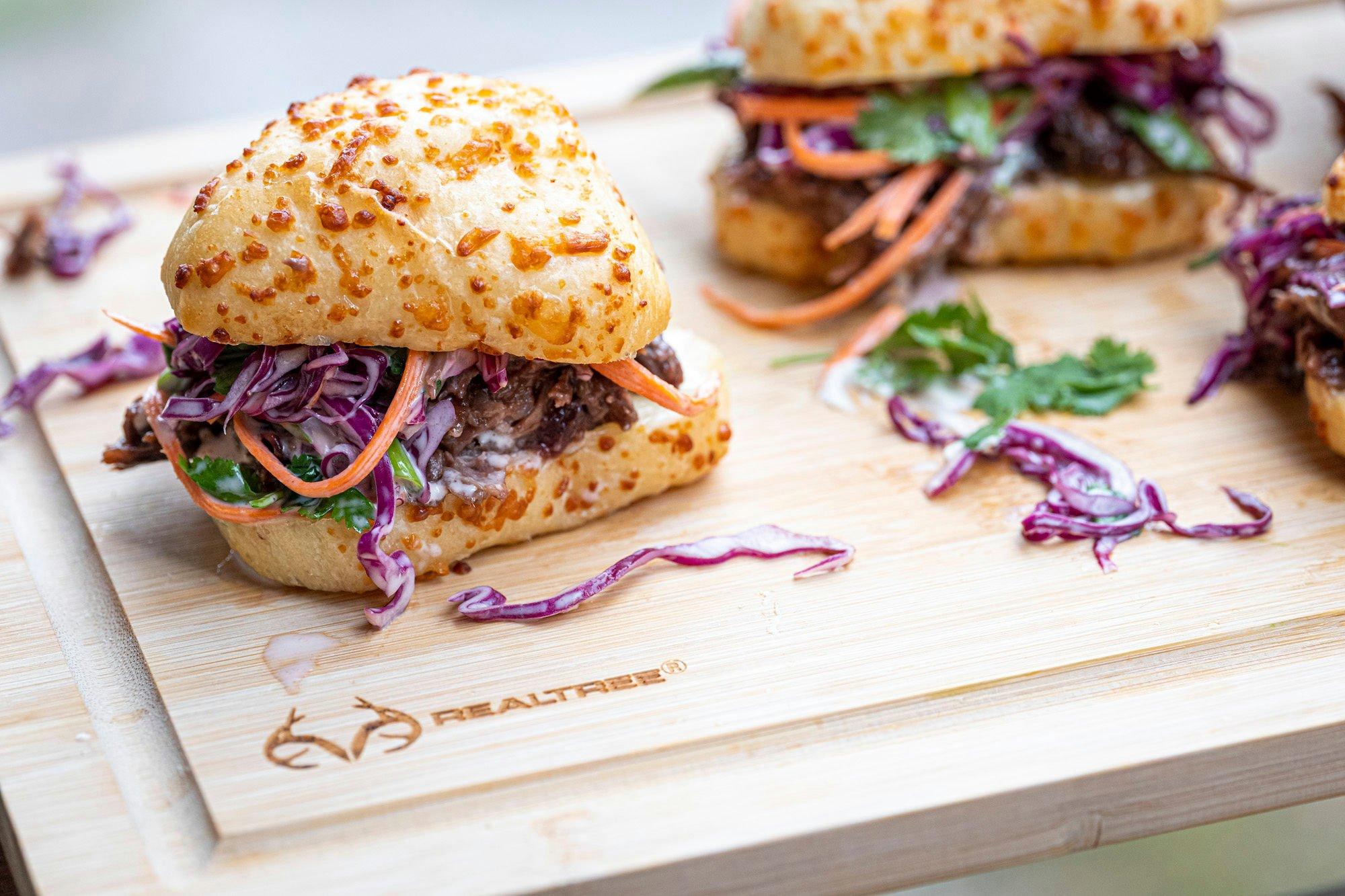 Braised meat can be made indoors or out: on the stovetop or in an oven, slow cooker, or Instant Pot for a quick fix; or using coals and cast iron. It's a great method for large cuts with lots of connective tissue, as low temperatures and a slow cook time add tenderness, while the broth adds moisture. When using lean meat like venison or elk, adding a little fat in the form of butter or oil can improve the texture and taste of the final product. Remember, the beauty of braising is in its ease, so don't overthink it. A basic braised meal is a one-pot affair, which means cleanup is quick and easy.
(Stay warm this season: Men's Realtree Excape Early Dawn Sherpa Shell Jacket)
Ingredients
6 slider buns
2 pounds braised meat (recipe below)
2 cups cherry chutney BBQ sauce (recipe below)
1 cup mayonnaise
1 cup cilantro lime slaw (recipe below)
Braised Meat
3 pounds venison, elk, or bear
1 cup beef bouillon
2 tablespoons sesame oil
2 tablespoons soy sauce
Cilantro Lime Slaw
1/2 cup mayo
1/4 cup honey
1 teaspoon fresh squeezed lime juice
1 cup shredded red cabbage
1/2 cup shredded carrot
1/2 cup thinly sliced green onion
1/4 cup corn
1/4 cup minced cilantro
Cherry Chutney BBQ Sauce
2 tablespoons sesame oil
2 cloves minced garlic
1 teaspoon fresh rosemary
1 teaspoon ground ginger
1/4 teaspoon ground cinnamon
1/4 teaspoon salt
2 cups chopped cherries, fresh or frozen
1/4 cup creamed honey
1 cup BBQ sauce (Sweet Baby Ray's or your favorite pantry BBQ sauce)
Cooking Instructions
Braise the meat.
Step 1: Sear meat in hot oil until outside is brown and caramelized. Do not cook meat through.
Step 2: Add liquid. Use the beef bouillon, sesame oil, and soy sauce, or get creative. This can be wine, beer, coconut cream, broth, cider, soda, etc. One or two cups of liquid is enough. It's not necessary for meat to be completely submerged; too much liquid can lead to a stringy result.
Step 3: Cover and simmer meat over low heat or in the oven for several hours until the meat is tender and pulls apart easily with a fork. How long the meat cooks depends on the size and cut of the meat. About 35 to 40 minutes per pound in a 325-degree oven will get the job done, but cooking at a lower temp for a longer time can create a juicier, more tender roast.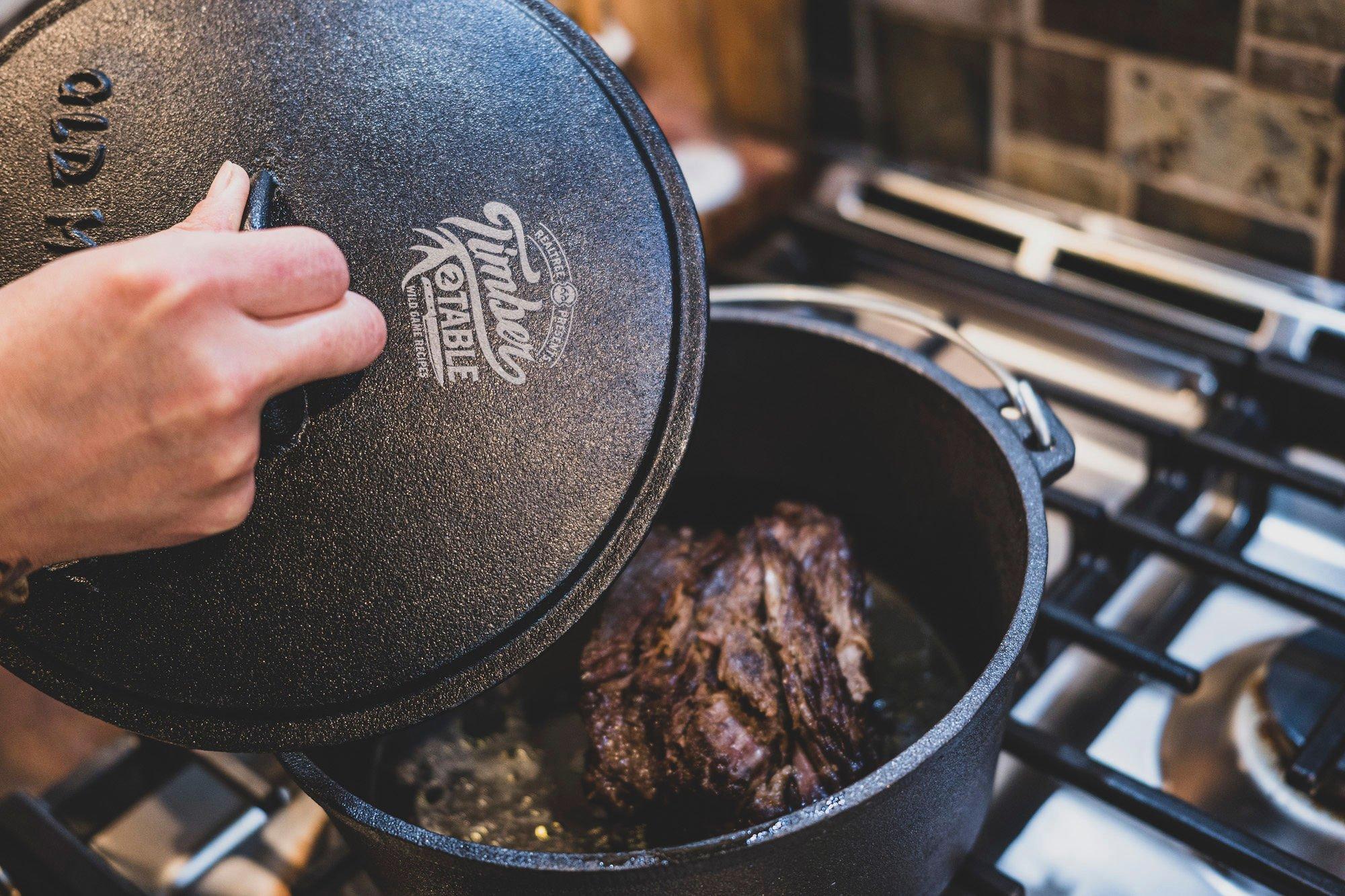 For the cherry chutney BBQ sauce, heat sesame oil over medium heat in a stockpot. Add garlic, rosemary, ginger, cinnamon, and salt and sauté for 1 minute or until the garlic smells fragrant. Add chopped cherries and honey, stir to combine, and bring to a low boil. Let cherries simmer for 1 hour after it thickens. Stir in prepared BBQ sauce. Remove from heat and set aside to cool.