Grilled Wild Turkey Cordon Bleu
With the Thanksgiving holiday just around the bend, many hunters are thinking of ways to serve their hard-earned wild turkeys for the family meal. Sure, you could roast or grill your turkey whole, but those legs and thighs don't react well to dry roasting techniques. They are just too lean and tend to dry out and get tough. Instead, save those legs and thighs for recipes like soups, stews, and tacos where you can slowly braise the meat until tender.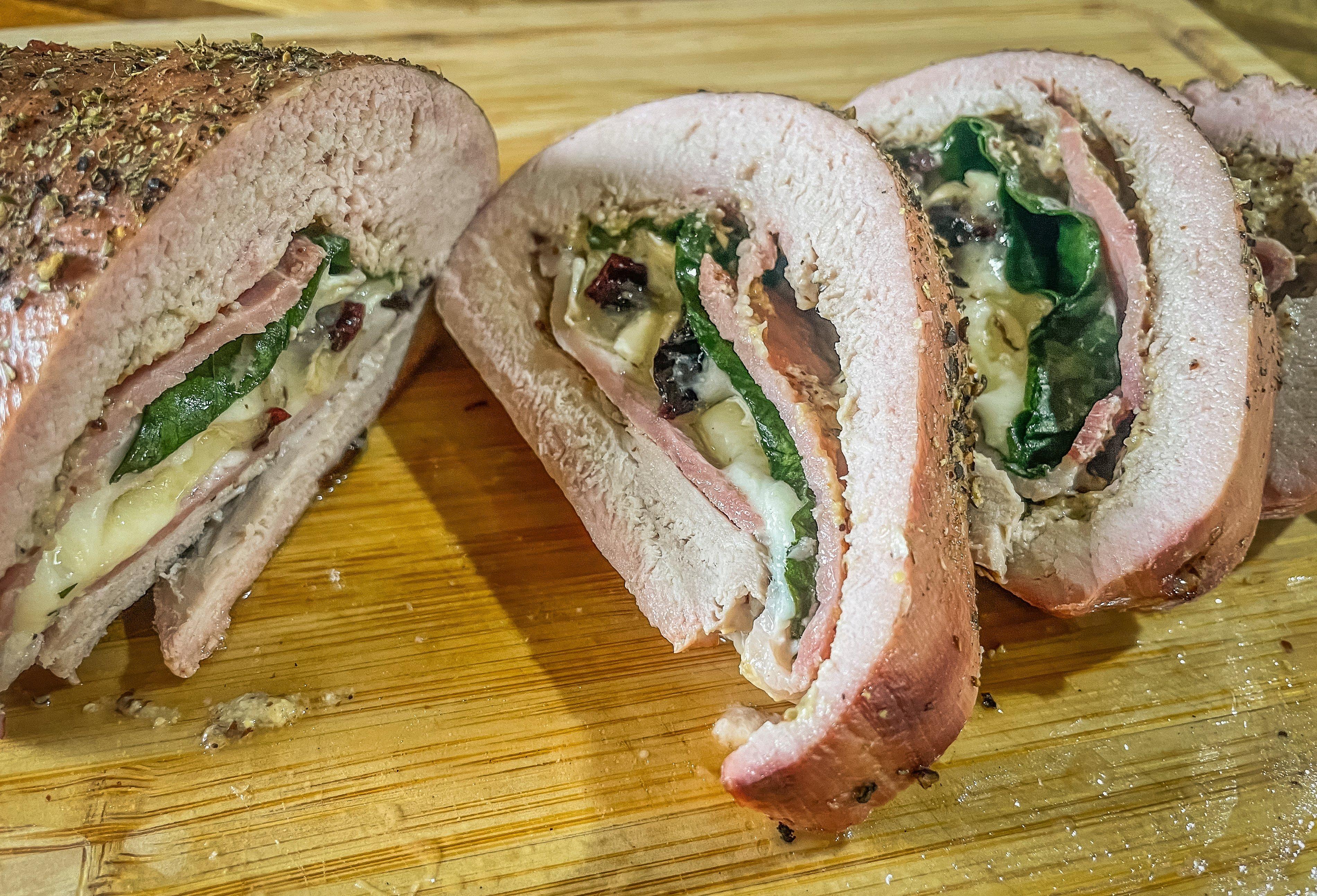 This recipe is the perfect way to serve up your wild turkey for Thanksgiving dinner.
Instead, cook the breast meat for your holiday dinner. This recipe is a variation on the classic cordon bleu. In the original, turkey or chicken breast gets stuffed with ham, cheese, and other ingredients, then rolled in breadcrumbs and either baked or fried to a golden brown. For this recipe, we butterfly a wild turkey breast and stuff it with many of the same ingredients, along with a bit of Thanksgiving flavor, then grill it.
Start with your turkey breast laid flat on your cutting board. Start your slice about halfway up and cut parallel to the board almost to the other side without cutting all the way through. Fold the breast open like a book. You can use a meat mallet at this point to further flatten the meat and even out the thickness.
Season the surface of the breast meat with sage, salt, and pepper. Spread the mustard evenly over the meat.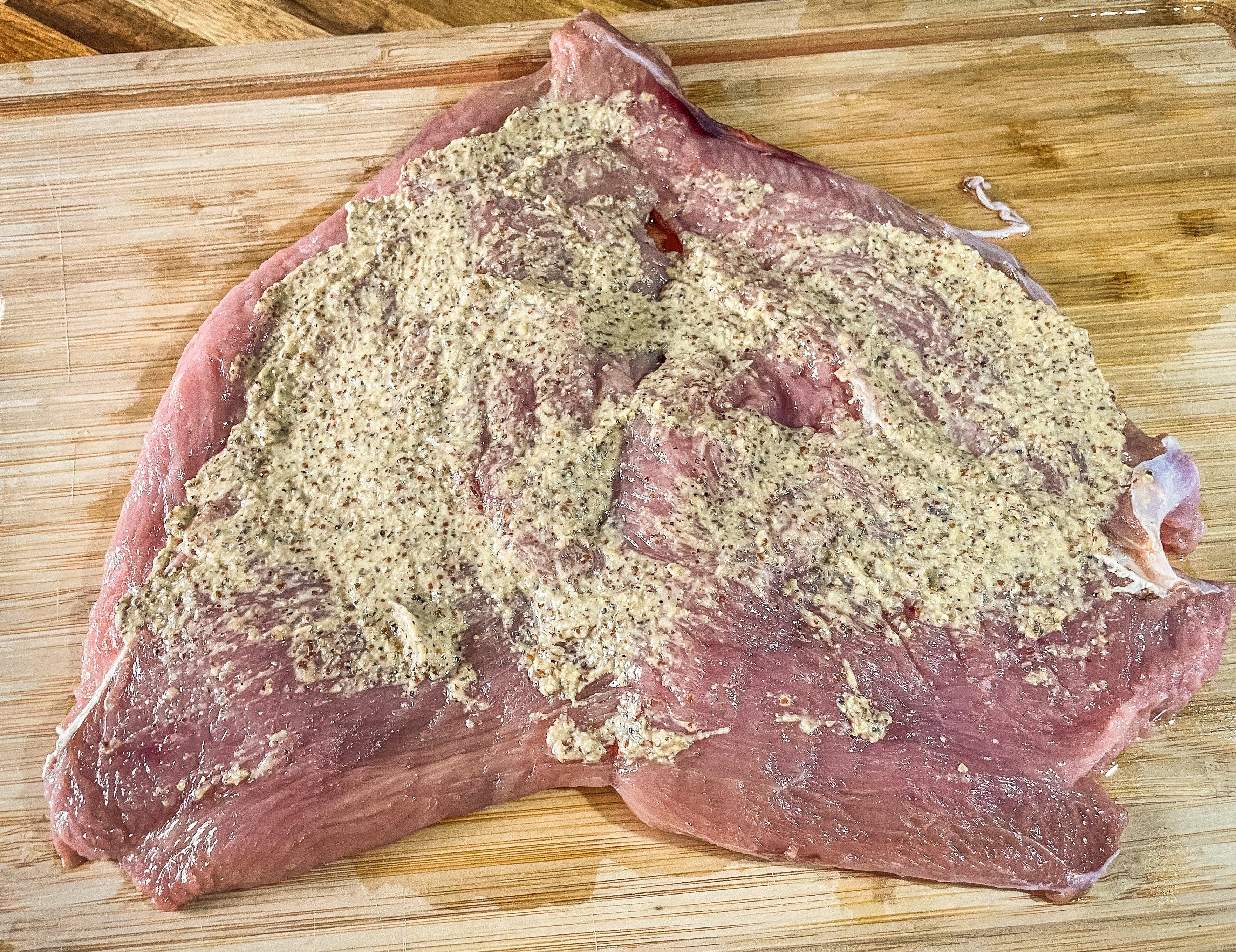 Butterfly one side of a wild turkey breast, fold it open, season, and spread on a thin layer of mustard.
Layer the ham or prosciutto over the half of the breast closest to you.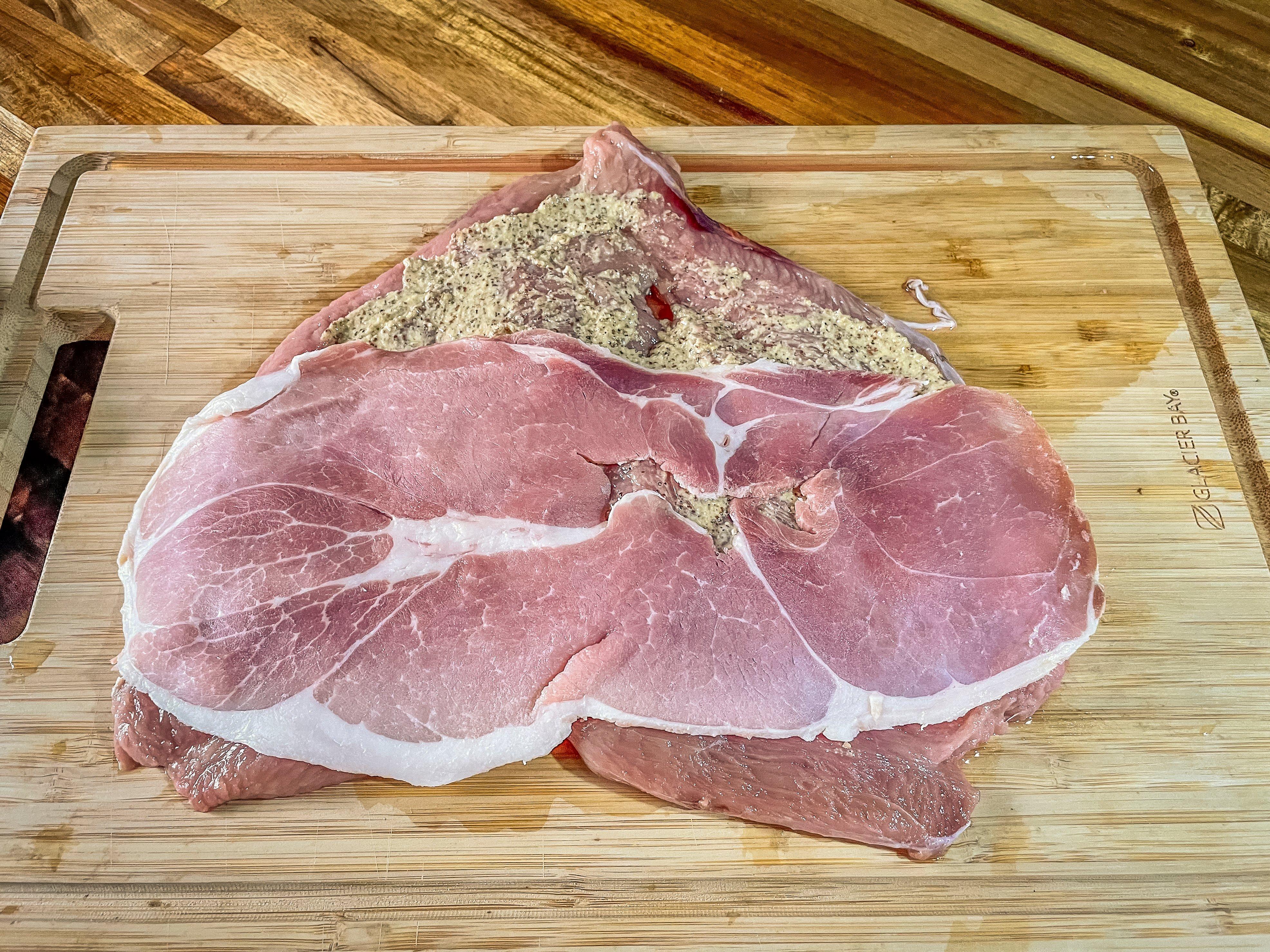 Add either thinly sliced country ham or prosciutto.
Pile on the spinach over the ham. It will look like a lot of spinach at this point, but don't worry, it will cook down and be just right.
Overlap the provolone cheese slices in a layer over the spinach. Next, add the sliced brie and cranberries.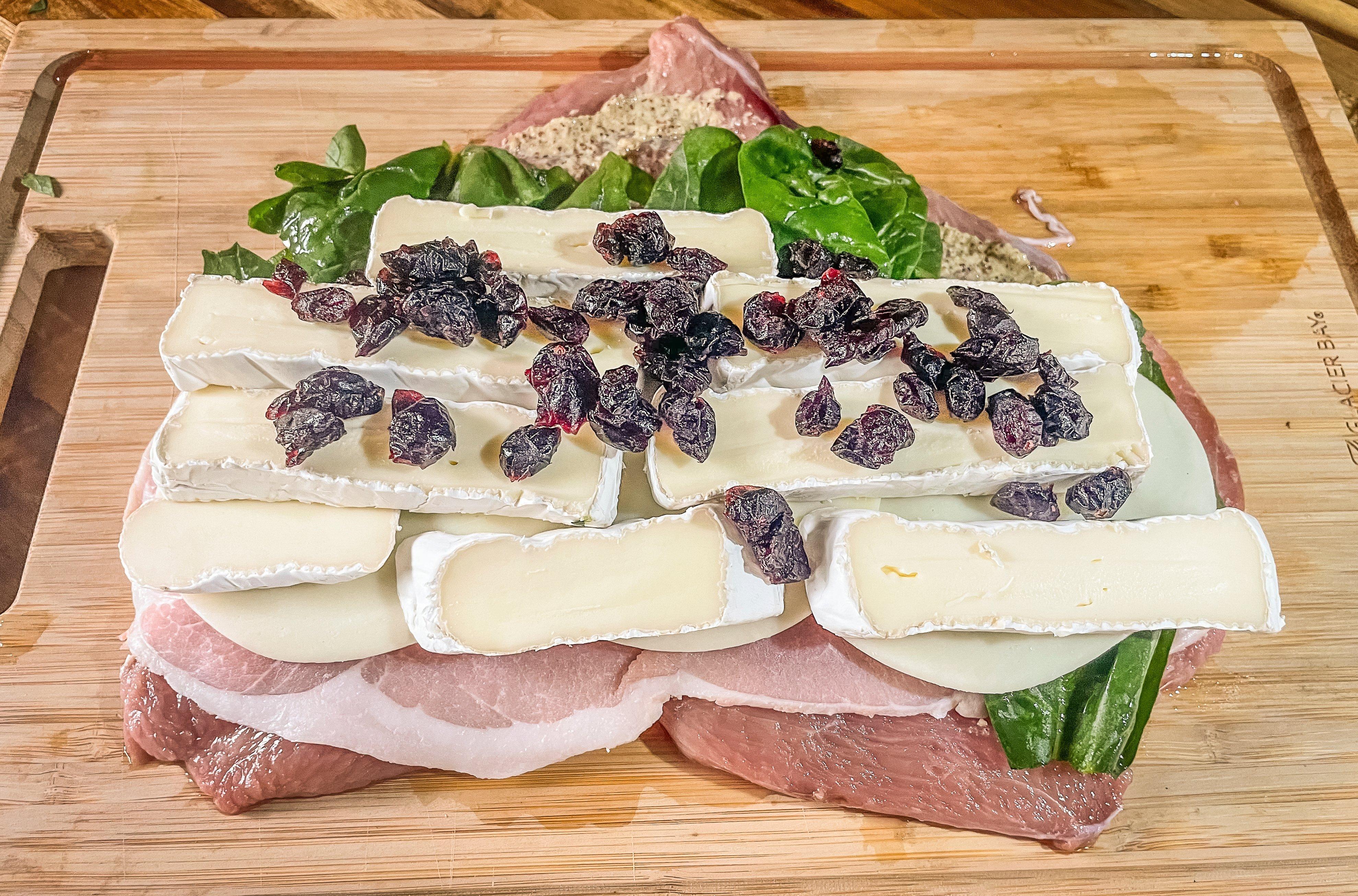 Layer on the remaining filling ingredients.
Once all the ingredients are on, roll the breast away from you to form a roulade. Use butcher's twine or wooden skewers to secure the roll. Season the outer surface of the meat with the Italian seasoning, salt, pepper, and a bit more sage, if desired.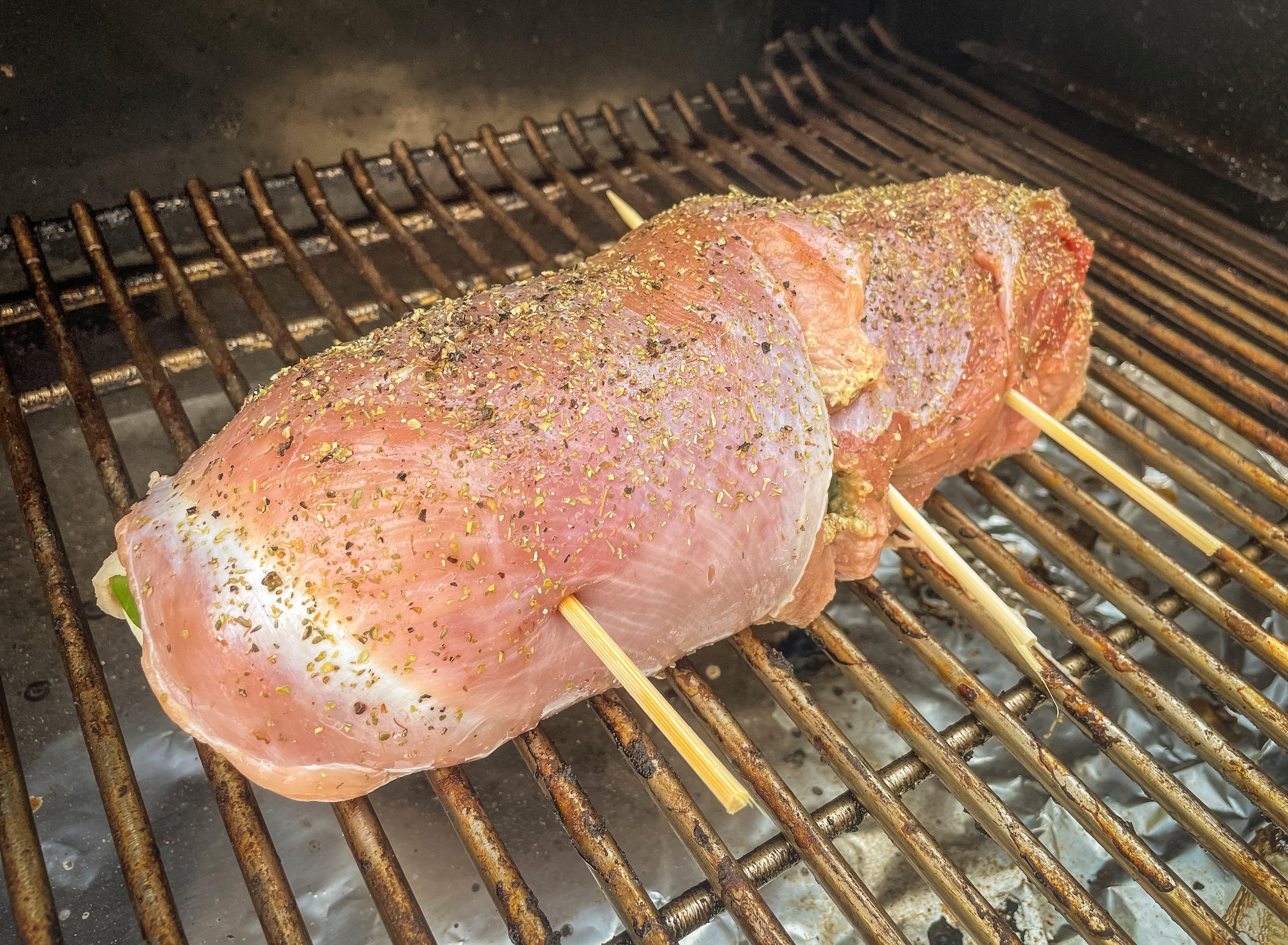 Roll and secure with either wooden skewers or butcher's twine.
Place the turkey on a preheated pellet grill set at 350 degrees. Cook for 45 minutes to 1 hour or until the internal temperature reaches 150 degrees. Remove the turkey from the grill, tent loosely with foil, then rest the meat for 10 minutes before slicing into medallions.
Ingredients
1 side of a wild turkey gobbler breast, butterflied and folded open
1 teaspoon ground dried sage
Salt and pepper to taste
2 tablespoons Dijon mustard
3 ounces of thinly sliced country ham or prosciutto
2 cups spinach, chopped
4 slices provolone cheese
8-ounce wheel of brie cheese, sliced
3 tablespoons dried cranberries
1 teaspoon dried Italian seasoning blend