Florida turkeys are gobbling, so make opening-day plans now
I love the sound of a distant gobble on the roost behind a towering panel of Spanish moss in the breaking dawn.
My buddy Scott Basehore had scouted this Florida swamp gobbler and the two hens it ran with on consecutive preseason mornings. "There's a 15-foot gator back there and one around 10," he said with a grin, "but we should be OK."
On this Osceola hunt, more later.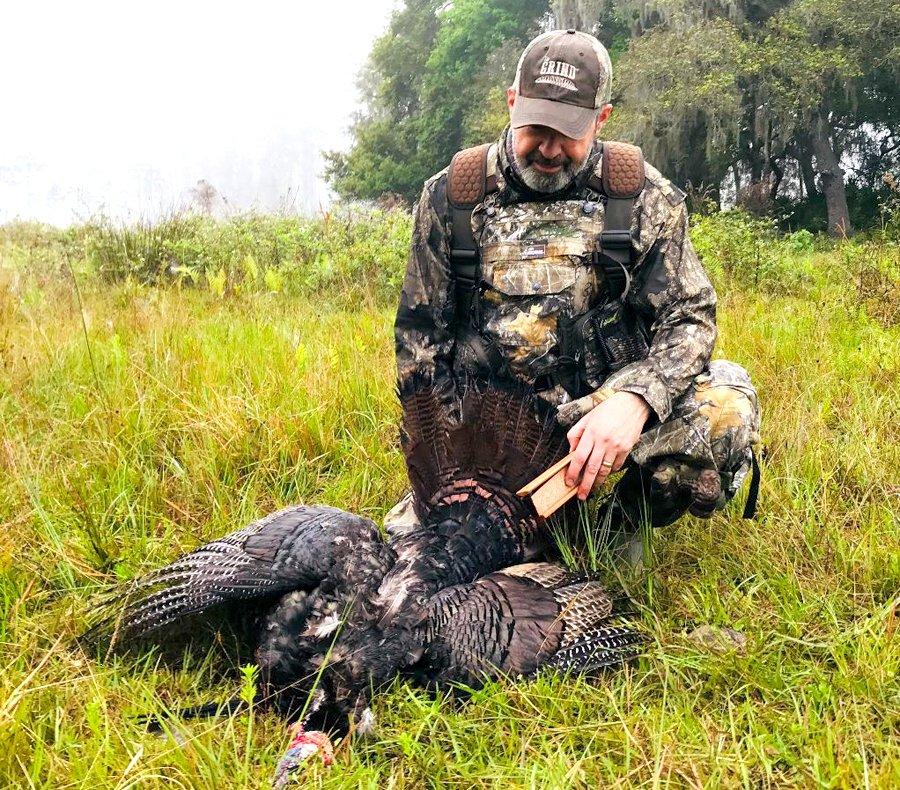 Swamp Sleepers
Right now, you might be thinking, I need one of those long-legged swamp birds, too. These sought-after turkeys feel a lot of pressure as one of the Grand Slam subspecies. Sometimes aggressive steps to kill one are in order.
Osceola gobblers and hens love cypress swamps, winging down to firmer ground over those gator-filled bottoms, then moving to gray-white farm roads or trails, mincing steps to open pastures. They'll loaf in shady wooded hammocks by midday. By late afternoon they'll often feed as shadows overtake pastures, then move back to the swamps.
Water rules.
Fact is wild turkeys around the country sometimes pick roost trees over water. East to west, I've seen flocks sleep over beaver ponds, mountain brooks, pasture watering holes, and river sloughs. Knowing this gives you an advantage before the season and as it begins.
In this situation, you need to rise earlier than ever and slip into the woods toward roosted Osceola turkeys you've located. You should know where they are positioned the evening before the morning you hunt them. Know the number of hens and gobblers in the group if possible. And know too where they like to fly down before gathering and moving off.
Slip in tight, between the dominant spring gobbler and the hens, and let the show begin.
Timing Is Everything
Sometimes you can time it just right, so you hear a swamp gobbler sound off early — especially if the light is just coming on in the morning. If so, slowly rise, and ease in his direction if terrain hides you, watching for snakes underfoot and, yeah, gator movement — knowing that you might walk right under a hen or two. Sure, they may alarm putt or start pitting or even fly off. Sometimes they even go in the right direction — away from your gobbler.
Better yet, sit tight: quietly waiting for the woods to wake up.
To avoid hand movements, if you must call, go with a mouth diaphragm. And keep it soft, subtle: clucks and sweet yelps. Still, if there's ever a situation when you shouldn't call, this might be one. Simply let the turkeys fly down, and if you're lucky, that tom might do so in range.
Part of the fun of spring turkey hunting certainly involves the tactics you use, and consider, and how they work when applied. Calling is a factor — as is staying quiet. So is where you sit in relation to turkeys in trees.
Osceola swamp rats — the turkey hunters, not the birds — often have a specific tree or blind setup where they wait for gobblers to arrive (often the hens, one by one, cruise by first). Some kill turkeys in these gator-filled spots year in, year out. They've figured out the deal: Find gobblers, go early, sit quietly, maybe call softly, if at all — and pick out a bird.
And don't forget your knee-high boots.

End Game
Basehore and I, both well booted, sat on portable chairs in 6 inches of swamp water, looking out over the pasture corner. I briefly thought about those two gators. Several hens started their soft wake-up chatter. Not long after, the bird we wanted gobbled back.
Down the hens flew, craned their heads up, and worked slowly toward a couple of girl turkey decoys we'd plunked out there to fix their approach. The gobbler's route wasn't so direct in the morning fog. The longbeard pitched down into the distance and surveyed the scene. When it popped into strut and turned like a big windup toy, I felt we might get a shot.
The fanned-out bird slowly cruised in, moving half as fast as the two hens milling about the dekes. We let it come. That sweet tension is what it's all about with turkey hunting, right?
Got an Osceola swamp gobbler in range? We did now. OK, you know what to do next. Move as slowly as the fog around you. Enjoy the moment and close the deal.
Plan Now
The special 2022 Florida youth turkey hunt weekends kick off Feb. 26-27 (south of State Road 70), and March 12-13 (north of that major highway). Regular season split dates commence south of State Road 70 March 5 and north of it March 19.
[Realtree's Turkey Hunting Nation: Florida]
What makes Realtree.com the best online resource for turkey hunters? See for yourself. We cover all things turkey right here.