Major cold fronts have divers, dabblers, and sea ducks on the move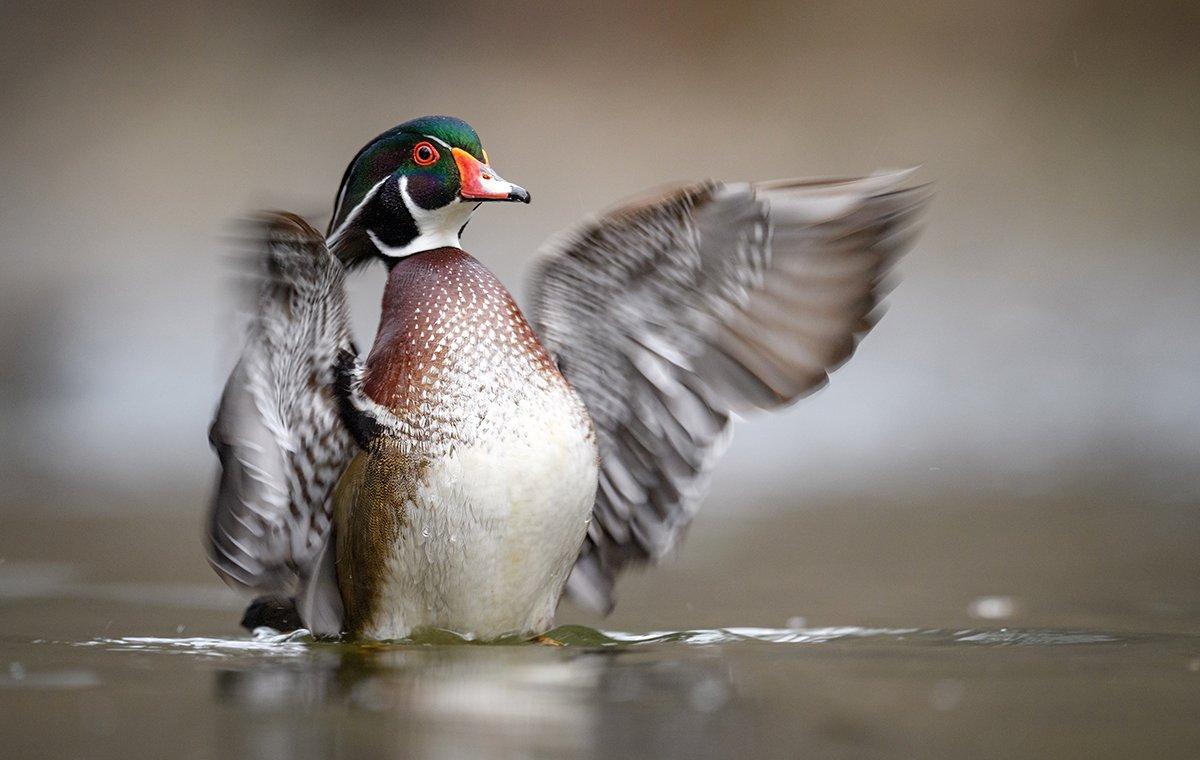 Woodies are providing good action in Virginia and North Carolina. Photo by Harry Collins Photography
Recent changes in weather have kick-started the migration along much of the Atlantic Flyway. Until recently, bird movement had been a bit stagnant. But as temperatures abruptly plummeted from the 70s to the 30s, with a blanket of snow covering the ground in many areas, a mess of ducks were sent looking for greener pastures and open water.
Paul Castelli, retired New Jersey Fish and Wildlife and U.S. Fish and Wildlife Service waterfowl biologist, has been scouting heavily around Atlantic County, New Jersey, ahead of the coastal zone's Thanksgiving opener. Based on his findings, he's optimistic for a turkey day hunt, despite a lackluster opener in nearby Cape May County.
"The numbers of ducks have bumped up considerably in the past few days, presumably due to cold weather up north," he said.
Plenty of green-winged teal have moved in, as have pintails. Black ducks are another high point, with good numbers inhabiting area marshes. But Castelli believes their numbers have yet to peak, with "every indication that there's more to come."
Buffleheads have also shown up on coastal waters, which is a good sign for tidal gunners. Hopefully, scaup and other divers will be on the move soon, too. Atlantic brant have returned to their winter haunts, though Castelli believes more will filter in later.
Bigger birds are also moving but don't seem to be following historic patterns.
"Oddly, we had perhaps the best tundra swan migration I have ever seen last Friday night into Saturday, yet few geese are present," Castelli said. "Swans seem early, and geese seem late."
Things are looking quite a bit rosier in Maryland. Todd Sauerwald of Black Duck Outfitters reported a big influx of sea ducks, puddlers, and divers on the big water of the Chesapeake. Smaller waters ringing the big bay are also holding ducks, with woodies and teal still holding strong.
Sea ducks have pushed in, with parties encountering plenty of scoters. In the past few days, longtails have also shown up, which Sauerwald said is a bit early for them. He believes this is a good sign, and it could be a banner year for sea ducks if the trend continues.
Diver fanatics will be pleased to know the big bay is already holding good numbers of pochards, with redheads and canvasbacks showing up in the right places. But the best is yet to come, with a freeze set to hit Lake St. Claire in the coming week. If ice locks it up, it will rapidly bolster diver numbers.
In Rock Hall and surrounding areas, puddle ducks are taking center stage. Black ducks are present in the biggest numbers, but mallards and pintails are also around. Backwaters are still holding plenty of wood ducks and teal.
Farther south, waterfowl hunter Kirk Parker had a pretty solid day on the Roanoke River near the Virginia/North Carolina border recently, with wood ducks, mallards, and teal making for a quick limit. Parker also has a property near Mattamuskeet National Wildlife Refuge, which is home to the largest natural freshwater lake in North Carolina.
Parker said big ducks really haven't pushed in yet, but there are enough teal and wood ducks around to keep things exciting. However, there's some evidence that ducks have begun to move, with one of Parker's friends harvesting a wood duck that was banded in Easton, Maryland. Hopefully, its larger cousins follow it soon.
Things are also looking up at the end of the flyway. Captain Brian Sawyer of Old South Expeditions reported that ducks have started to trickle in to the Sunshine State. The season is off to a decent start, with some parts of the state doing better than others.
Sawyer reported a good number of ringers on Lake Okeechobee, with decent amounts of teal playing second fiddle. There are a ton of whistling ducks in the areas you'd expect to find them, and now is just as good a time as any to get after them.
On Florida's western coast, from Tampa north, you can find a solid mix of divers. Hunters can expect to see bluebills, redheads, buffleheads, and hooded and common mergansers. Puddlers are dominant on the eastern coast, with teal accounting for most of the ducks, though there are a few wigeon and pintails around. Lots of ringers are also present, with a handful of mixed divers.
Though duck numbers are picking up, Sawyer doesn't expect things to really heat up until the second split. That usually brings the biggest pushes of ducks, provided it gets cold somewhere north of them. Let's keep our fingers crossed for a cold winter.
(Don't miss: Mixed Spreads on Big Water)

Click here for more Realtree waterfowl hunting content. And check us out on Facebook.