Birds Spread Out as Hunters Wait for Migration Weather
Date: Oct. 18
Location: New England, New York, mid-Atlantic and the Southeast
Major Weather Trends
Déjà vu all over again? Yep. Waterfowl hunters up and down the Atlantic Flyway were again greeted by hurricane and tropical storm warnings in October. In 2017, parts of the flyway were hammered by storms, including Hurricane Irma. This time, Hurricane Michael made landfall in the Florida Panhandle in October before tracking north through the Carolinas and Virginia, bringing torrential rain, flooding, power outages and other damage. The storm moved up through the flyway, causing widespread flooding along the way. Eastern North Carolina was still suffering from the impact of Hurricane Florence, which made landfall in mid-September.
The good news is the 2018 storm season is winding down, and the first significant cold fronts of the year are starting to push birds south from Canada.
We actually have some snow in the forecast, said eastern New York hunter Arliss Reed. He has seen a build-up of migratory Canada geese and is hearing of big groups of mallards showing up in upstate New York.
Pennsylvania hunter and Avery Outdoors pro-staffer Kevin Addy is also seeing more geese and a few new ducks, thanks to recent weather patterns.
Water Conditions
Water, water, everywhere. Hurricane Florence made landfall on the central coast of North Carolina in mid-September, dumping torrential rains throughout much of the mid-Atlantic. A month later, Michael came ashore on the Florida Panhandle before weakening and tracking up through Georgia, the Carolinas, Virginia, Pennsylvania and parts of New York. The storm dumped massive amounts of rain along parts of its path, inundating reservoirs, pushing rivers out of their banks and filling swamps and ponds to the brim.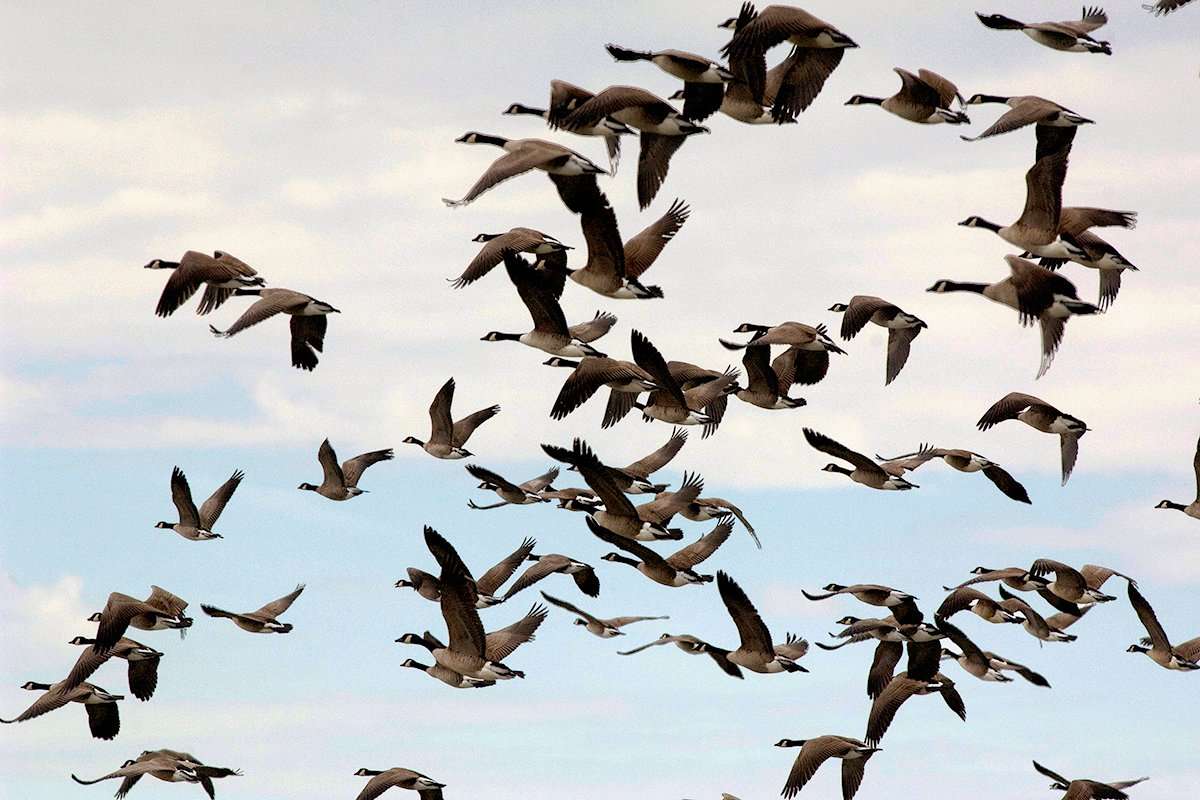 Habitat Conditions
Too much water has scattered birds and continues to prevent farmers from harvesting grain crops, Reed said.
The silage has been chopped and the geese are using those fields, but a lot of grain crops are still standing, and some of those fields are flooded from all the rain we've had, he said. The birds are using those flooded ag fields.
Addy has seen much of the same in eastern Pennsylvania. He frequents the Susquehanna River during the early splits, but it has been too high to hunt.
I know some guys who got out and managed to kill a few wood ducks on the river, but it is pretty hard hunting with the water as high and fast as it is, he said. There just aren't many ducks on the river. Flooded fields are holding a ton of ducks, though.
Rivers up and down the flyway are starting to return to normal levels, and wood ducks and mallards are filtering back to those rivers.
Reservoirs father south are also slowly returning to normal levels, and swamps and beaver ponds throughout the flyway are as full as they have been all year. As such, birds will be scattered.
The abnormally high, muddy water has hurt grass production in the Chesapeake Bay, especially around the Susquehanna Flats at the north end of the Bay. That will likely make for a tough season for those who hunt divers and puddle ducks over grass flats.
Species and Numbers
Hunters in Virginia had a banner early season, which occurred before Tropical Storm Michael. Typical of the October split, wood ducks dominated the bag limits throughout much of the flyway, but a few mallards, teal and even some early-migrating pintails added to the mix. Addy heard of a group hunters who killed several bluebills in Pennsylvania in mid-October, and he and some friends scratched down a couple of black ducks.
More geese are showing up, and I'm betting the next cold fronts will bring in even more, he said. We don't have a lot of ducks other than woodies right now, but the migratory birds we do have are all concentrated in flooded fields. If you don't see those birds, you probably won't see anything but wood ducks.
A cold front brought in a strong wave of Canada geese to the Eastern Shore, said Chestertown, Maryland, resident Kenny Gray, and a fair number of mallards are showing up on area ponds and marshes, which are filled with water thanks to a wet summer and fall.
Reed said plenty of wood ducks remain in New York, but teal have been scarce all season. Reports farther south indicate much of the same, although large groups of early-migrating pintails are congregating on eastern North Carolina wildlife refuges.
Upcoming Patterns and Hotspots
As usual, Atlantic Flyway hunters are at the mercy of the weather far more than hunters in other flyways. Without cold fronts to the north, large numbers of ducks and geese have little reason to migrate and will stay north of the border until they are forced out. What's more, mallard numbers are down flyway-wide, thanks largely to poor nesting success in New England and eastern Canada during recent years. Hunters will likely see fewer mallards this fall. The daily bag limit will be reduced from four birds to two starting with the 2019 season. There is also talk of a reduced migratory Canada goose season. The season and bag limit might go to the US Fish and Wildlife Service's restrictive regulations, which means a 30-day, one-bird-per-day season. The good news is that other species' numbers remain strong. Wood ducks will continue to be a bread-and-butter duck for swamp and river hunters well into November and even December farther south. Gadwall populations are also strong and will provide plenty of weight on duck straps as far south as South Carolina. Divers are also abundant, but opportunities will be spotty, thanks to a decline in aquatic vegetation in salt water. That could spell great hunting for reservoir hunters later this season when divers migrate in big numbers. By most indications, this year should be on par with previous seasons.
Click here for more Realtree waterfowl hunting content. And check us out on Facebook.