A Cold October Has Early Migrants on the Move
Date: Oct. 11
Location: Flyway-wide, trending toward the Dakotas
Overview
Reports from waterfowl biologists and hunters in the sloughs indicate no major duck migration is occurring yet in the United States. However, hunters in the northern portions of the Central Flyway, where we will focus most of this report, are reporting solid success on lingering resident ducks and the beginning of a stream of early migrants.
Major Weather Trends
A pesky low-pressure system has hovered over almost the entire Central Flyway for more than a week, but it's finally showing signs of moving on by the week's end.
Snow — yes, snow — has been the norm in a swath from western South Dakota through central North Dakota and north to Alberta and Saskatchewan. But it hasn't been accompanied by any deep-freeze weather.
It's been a little cold for early October, said Andrew Dinges, migratory game bird biologist with the North Dakota Game and Fish Department, but there doesn't seem to be a huge amount of duck movement into the state right now.
However, Oct. 12 through 15 might bring some freezing conditions in Canada, with milder weather settling in after the Oct. 15.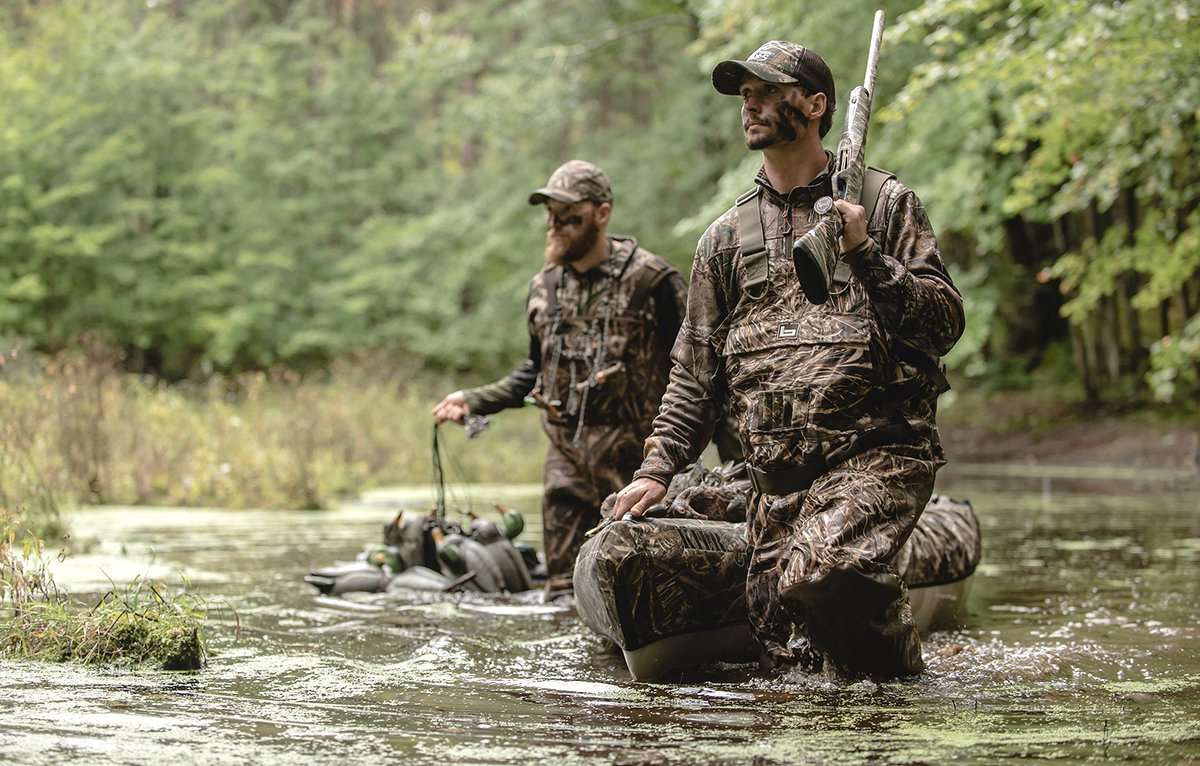 Water/Habitat Conditions
Some sloughs dried up this summer, said Anthony Hauck, a friend and fellow duck hunting fanatic, who's also the public relations director for Pheasants Forever. Hauck returned from central North Dakota on Oct. 8 after a five-day hunt. He was there for almost 10 inches of snow that just kept coming.
The rains before the snow helped replenish the sloughs some, he said.
I have been out on my first weekly waterfowl drive of the year, said Rocco Murano, senior waterfowl biologist with South Dakota Game, Fish and Parks. I was checking hunters, tallying some ducks and seeing what's happening out on the sloughs and marshes.
With the cold front that moved in over this past weekend, we started seeing a decent push of new birds in South Dakota. But local mallards seem to be the only greenheads around, and they are pretty educated, according to hunter reports.
For field hunters, The crop harvest has been progressing, but most everybody's working on beans, Murano said. Bean harvest should be complete in about a week. There's still a lot of corn up though. Only about 10 percent of that crop is harvested.
Species and Numbers
The wood ducks and blue-winged teal have definitely moved out of North Dakota, Dinges said. We haven't seen big numbers of other ducks moving in just yet. Hunting is good, but the big mallard push definitely hasn't happened. Our wardens have been consistently reporting that across the state. Right now, it seems like we are still on the front end of the migration.
Buffleheads and goldeneyes were riding the snow and weather in, Hauck said. But don't worry. It's clear to me the big push of mallards is yet to come.
We have lost most of our blue-winged teal in South Dakota, though a few hardy little souls still remain, Murano said. We are seeing our first push of gadwalls, green-winged teal and wigeon. There are a few divers around. I have seen folks with redheads, ringbills and even a few bluebills.
The cranes are sure moving, Dinges added, but there has been no real movement of Canadas or snows yet.
Hunting Reports/Advice
Success has been good to very good in North Dakota, Dinges said. We had good production on local ducks this year, and that has served hunters well. Success on resident ducks has been good. Gadwall and wigeon seem especially common on hunters' duck straps.
Bird numbers were strong, Hauck said. We shot a real mixed bag from what was likely locals to an early influx of migrants. Gadwalls were plentiful in North Dakota. No big mallard field-feeding sessions were observed. Hunting pressure was incredibly light, so once birds settled in, they stayed put.
Rachel Hoveland, another duck fanatic and a Drathhaar owner, had her dog, Luke, in northeastern South Dakota during the Columbus Day weekend.
I was really pleased with the hunting, she said. It was just nice, steady, solid. A great mixed bag, too, with everything from spoonbills to bluebills, straggling blue-winged teal and green-wings, plus plenty of gadwalls and some local mallards.
Boat Ramp Chatter/Upcoming Patterns/Hotspots
This fall is shaping up differently than the last few years, Dinges said. Hunters are feeling it. It's getting colder faster. Hunters should be ready to make the run. Keep the gear ready, and be flexible. Watch the weather. You haven't missed anything yet, but things could happen fast. It's getting colder up in places like Saskatoon. Once it ices up there, here come the ducks.
Murano said similar things of South Dakota.
Duck hunting is good. It's going to get better.
As the season progresses, we'll turn more attention southward to Nebraska and Kansas, which are currently receiving plenty of stopover blue-winged teal from Canada and the Dakotas, as well as points south.
Click here for more Realtree waterfowl hunting content. And check us out on Facebook.