Bird Numbers Continue to be Decent in Mosts Areas
Date: Jan: 18
Location: flyway-wide
Summary
Well, it's official. Goose season has ended in southwestern Washington's Goose Management Area 2 — at least, that is, for a time. The final bell sounded Jan. 14. However, a last hurrah opens Feb. 10 and continues through March 10. It's a last chance to gather the ingredients for a final batch of goose summer sausage; a culinary delight that, should you be unaware, is as good as anything that ever graced a dining room table. Yep, it's even better than pizza and chicken wings.
It's been what I'll call a moderately good season in southwestern Washington. Fickle. Hit and miss, but nonetheless good overall. Ducks started slowly, built slowly and then dropped off to a trickle of what it should have been based on previous years. Geese weren't here in the numbers I expected. We saw brood after brood this past summer, which was an indication —I thought — of great things to come. However, the birds just didn't show. Some arrived —enough for a handful of good hunts — but again, not what I expected. Big geese. Little geese. Neither arrived in force, or if they did, they set on haunts other than the areas we frequented. Still, I enjoyed several excellent duck hunts, Sadie Mae, the black girl dog, sharpened her skills a little more, and I experienced things I otherwise wouldn't have had I sat behind a desk. So there's that, I reckon.
Major Weather Trends
Weather in the Pacific Flyway has been as fickle as the birds. Here, it's been unseasonably warm. It was almost 65 in Wahkiakum County, Washington, on Jan. 14 — warm enough to convince the daffodils and primroses it was spring and time to come out of hiding. But it's back to normal now: rain, with temperatures in the mid-40s to the mid-50s. Eastern Washington has been mild, as has northern Utah, said Chad Yamane, an Avery pro-staffer who hunts around the Great Salt Lake.
Very mild, he said, with highs into the low 40s and overnight temperatures only dropping into the upper 20s. A lot of our water is frozen in the morning but thawing by the afternoon.
Travis Madden from Lehi, Utah, another Avery pro, refers to his weather as unseasonably warm, and Avery colleague Tailor Sponcey, of Twin Falls, Idaho, mentioned mild temperatures in the high 30s and lower 40s, with zero snow cover.
Water and Habitat Conditions
The flyway had average to above-average water conditions. However, we're below average in southwestern Washington. In fact, I have to go back to Oct. 25, 2017, to check the last day I killed ducks over water on our go-to farm toward the coast. Since Halloween, the parcel has held little to no water, which is extremely unusual for an area between the coast and the Coast Range. Ordinarily, I'd been dealing with the opposite: too much water. But not this season. Others on the western side are having the same difficulties, with most — like me — moving to small and large rivers and the tides to find birds. In eastern Washington, Mister Freeze continues to hold onto the still water. However, flows such as the Pend Oreille, Spokane and Columbia are moving at normal to slightly below-normal levels. In Idaho, Nevada, Utah and mid- to southern California, water isn't a problem, at least for duck hunters.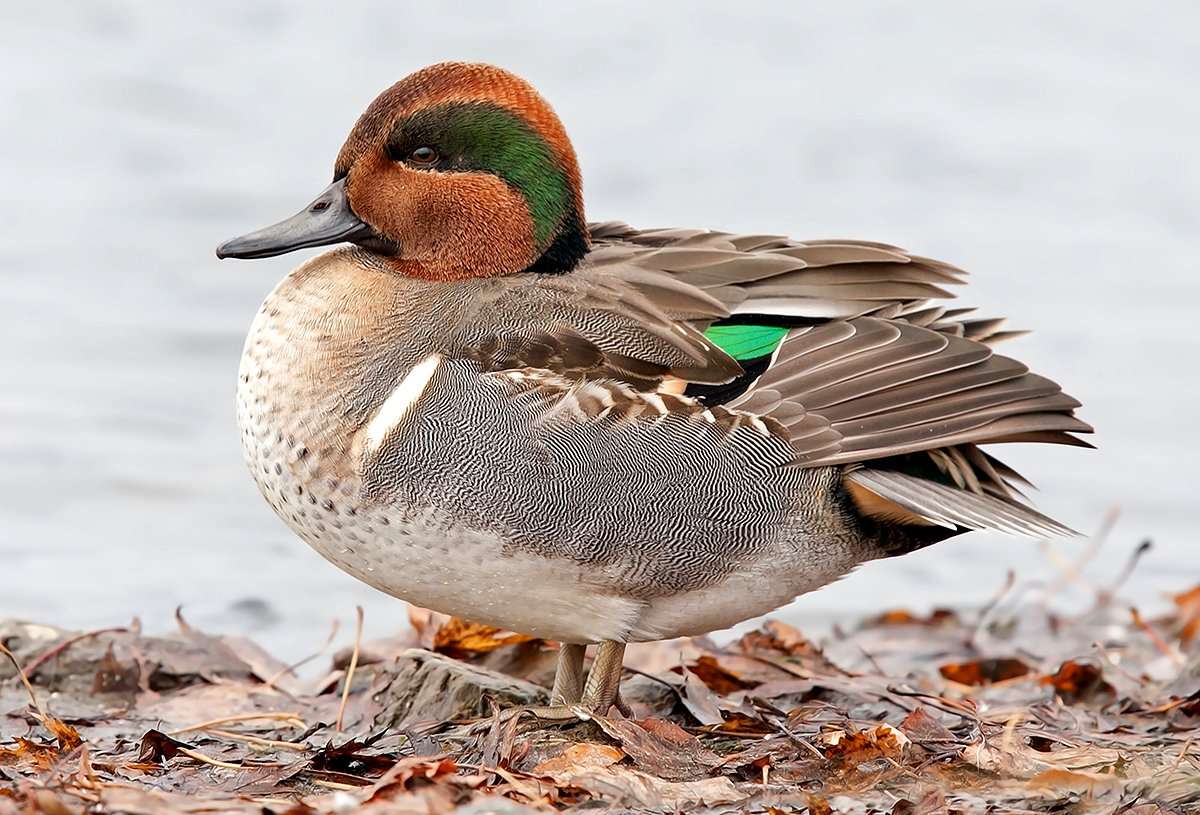 Species and Numbers
It's been the usual suspects for this time of year throughout the flyway. At home, it's mallards, wigeon and gadwall, with some green-winged teal and a smattering of sprigs. I have noticed a slight increase in wigeon the past couple of weeks. That's a nice trend, and we'll start keeping our eyes open for those rare and most handsome Eurasian rascals between now and the close Jan. 28. Bluebills are here and there on the Lower River, with greater numbers of scaup, canvasbacks and redheads east. I've seen lots — and I mean lots — of buffleheads this year. We don't target the little guys, but it's sure nice to see them. Goldeneye numbers seem a bit lower this year than during the previous two seasons. Common mergansers — ugh — are, too. I've seen more hooded mergansers this year, which is nice and indicative that cavity nesters such as hoodies, buffleheads and wood ducks are finding ample nesting areas. Elsewhere in the flyway, there appears to be no shortage of green-winged teal and gray ducks, followed closely by wigeon and mallards. No one reported huge numbers of Canada geese, with most of the flyway pros using words such as average, normal and local birds to describe the current dark goose situation.
Personal Hunting Report
Sadie Mae and I continue to scratch out limits or near limits each trip, though we haven't been hitting it as hard this year as we have in previous seasons. Geese have treated us well, though. A trip toward the coast a week ago with my wife, Julie, and 10-year-old granddaughter, Adrionna, netted us four fat Canadas in just a couple of hours. We didn't see a bunch of birds, but the ones we encountered wanted to work. And they worked well, as in feet down and landing almost at our boot-tips. Subsequent goose trips with a recently retired waterfowl biologist and then a father-and-son team netted the shooters limits of geese. My plan now is to get rid of this flu bug and put three or four more hunts into the ledger before the season ends. After a couple of field-goose trips in mid-February, and it will be on to spring chinooks.
Upcoming Patterns
I don't see anything out of the ordinary in the long-range forecast through Jan. 28. There's talk of rain, a little bit heavier at times, with some dry spells and temperatures (40s and 50s) where they should be. I wouldn't call birds in my area stale, mainly because of below-normal hunting pressure since Jan. 1. However, the birds here aren't new by any stretch, and it will take attention to details regarding calling, decoy spreads and, most important, concealment to fool them.
Click here for more Realtree waterfowl hunting content. And check us out on Facebook.