Whitetails are the most abundant big-game animal in North America, but these three states likely have bigger herds than anywhere else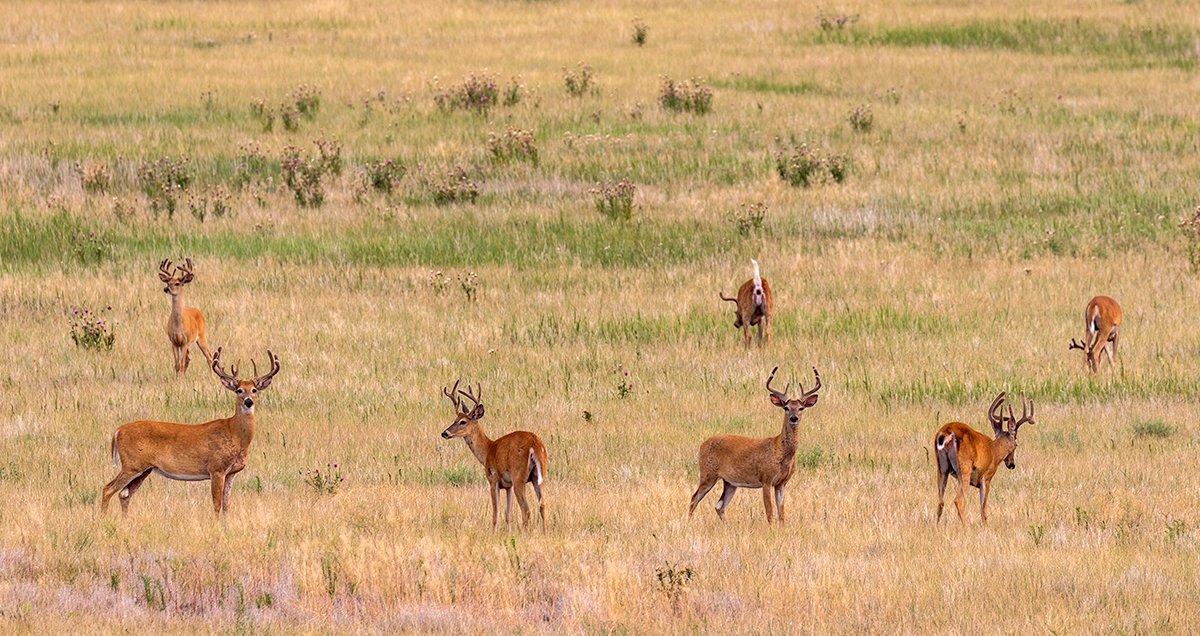 Hunters spend more time and money on gear, property, and habitat improvement for whitetails than any other North American species. Why are whitetails so popular among hunters? Supply. At least 44 of our mainland states — plus several Canadian provinces — have populations of whitetails to hunt.
Why are whitetails so populous compared to other North American big game? Partly because they're an adaptive lot. They're not hypersensitive to habitat changes, and they know how to survive brutal conditions. From a drought on Colorado's Eastern Plains to record snowfall and subzero temperatures in Maine, whitetails prosper wherever they roam. Even human development can't drive them entirely out of an area.
Yes, whitetails virtually cover the North American map, but they're denser in some regions than in others. Though pinning down exact numbers is impossible, these three states likely have more whitetails than any other — and it's no coincidence that they're all home to legendary hunting, too.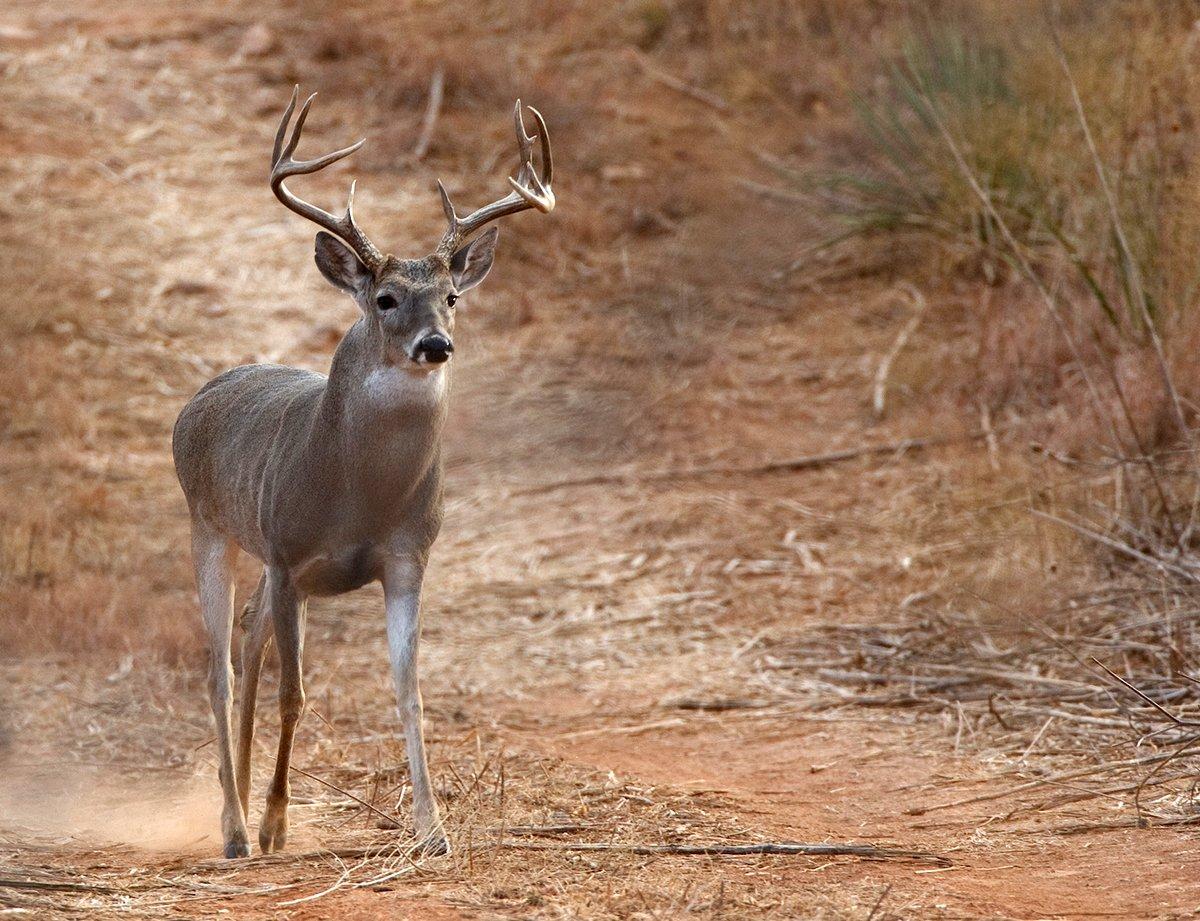 Texas
The second largest U.S. state, Texas covers an astounding 171,891,725 acres (Source: Beef 2 Live). Often thought of by outsiders as one giant desert, the Lone Star State is actually very eco-diverse. In fact, the Texas Parks and Wildlife Department recognizes 10 different eco-regions within the state.
I recently discussed Texas's deer herd and hunting opportunities with Alan Cain, White-tailed Deer Program Leader with the Texas Parks & Wildlife Department. Not all states project whitetail-population estimates, but Texas does.
We have an estimated 5.4 million white-tailed deer, Cain said. This number is based on regulatory deer surveys that our biologists annually conduct throughout the state. Central Texas has the state's highest deer densities. This area is known as the Edwards Plateau eco-region, also commonly referred to as the Hill Country. Specifically, Deer Management Unit (DMU) 6 around Llano and Mason Counties has the highest density at an estimated 265 deer per 1,000 acres.
Quantity doesn't necessarily mean quantity, so I also queried Cain on the areas that reputably produce trophy-class bucks. Quite frankly, trophy-quality bucks are annually harvested in every region of the state, he said, and Texas has a reasonable age structure across all eco-regions. However, we have antler-restriction regulations in 117 counties in the state's eastern third, which has been tremendously successful in shifting harvest to older-age-class bucks — about 60% of bucks harvested in these counties are 3 ½ years old or older.
Now, if I had to narrow down the state to some of the best regions for producing older, trophy-quality bucks, I'd say it's the South Texas eco-region and the Western Rolling Plains (panhandle). South Texas is known for large ranches, which limits hunting pressure and allows intensive deer-management practices to grow bucks supporting quality antlers. Many bucks harvested annually in South Texas score more than 160 B&C. The Western Rolling Plains has a much lower deer density, but the age structure is great, and many of the bucks harvested support exceptional antlers comparable to South Texas.
Of course, Texas isn't the most DIY-friendly whitetail state.
Texas is primarily a private-lands state with 97% being under private ownership, Cain explained. So, the vast majority of deer-hunting access is on private lands. Often, hunters can find reasonably-priced hunts on private ranches. Public-land hunting is primarily on our wildlife-management areas (draw only) and on National Forest Lands in East Texas. Hunters don't need to apply and draw to hunt most of the National Forest (NF) lands such as Angelina NF, Davy Crockett NF, and Sam Houston NF. There are also some national grasslands in North Texas and the Panhandle where hunters could deer hunt, but deer densities are generally low on these areas, making hunting pretty tough.
(Don't Miss: How to Pattern a Buck During the Pre-Season)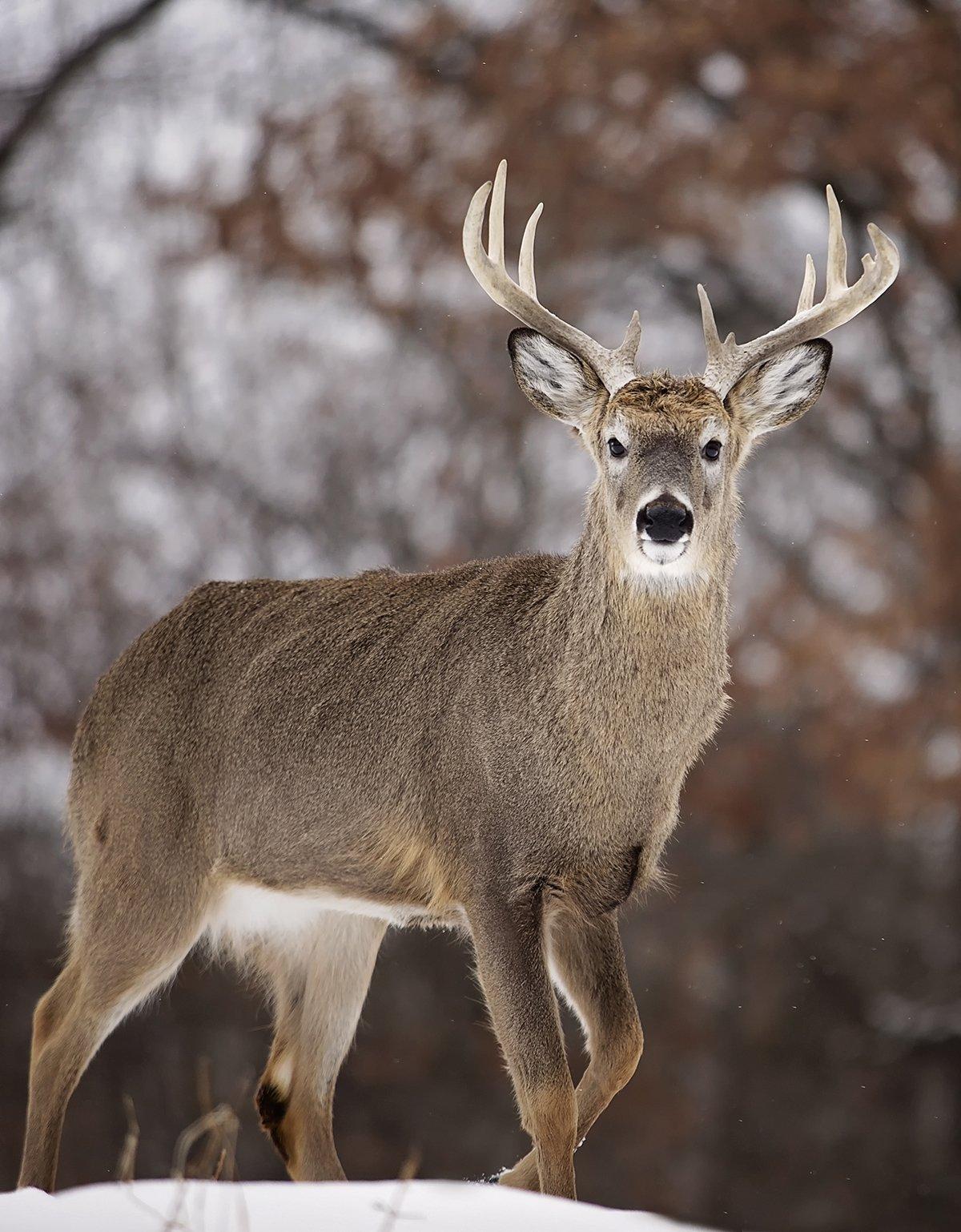 Wisconsin
Known for cheese, farm fields, big hardwood timber, and the Green Bay Packers, the Badger State is also among the states with the most deer, at least according to Kip Adams, a wildlife biologist and chief conservation officer of the National Deer Association.
While Wisconsin doesn't estimate its deer herd numbers, Jeffrey Pritzl, a wildlife biologist with the Wisconsin DNR, provided some insight. We don't generate a statewide deer population, he said, because it's a really big number that doesn't translate well to the individual hunting experience due to widely varied deer densities. However, it's safe to say that there are well over a million deer, especially pre-deer season. In our online Deer Metrics System, we provide a graph of the statewide post-hunting season population. Some areas may have 10 deer per square mile, and others have more than 100. Our highest densities are in east-central farmlands.
Even though Ohio, Iowa, Illinois, Kansas, and Kentucky get tons of press for their huge whitetails, the record books don't lie. Wisconsin leads the pack for Boone & Crockett entries. Pritzl recognized the areas that routinely produce the biggest Badger State bucks. The best trophy potential occurs where limestone bedrock is closest to the surface, Pritzl noted. This includes the Driftless Region of Southwest Wisconsin and the Niagara Escarpment, which runs down Door County and along Lake Winnebago to Horicon.
Unlike Texas, there are hundreds of public-hunting opportunities all across the state. Wisconsin's public lands offer diverse hunting-experience opportunities, Pritzl shared. Depending on a hunter's objectives, there are many good options. The key is doing some homework. It typically takes at least a couple of seasons to truly become familiar with a property and then position yourself for success. I will say this: Using waders or a watercraft to reach hard-to-access high ground is a good option for those willing and able to do it.
(Don't Miss: 10 More Deer Hunting Myths Debunked)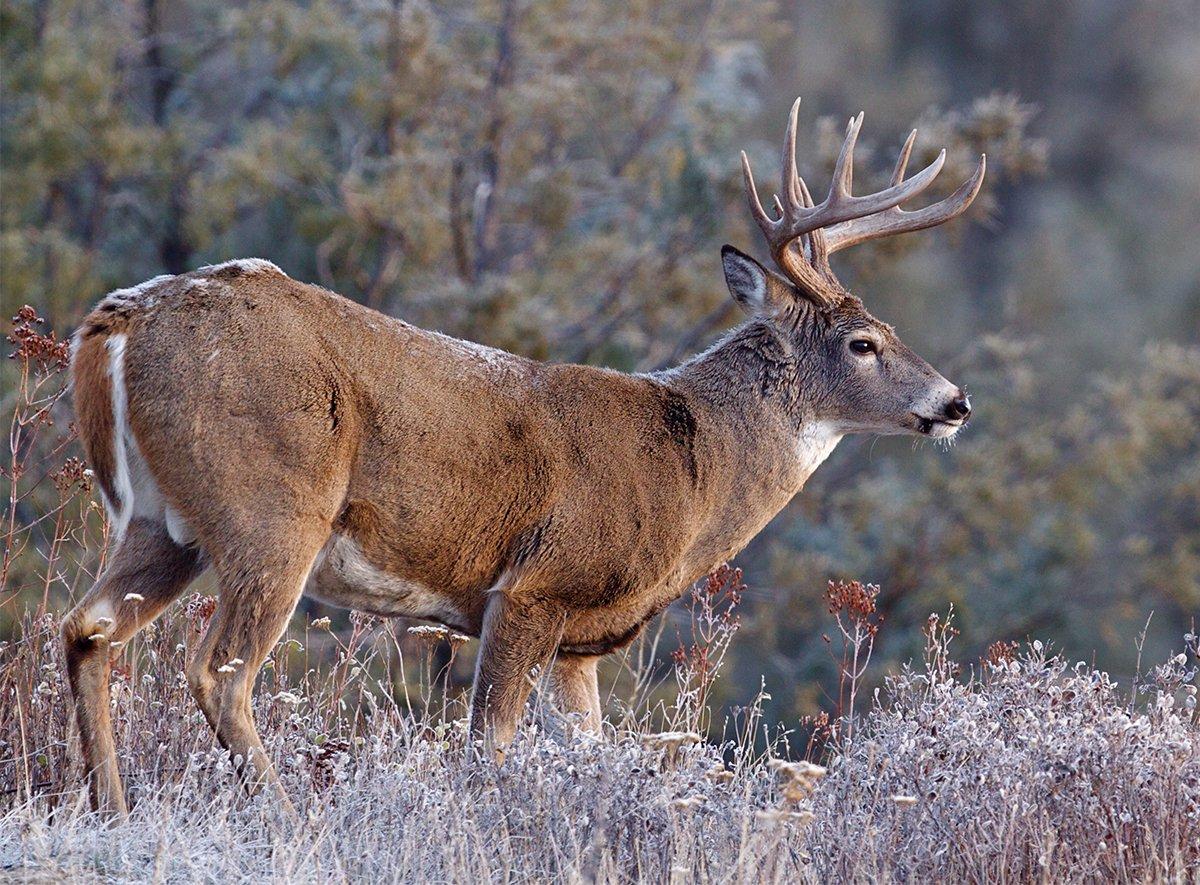 Pennsylvania
According to the Archery Trade Association, Pennsylvania's fields and forests welcomed 976,000 licensed hunters in 2018, ranking it second only to Texas, which sold more than 1 million hunting licenses that same year. Interestingly, online sources note that the state encompasses 28.6 million acres, making it the 32nd largest state, while Texas is the second largest. In simpler terms, that means hunting pressure in the Keystone State is intense. There are tons of hunters, but also tons of deer.
Kip Adams mentioned that just like Wisconsin, Pennsylvania likely makes the list of the top three states with the most whitetails — though again, an exact herd estimate is difficult to pin down. David Stainbrook, deer and elk section supervisor with the Pennsylvania Game Commission, delved into the details. In Pennsylvania, deer aren't managed based on population estimates or densities, he said. Rather, deer-population trends across Pennsylvania's 23 Wildlife Management Units (WMUs) are used for deer-management recommendations along with several other measures and goals. Currently, deer populations in most of the state are stable (22 of 23 WMUs remain stable). Being able to say that a population is going up, down, or remaining stable is far more useful than a number, especially a statewide number, he continued.
As in Texas, Wisconsin, and everywhere else, certain areas within the Keystone State have higher deer densities, particularly areas where hunting access is limited, such as the suburbs and remote spots where few hunters are willing to go. Pennsylvania doesn't make the Boone & Crockett Club's list of top whitetail states, but nonetheless it occasionally produces some real head-turners, such as Mike Speaker's 195-incher and Aaron Brown's 182-incher.
All regions have large bucks come out of them, Stainbrook explained, particularly in areas where bucks can escape hunters and grow to older ages. PA's antler restrictions help lead to more older bucks in the population by protecting a portion of the young bucks each year. He pointed to the north-central region as an area worth consideration for mature bucks. There's an abundance of public land that is accessible to everyone, yet so remote that very few hunters get very far into them, he said. These lands don't have the best productivity for deer, but they do contain the population with the oldest age structure, including bucks reaching their antler-growth potential.
If I had to pick two public-land parcels, I'd go with Susquehannock State Forest, and State Game Land 100/Sproul State Forest, he continued. Susquehannock State Forest in Potter County is a good choice for public land that is pretty accessible via state forest roads, but there are still some places where you can get a long distance from any road and find older deer. For those in good physical condition and who know how to use a compass and GPS, the adjoining lands of State Game Land 100 and Sproul State Forest in northern Centre and Clinton counties offer solitude in some of the biggest contiguous tracts of forest land in PA. These areas offer a hunt similar to those found in Vermont, New Hampshire, and Maine.
(Don't Miss: 25 Tips for New Deer Hunters)