A Suburban Buck That Trumped All Others
Rack Report Details
Buck:
182-inch gross typical
Time of Year:
September 17, 2016
Place:
Chester County Pennsylvania
Weapon:
Elite 32 Bow Bowhunting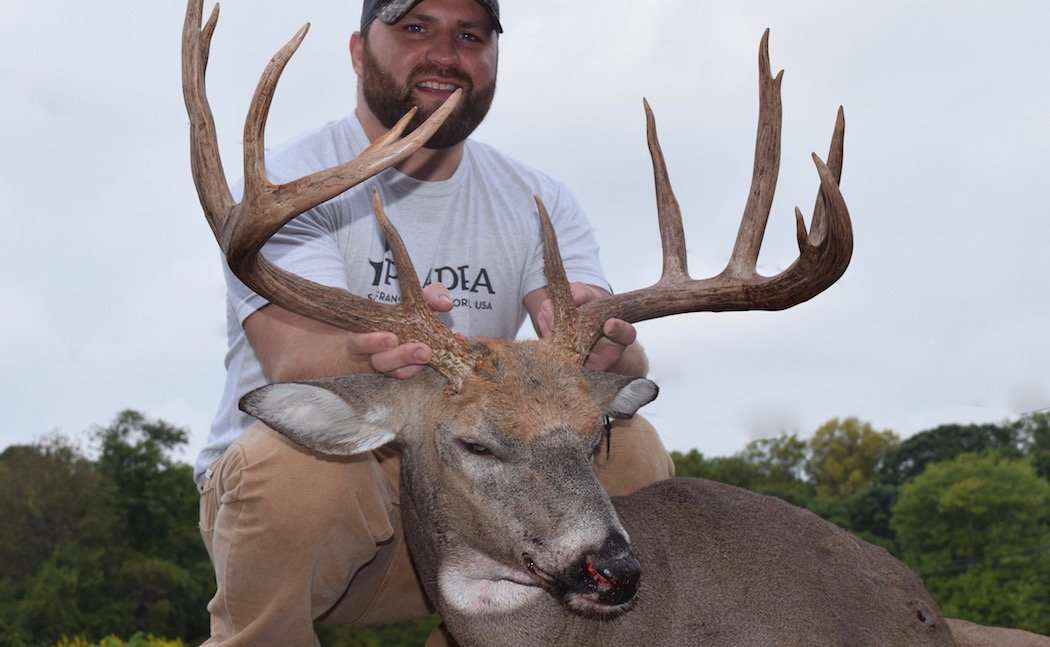 When Aaron Brown eased into the small suburban woodlot to check his trail cameras on a mid-July afternoon, little did he know that his whitetail fortunes were about to change. He has been chasing Chester County deer with the stick and string for nearly a decade. Although he had harvested several bucks, his largest was a mid-130-inch 10-point. But when the first trail camera he checked that fateful afternoon showed a Pennsylvania giant, he quickly put the exceptional 12-point brute at the top of his hit list.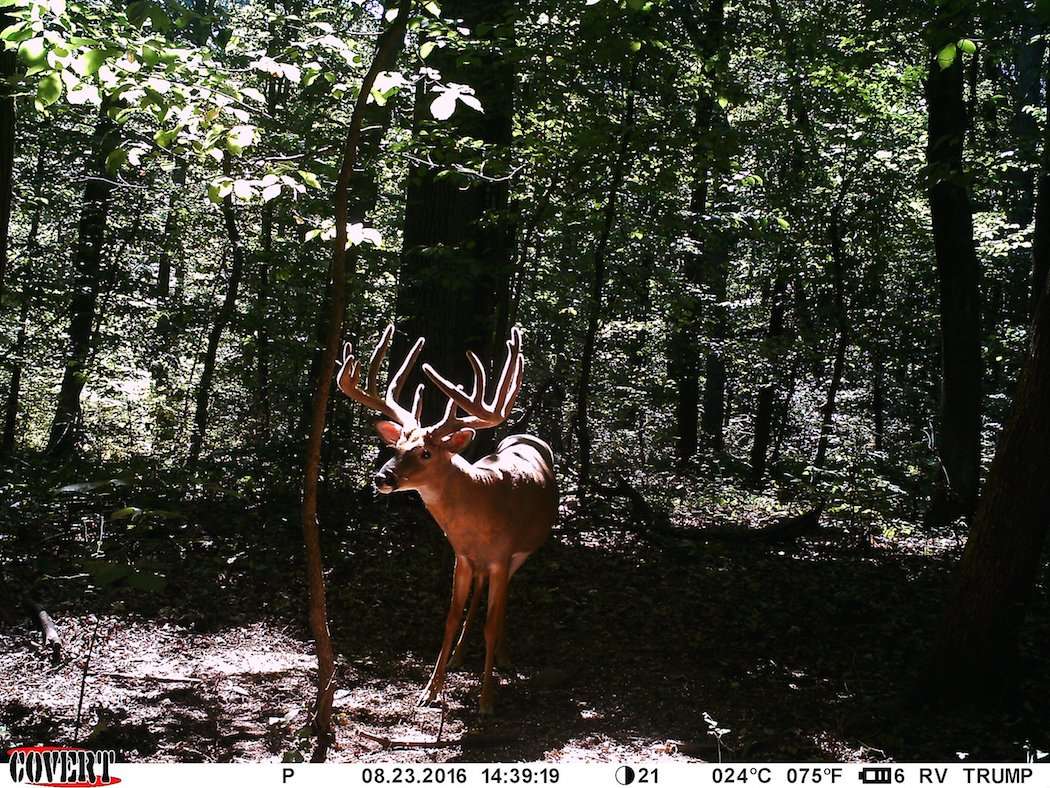 Although Pennsylvania produces good numbers of whitetails annually, it has never been known as a top-end whitetail destination. The Keystone State has seen an uptick in quality bucks in recent years, especially among bowhunters. However, with hunter density hovering around 20 hunters per square mile (which generally ranks near the top nationally), and with around 50 percent of the bucks harvested annually being yearlings, only a handful will ever slip through the cracks and make it to maturity. Needless to say, the buck was the exception and had found a way to survive several seasons unscathed.
As the summer wore on, the deer showed up more and more during daylight hours on trail cameras. One particular bean field just down the ridge from where he was initially spotted seemed to be his hangout. His massive antlers seemed larger with each sighting, and Aaron knew a suburban buck this visible would be a prime target for any would-be poacher. With this in mind, Aaron and his hunting buddy R.V. took turns making sure he was safe every night when he ventured out into the bean field under the summer's fading light. As the beans yellowed, it switched its evening feeding pattern to the safety of the cornfield across the road, and Aaron quickly adjusted his plans as the mid-September opener approached.
Knowing it generally headed to its bedding area just before first light, Aaron was in his treestand shortly after 5:00 a.m. on opening morning. As he was settling in under the cover of darkness, a doe slipped in from behind and caught his movements. For the next few minutes she blew her disapproval before moving down the ridge. Less than 5 minutes later, a large-bodied deer eased directly under his stand. With shooting light nearly an hour away, the deer bedded just 12 yards from the base of the tree. The deer's body told Aaron it was a buck. However, it wasn't until he got up to feed on some acorns that Aaron realized it was the big one. Its unmistakable rack flashed under the moonlight. Aaron's heart raced as he watched the buck slowly feed out of range for the next 45 minutes. With first light still minutes away, all he could do was watch and wonder if he would have another opportunity.
As the deer moved down the ridge, Aaron quickly sent a text to his buddy R.V., who was hunting about 400 yards away, and told him that it was heading his direction. R.V. saw the booner a few minutes later, but his opportunity quickly faded as well when it veered off the ridge into heavy cover to bed for the day.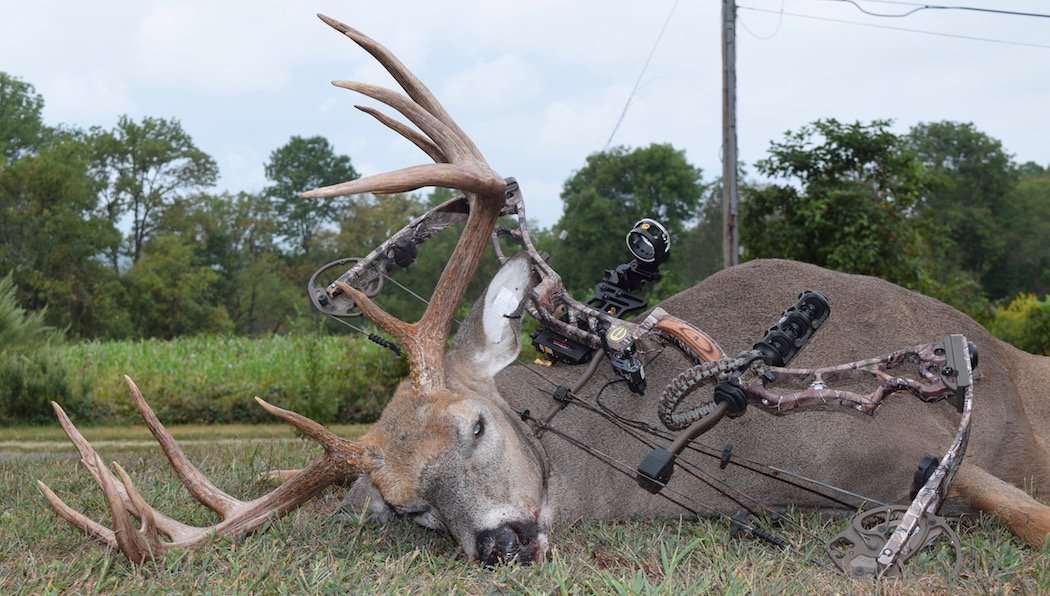 With the giant in the area, Aaron decided to hunt the rest of the day, only climbing down during lunch. As the afternoon hours wore on, his only visitor was a lonely doe. But as primetime approached, so did his target deer. Aaron reached for his bow as the giant closed the distance. Sixty yards quickly turned into 30, and with it facing him head-on, Aaron had no shot.
Time seemed to stand still as Aaron waited for his vitals to show. Another deer approached the mature buck from behind, causing him to turn slightly. Aaron's window of opportunity arrived and he quickly dispatched an arrow. The arrow sliced though its chest so fast Aaron thought he had missed at first, but when the deer stumbled to the ground just 40 yards later, he knew his 2016 Pennsylvania deer tag had found a home.
Click here for more deer hunting articles and videos.
Check us out on Facebook.
Watch all the latest video episodes