What rut activity are you seeing?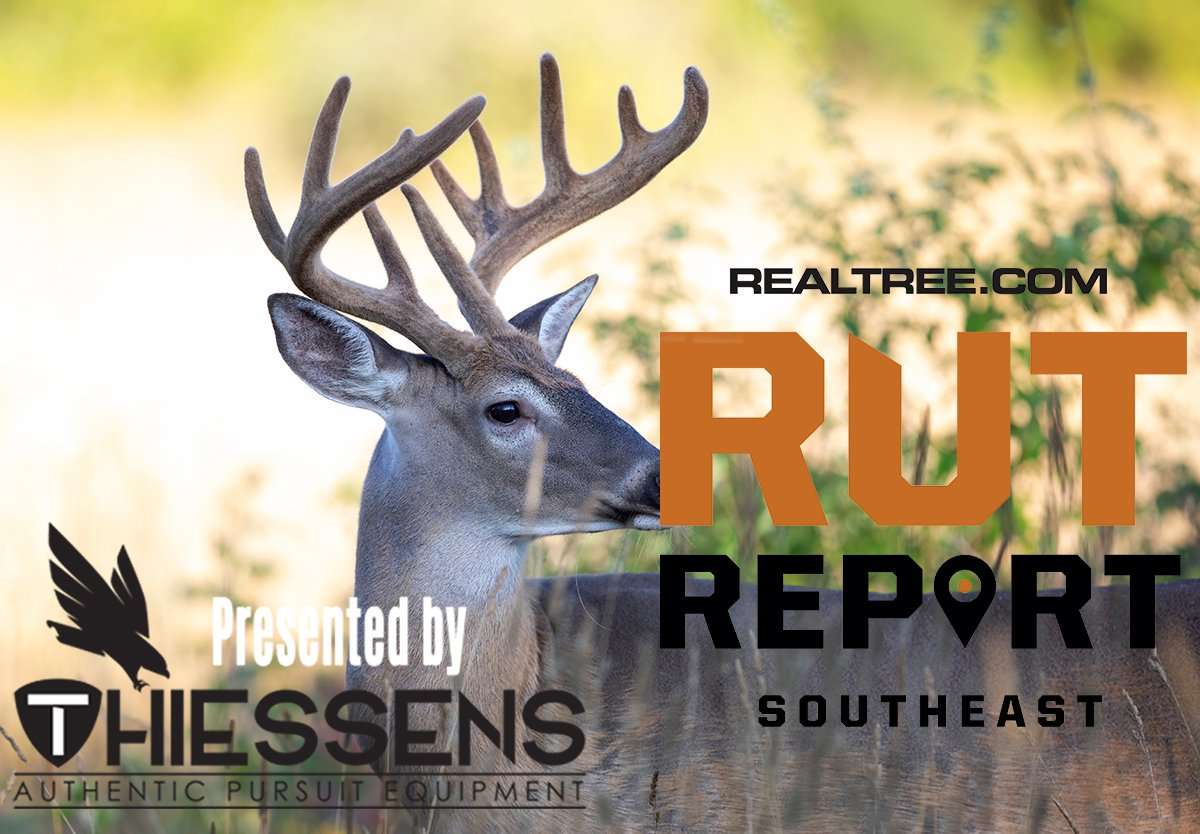 The first two weeks of the Rut Report looked great for the region. The last two? Not so much. This weekend could be another weekend of poor deer activity for some. Much of the region can expect heavy rainfall through the weekend. The silver lining — there are some states experiencing rut activity. Plus, the extended forecast predicts another wave of cold weather for the middle of next week.
Florida
Just as it's been the past few weeks, with the exception of an 80- to 100-mile radius around the Winterhaven area, the northern two-thirds of the Florida Peninsula is seeing decent daylight activity. Buck sign is diminishing, but according to the Florida Fish and Wildlife Commission, there's decent chasing and breeding activity. Focus on doe family groups in this region of the state.
Arkansas, Mississippi and Louisiana
In Razorback country, rut sign is ramping up. Both rubs and scrapes are increasing in number. Last week, according to the Arkansas Game and Fish Commission, Washington, Madison, Sebastian, Logan, Yell, Pope, Garland, Clark, Nevada, Hot Springs, Saline, Conway, Van Buren, Searcy, Cleburne, Independence, Izard, Randolph and Craighead were seeing the best deer activity. This week is much the same, but rut sign is beginning to increase in other counties, too.
The Huntin' Grounds' Steven Fuller is optimistic about the coming weekend. Some of the young bucks are still in small groups, but they're sparing a lot and scrape activity has really picked up, Fuller said. All the older, mature bucks have broken up, and we're finding new bucks on lots of our cameras. There are some reports of chasing in the area, but I'm sure that's mainly young bucks. We had a 3 ½-year-old in the plot with does tonight. They didn't care about him and he didn't care about them. With a major cold front coming in this weekend, I think we are going to see some massive changes soon.
In Mississippi, there's no rut in sight. Deer are still bachelored up and following early season patterns. Set up shop on the hottest food sources. Some areas of the state have exceptional mast crops this year. If deer aren't hitting those in daylight, creep closer to daytime bedding areas in hopes of seeing deer during legal shooting hours.
According to numerous Louisiana deer biologists, the best rut action is happening in the southwestern corner of the state. Vernon, Vermilion, Cameron, Acadia, Jefferson Davis, Calcasieu, Beauregard and Allen Parishes are seeing the best breeding activity. However, parts of De Soto, Natchitoches, Winn and Rapides are heating up.
The Carolinas
In South Carolina, for the past week or so, southeastern parts of Charleston, Colleton, Beaufort and Jasper Counties have produced the best rut action. While there's still decent rut activity there, it's beginning to taper off. Bucks have been locking down with does, which means the best of the action is behind us. There best action is yet to come for 95 percent of the state, though.
North Carolina hunters have seen decent rut action in select coastal counties the past couple weeks. However, according to North Carolina Wildlife Resources Commission historical rut data, Jones, Onslow, Pender, New Hanover and Brunswick Counties should be seeing peak breeding within the next few days. Rub and scrape counts continue to climb throughout the rest of the state.
Kentucky, Tennessee and Virginia
The rubbing activity has really increased in most areas. While scrapes have begun appearing across the Kentucky and Virginia landscapes, things seem to be a little slower in the Volunteer State.
The deer in western Tennessee were starting to scrape a little, but not a lot, said Whitetail TV's Bart Goins. We even saw bucks still grouped up this past weekend. They're just feeding still.
As previously mentioned, younger bucks are beginning to feel their oats in Kentucky. Realtree pro staffer Kirsten Godfrey Duke has seen a noticeable increase in rut sign around central Kentucky, too.
Scrape checks are heating up, Duke said. Definitely getting bucks checking scrapes. This morning, my cellular cameras told me that both my shooter bucks were moving in daylight. That's something that hasn't happened at all yet. Very exciting.
I've personally witnessed younger bucks pushing does on my last several outings. New mature bucks continue to show up in places where they previously weren't appearing. However, those same mature deer haven't been moving during daylight hours very well. And when they do, it's typically been during the early morning on cooler days. Keep that in mind for the next week or so as we continue to experience mild temperatures.
Realtree pro staffer Chris Ward, has been seeing great action in Virginia where he hunts. Two of us hunted tonight and saw four shooters, he said. A big one just showed up on my camera this morning. Haven't seen him since July.
Alabama and Georgia
No rutting activity to speak of in 'Bama. Deer are still in early season patterns there. Set up between known bedding areas and food sources. In areas with more drought, water sources are good afternoon plays, too.
I'm currently in Clanton, Alabama, and the rut is a long way away, said pro staffer Kyle Barefield. I found my first good buck rub this past weekend. On my trail cameras, the bucks are still in bachelor groups, but older bucks are showing some aggression toward the younger bucks around feeding sites. Daytime movement is minimal, but I do have some daytime photos in the mornings on bait sites. No findings of any scrapes, and my cameras have to be in mature buck core areas to capture them. [They aren't] wandering big distances yet. Their minds are still on food.
In Georgia, things were pretty good in Chatham, Liberty, Bryan, McIntosh, Glynn and Camden Counties the past couple weeks. However, for many hunters there, things are slowing down. According to the Georgia Department of Natural Resources, rut sign — and even some breeding activity — is best around Effingham, Long, Wayne, Pierce, Brantley, Ware, Charleston, Atkinson, Lanier, Clinch and Echols Counties. Other eastern and southern counties are seeing a significant uptick in rubs and scrapes the past week, too.
We finally got some rain over the weekend and got food plots in before it hit, said Realtree's Phillip Culpepper. I was out yesterday and saw a few scrapes that had been hit since the rain, and some good rubs that were fresh, too. I haven't seen any bucks pushing does yet, but I bet it's close. I hope to get in the woods more this week with this front coming in, and get a better idea of what the deer are doing.
Realtree pro staffer Kevin Knighton had a good week as well, and even put a buck in the truck to show for it. He was hunting near McRae, Georgia.
I haven't hunted much here in Florida, but I hunted Georgia all last week, Knighton said. With the cooler temps, a lot of bucks were on their feet. New bucks are showing up every day on our [cameras]. I even saw one new 3-year-old pushing a couple does around. Friday afternoon, I shot the biggest buck we've had on our cameras all year. I think things may happen this year just a little earlier than usual.
Altogether, the forecast weather doesn't look great for some states in the region, but expect things to improve by the middle of next week. Unless you're seeing good daylight movement on your trail cameras, hold off those best spots until the time gets right.
Don't Miss: The Anatomy of a Whitetail Scrape
Check out more stories, videos and educational how-to's on deer hunting.
Day Activity

Rubbing

Scraping

Fighting

Seeking

Chasing

Breeding