What Rut Activity Are You Seeing?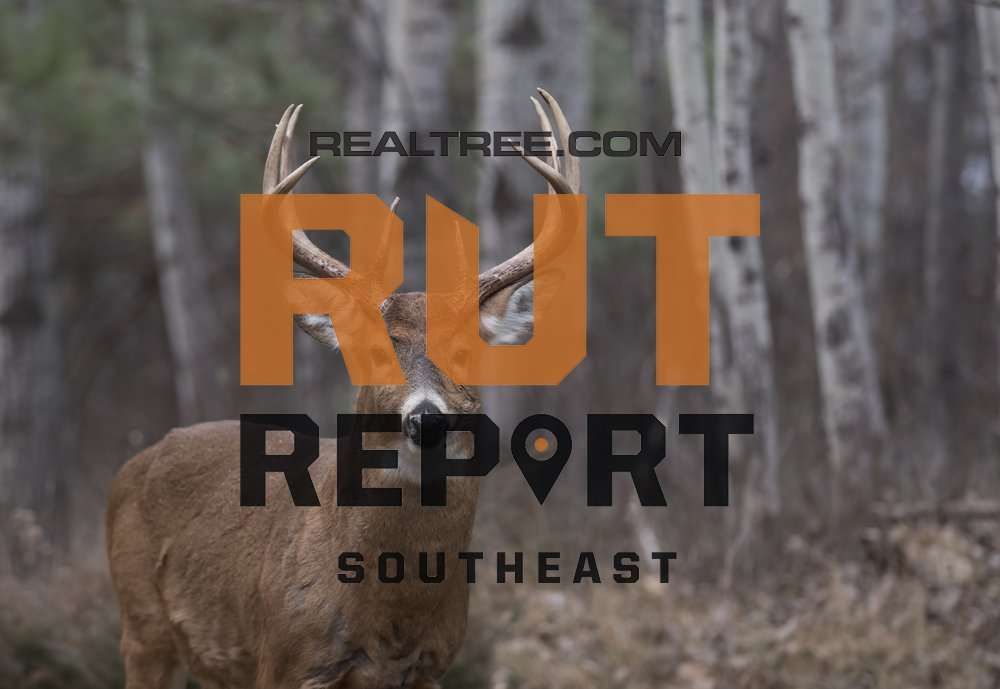 It's been ice-cold for the last few days. We weren't expecting it to get quite as cold as it did when we looked at the extended forecast last week. All said though, this week has offered the best temperatures for deer hunting all year. It's still going to be cold for the next day or two, but then we'll experience a big increase in temps as we head into the weekend — with highs getting back up to the 70s and lows in the 60s by the middle of next week.
Deer season is now closed — and has been for a few weeks for some hunters — in Kentucky, Tennessee, North Carolina (excluding the urban archery season that runs January 12 to February 17), South Carolina, Florida (excluding Zone B and D) and Georgia.
Where seasons are still open in North Carolina and Arkansas, it's certainly the late season. Focus on bed-to-feed-based patterns and hunt secluded and overlooked areas that have received less pressure throughout the season.
As for states with rut activity, in Florida, there's some action around the central part of the state that should last until the end of February (Zone B counties). We're also seeing slight rutting activity in the panhandle. Gadsden, Leon, Wakulla, Liberty, Franklin, Jackson, Calhoun, Gulf, Bay, Washington and Holmes were good the last few weeks, but have ultimately wrapped up. We're now seeing rut action in Escambia, Santa Rosa, Okaloosa and Walton Counties and expect it to be that way for the next couple of weeks.
In Alabama, the best action is coming from the central part of the southern quarter of the state. Chasing and breeding activity are occurring in: Montgomery, Bullock, Pike, Crenshaw, Lowndes, Butler, Monroe, Conecuh, Covington, Escambia and Baldwin Counties. We expect to see that rut activity continue there for the next week or so.
In Mississippi, this week the rut continues to encompass a six-county area, like last week, including: Greene, Perry, Stone, George, Harrison and Jackson counties. Expect rut activity there for the next week or so, before finally wrapping up and concluding all rutting activity for Mississippi.
For those in Louisiana, the rut is finally over for 99 percent of the state. Last week we mentioned those who hunt in Avoyelles, West Feliciana, Pointe Coupee, Iberville, Ascension, Tangipahoa, St. Helena, St. Tammany and Washington Parishes were seeing decent action. That has now dwindled to small pockets in four separate parishes — West Feliciana, Iberville, St. Helena and Tangipahoa. It's possible deer could rut in those locations until the middle of the month, or even later.
All in all, it was a great season in the Southeast region. We received decent weather at key times in most states. And by the early reports coming in, a lot of deer hit the ground.
We hate to end it. We hate to see it go. But this is the final installment of Realtree's Rut Report for the 2018-19 deer season. We'll be back bigger and better next fall. Until then, God bless and shoot straight.
Don't Miss: 20 Deer Hunting Lies Your Granddaddy Told You
Photo Credit: Shutterstock / Jim Cumming
Are you a deer hunter wanting to learn how to accomplish your goals? Check out our stories, videos and hard-hitting how-to's on deer hunting.
Day Activity

Rubbing

Scraping

Fighting

Seeking

Chasing

Breeding