Geese and sea ducks are providing a few bright spots
Date: Jan. 14
Region: Atlantic Flyway; Maine south to Florida, including West Virginia and Pennsylvania
Weather Trends/Habitat Conditions
Another season is ending, but a few weeks remain for much of the Atlantic Flyway. There's no telling what might happen between now and the final moments, but if current weather trends hold, it probably won't be good. The 2019-'20 season has been warmer than average, with abundant rain throughout. Some areas have been hammered by one warm front after another, and birds are loafing in untouched pockets or are somewhere else.
Despite the poor conditions, some hunters have had a productive season. In most cases, they had access to high-quality private ground or worked their tails off to find birds on public land. Or they just got lucky.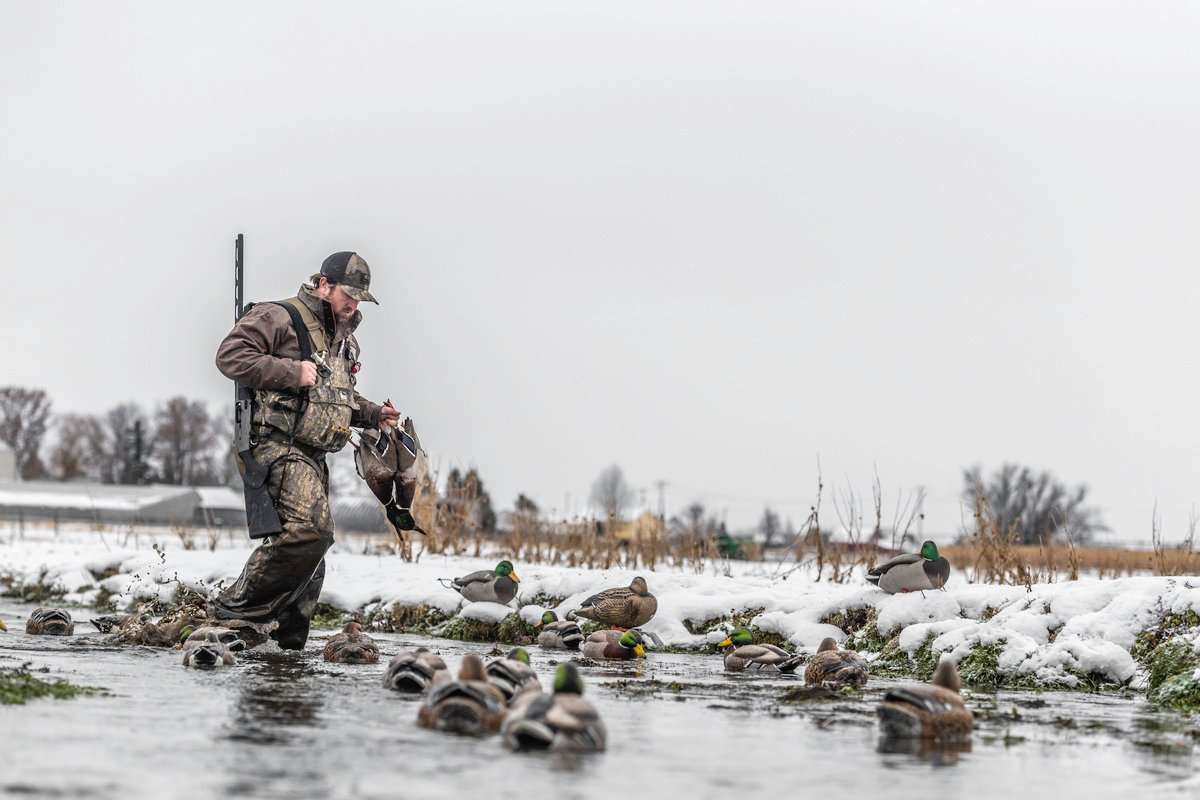 Species and Numbers
Stale seems to be a common theme throughout the flyway. Local spots with lots of ducks have had those birds for weeks. No major fronts have pushed large numbers of fresh birds south. In fact, some ducks might have shifted back north.
They aren't in Maine, though. Eric Bartlett, a Portland, Maine, resident and owner of Goose Down Farm Kennels, said duck numbers have been down by two-thirds all season. Geese are still working down the coast — the latest he recalls seeing that.
There are still some mallards and black ducks around, but they are weird this year, he said. I'm finding them in places I don't normally find them, and they seem to be grouped up more than usual.
On a higher note, he has been having productive hunts on the salt, particularly for long-tailed ducks.
I'm seeing good numbers of surf scoters, and eiders seem to be pretty abundant, too, he said.
Central Pennsylvania resident Nick Marsilio has been stacking up mallards and Canada geese in dry cornfields and pastures the past few weeks. Black ducks have been mixed in, too. Bird numbers have fallen in the past week, though.
I've heard of some guys doing OK on divers on the Susquehanna River, but I don't think it's been a terribly good season overall, he said.
Things have gone downhill in Delaware, guide Albert Dager said. What started with a bang seems to be ending with a whimper. He's been shooting a handful of birds most days and none during others.
I've been talking to a lot of people, and they've all been saying the same thing — it's really slow, he said. I don't know what happened. We were doing great up until a few weeks ago, but lately they've just disappeared. The only good thing is that we are absolutely covered up with geese. We've been shooting our one goose in no time when we hunt them. I keep hearing how the goose population is down. I'm not seeing it where I hunt.
Dager talked to a fellow guide from New York who said most water there is still open, and plenty of ducks remain in the Great Lakes and other large bodies of water.
Things aren't much better around the Eastern Shore of Maryland, said Wayne Radcliffe, Avery Outdoors territory manager. Fair numbers of divers are starting to show up, but nothing like it should be.
Redheads are decent, but there aren't many cans around, he said. There are some blackheads in the upper Bay, but even they aren't real good right now.
Puddle duck numbers were strong about Thanksgiving, but they have moved north or south, or are sitting tight. Wherever they might be, Radcliffe isn't seeing any.
Sea ducks are strong, he said. They always show up. In fact, a lot of guys that would be hunting puddle ducks are out shooting sea ducks. Goose numbers are really good, too, but they seem to be grouped up. Some areas have plenty. Other areas don't have anything. It's just been too warm. They don't need to feed, so they aren't flying much. I don't see any major changes in the weather, but anything can happen by the end of the season.
Resident and migratory Canada geese abound in the farmland of northern Virginia, especially in some western counties. Hunting pressure has them nervous, and warm weather has them loafing, though. I goose hunted that area this past Saturday and never fired a shot. Hundreds of birds loafed on a nearby marsh, but few took to the air.
Ducks have been hit-or-miss along the tidal waters of Virginia, said Avery Outdoors pro-staffer Eric Sandiford. Some hunters are scoring big on various species, including some wood ducks on private marshes. Public-land ducks have been worked over pretty hard.
Sandiford said sea duck numbers are good on the Chesapeake Bay, but diver numbers are low. He's been seeing a few canvasbacks, low numbers of bluebills and not a lot else.
It's just too warm, he said. The puddle ducks that are here have been here for two months. Good luck trying to kill them.
Radcliffe has heard mixed reports from North Carolina. Some guys are doing well, but others are barely scratching down a duck or two.
It's real spotty, he said.
Southern Florida hunter Eric McHugh said action is pretty good in his area, but the birds were pressured during the Christmas break. He and some friends limited on teal, ringnecks and black-bellied whistling ducks several days recently, but they also blanked a couple of days.
We are covered up with black-bellieds, he said. The population is getting out of control. We've been seeing some wigeon and pintails, too.
Boat Ramp Chatter/Upcoming Hotspots
A strong front is expected to bring heavy rain, high winds and possible flooding throughout the Southeast, which will likely complicate things more. Ducks will have even more places to hide, making for a tough final few weeks.
Much of New England is frozen, and some parts have several inches of snow, so any action that remains will occur on coastal marshes or the few inland waters that remain open.
Click here for more Realtree waterfowl hunting content. And check us out on Facebook.