Top Hunters Reveal Their Favorite Bird Combinations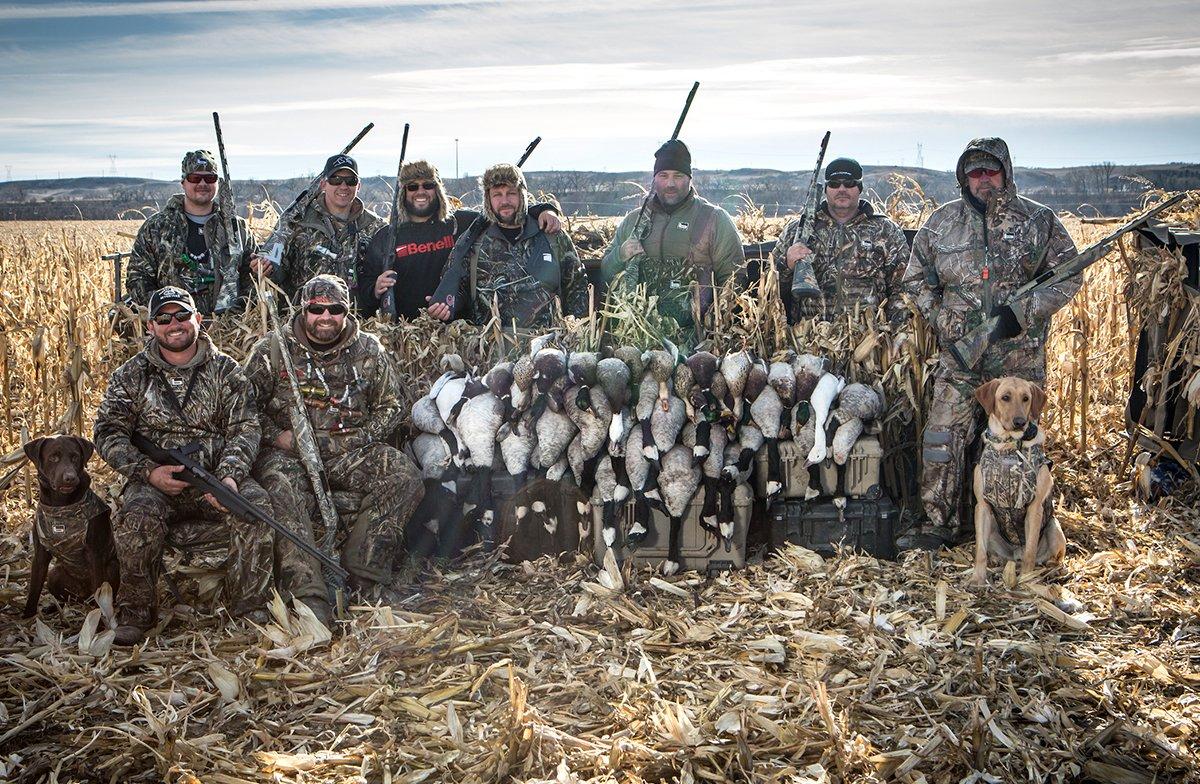 Now and then, the stars (and ducks) align in fine fashion and let you take a one-species duck limit, whether that's four greenheads in the Arkansas timber or six gaddies on a North Dakota slough.
But most days, a full strap features a mix of ducks. And honestly, many folks like this, as one of waterfowling's greatest appeals is the variety it offers. Usually, mixed bags reflect the opportunities you experience during a hunt. Sometimes, however, you can pick and choose from prime drakes of various species to collect an ultimate eclectic limit.
Of course, every duck hunter has a personal vision of a perfect mixed bag. We asked some of today's top hunters about their ideal mixer.
Green and White
For me, it would be four greenheads and two pretty cottontops, said Tony Vandemore, owner of Habitat Flats near Sumner, Missouri. I love greenheads — nothing like them. But wigeon are good ducks. Wigeon usually give you a pretty fair shake, and when they commit, they come in with reckless abandon.
Gray in the Mix
Mine is a little different: four gadwall and two wood ducks, said John Gordon, who handles media and public relations for Banded and Avery. Let me explain. I came to Mississippi State from Houston, Texas, and I knew no one there. I am a Mississippi native, so even though I was transplanted to Texas when I was young, I knew I was going back. I went through the formal fraternity rush, not knowing what to expect. I was just looking to meet people. I ended up pledging Lambda Chi Alpha, and in my class was a guy who ended up being one of my best friends. I was in the woods with him last night helping him track his son's first buck (he had a kid a little later than the rest of us). He lives near Lake Washington, south of Greenville, and owns a portion of an old oxbow called Lake Jackson. I was lucky enough to start hunting the lake in the early '90s, and it's always been a gadwall paradise. There is a lot of coontail and milfoil, and the gaddies just love it. And being Mississippi, there are always woodies everywhere. The memories I have from over 25 years there are incredible. It's my favorite duck hunting spot. In fact, if I were given a choice of one place to go that would be my last hunt, it would be on Jackson. It's a spectacular place, with ancient cypress trees and home to breathtaking sunrises. So there you go: four gadwall and two wood ducks.
A Colorful Palette
Well for me, that would be an easy one, said Justin Martin, general manager of Duck Commander. My favorite bag to kill here is two mallard drakes, one pintail drake, one wigeon drake, one greenwing drake and one gadwall drake. I have done it a few times but not often. If I had a dream bag, it would be one mallard drake, one black duck drake, one pintail drake, one mottled drake, one greenwing drake and one of either a wigeon or gadwall drake. Also, you could add a wood duck drake to any of these mixes, and I would be thrilled, too.
I have two that are high on my list to get, and that's the cinnamon teal and Eurasian wigeon. I know I am on the wrong side of things to get that done, but maybe one day. I love variety in a duck shoot. I know it sounds weird, but I get tired of shooting just mallards. It's one of the reasons I love to hunt WRP land, because it generally provides you with a strong mix of ducks while still providing mostly mallards.
Big-River Mixers
My buddies and I argue about this all the time, and it's truly relative, said Jeremy Dersham, of Ridge and River Running Outfitters, who guides hunters in southern Wisconsin and on Pool 9 of the Mississippi River. My perfect limit is two bull canvasbacks, two fat green-headed mallards, one black duck and one old drake whistler (goldeneye) the first week in December on the big river in Wisconsin. I'm putting hundreds and hundreds of birds in my spread, picking out my six birds of choice with specific requirements. Another perfect limit I've tried to hold out for is in late January: double sprig pinnies, one plumed-out drake wigeon and three greenheads to grace my strap in a flooded rice field in Arkansas. The sky is filled with sprigs like nothing you've seen before. You're checking each drake's tail before pulling the trigger. My last perfect limit is three drake wood ducks and three greenhead mallards kamikaze-ing through the flooded timber the first week in October. You want to land ducks in the spread, looking for jewelry on their flight down. You also want to look out the corner of your eye and see your Lab's head lifted toward the heavens watching birds cup.
Now, the reality is the stars have to align for days like these. The birds need to have a good hatch, allowing the different states to allow your perfect limit, and you have to be in country where these birds travel, along with weather conditions to put birds right where you want them. You may go season after season without having an opportunity for any days like these, or even a lifetime, but when they do happen, it's something to watch.
There are some days I'm happy to kill one hen bufflehead, and that's the reality to us duck hunters. Each day is different. The part of the country you call home and the stage of the migration will dictate your perfect limit. One thing's for sure: You're sharing your time with family or friends and watching magical shows only seen by a duck hunter.
Click here for more Realtree waterfowl hunting content. And check us out on Facebook.