Action, Reports Vary Throughout the Region
Date: Dec. 13
Location: Pacific Flyway, with emphasis on western Washington
I know. I'm beginning to sound like the proverbial broken record here in southwestern Washington, but I'm just struggling. Stymied. Perplexed.
True, there's almost no sheet water anywhere, which is odd. However, the strangest part of the equation is the lack of birds in this corner of The Evergreen State. Yes, folks are killing ducks in northern Washington. And they're killing mallards in eastern Washington. As for the rest of the Pacific Flyway, I'm not hearing of any barnburners. Some good, some not so good. Some, like me, are scratching various parts of their wader-clad anatomies trying to figure out what's happening this year. Still, I keep telling myself that it's bound to get better.
Major Weather Trends
In southwestern Washington, we're coming off one of the driest Novembers on record. December arrived the same way. Just recently, Dec. 9, we've begun to get a bit of weather off the coast: wind, rain and temperatures in the low 40s. That's a normal December, most say, and it's about time. The weatherman claims we're falling into our traditional pattern of gray skies and rain throughout the holidays and the new year. East of the mountains, the word is cold but not as cold as normal.
In Utah, Travis Madden wrote this: Highs in the mid- to upper 30s dropping down into the low 20s and teens at night. (We're) starting to see ice form on the ponds overnight.
From Nevada, Avery/Banded pro, Travis Lyle reported: No big cold fronts or even strong winds to talk about. The birds have shown up, but they're real stale with the weather.
Snow is predicted for the Idaho Panhandle Dec. 10 through 14), and in the bird-rich Sacramento Valley, there's a mix of clouds and sun, along with mild temperatures with highs pushing 60 through Christmas.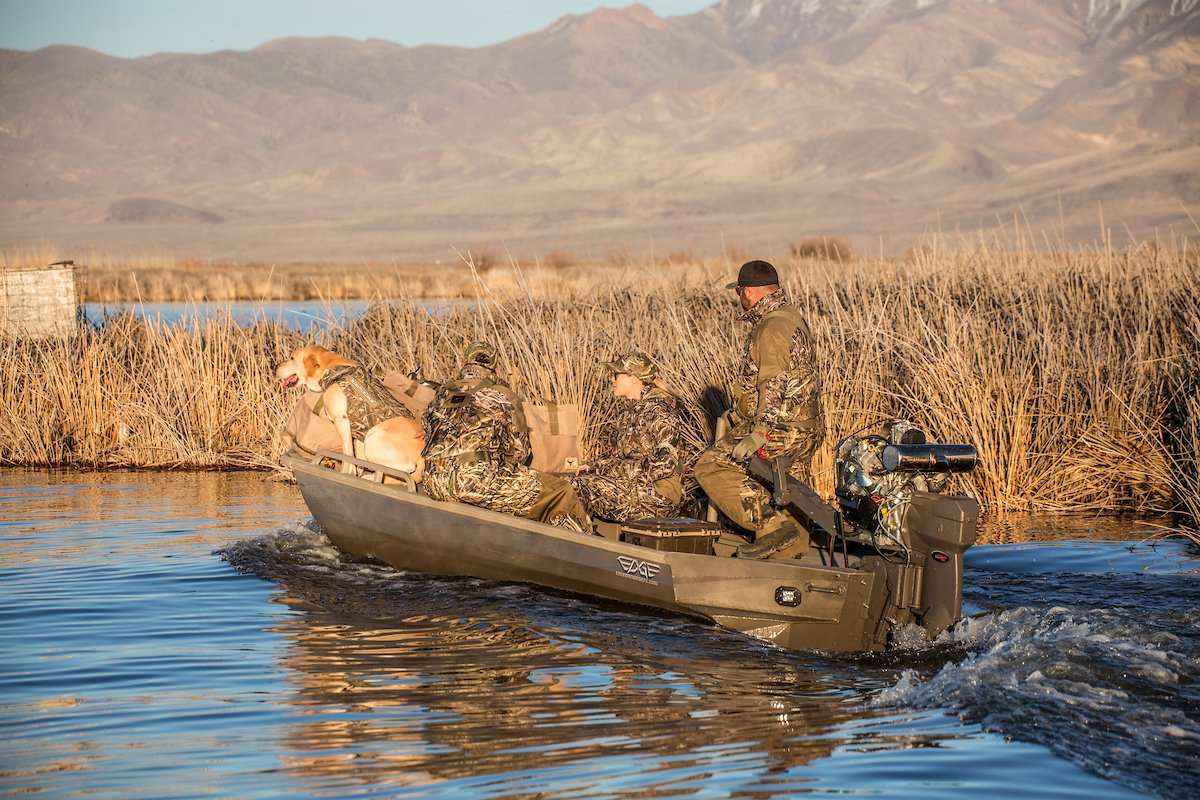 Water/Habitat Conditions
I'm starting to sound like the guys in Arkansas when I say this, but folks who have water are likely killing ducks. Those who don't aren't. I have water in southwestern Washington, but just not in the form — that is, sheet water — conducive to field hunting this time of year. There's plenty of tidal water, and in fact, the tides have been pretty reasonable throughout November and into December. Yet I've been struggling. North, Geff Duncan, another Avery pro-staffer, is living through water one day but none the next. Elsewhere in the flyway, and in talking with pros from Idaho to southern California, the water situation appears to be normal. Not too much or too little.
Species/Numbers
In Utah, Madden recommended windshield time for those looking to score.
I was out yesterday (Dec. 9), he said, and there are plenty of ducks, but you're going to have to scout. Lots of swans in the area, too.
Near Fallon, Nevada, Travis Lyle echoed Madden's remarks.
Duck and goose numbers are high, he said, and we even have a good number of swans right now. But scouting and timing are critical. It seems like late morning and mid-afternoon are the hot tickets. Still, it's important to watch the weather patterns, as things could change overnight.
It's the usual suspects in terms of species flyway-wide, including my home waters, although there seem to be fewer wigeon and green-winged teal this season than in 2017-'18. Pintails, too. However, mallard numbers — and it's an unscientific guess based solely on observation — seem higher. On the plus side, scaup numbers appear excellent, as do bufflehead and ringnecks.
Personal Hunting Report
For me, it's been an odd year. By Thanksgiving 2017, I'd killed 40 ducks; a mix of mallards, wigeon, greenwings and sprig, heavy on the wigeon. This year at Thanksgiving, I'd killed six: four mallards and two pintails. And it's not for lack of trying. The absence of sheet water has trumped my tally to a huge extent, and I hope that will change. Geese have been really hit or miss this fall. Hero one day, zero the next. I hunted during what I thought were ideal conditions Dec. 9 for geese and never touched the trigger. I have no clue where the big geese are this year. And even numbers of small geese — cacklers and lesser — appear to be down on the Lower River. No wigeon to speak of. Few pintails. And even fewer greenwings. Trust me, folks, I'm trying to stay optimistic, but it's shaping up to be a slow year in the southwestern corner. We have some weather coming in the form of heavy rains this week, so hopefully the fields will fill a bit, and our duck take will improve.
Chatter/Upcoming Patterns and Hotspots
Yeah, I know it sounds dire here, but I don't believe it is. A 107-day duck season helps, if nothing else psychologically. Rain is coming, so the fields should fill up and move ducks from the Lower River and tidal marshes onto the sheet water, where, finally, I can begin harassing them as they should be harassed. Plenty of time left. Plenty of time.
Click here for more Realtree waterfowl hunting content. And check us out on Facebook.