Use These Sleuthing Tricks to Find Hidden Pockets of Birds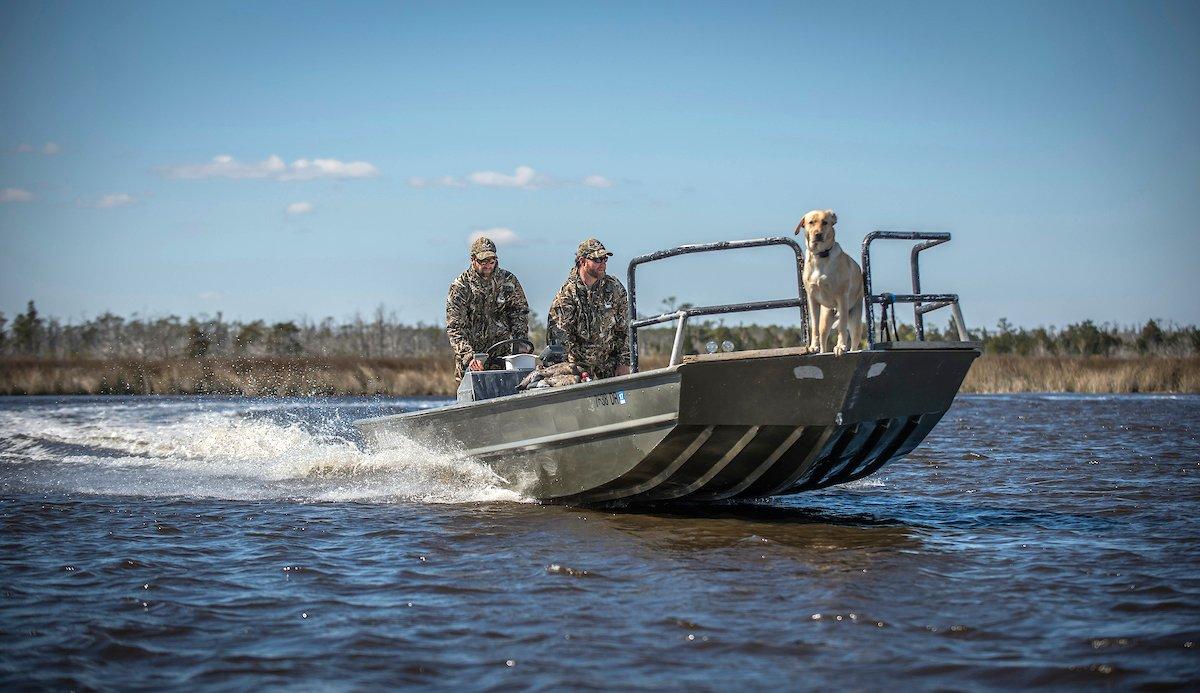 Initially, scouting large waters for ducks seems pretty straightforward. A) Find big water. B) Grab binoculars. C) Look at said water through binoculars. Or, if you're more hands-on, you can hop in a boat and motor around, provided the seas aren't too rough.
Those approaches work fine much of the time, but they're not infallible. In fact, when you throw pressured ducks, changing weather patterns and other factors into the mix, the simple approach to scouting big water can fall flat. Here are some tips to maximize your glassing or boating sessions.
Wind Wise
When the breeze whips the surface of big water into rollers or whitecaps, waterfowl naturally gravitate toward calmer water and lee shorelines. Focus your scouting efforts there. For example, if a 20-mph northwest wind whips across a 100,000-acre lake, you obviously want to glass or boat the calmer western shoreline or protected coves or bays. It makes little sense to waste time viewing the windswept eastern shore.
Just remember, ducks won't always hug tight to shore, even in stiff winds. Sometimes, especially with divers, they find sufficiently calm water several hundred yards — even a mile — from shore. So, search the shoreline for birds, but don't forget to glass open water.
Nooks and Crannies
Sometimes, waterfowl raft or fly in plain sight. That's great because it makes scouting easy. However, it also assures that every dude with a duck boat knows about those birds and will be after them during the weekend. You're usually better off searching for ducks at somewhat hidden or inaccessible spots, such as deep bays, remote stretches of river or obscured shorelines far from metro areas or boat landings. Few folks will know about those tough-to-find birds. Further, pressured ducks often gravitate to areas where they're not bothered by boat traffic or other human pressure.
Time it Right
How many times have you heard this? Ya, I glassed the lake but didn't see anything. Translation: You rolled out of bed well after daylight, looked at a few spots, didn't see any ducks or hunters and then drove home for lunch.
You must scout when you have the best chance to witness duck movement. Often, that means glassing during the first or last hour of the day, when divers begin to move about and puddlers fly out to feed. Or, it might mean searching for birds as they relocate during wind or weather shifts. Whatever the scenario, hedge your scouting bets. It's far easier to spot a knot of bluebills flying toward a roost at 4 p.m. than attempting to find those birds when they're swimming 5 miles offshore at noon.
Truck Versus Boat
Obviously, most folks would rather view big water through optics than launch a boat and motor for miles. Sometimes, however, you have no choice. Just remember this: When boat-scouting, you want to view ducks from afar without disturbing them. You do not want to blast through and flush a raft of birds. Ducks hate being harassed by watercraft and often relocate — sometimes to other waters —when facing persistent disturbances. If nothing else, constant boating pressure makes them increasingly skittish.
Use your boat intelligently. Motor within glassing distance of likely areas, and then let your optics do the work. Minimizing your boating footprint ultimately boosts hunting success.
Eliminate and Persist
As with any type of scouting, big-water sleuthing requires constant effort and lots of windshield or boat-motor time. Many trips come up empty, but that's OK. Note and then eliminate unproductive areas, and then redouble your focus on spots with more activity. Constantly search for new areas, and keep an open mind. Ducks often switch locations and patterns on big water, and you can only keep track of the trends through consistent effort.
Click here for more Realtree waterfowl hunting content. And check us out on Facebook.