Hunters Seeing Early Migrants, Strong Local Populations
Date: Oct. 11
Location: Flyway-wide, trending toward the northern states
Major Weather Trends
Water ruled September teal and goose seasons, as late-summer rains inundated much of the northern portion of the flyway, swelling rivers, filling marshes and flooding unharvested crop fields. And as fall arrived, several strong cold fronts swept across the Upper Midwest, setting early migrations in motion and making early duck seasons actually feel like duck season for a few days.
Well, the theme from the early season continuing through now has been water, water and more water, said Jeremy Dersham, owner of Ridge and River Running Outfitters in southwestern Wisconsin. Early season was tough but had highlights. August was hot, and we didn't have a significant cold front push through, so bluewings were here, and we did fairly well. Spring wasn't kind to our local geese, so a lot of birds nested a bit farther north. Add all the flooding and our normal stomping grounds weren't producing, causing us to spend 10 times the amount of time scouting. We were looking for flooded crop fields (wheat, alfalfa or beans), and that's where we found geese.
The wet-weather challenge continued into late September and early October, as duck seasons opened.
One of the biggest problems with all this water is the amount of places birds can congregate, Dersham said. Most times, you can't hunt the same place twice due to all the options birds can feed and loaf. So again we are scouting a lot more than normal.
Realtree.com waterfowl content contributor Joe Shead said unseasonably cold weather has a mix of birds moving in northern Wisconsin and northeastern Minnesota. In fact, he said the Boundary Waters area received 5 to 6 inches of snow recently.
Conditions were also wet south along the flyway, according to Tony Vandemore, owner of Habitat Flats, near Sumner, Missouri.
"Right now we have a big flood event going on in Missouri," he said. "Missouri isn't the only place flooding. There is significant flooding in Illinois, Iowa (and) Kansas. There will be no shortage of options for migrating birds."
Ben Cole, of Black River Outdoors, in Newport, Arkansas, said hot weather is currently the norm, with highs in the 90s. However, an upcoming cold front is expected to plunge temperatures to the high 40s.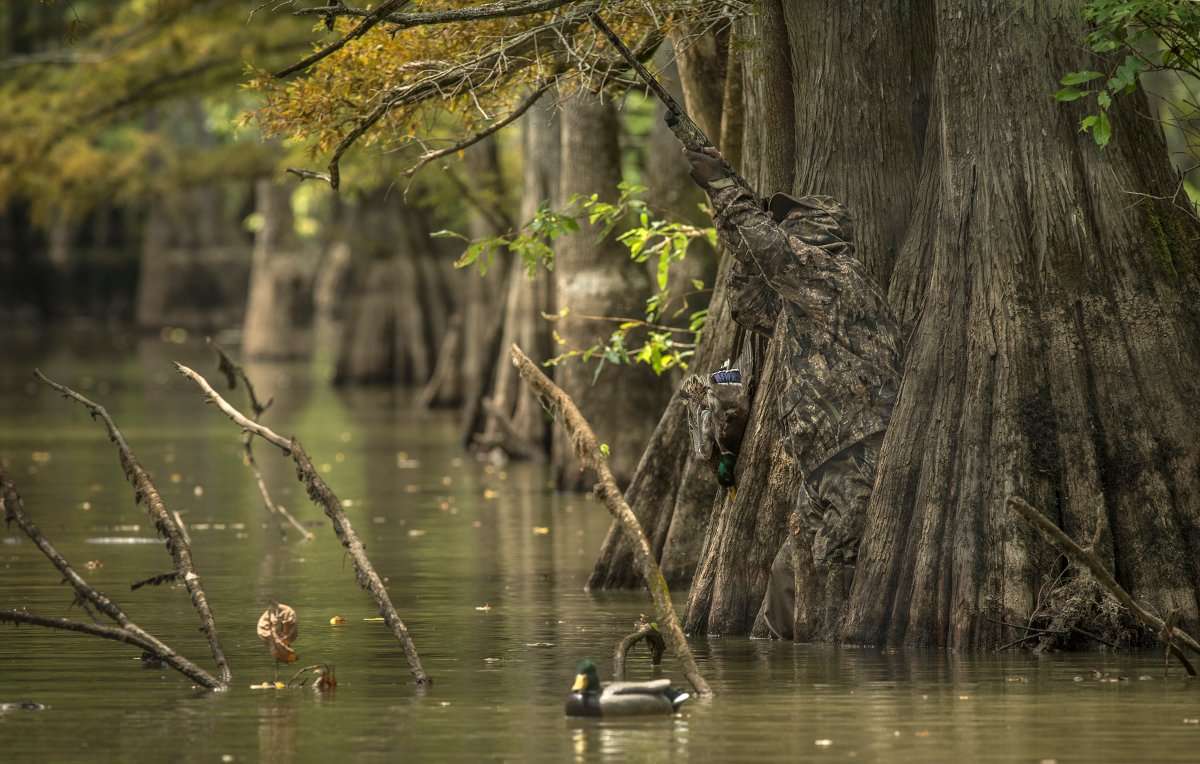 Water/Habitat Conditions
As mentioned, much of the northern and central portions of the flyway remain extremely wet, giving waterfowl plenty of feeding, loafing and roosting options. Flooding has delayed some crop harvests, but most farmers cut small grains — such as wheat, oats or rye — in summer, before the storms arrived. Further, landowners in some areas are green-chopping dry cornfields for silage, opening up more field-hunting options. Shead said the wild rice crop in his area looked pretty good, although it was better on some waters than others.
"Teal season was decent in Missouri," Vandemore said, "and habitat conditions looked incredible."
Species and Numbers
As expected, mallards, wood ducks and blue-winged teal dominated the initial portions of Northern duck seasons. However, many hunters reported a surprising mix of birds for early October.
Minnesota opened a week before Wisconsin, and there were a lot of mallards in both states early on, Shead said. I don't think I've ever seen that many. And the ringnecks were here early. It's not unusual to see a handful on opener, which we did, but I kicked up 150 on one of my favorite ringer lakes in late September before Wisconsin opened. Jerry, my buddy who is a duck magnet, said a lot of new birds showed up over the weekend. Another guy I know got a wigeon, a pintail and a black duck during the same hunt on Sunday. Any one of those would be notable around here. The fact that he got that variety tells me there are ducks afoot.
Dersham agreed.
Some of my crew were hunting northern and central Wisconsin opening week and seeing species of birds that shouldn't be here quite yet — specifically bluebills, redheads and even a few canvasbacks that were reported in northern and central Wisconsin. In south-central Wisconsin, some of my guys were killing wigeons and pinnies opening weekend. All of these birds are about two to three weeks early.
Vandemore said "summer ducks" — teal, pintails, gadwall and other early migrators — are showing up in Missouri.
Cole said bluewing numbers were pretty good during Arkansas' teal season, and he noted that a few white-fronted geese were starting to arrive.
Personal Hunting Report
Early-season goose hunting proved somewhat frustrating, as birds in central Wisconsin seemed to move daily, usually thwarting scouting efforts. Wisconsin's duck opener delivered as expected, with a nice mixed bag of mallards and wood ducks, plus a bonus goose. Teal seemed nonexistent. With a good cold front on the way, I'll bide my time jump-shooting wood ducks until my big-water boat is ready for serious diver action.
Boat Ramp Chatter/Upcoming Patterns/Hotspots
Dersham said frigid weather and early snows in some Canadian provinces have his hopes high.
What the weather does will determine courses of action for scouting, he said. Flooded fields are still producing, and I'm expecting different rivers will get hot with bird activity as soon as the water starts to subside.
Shead said the number and variety of ducks in his area has hunters optimistic. Time will tell what occurs, of course, but the start of the 2018-'19 Mississippi Flyway season has already been memorable.
Click here for more Realtree waterfowl hunting content. And check us out on Facebook.