Food-plot action is hot in areas where acorns are slim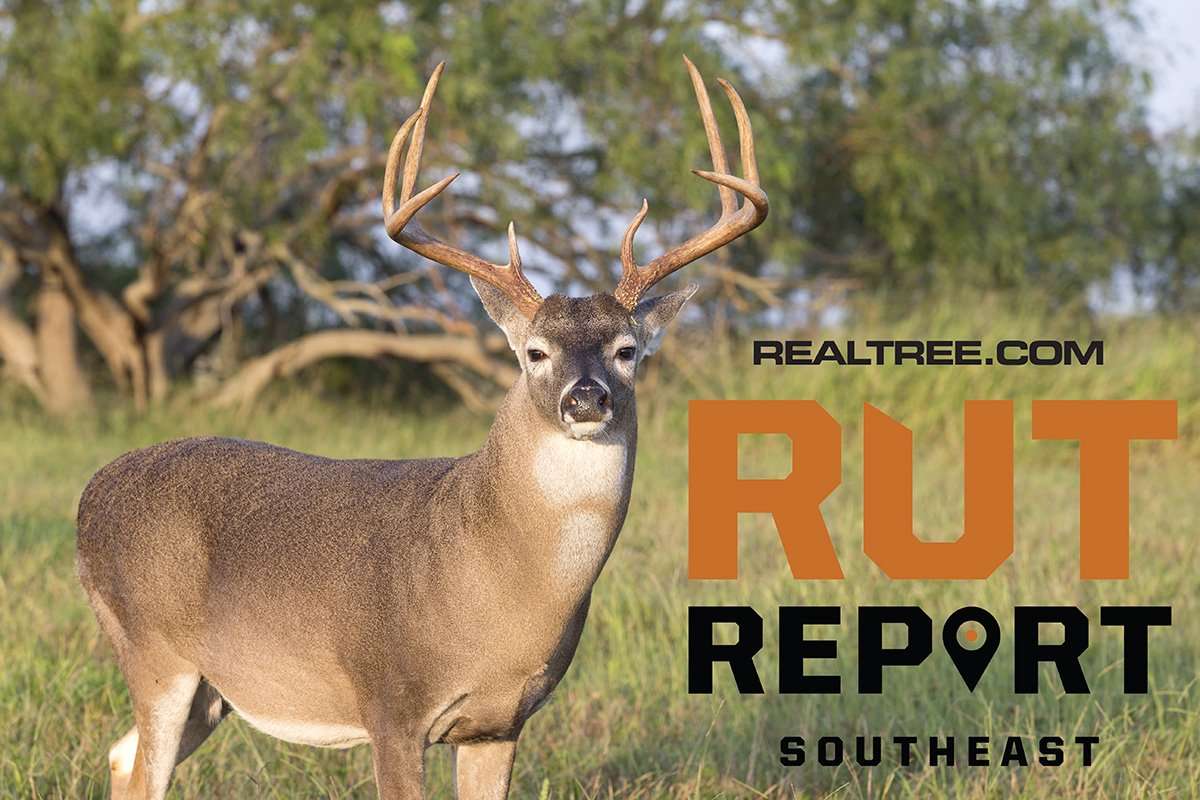 We kick off Realtree's 2020 Rut Report with the early season in the rearview, although some of the bucks around here don't seem to have noticed it. Archery seasons opened in September in much of the region — Sept. 5 here in Kentucky — and by most accounts, the early season was a good one. We guided hunters here opening week and had some good success. My wife bagged her personal best buck with a crossbow, too, in late September. Several members of the Realtree crew have been filling tags in Georgia, too, including Travis T-Bone Turner, who bagged this stud in Troup County on Sept. 25.
But those days are behind us, and right now we're smack in the toughest part of the season. The eternal debate over the October lull, and whether it's real or not, continues. Without diving too much into that, I will say that it's hot right now, and lull or not, buck activity is slow overall. I got a cell cam pic this morning of a bachelor group of half-pints, still running together. But a cold front can make all the difference right now. Midwest reporter Josh Honeycutt bagged a fine buck over the weekend in Kentucky, and I had a good sit Saturday evening myself, with a borderline shooter stepping into a food plot two full hours before dark.
A good number of rubs and scrapes are popping up in the woods, too, and there've been reports of young bucks bumping does around a bit. Still, you've got to focus on food to find the action right now. White oak acorns, where they're falling, have been crazy-good so far this season. Kerry Wix, an avid Tennessee bowhunter and pro photographer, says the best trees in his area are pulling in every deer around. They're basically just laying underneath the oaks, waiting for acorns to fall, he says.
My buddy Ryan spent last weekend playing cat-and-mouse with a wad of whitetails that were hitting three big white oaks left standing in the middle of a thick clear-cut. Didn't matter what time of day I went in there — daylight, 1 p.m., 3 p.m. — the deer were already there, and I jumped them, he says. Saw some pretty good racks bouncing through those woods, behind white flags.
Over in Virginia, Realtree.com contributor Mike Hanback reports much of the same. Heavy acorn crop here, and the deer are concentrated in the woods, he says. We're hunting our best woods stands right now. Scrapes are starting to show up, and will intensify in the next two weeks, peaking with the next full moon on Halloween.
He followed that up with a jack-o'-lantern emoji.
But the acorns aren't falling everywhere. I hunted our family farm over the weekend, in west-central Kentucky, and I couldn't find a white oak dropping anything there. That wasn't all bad, though, because the deer were hammering our food plots, particularly the few acres of new plantings I sowed in early September with red clover, winter wheat, and purple-top turnips. I managed to arrow a big doe at midmorning on Friday, and my brother followed that up with a doe of his own Saturday evening. Both tags were filled on food-plot edges.
Right now, I want to hunt — but with a few more days of warm weather in the forecast, I'm taking time to finish some work, shoot my bow, and prepare for this next round of chilly weather. Temps are supposed to fall by 20 degrees between now and next week. That should change the tempo in a big way.
Will Brantley is an outdoor writer and whitetail outfitter from western Kentucky. He spends much of his fall bouncing back and forth across the border between Kentucky and Tennessee.

Day Activity

Rubbing

Scraping

Fighting

Seeking

Chasing

Breeding