Gone are the days of freezing while sitting on a bucket. Modern ice fishing is comfortable, enjoyable, and productive.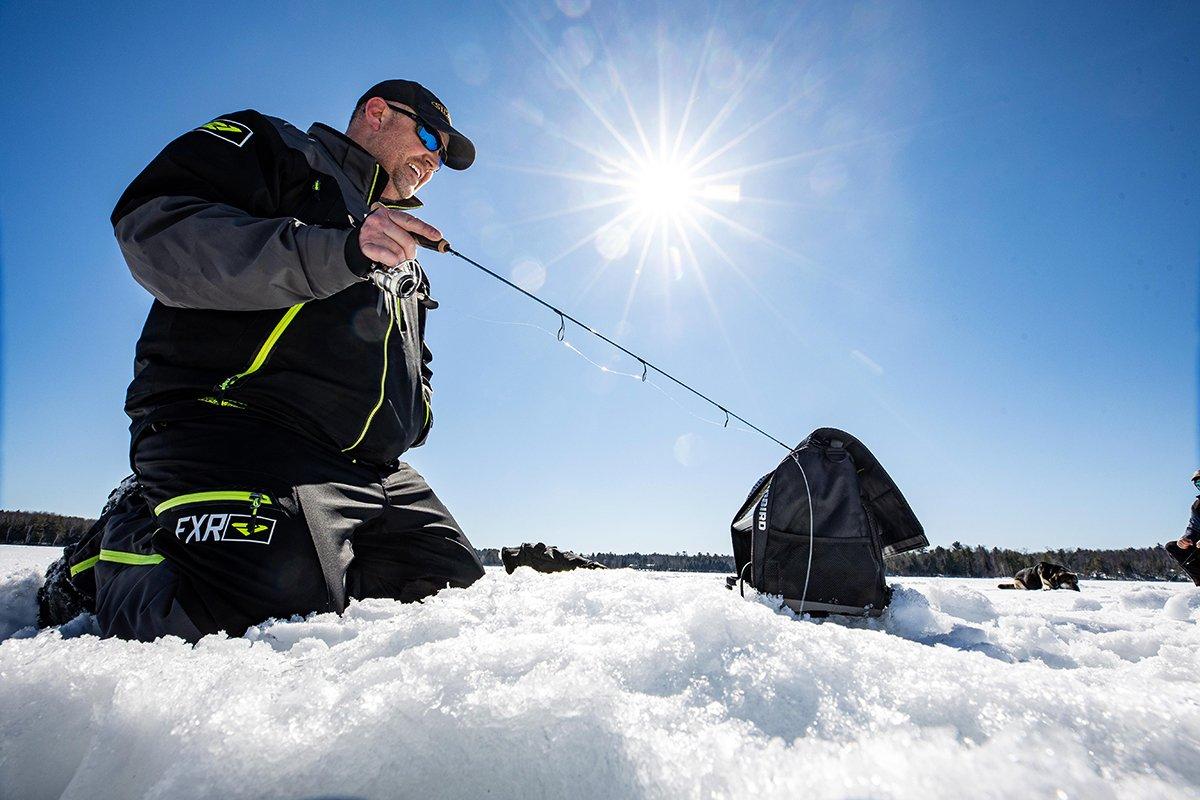 Ice fishing is a misunderstood sport. What many view as the pastime of grumpy old men can be as thrilling as any type of angling. Modern technology has turned ice fishing into a comfortable, active pursuit at which you can experience your best fishing of the season. Trust me, if you're just getting into ice fishing or jumping back after years away, you're in for a treat.
Any ice fishing veteran will confirm the two best times to fish: early and late in the season. First and last ice correspond with a changing calendar and an uptick in fish activity. There's a bit of biology behind those peaks. Changing water temperatures, reduction of fishy habitat, and even oxygen levels come into play.
For this article, let's concentrate on what's right in front of us: first ice. After things set up and conditions are safe, it's a great time to take to the lake and expect quick action. Let's dive in … er, walk on.
(Don't Miss: How to Catch a Trophy Crappie)
The Ice Scene
For starters, we should define our fishery and target species. We'll forgo discussion of big-water walleyes or trout and instead focus on more accessible options, such as sunfish, crappies, perch, and pike. Our representative waters might be farm ponds across the Midwest and Canada, bays off the Great Lakes, or slow rivers and reservoirs across the country's midsection.
Habitat in such areas consists of shallow weeds, brush, or marsh grasses, with deeper open basins on the main body of water. That body can be an acre or several thousand acres; the principle is the same. Look for shallow, cover-rich areas meeting the main basins, such as the deep edge of a weedline, the far perimeter of a lily pad field, an area where brush comes down into a deep channel, or boat docks that sit over very deep water — any area where the shallows meet deep water and cover comes to an edge.
Weedbeds in a shallow bay make for great habitat all summer for bass, bluegills, minnows, and perch. But as weeds begin to die in winter (because of temperature and sunlight reduction), those inhabitants need a place to go. Deeper weeds will die last. As the shallower sections break up, those deep-water zones condense and house most of the fish — big and small.
A similar thing happens with other forms of cover. Brush, docks, and the like will hold fish at all depths throughout the warmer parts of the year. But as temperatures cool and lakes begin to freeze, the shallowest zones cool fastest, and main-lake basins remain relatively warm. Temperature variance might be six degrees or more — a lot to a cold-blooded fish in winter. Those fish move deeper to the warmest zones.
Start your search there. When you've picked out a good shallow-to-deep transition, it's time to get fishing. First, let's learn ways to stay comfortable and enjoy the sport.
When ice fishing, your clothing is more important than your rod and reel.
Warmth and Efficiency
Nothing has increased the attraction to ice fishing like modern clothing and shelters. It's true, in this case, that your clothing is more important than your rod and reel. Start by choosing quality moisture-wicking apparel by major brands such as Striker, Norfin, and Ice Armor. Those groups have developed lightweight materials that insulate wonderfully. Remember to layer beneath — moisture-wicking is even more important here — and choose lightweight blends for thermals. And always consider your feet, as they'll be on ice all day. Choose roomy high-tech boots and wool-blend socks.
Ditch the work coat and don't skimp on your apparel. It's vital to being comfortable and enjoying ice fishing.
Tip: Two things will keep your feet warm, regardless of the endeavor. One is extra room in your boots. Your feet should slide around slightly, even in heavy socks. Two: a carpet or pad to stand on, whether that's on the ice or in the blind. In a pinch, grab a floor mat from the truck.
Shelters (no longer called shanties) come in pop-up styles and weigh less than a big tackle box. Clam is the industry leader, Otter and Frabill also making quality units. These flip over or pop up quickly — like a hunting blind. Get a sled to haul your gear and a bucket to sit on.
Outfitted and warm, with a productive spot picked out, hit the water. Augers, or drills as they're now often termed, are another example of new-age equipment that makes ice fishing easy. Everything today is battery powered, and rightfully so. Modern ice augers fit on your household cordless drill, turning a once-dreaded chore into a two-minute job. Nils has always made one of the best drill-style augers. For especially big jobs, gas- and propane-powered models are also available.
Tip: When using your lithium-battery-powered cordless drill for ice fishing, have two batteries on hand, and carry each in your pocket. Exposing batteries to freezing cold temps quickly reduces their power.
(Don't Miss: Research Names Walleye the Most Midwestern Thing on Earth)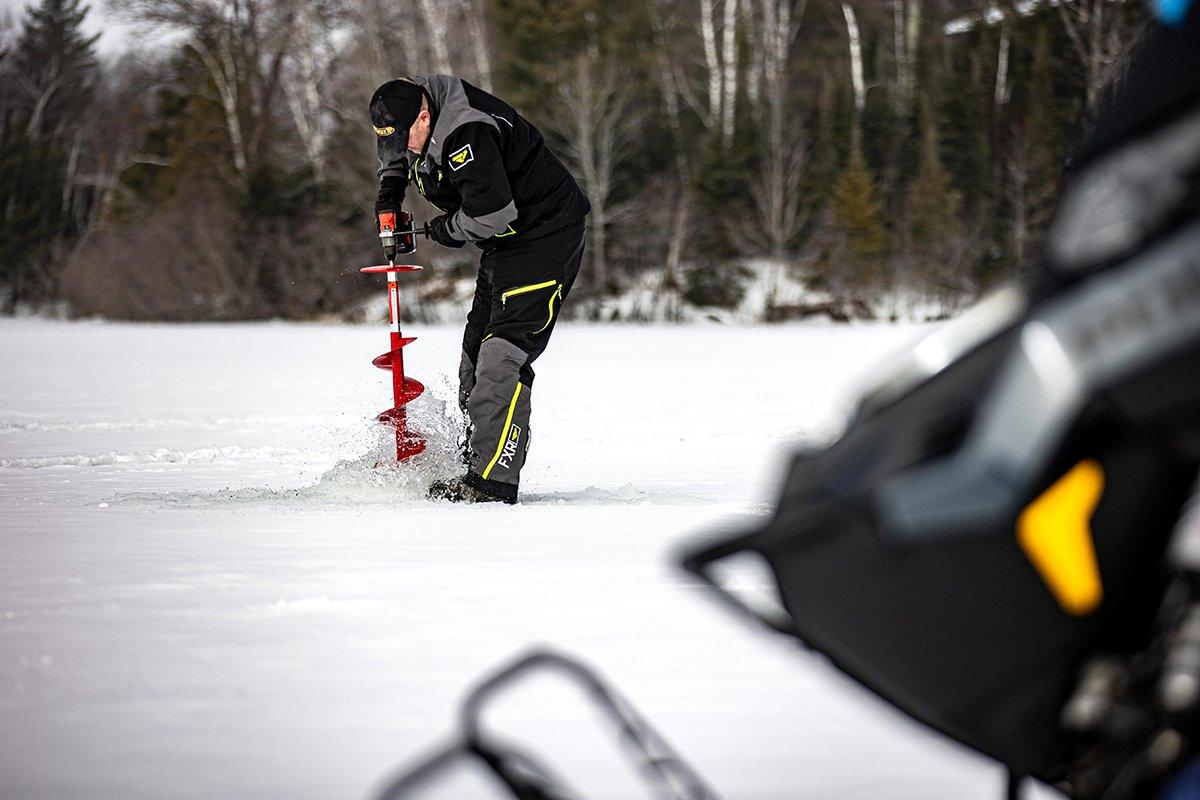 Drilling In
Start by punching a handful of holes spread across a 50-foot space. Then sample those quickly, and move on if you don't find fish. Herein lies the breakthrough in today's ice fishing. With modern drilling methods, portable shelters, and lightweight/warm clothing, gone are the days of sitting and waiting for fish to come to you. Who wants to do that anyway? Just as you can on open water, you can move to find fish.
Time to fish. Previously, it was common to load up on an assortment of natural baits when heading to the ice. Maggots, minnows, and meal worms kept things interesting, especially for children. Nowadays, ditch the bait. Modern technology has again come to the rescue, as manufacturers have created micro-plastics as lively as summertime red worms and nervous as a cricket in a cage. Several companies bring us creepy crawlies, including 13 Fishing, Northland and Lunkerhunt. Z-Man Fishing recently released an attractive line with its Micro Finesse BaitZ, made of super-stretchy ElaZtech. All can be rigged on a dense but small tungsten ice jig.
Small flashy spoons will catch lots of fish, panfish included. Perch love them. Scale down to something about an inch long. And for generations, the Rapala Jigging Rap has been catching everything from walleyes to crappies through the ice. It deserves a place in every tackle box.
Tip: When choosing ice fishing lures, it's best to have a bait or two in several categories rather than bunch of one thing. Under ice, fish are rarely picky about subtle colors and instead favor a certain flash or wiggle most days.
Invest in a couple of quality rod-and-reel combos specific to ice fishing. The industry leader is St. Croix Rods from Wisconsin, as it's been on the ice for decades. Don't go overboard, but find something that has a flexible tip and is light in your hand. Spool your reel with monofilament line in the 4-pound range. Braided line often freezes up, so avoid it for starters. Tie on a very small snap or quick-change clip. Experiment with lures. From there, it's just a matter of getting a bait to the bottom, raising it a crank or two, and adding action with a series of short, quick jumps and jigs. Let the bait rest for a few seconds in between. Most times, fishing under ice is quite simple, and the key is usually just finding the fish.
Tip: Start near the bottom. Jig the lure a few times, and move up a couple of cranks of the reel. Repeat. After three or four lifts, go back to the bottom. After one more sequence, switch holes.
Switching Spots
Moving from hole to hole is often critical to successful ice fishing. In effect, you're fishing one portion of the water column, similar to making the same cast again and again. So after two or three throws, it's time to change spots. That's why you should drill a half-dozen holes to start. If your first locale doesn't pay off, move down the break a bit, or slightly deeper, and try a new area.
Sometimes marinas can be great spots. They offer deep, stable holding areas and plenty of cover for fish. Crappies love to hug the poles on deep boat docks. Drill a hole near several to try.
In other areas, jigging over the top of deep weeds can be productive. If you're catching grass near the bottom, try up 3 feet or so. It's the same with deep brush or timber: Stay up above, and add a long pause to your jigging motion.
Finally, if you're fishing a farm pond and all else fails, head to the deepest water in the lake. There, temperatures are the most stable, and whopper bluegills often filter-feed on small invertebrates. Scale down your bait, and fish with slow lifts. You'll be on your way to a firm-flesh fish fry.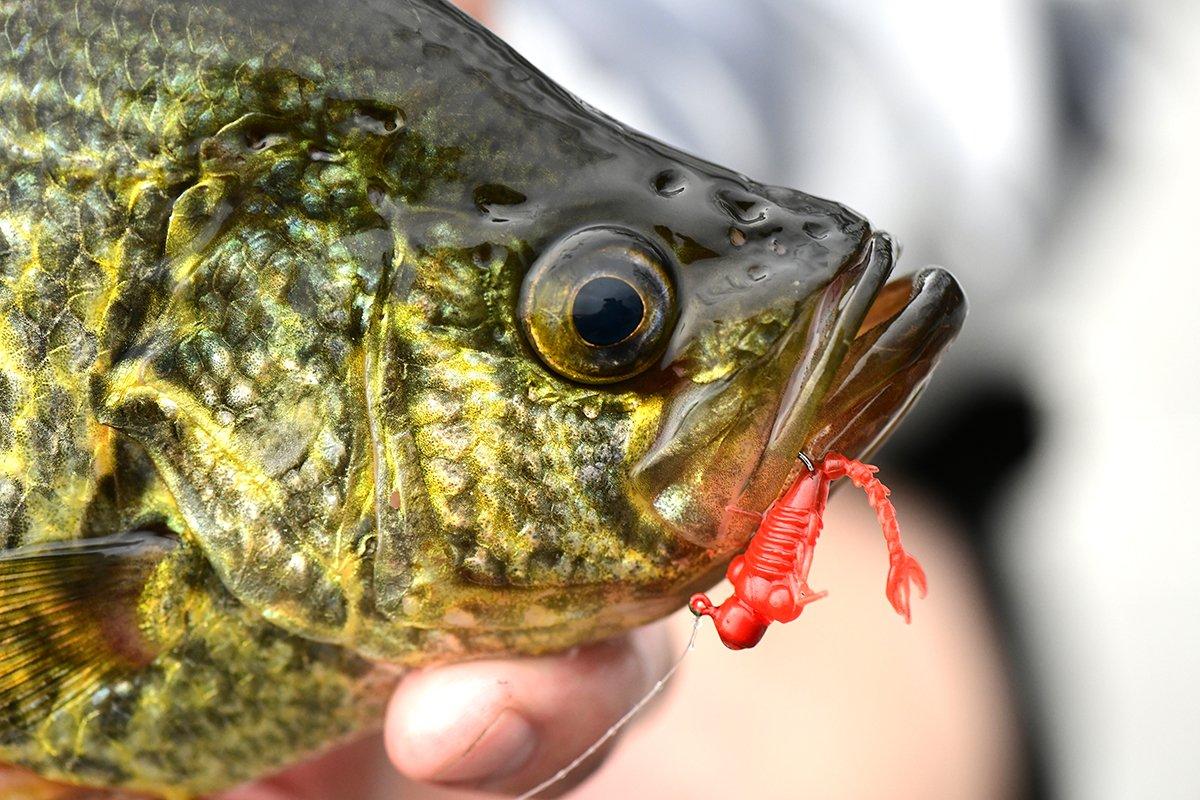 Hit the Ice
Get out this year and give ice fishing a try. It's a new game and better than ever. Ice fishing is a great way to extend your season, and it offers a chance for the family to enjoy the fun with a minimal learning curve. Plan ahead, and outfit yourself right. You won't believe what you've been missing.
Sidebar
Electronics to the Rescue
If you followed our ice fishing opener, you probably immediately considered ways to find fish faster. Modern electronics make the job easy. For years, serious ice anglers have relied on flasher units, similar to those from the 1970s, to find fish. Don't laugh. These units still work better than any graph recorders and are far more reliable during adverse conditions. Flashers will quickly tell you if you've found the weed edge and whether any fish are present on your first drop through the hole
Underwater cameras have always been staples in the ice fishing community. Aqua-Vu continues to run the table in this market and builds a quality camera that can be placed in a jacket pocket. You'll need clear water to use it, but ice fishing usually involves such conditions.
Finally, forward-facing sonar is all the rage, as it's capable of panning beneath the ice. The effectiveness is so deadly that fisheries managers are concerned these devices could wipe out many fish populations, as ice fishing is largely a catch-and-keep game. Though at several thousand dollars per unit, the technology is reserved for the obsessive ice angler.
Do you need electronics to ice fish? No. But they often take the guesswork out.
(Don't Miss: Best Lures for Crappie Fishing: Jigs vs. Minnows)