Should you go with live bait or artificial for springtime slabs? That's a debate that may never be solved … but we're gonna try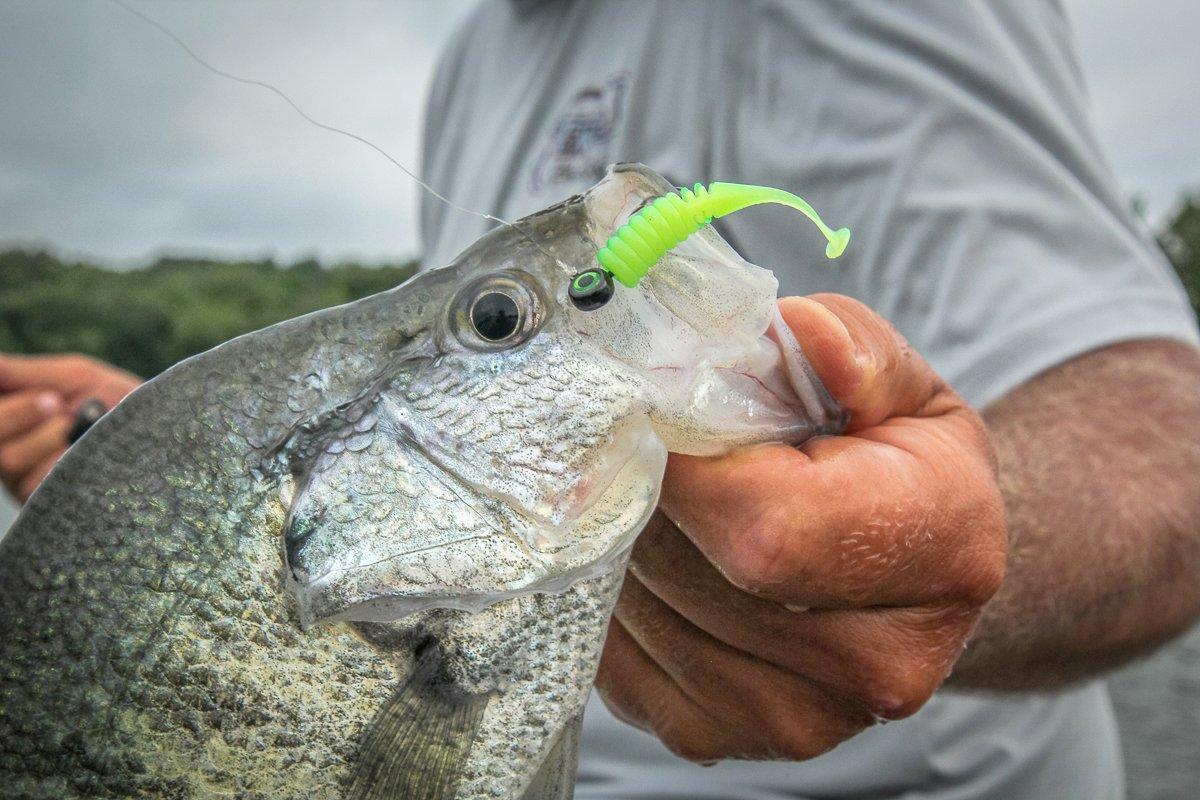 As a kid I started out fishing the same way as just about everybody: dunking worms for panfish off the bank. A few years later, fishing trips moved to the boat, where serious crappie fishing became the family pastime.
The site was Chautauqua Lake in western New York, a renowned crappie paradise where schools of fish could be measured in acres, and stringers of the tasty calico bass (the common name for black crappies) were commonplace. The routine was always the same: a few days after ice-out, we'd head to a shallow bay and dunk minnows below a bobber. Results were stellar.
I vividly remember the first time my grandfather joined us with a box full of jigs. At first, we'd still tip the colorful marabous with minnows, expecting the crappies needed coaxing by the scent and taste of the real thing. But, when fishing was good and bait dwindled, Gramps would often catch a few more on nothing but the jig. Bare-hookin,' he called it.
Such started my fascination with jig fishing. As a kid, I pushed the fake bait theory every chance I got. Through a lifetime of angling, I've learned when a jig is the answer, and when it's not.
(Don't Miss: Realtree Fishing's Drew Gregory on His Latest Kayak Bass Fishing Tournament Win)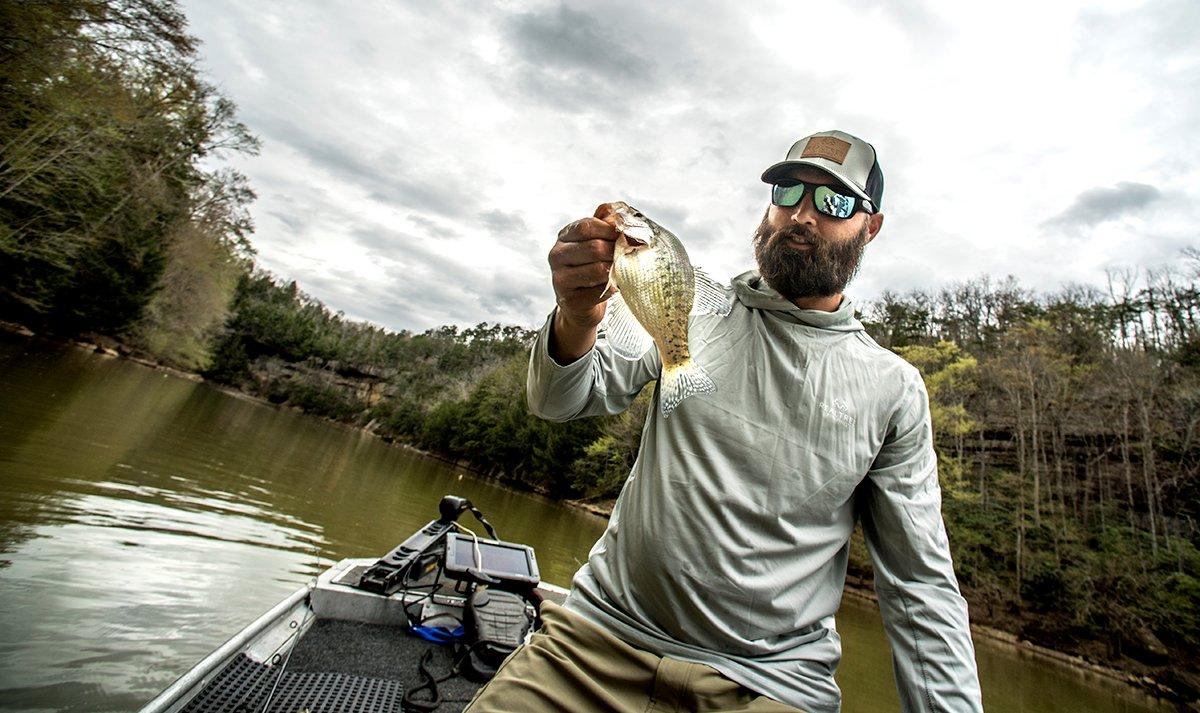 When Minnows Rule
As a disclaimer, I should start by mentioning that I still resist the temptation to use live bait for crappies at all cost. I should also note that such practice has been my downfall more than once. Rules are impossible to define in fishing, so I make very few. But here's one you can count on: under certain circumstances when fishing in the North, usually associated with extremely cold water, crappies can be nearly impossible to catch on an artificial lure. The exception can be if you're standing on the ice above them, and able to present a miniscule ice jig measured in grams rather than ounces. But for the sake of argument here, we're talking about open-water fishing from a boat, casting to the fish, where it's necessary to use a sizeable bait and line.
As I mentioned, my theories on crappies come from experience. Following my forays in New York, I spent a few decades chasing crappies around Ohio and Michigan, where I perfected a marina fishing routine on the Great Lakes. Perch taking center stage among the panfishes, crappies were an overlooked option on Lakes Erie and St. Clair, and one that required refining my game plan.
Marinas often provide the deepest water in those areas, making for ideal wintering habitat for several species, notably largemouth bass and crappies. It's strange to think that fish move in to winter, rather than out to the middle of the lake somewhere, but that's exactly what happens.
My success came as a result of failure. Ice fishing in the marina basins had brought good results all winter long, but again, using tiny lures and thread-like lines. But once the ice moved out, the crappies vanished. Or so it seemed. Inevitably, there would be a period of about a week between last ice and the first fish of open water. It didn't take a rocket scientist to figure out that the crappies hadn't gone anywhere — they were in the marinas to stay. But, try as I might, I rarely caught them on my favorite open-water jigs.
A friend with a bucket of minnows joined me on a wintry day, coaxed a dozen slabs to bite, and forever set in my mind that, sometimes, live bait can make all the difference. Let me share the details.
Crappies often rise up in the water column when inhaling a bait, and a float that lays over on its side produces a telltale sign of a strike.
Again, we're talking ice out here, when water temps correspondingly hover in the mid to upper 30s. Having a little sun on the water can help the cause, but don't give up hope if it's cloudy or, as was the case the day my buddy showed up with minnows, snowing.
Be sure to use the lightest line you can stand; 4-pound test is about perfect. And stick to mono. Braided lines, being just that, ice-up terribly if the outside temperatures flirt with freezing.
Pick a pencil-shaped float, attach a light-wire hook to the line, and add just enough split shot to start the float under. What you're after is a strike detector that will go down, or up, with the subtlest change. Crappies often rise up in the water column when inhaling a bait, and a float that lays over on its side produces a telltale sign of a strike.
Properly rigged, it's a matter of using small, lively minnows, and finding the right depth. Experiment with the distance between float and bait. Often, crappies hold around boat docks just off the bottom. And, when the sun pops out, those same fish will rise up to bask in the rays. On a nice day, you might see them just below a shade line or pontoon boat. Dark-colored floating docks — especially those black blocks that hold jet skis — can be honey holes.
(Don't Miss: Are Snakeheads Invading Georgia Waters?)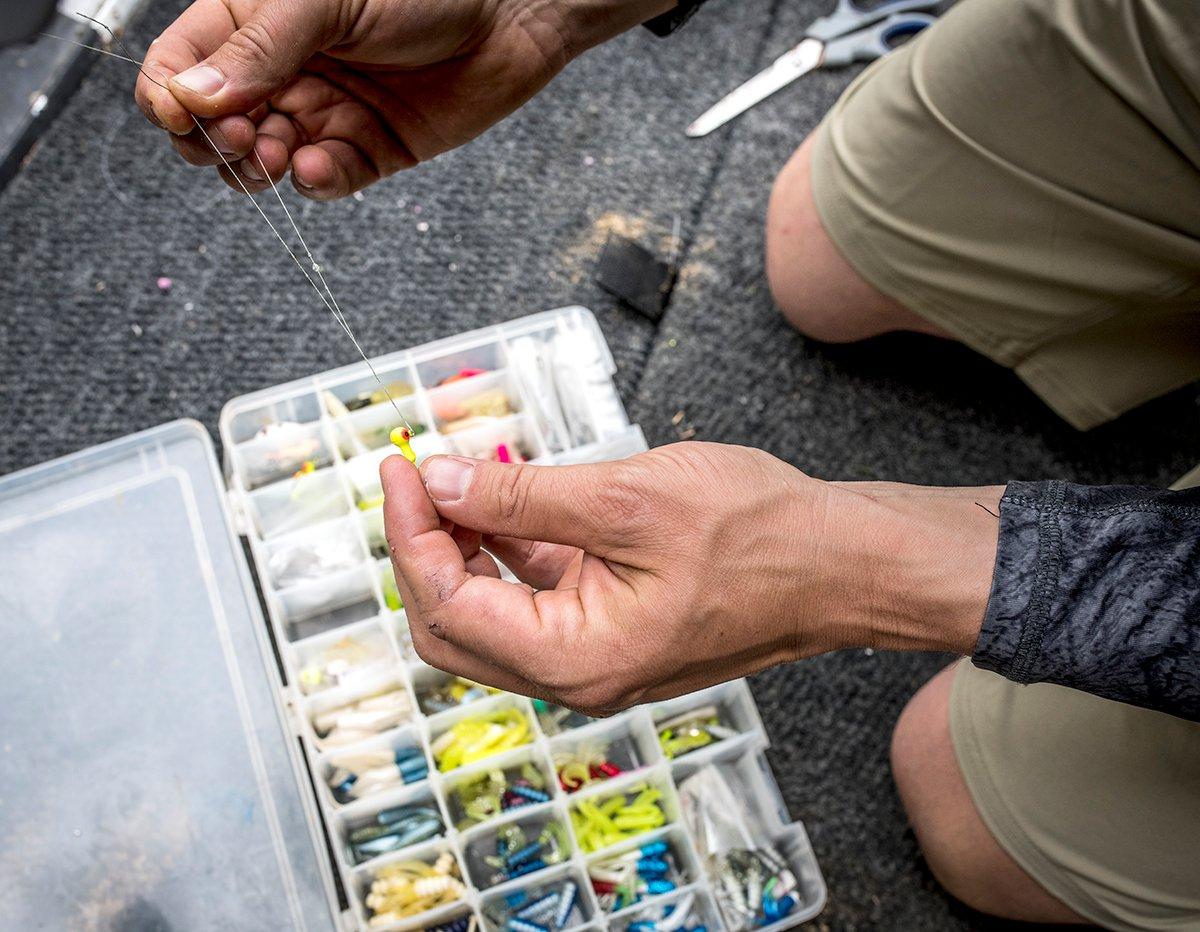 The Jigging Switch
Once winter fully loosens its grip, crappies react well to artificial offerings. Some anglers stick to the live bait program, but it's really not necessary.
I can almost always find a way to get them to bite artificials says Realtree pro Mark Rose. Known around the country as a premier competitor on the pro bass trails, Rose doubles as a crappie junky during the off-season. Living and fishing in Arkansas, he never crosses paths with ice-out slabs, and so he does exceptionally well all spring using a plethora of Strike King plastics.
Now, back when Gramps was jigging, there were curly tails and marabou, later joined by tube lures. Today, any online tackle store reveals dozens of shapes of plastic baits, marabou, flash-a-bou, and tinsel tails in hundred of shades. It's hard to know where to begin.
To keep things simple, I rely on just a handful of baits in as many colors. Small twister tails are the go-to when casting around boat docks and downed trees. Here, a 1/16-ounce ball head matches perfectly with a 2-inch tail. A light-power rod allows quick underhand casts and skips to fishy spots.
Occasionally, float fishing is still the way to go. Maybe the bite's tough, and the crappies need a little coaxing. There, suspending a tube (again on a 1/16-ounce jig), or an old-school marabou jig below a slip float often scores when casting doesn't. For whatever reason, even in warm water, crappies sometimes need to swim up and investigate a bait before sucking it in.
Another method to fool the same fish is to get the boat right over them and fish vertically, without a float. This is a deadly method for crappies holding in large, downed trees, like along a channel bank. Use the same setup as the twister-tail method, but thread on a shad-shaped bait. It's impossible to hold those still, and the crappies love it. Get right over the fish and hold the bait at their level until you feel a thump; don't be tempted to jig too much. Here, I occasionally use braided line, especially when fishing around woody cover. A slow, steady pull when snagged will bend the hook out and save the lure.
So to summarize, use minnows in really cold water, followed by a few plastics and chicken feathers when things warm up. We finally end the age-old live bait debate. Simply put: good crappie anglers use both.
(Killer Buy Alert: Men's River Bluff Performance Long Sleeve Tee)
For over two decades, Joe Balog has made a career in the fishing industry. Once a full-time tournament bass angler and guide, Balog now spends the majority of his time capturing the memories of his frequent trips through print, photography and video. Balog has passionately fished for nearly everything that swims in North America, from monster muskies to mullet, sailfish to sardines. He shares his insight, as well as tips from some of the best anglers in the world, through the pages of Realtree.com.