Ducks, geese spread out, but hunters finding success
Date: Jan. 26
Location: Nebraska south to Texas
For serious duck hunters, this is a tough time of year. Duck season is not finished, but it's never easy in the waning days. Birds have been educated and re-educated up and down the flyway. Wary ducks have never caused a waterfowler worth his salt to shy away, though, as long as season are open.
And open they are. Why not head out for a few more hunts? Here are the options:
Nebraska's High Plains duck season goes through Jan. 29. Goose seasons stay open through Feb. 12. Canada geese are fair game now, but light geese don't open until Jan 25 and white-fronted geese Feb. 4.
Kansas is in a fairly similar season structure. Duck hunting ends Jan. 29. The Southeast Zone is open now. The High Plains reopened Jan. 20 and the Low Plains Jan. 21. Goose seasons run until Feb. 12.
Oklahoma's Zone 2 duck season runs to Jan. 31, with Canada and light goose seasons going to Feb. 14 but white-fronted geese only through Feb. 7.
At the bottom of the flyway in Texas, you have through Jan. 29 statewide to get out for some action and put a few more ducks in the freezer. Goose season run through Jan. 29 in the East zone and Feb. 5 in the West.
So, there's hunting to be had. But are there ducks and geese? For sure. Between arctic plunges, ice storms, snowstorms and some real bluebird-days, hunting is always a challenge — just what you'd expect now.
Let's take a look.
Nebraska
We're down a little bit on mallard success overall this season, said Mark Vrtiska, waterfowl program manager for Nebraska Game and Parks. But it's still been what I would call a good year. We had some cold-weather fronts that froze things up and pushed ducks out. There are still birds around, but they were in pockets.
With the recent mild weather, birds have spread back out.
From what we're seeing, there are decent numbers of Canada geese in the state, and hunters are having good success on them, Vrtiska said. The Platte Rivers valley is prime. Don't forget the Missouri River, either, and keep in mind that geese might fly 8 to 10 miles to get to preferred feeding fields.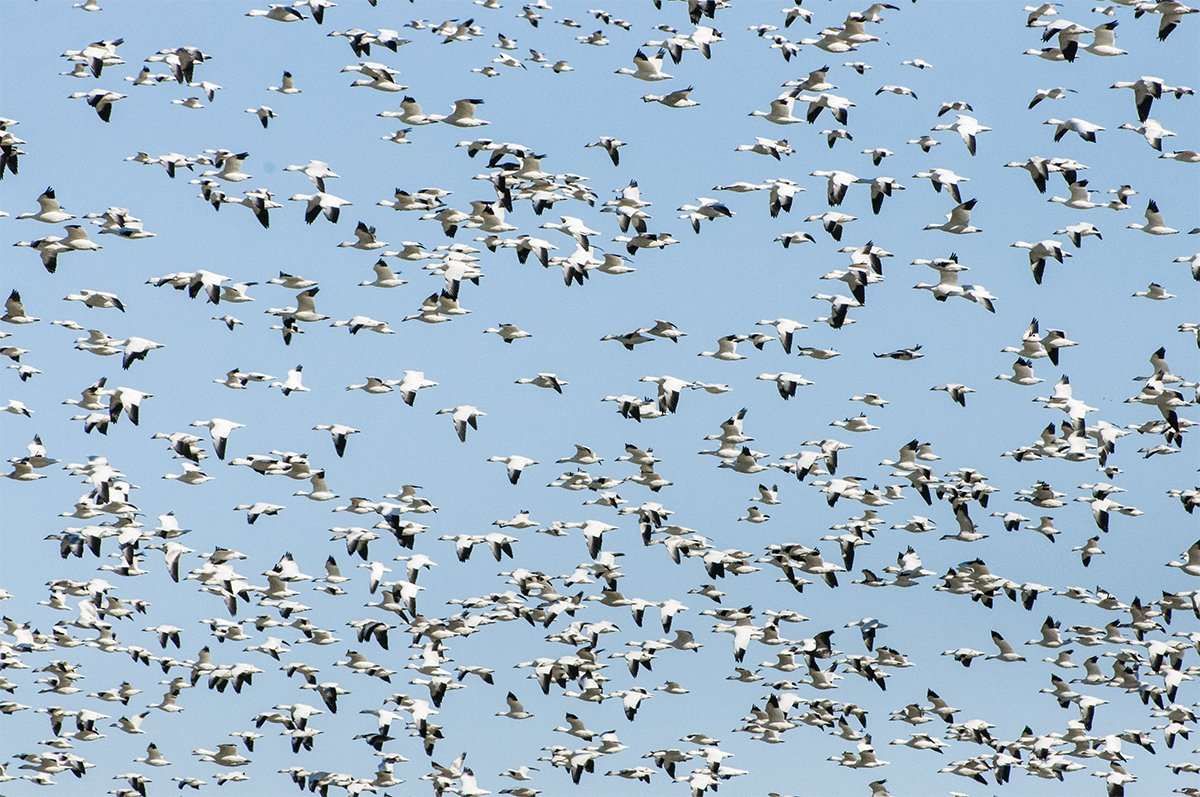 Kansas
A heavy ice storm in the middle of January really re-arranged dour ducks, said Tom Bidrowski, migratory game-bird specialist with the Kansas Department of Wildlife, Parks and Tourism. Bird numbers are rebounding now, though. It's just a typical winter pattern here. That means conditions are always changing, and hunters need to change with them.
Bidrowski gave an apt description of what ducks do this time of year on the Great Plains: It's a yo-yo, he said. Ducks move north and south, east and west. If they're not here today, they might be tomorrow. And vice versa.
We do have good numbers of geese around. Snow goose numbers in particular are really good, and have been.
That's thanks to Kansas' fairly consistent lack of snow cover, especially with current mild temperatures.
The only problem is muddy fields, Bidrowski said. All the (now-melted) ice and rainfall has really slopped things up. That's a challenge for hunters.
So, get ready to schlep in for your setup.
Specklebellies … are here, in the goose department, Bidrowski said, and hunting them should be good as we head into February.
Oklahoma
We got some birds mid-month, said Josh Richardson, migratory bird biologist with the Oklahoma Department of Wildlife Conservation, but a lot of the weather stayed to the west, and that didn't help us get all we wanted.
Still, we're seeing birds in pockets. Scouting and mobility is key for the late-season hunter. Birds are getting paired up and heading to secluded spots when they're on the water.
Small water might be a good choice. Otherwise, get into places offering lots of cover and quiet.
What was good with the weather we had, though, was the water we got, Richardson said. We needed it, and it filled up some of the places that had none. That might serve to spread ducks out, but it can also keep them here in the state. I'll put it this way: There's lots of water to choose from now.
However, remaining birds are educated and concentrating on high-energy food sources. Read: grain stubble.
Our goose numbers are very good, Richardson said. We definitely have birds. All that shallow water doesn't help, and birds might not be really concentrated, but they are here. They are really on the winter wheat, which is really green thanks to all the moisture. Corn and soybean stubble runs a close second for field hunting.
Texas
It's challenging to keep tabs on Texas, which, north to south, spans the same mileage as a line drawn from the state's northern border to almost Canada. But birds are there, in the terminus.
Mild winter weather is keeping all water open, and ducks are moving freely across central and southern Texas. Teal are even present in the northern part of the state, according to hunter success reports. The Gulf Coast is good, as you would expect at this time of year; a typical winter pattern.
Northern Texas has benefitted greatly from the mild weather. Good reports are coming out of the Dallas-Fort Worth area from hunters with access to stock tanks. On the High Plains, the milder weather has kept mallards, wigeon and especially gadwalls around. Hunters are reporting varied and colorful game straps.
But scouting is critical — or waiting for a flight of birds come through.
Click here for more Realtree waterfowl hunting content. And check us out on Facebook.