About the Author: Realtree prostaffer Kandi Kisky of Garden Grove, Iowa, is one half of the husband and wife video production company called Kisky Productions. When she's not taking care of her 11-year-old son Caleb, Kandi is in the woods either hunting or filming her husband's hunts. She has a special love for turkey hunting and has taken more than 20 gobblers during her 12 years as a hunter.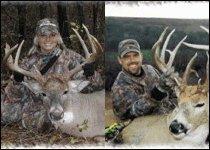 Hunters/Cameramen: Michael Waddell/Ashley Snipes, Don and Kandi Kisky, Lee and Tiffany Lakosky and cameramen Steve Finch and Mark Womack
Location: On the Kisky's farm in south/central Iowa. They hunted on a 3,200-acre ranch that butted up to a 1500-acre ranch. The hunts were filmed for Realtree Road Trips.
Dates Hunted: April 11-13, 2004
Weather Conditions: Cold and frosty
Game Hunted: Eastern turkeys
The Superior Sex Strikes First
That first morning, Ashley and I decided to hunt without the guys. We got up at the break of dawn and set up near a bottom field. The birds were gobbling all around us, but refused to come in. For some reason, Iowa's gobblers have been really henned up this year. Everyone has had a difficult time getting the gobblers to leave their hens. After calling for quite some time in an effort to get the gobblers to break from their hens, we decided to move to another location. We followed the sounds of some other gobblers and ended up setting up in an alfalfa field. We set up the decoys, and I started calling on a Hunter's Specialties box call and slate call. Almost immediately five jakes came in behind us. Then a very large gobbler strutted up in front of us. Ashley aimed, fired and just missed it. Her shot went right underneath the bird.
Putting On The Moves
So we decided to move again. This time we set up in an area where we had heard gobblers early that morning. It was about 11 a.m. at that point. The birds were still gobbling so we set up on a small hill at the edge of the timber just in front of a cut corn field. I set the decoys out again and made a few calls with my box call. We happened to set up on those gobblers at the perfect time of day. They had just broken away from their hens and were looking for some more companions. In a matter of minutes, three nice toms came in full strut toward the decoys. When they got to within 15 yards, I shot the lead bird with my old 20-guage shotgun. The gobbler weighed about 20 pounds and had small 1-inch spurs.
Well, let me just say, we were really fired up. We had just proven that we didn't need the guys with us to harvest a bird, and we let them know that right away. When we got back to the house, we realized that they guys hadn't had any luck with the birds and had already gotten back into bed. Well, we didn't let them sleep. While sitting in the driveway, we called them on the phone and told them to look out the window at my bird. They said, "Don't do that to us! You guys didn't get a bird!" Ashley and I really laid it on thick. "We're up by one now!" we told them. Having the girls come in first with a bird made the guys really competitive. Ashley and I were like, "Oh Yeah!...Girls Rule!" We told them that even if they got a bird, we still got ours first so we have more points!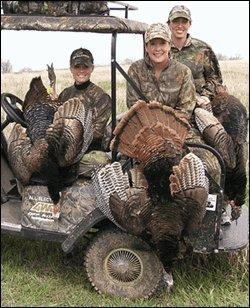 "No matter what they say, I was tickled to death when Kandi got a bird," says Don Kisky. "I always like it when she has a successful hunt!"
I usually hunt with my husband because we film each other's hunts. So I really enjoyed going out into the woods with another woman for a change. We had a lot of fun.
Ashley, who's a relatively new turkey hunter, did awesome. She has great skills in the woods, and she's learned how to use her calls really well. I wish more women would give turkey hunting a try like Ashley has. Turkey hunting is a great sport for women because it's casual and not so stressful. It's a great opportunity for a woman to socialize with her friends. The sport is also appealing to women because you don't just have to stand there and wait for the turkey to come to you, like you have to wait for a deer when you deer hunt. It's a very active, exciting sport that gets your heart to pumping, not to mention that the turkeys are pretty and fun to watch!
The Guys Get On The Board
Both Michael and my husband Don finally got their turkeys as well. But, like us, they had a difficult time because the birds were henned up. The toms would gobble in the morning then they'd shut up once they hit the ground.
Michael took a turkey on the second day around noon. Instead of calling it, he stalked up on a bird in a cut bean field. Like the other gobblers in the area, that gobbler had hens with him as well.
Don...King Of His Turkey Domain
Don got his bird on the third day. "I had located a bird by roosting it the night before. I had tried to take that bird for a day and a half before I finally managed to harvest it," Don says. "I decided to set up on the bird in a food plot without decoys and without calling because the birds were so dang henned up. I knew if I used either of those tactics, the hens would take the gobbler in the other direction. So I basically decided to try and ambush him. I managed to kill him in an unusual manner. A coyote came out of the brush and actually chased the gobbler by me. I shot the bird on the run. It may not be the ideal way to kill a turkey, but it worked. When I shot the bird and ran to it, I could see the disgusted look on camera man Steve Finch's face. He was mad at me because I shot the bird before he gave me the cue, so he didn't get it on film. But I had to shoot or the bird would have gotten away."
That's A Wrap!
We had a great time hunting with the Realtree gang. Don and I have been on the Realtree Prostaff for a couple of years and have made some very dear and close friends with the folks at Realtree. They're a great group of people, and we love hunting with those guys. These hunts were filmed for Realtree Road Trips, which I think is the best hunting show on the Outdoor Channel. I can't wait to see how the footage turns out!