Have You Ever Had a Hairy Bear Hunt?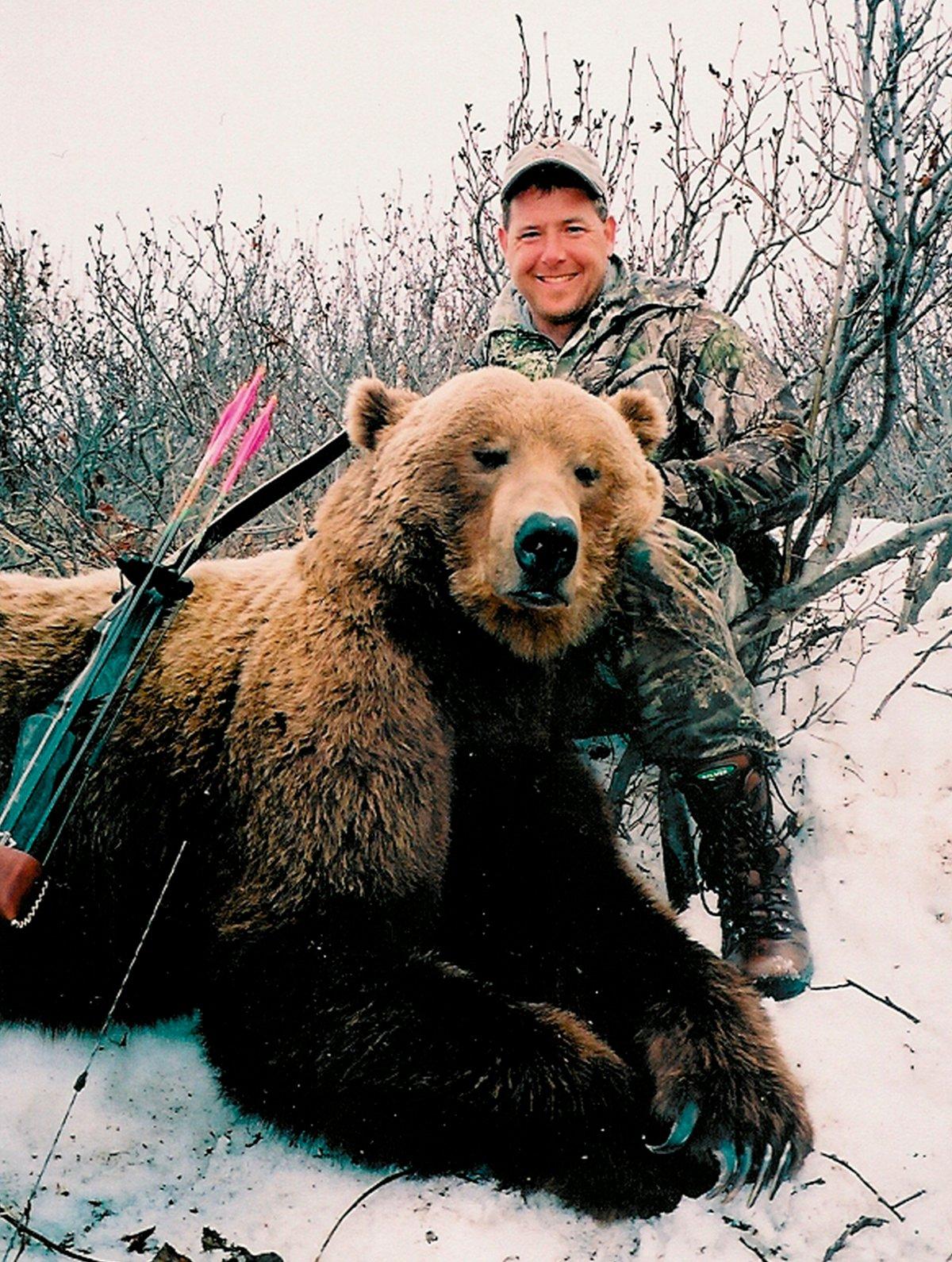 Since he was a hopeful teenager working at Fred Bear Archery in Gainesville, Florida, Fred Eichler dreamed that one day he'd get to hunt the species of remarkable creatures that were mounted on the company walls.
That became a reality.
Even though Eichler first had a unique and exciting polar bear hunting experience, he said it was nothing compared to his grizzly bear hunt in Alaska that soon followed.
The grizzly bear hunt was definitely the pinnacle for me, Eichler said. It was something I always wanted to do. I went to Alaska with the idea that if I could just see a grizzly, it would be a successful hunt. Boy, did I get more than I had hoped for.
Eichler had actually attempted to hunt grizzlies the previous fall with catastrophic results. He and Dwight Shuh, former editor of Bowhunter Magazine, joined up to hunt with Hunt Alaska Outfitters in August 2004 for the hunt of a lifetime, which almost became a life-taking hunt.
On the third day of the hunt, the guides flipped the boat with me in it, Eichler says. I was wearing heavy waders and gloves which caused me to sink like a stone in 12 feet of water. There was nothing anyone could do. When my waders filled up with water, I couldn't swim. I started to pass out from lack of oxygen and all of the water I had inhaled. Thankfully, I hit a log that was hanging down in water and managed to pull myself up. I lost all of my gear including my bow. When we finally got to the shore, we built a lean-to for shelter. Thankfully, the cameraman had a lighter in his pocket and lit a fire to keep us warm. Had it not been for that fire, we probably would have died of hypothermia. We sat around the fire for 21 hours until, luckily, some moose hunters who were coming down the river stumbled upon us. They took us back to camp, and then we got another ride out. That was the end of that trip for me. Without a bow and the rest of my equipment, I couldn't hunt. When I returned home, I actually had to go to the hospital because I had contracted a lung disease.
Sorry that Eichler had such a bad trip, the outfitter volunteered to take him hunting again. Despite that terrifying experience, Eichler, who was determined at that point to get a grizzly, decided to give it another go.
When he returned in May, they decided to hunt in Unalakleet, Alaska, along the Bearing Sea, which was 60 to 80 miles away from their previous hunting location. The bears cruise the beaches looking for herring as well as dead seals and whales that wash up on the shore.
During the first four days of the hunt, we only spotted a sow with three cubs, Eichler says. I was beginning to lose hope until on the fifth day on our return trip to camp, I spotted a very large grizzly on the shore. I pointed the bear out to the guides. They tried to get me back to shore, but couldn't because of the 8-foot-tall waves. I was so frustrated. My bear was there in front of my eyes, but I couldn't get to it. The guides ended up taking me 2 to 3 miles away to a protected cove where I could finally get out of the boat.
Eichler, his guide and the cameraman got out of the boat and started back in the direction of the bear. A lot of time had elapsed and Eichler worried that the bear would no longer be there. After walking approximately 1 1/2 miles, Eichler stumbled on to some fresh tracks. He followed the tracks up a steep bluff that flattened out into a bunch of tall alders. When he reached the top of the hill, the guide whistled at him to slow down.
When he whistled, I waved back at him, Eichler says. Then I heard something. I turned around and saw a huge grizzly stand up right in front of me only 25 yards away. I thought, 'Holy smokes. Look at the size of that bear.' I waved at the guide and nocked an arrow. The bear went down to all fours and started walking toward me at an angle. The cameraman captured some amazing footage with me and the bear in the same frame. You could hear me on the video saying, Don't shoot. Don't shoot.' I was really worried that the guide was going to shoot the bear with the rifle.
"The bear stood up again at about 25 yards away. He was just huge. I literally had to shoot upward with my recurve bow to hit him in the chest. After I shot, he went down to all fours. He stood up again, and I shot him again in the chest. He ran 15 yards and fell over dead. I was so excited jumping up and down. The guide stood there with his rifle pointing at the bear saying, 'Don't move. Don't move.' The guide made us wait almost an hour before we could walk up to the bear.
The guide told Eichler that the bear was a monster that would probably make the top 10 Boone and Crockett records list.
Much to everyone's surprise, the adventure wasn't over. When they tried to pull the boat up close enough to the shore to board it, the boat pulled them out into the water and then almost crushed them against the rocks. After they got out of the way of the boat, a huge wave pushed the boat upon the rocks where it got stuck. So they walked the four miles back to camp where they had another boat anchored 150 yards offshore. They were in a pickle because they needed the boat that was stranded on the rocks to get to the boat offshore. One of the guides actually built a makeshift sailboat out of driftwood and a tarp and attempted to sail out to the boat. After two hours of trying and failing, they decided to call in another boat from town using their satellite phone. Eventually, all boats were recovered and Eichler and his guides made it back alive.
Don't Miss: North American Super Slam: 29 Big Game Animals You Need
Editor's Note: This was originally published July 14, 2005.
Are you a big game hunter wanting to learn how to accomplish your goals? Check out our stories, videos and hard-hitting how-to's on big game hunting.