Have You Ever Dreamt of Doing This?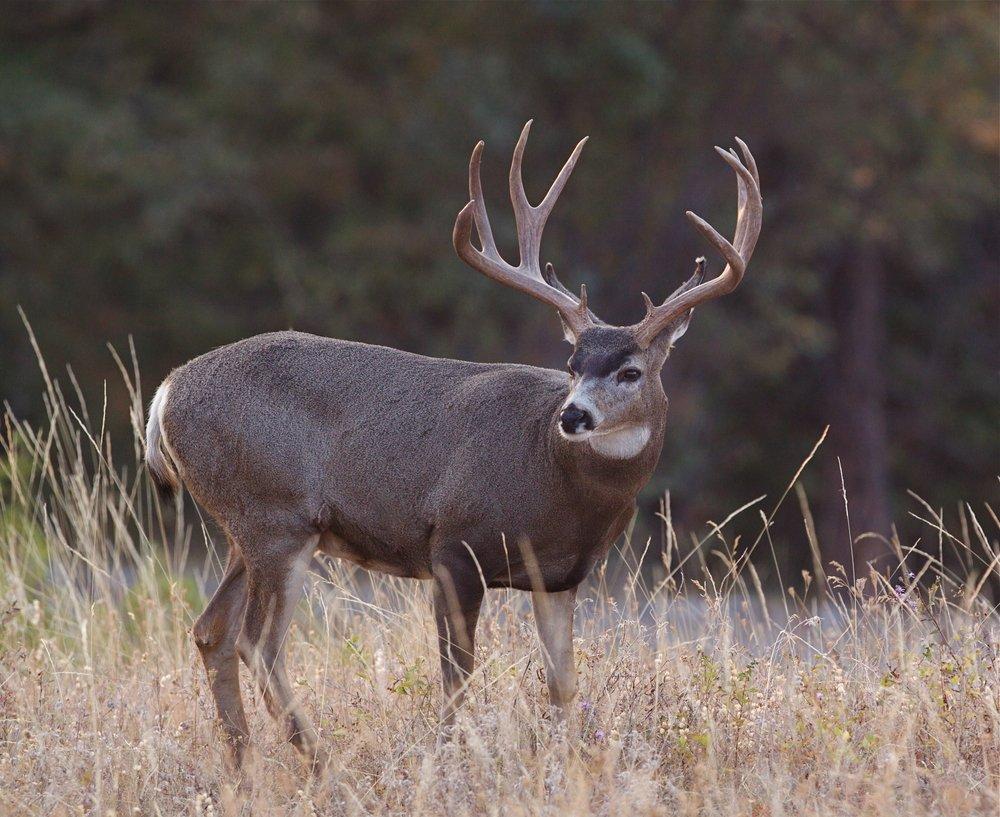 The West is different. It's pretty much that simple, yet that complicated. The skills that help you tag a buck every year on the East Coast might not work out West. In fact, those skills may actually cost you opportunities in The Big Country. The West seems to reward hunters who think fast and adapt their strategies as the game and terrain dictate.
Read everything you can find in magazines and online about the area and the animal you plan on hunting. But most importantly, keep an open mind and be prepared to change your game plan when necessary.
Gear Freak?
Now is the time to take a good look at your gear. Sitting in a treestand allows you to draw in an uncluttered environment, not a situation you'll find very often west of the Mississippi. After crawling through sage trying to close the deal on an antelope, I once missed a chance because my expandable had snagged a limb and popped open. I couldn't take the shot until I clipped it back in, something I never thought to consider. The same goes for much of the gear you are accustomed to using while hunting in the East.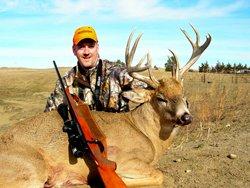 A big part of most western hunting is done with your binoculars. While that compact is easy to carry to your stand back home, it won't cut it trying to glass from one mountain to the next. Now is the time to upgrade. Shop around and you won't regret getting the best you can afford.
On some Western hunts your optics can mean the difference between success and failure. Hunters today are finding that with some mid-range binoculars and spotting scopes, their money goes farther than ever. Sure, you'll never regret spending big bucks for top end glass but every year the differences get less and less. Figure your budget and then compare specs until you find what you need.

If you are a diehard trophy hunter and a few inches of antler makes the difference in taking a shot or not, then go with a high-power binocular. Better yet, take a spotting scope to locate the right animal, then move to a binocular for the stalk.

I've found that for most of my hunting an 8-power binocular works great. The lower power lets me hold it steadier and allows it to transfer more light for those critical early and late times. The difference in long-range detail is an easy trade off for me.

The terrain should factor in to your optics decisions as well. If you are hunting an area where just finding an animal make take hours of diligent glassing, going with a 10- or 12-power binocular makes sense. And don't forget the spotting scope if you are judging animal quality.

No matter what brand or size you choose, they should be comfortable to use and carry. A bino harness or quality strap will greatly improve your effectiveness.
TenPoint Eclipse RCX Crossbow in Realtree Xtra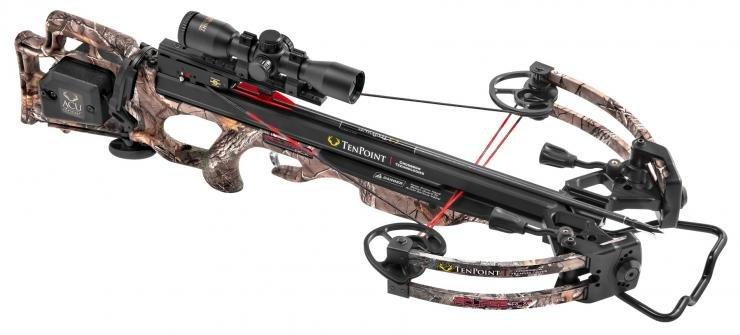 Even if you've been getting by without a rangefinder back home, now is not the time to rely on your internal computer. Western terrain will look a lot different and a rangefinder will be your new best friend. Get one that is easy to use and has a simple readout. Go ahead and make the investment in one that reads angles, as the few extra dollars will come in handy when you are trying to figure out what yardage to shoot that 180-inch mule deer that is on a 23-degree slope, 57 yards away.
And that one fixed pin you've been using on your bow will kill you out West. Add some pins or get a moveable, single pin sight. While you should never take a shot you aren't 100 percent confident in, extending your effective range by as much a 10 yards can make a huge difference. Especially in the wide-open country some western animals call home.
Your pack may also need updating. Out West, you will be carrying more and walking farther. A pack that fits correctly and is made to handle all the gear you need is the only way to go. Backpacks built like book bags work fine for walking a few yards to a treestand, but you will need more support for an all-day stalk. And take the time to learn how to organize a backpack. Keep the heavy supplies close to your spine and core, and pack the lighter gear out from there. It's crucial to packing a heavy load comfortably. Look into Badlands packs for long trips out West.
Another common mistake some hunters make is to run out and buy a bigger gun. Bigger is not always better, especially if you can't shoot the new one as well. Antelope, mule deer and even elk are not that tough to bring down if you hit them in the right place. Bow or gun — make sure you can hit what you're aiming at, in the correct spot.
Basekamp: The Western Big Game Tag Drawing Service App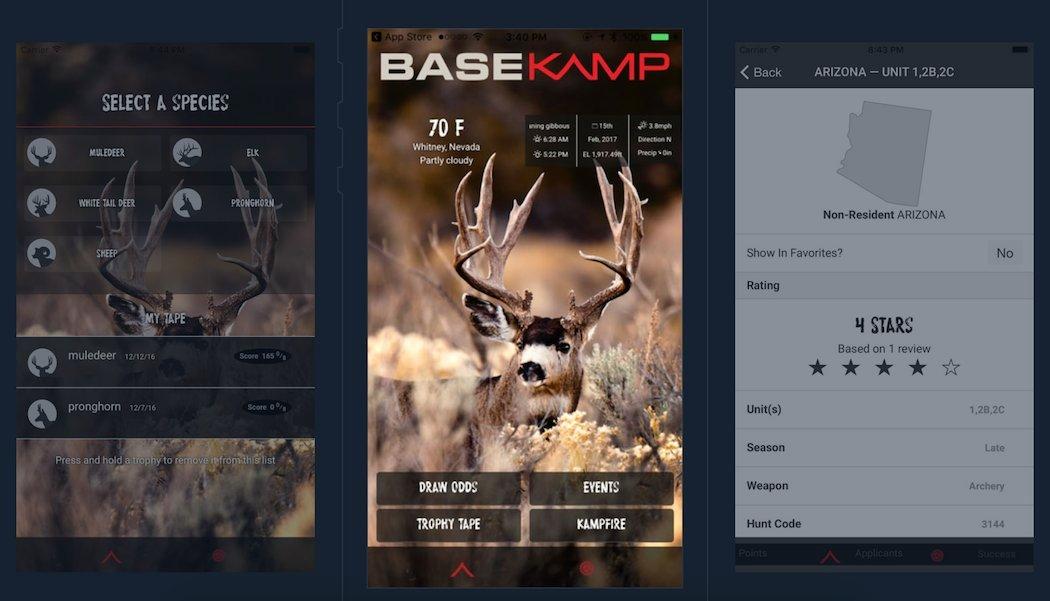 What's a Draw System?
If you're used to rolling up to Joe's Sporting Goods and buying your license over the counter, be prepared for a shock. It will take you years to draw the tag you want in most Western states. You'll get educated quickly about preference points, draw odds and higher costs when you start planning some western hunts. If all that seems too much to deal with, look into a service like Basekamp and/or Virostko Hunting Application Service, or let your outfitter handle it. Landowner tags can be much easier to get but they do come with a higher price tag.
Most Eastern hunters thinking of heading west look at elk as the ultimate animal, with mule deer a close second. But if this is your first trip, or if you're budget doesn't allow the big-ticket animals, don't think you can't evoke on the trip of a lifetime. Antelope are truly a western original and great hunts can be had for much less. Plus, you can tailor your hunt to your tastes. If patience abounds in you, consider sitting a waterhole in early season. It's a great way to target a trophy and it's a pretty low-impact hunt on you. If you want to get off the sit and wait wagon, try decoying antelope during their rut. It's a thrill to see a buck charging your setup from several hundred yards looking for a fight. You will quickly need to learn how to control your nerves.
Pigs are another option for your first effort. If you're from the Deep South, likely you've hunted them in a swamp already. It's a pretty unique experience to see them running the same terrain as elk or mule deer. How about seeing them on the California coast feeding on seaweed? They truly are adaptable to the extreme. And they're much cheaper to hunt. Sprawling ranches like the Tejon Ranch offer several packages geared toward bow or gun hunters. The plane ticket will probably cost more than your hunt.
The Combo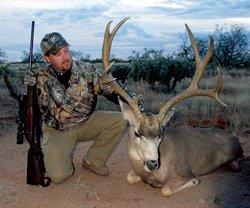 If you can afford the time and a little extra cost, consider making your hunt a combo. Whitetails and mule deer go great together and afford you the chance to experience a couple of different hunting strategies. In Montana, a deer tag can be used on either a whitetail or a mule deer. Picture spotting and stalking muleys in the morning, decoying or waterhole watching for antelope midday and then staking out a crop field in the afternoon for a whitetail. You will be worn down at the end of the day, but the experience will be well worth it.
Or, for a more elevated western experience, go for an elk and mule deer hunt. It can be a lucky draw that gets both, but again, landowner or outfitter tags can offer help.
And if you're lucky enough to have deep pockets, a sheep or goat hunt can test your mettle like nothing else. This type of hunt should be a full year in the making, with getting in the best shape of your life a necessity. You can sometimes add a caribou tag for the down time. In the U.S., using the draw is sometimes your only option, but Canada offers outfitter tag options. Unfortunately, they can carry a hefty price tag.
Also, take advantage of wolf tags and any other predator hunting you can incorporate. The benefits of a combo are many, but perhaps the best part is no downtime during the hunt. You may be chasing or waiting but at least you're hunting. Plus, you can sample more of what the West has to offer and decide for yourself what you like best. After all, your first hunt will not be your last once you drink the Kool-aid.
Editor's note: This was originally published August 28, 2008.
Are you a big game hunter thirsty for knowledge? Check out our stories, videos and hard-hitting how-to's on big game hunting.
And follow us on Facebook. It's the 21st century, dude. Get with the program.