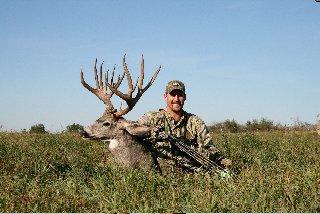 You've heard the stories before of lucky hunters stumbling upon and harvesting their bucks of a lifetime. These fortunate people didn't scout or pattern their monster bruisers. They just happened to be in the right place at the right time. Such a fate falls to very few, and as Shawn Monsen of Full Moon Productions can attest, taking a dream buck usually requires a whole lot of blood, sweat and tears…in no particular order.
The quest began with a simple picture of a deer that a friend showed Shawn one day.
Josh Dean, who works at River Valley Lodge in Alberta, Canada, showed me images of several great mule deer. The one I immediately noticed and wanted was called Porcupine—Porky for short—because he had antlers going everywhere. My partner, Anthony Dixon, decided to go after Thomas, another large deer the guides had named because he always hung out in old man Thomas' hayfield.
After deciding which deer to target, Anthony and Shawn made plans to hunt at River Valley Lodge. On September 5, 2007, they began the 15-hour-long drive to Alberta from their home state of Utah. Four hours into the drive, Anthony realized that he'd forgotten his passport. So the two had to turn around and return home to fetch the passport and begin their trip again adding an additional eight hours of wasted driving time.
Exhausted, the pair rolled up to the lodge late that night with the impression that they had the next day to rest and do some scouting. But, they were told that the season opened the following morning, so they spent the remainder of the night frantically organizing their gear and preparing for the next day's hunt.
The guides also told them the worrisome news that they hadn't seen Porky in two weeks. But, since they were still seeing Thomas, they decided that Anthony should go first.
That first morning, we didn't see Thomas, but we came across some nice bucks and took off after them. Since we had several tags each, Anthony did a long drawn-out spot-and-stalk on a good buck and harvested it.
After returning to the lodge that night, Shawn planned his attack.
That next morning, Shawn, Anthony, lodge owner Eric McNary and Josh headed out to look for Porky and Thomas. They saw some mature deer but were unable to find either deer. Although they definitely saw plenty of shooters, Shawn wanted to hold off until he could find Porky.
We cruised and glassed as the day progressed and watched the bucks get up and down from their beds.
After watching the fields all day, Shawn and Anthony decided to leave the area at about 4 p.m. They were driving down the road laughing and cutting up when Shawn looked over his left shoulder and caught a glimpse of a rack as it moved through a wheat field in the distance. They glassed the deer and, much to Shawn's delight, realized that it was Porky. They stopped the truck and decided to watch him until dark so they could get an idea of how to hunt him the following day.
The next day, they returned to the same area, but couldn't find Porky. They assumed that he had moved out in the oat and wheat field and soon spotted him ascending a nearby hill.
We were a mile away and decided to go north of him about a mile and come back on him downwind. After executing the plan, we discovered that he hadn't moved much. So we decided to sneak down the side of the bush as quietly as possible to get closer to him. We shed some of our bulky clothes, dropped our packs and got ready for the kill. I came around the corner and to my surprise saw Porky standing broadside looking away from me at 75 yards. I pulled my bow to full draw and then looked behind me to see if Anthony was filming, but he was still 50 yards behind me.
Shawn let his bow down because he didn't want to take the deer without the cameraman. Then Porky began to move again. So, Shawn and Anthony skirted down the brush line in the same direction. They spotted an opening through which Porky might walk and positioned themselves near it. After several minutes passed, they watched another deer that had been with Porky walk through the opening, but not Porky. The two decided to move east. As they did, they occasionally glanced back at the other deer. During one of these glance-backs, they spotted Porky again walking toward his buddy. The duo regrouped and headed west to cut him off. They stayed on the edge of the bush line so that the buddy wouldn't spot them and alert Porky.
We setup in a spot that I knew he'd be coming to and waited. Then I spotted him. He walked toward me then turned broadside and began grazing away. I decided that the moment was perfect and took the shot. To my disbelief, I saw the arrow go right over him. He had no idea that I'd shot at him. Both Anthony and I couldn't believe that I had missed the deer.
Second Chance
After the miss, both guys gathered their stuff and returned to the truck to regroup. They refilled their packs, argued for 15 minutes about what to do next and headed back after Porky. On their return trip, they saw Porky coming out of the brush approximately a mile away heading east. They flipped the truck around and headed back in that direction. The two got to a location where they could use the terrain and features to their advantage. They belly-crawled to the top of a patchy rise. When they topped the rise, they saw Porky.
We could tell that he was headed to one of the patchy areas of bush, so we headed in that direction ourselves. When we arrived, we glassed around and saw that he had moved to within 100 yards of where we thought he'd be. We waited for almost 1 ½ hours until we caught a glimpse of him again in the willows. We could see that a storm was brewing, and sure enough, we spent the next five hours playing a waiting game with him while sitting in hail, sleet and snow. Like idiots, we didn't bring all of the essentials including our jackets. We sat cuddled up together in some barley to avoid freezing to death.
At 2 p.m., after the storm subsided, Porky finally stood up and shook off the snow. He walked through the willows where the guys could see that he had more points on his antlers than they had originally noticed. They hoped for another shot opportunity, but nothing materialized. His buddy walked away and left Porky alone.
At that point it was predator against prey, and I felt like I finally had the upper hand. We moved again to a spot where I felt I could crush this guy. He came out on the edge of the willows and started to walk our way. Once he got out into the open, he turned and headed back into the willows, but then he stopped and offered me a perfect broadside shot.
The willows and barley in front of Shawn messed up his attempt to range the deer, so guessing on the yardage, he took the shot. Again, he shot right over the deer's back. Porky ran into the next patch of willows.
I could not believe that I'd missed again. I got a second shot at a magnificent deer and I blew it.
Third Chance
The two assumed that Porky would go through the alfalfa to get to the security of the woods for the night. They walked to the edge of the alfalfa field and saw the buck trotting their way. As the rain began to pour down, they quickly ran to get in position behind a patch of timber 10-feet wide and 100-yards long. The wind shifted and began blowing in the opposite direction. Shawn feared that it would blotch their setup, but he jumped the fence and hopped right into position. He ranged the deer and then drew his bow. Before shooting, he looked back over his shoulder at the cameraman to make sure he was filming. Then when he looked back at Porky, it appeared that the deer had moved 10 yards.
As the storm dumped rain down on us, I drew my bow and shot. The arrow looked cool as it flew through the rain, but much to my horror, it went right over his back again. And this time, Porky wasn't going to stand for any more shooting. He high tailed it out of there. Defeated and discouraged, I just felt crushed. I knew that people normally didn't get this many opportunities at an incredible buck like Porky. I felt confused and extremely upset.
Redemption
That night, the guys regrouped and decided to do the same things they'd done the previous days. The next day, they searched for Porky all day, but couldn't find him. Finally, just before dusk they saw him back where they'd originally spotted him days before working his way into a safe zone. Over the next six days, the guys patterned Porky.
Over the years, we've learned that bucks will run circles in their lifestyles. They'll hit certain points on different days of the week. We decided that we wouldn't go after him again until I was guaranteed a shot. We eventually figured out that he was leaving the big wheat field and going to oats in the evenings and then moving to another field in the mornings.
As the hunters added pressure, Porky began tightening up his circle every day. His comfort zone got smaller and smaller. They put in a lot of work trying to figure out his routine and Shawn was getting more frustrated by the day.
By that point I felt extremely aggravated, said Shawn. I'd decided that he was going to die by my arrow no matter what. I practiced shooting my bow every afternoon and really worked on rebuilding my confidence. I knew that I could do it. On Thursday evening, he came out at 115 yards and hopped the fence. I watched him for the remainder of the evening.
Shawn saw him the next morning and noticed that he'd changed his ground routine a little bit. They got out in front of him in an effort to either take him or bump him the other way.
Slowly Porky began working his way toward our setup in the wheat field. Seven other bucks joined him. They were all shooters, but I wanted Porky. As he got closer and closer, I noticed that he'd been thrashing all of that velvet off. His bloody antlers were glistening in the sun. Right when I was about to draw my bow, the wind shifted. We decided to pull out and wait and watch him. That afternoon, I just had a feeling that it was all going to come together.
The guys built a small blind, got situated and waited for Porky to leave his bed. The afternoon turned to evening and the sun began to set. Several good whitetails made their way out into the field, but no muleys. Then, with approximately two hours of light remaining, the mule deer began to appear, but no Porky. In fact, all of the muleys that Porky had been running with showed up, but he was not with them.
Shawn and Anthony worried that he'd left the area. They sat for 20 more minutes until all of a sudden Porky popped up out of nowhere and headed straight for the two hunters.
My heart was pounding out of my chest by that time. I was getting extremely nervous. Anthony was sitting behind me and had a good view of the fence line. He gave me a play-by-play of the action. He'd say, 'First buck over. Second buck over. The third buck is jumping the fence and coming toward us.' As minutes passed, things got more intense. There was a big pause in the action before Porky jumped. After jumping, he stopped and stood still for a while. Then he began making his way toward us, parting the other deer as he walked.
By that time, Shawn had deer all around him within shooting range, but he couldn't get a shot off at Porky.
I saw him at a distance and knew that I could take him. But as the other deer continued to get closer and closer, Porky kept walking further and further away.
As Porky walked over the hill, Shawn got up on his knees. He looked over and spotted a very nice 180-inch buck just 60 yards from him.
I told Anthony that I should just shoot that deer or one of the others. Anthony told me 'no,' and that we'd worked too hard for Porky to just give up.
About that time, coyotes began chiming off, and the deer starting perking up their heads. The deer that were closest to the hunters got nervous. Then, all of a sudden, Porky turned and began walking right back toward them.
I was worried that one of the smaller bucks would spot me. A 170-inch buck was standing less than 50 yards from me. By this time, Porky was right in the middle of the group. He slowed down his pace, dropped his head and milled ahead slowly working our way to approximately 45 yards from us. Then, he turned and began to walk away. I knew it was now or never. When he moved so that his body was broadside toward us, I drew back my bow and prepared for the shot. He took on step to the right bringing his right hoof around. I let the arrow fly and hammered him. Everything happened quickly and slowly at the same time. The arrow hit its mark and Porky ran toward his buddy and then collapsed. To say that I was excited is an understatement. Anthony and I rolled around and gave each other hugs to celebrate.
The hunters called everyone they knew to spread the news. They'd thought that Porky would measure 227 inches but after everyone looked at him, they estimated that he'd measure 233 inches.
After an exhausting 9-day battle full of heartache and disappointment, I'd finally gotten my deer, said Shawn. I paid my dues, learned some hard lessons and in the end triumphed.