Joshua Oehl: Waddell's New Hero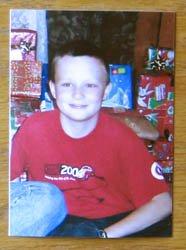 Heroes can take on many forms. For many, they are professional athletes, movie stars, musicians or social activists, but Michael Waddell, who himself is idolized by many hunting enthusiasts, found a hero in a remarkable young boy who displayed a courage and strength far beyond his years.
Joshua Oehl was only 8 years old when he was diagnosed with osteosarcoma, a bone cancer that slowly spread through his body leaving him with a terminal diagnosis. After fighting the cancer for four years, including an extended stay at St. Jude's Hospital, and after all treatment options had been exhausted, Joshua returned home to live out his remaining days surrounded by his loving family
It was during this time that Michael would meet the boy who would change his life.
"A lady named Angela Ruble, the Illinois and Missouri ambassador for the Hunt of a Lifetime Organization, called me and told me about Joshua," Michael says. "The organization had granted Joshua a hunt at Rodhouse Rut-N-Strut Hunting Club in Pike County, Illinois. Joshua wanted me to come as well."
Joshua was a typical little boy. He loved sports, LEGOs, drawing, muscle cars and big trucks, but his two main passions in life were hunting and fishing. In fact, after having both an arm and a leg replaced with titanium rods as result of the cancer, Joshua learned how to operate a crossbow with his prosthesis and successfully took the biggest buck of his life on his family's property. He wanted a chance to go after an even bigger deer in Illinois.
Michael made plans to attend the hunt, but got a call from lodge owner Matt Rodhouse that Joshua was too sick to make it, so Michael planned to visit Joshua at his home in Friedheim, Missouri, in July. Then on Tuesday, June 13, a day before he was to leave for Minnesota, Michael got a call that informed him if he wanted to see Joshua, he'd need to go that week.
"Meeting Joshua was definitely a priority of mine, so I changed my schedule so that I could visit him," Michael says. "Knowing that Joshua was a fan of country music singer Rhett Akins, I called and asked him to go with me. So on Thursday we drove to Missouri to visit Joshua together."
From the moment Michael and Rhett met Joshua, they knew he was a very special young boy.
"It was apparent that Joshua was in a lot of pain," Michael says. "The cancer had ravaged his body leaving him bone-thin and weak, but despite his pain, he worked hard to give us a smile. We could definitely see a glow in his eyes."
Michael and Rhett hung out with Joshua until almost 10:30 that night just talking and laughing with him. Rhett sang Joshua several songs and road Joshua's 4-wheeler for him in the back yard, and Michael brought him several Team Realtree t-shirts and DVDs. Matt Rodhouse and his wife came up to visit with Joshua as well. All four were touched by Joshua's strength and courage.
"Hanging out with Joshua was one of the most special moments of my life," Waddell says. "I feel like the opportunity I had to meet him was heaven-sent. From now on, Rhett and I will be hunting and playing music on behalf of Joshua."
When Rhett and Michael finally left that night, they returned home with a new perspective on life and an appreciation for their many blessings.
"Spending time with Joshua reminded me of what a short time we have on this earth and how quickly things can change," Michael says. "I took so much for granted before I met Joshua, but I don't any more. When I got home, I smothered my boys with hugs."
Joshua passed away just three days later on Father's Day morning.
Joshua's parents Ronald and Candi Oehl said the visit meant a lot to Joshua, and that even though Joshua didn't make it to the hunt at Rodhouse Rut-N-Strut, they were happy that he got to spend time with both Michael and Rhett.
"Their visit was very exciting for Joshua," Candi says. "Joshua was never a big talker, but after Michael and Rhett left, he couldn't stop talking to his sisters and asking them questions about their visit."
Candi says not only is she glad that Joshua got to meet Michael and Rhett, but she's happy that Rhett and Michael got to meet Joshua and see for themselves what a remarkable boy he was.
"Joshua had to go through so much," Candi says, "but he never complained. Despite the bad news that came with each doctor's visit, he took things as they came and never asked, 'Why me?' In addition to his cancer, he had to lose both an arm and a leg. He never once asked for help. If he wanted to do something, he found a way to do it. He was amazing."
Joshua was a seventh-grade student at Oak Ridge Middle School. He was a member of Trinity Lutheran Church in Friedheim and the Arnsberg 4-H. Survivors include his parents; a brother, Dakota Oehl; two sisters, Michaela and Katelyn Oehl; paternal grandparents, Richard and June Oehl, of Friedheim; maternal grandparents, Neil and Gloria Henderson of Perryville, Mo.; paternal great-grandfather, Alonzo Kurre of Friedheim and maternal great-grandmother, Helen Henderson of Perryville.
What I'm Thankful For By Joshua Oehl, Fall 2005
My teacher assigned an assignment and I found out there are many things I am thankful for. These things are: People that help me; animals that make my life more exciting, the that I enjoy; the things I need in life. I hope you enjoy reading about the things I am thankful for.
I am thankful for many people in my life. I am thankful for having the freedom to believe in Jesus. I go to church and Sunday school to study the Bible. My family is there for me during the happy times and times when I don't feel good. The most recent time was my hunting trip when I got my first deer that was a big 8-point buck. I am glad I have doctors to help me feel better. The doctors help me get better. As you can see there are many people I am thankful for.
I am thankful for all the animals in my life. I am thankful for deer and turkeys to watch run around with others. Deer and turkey, because they are fun to watch. I am also thankful for rabbits because they are good pets and they are fun to watch. I am thankful for chickens too. I am thankful for chickens because they lay eggs for food and they are food too. These are the animals I am thankful for.
I am thankful for my hobbies. I am thankful for go-carts and ATVs. I am thankful for them because they are fun to ride. I am also thankful for being able to hunt for deer and turkey because it is fun to sit in the woods and wait for the big one to come. I am thankful for my X-box. My X-box is fun to play. These are the hobbies I am thankful for.
I am thankful for the things I need in life. I am thankful for food and water. I need them to survive. I am thankful for tools and metal. You need tools and metal to build buildings. I am thankful for houses and wood. You need shelter and wood to stay warm. These are the things I am thankful for that we need in life.
Writing these paragraphs made me think about how lucky I am. I hope you see how people help me. The animals create a joy in my life in many different ways. My hobbies gave me something to do when there isn't anything to do. Without these needs there wouldn't be any humans, animals, or plants. All these things help me get through every day.