Do You Remember This Hunt?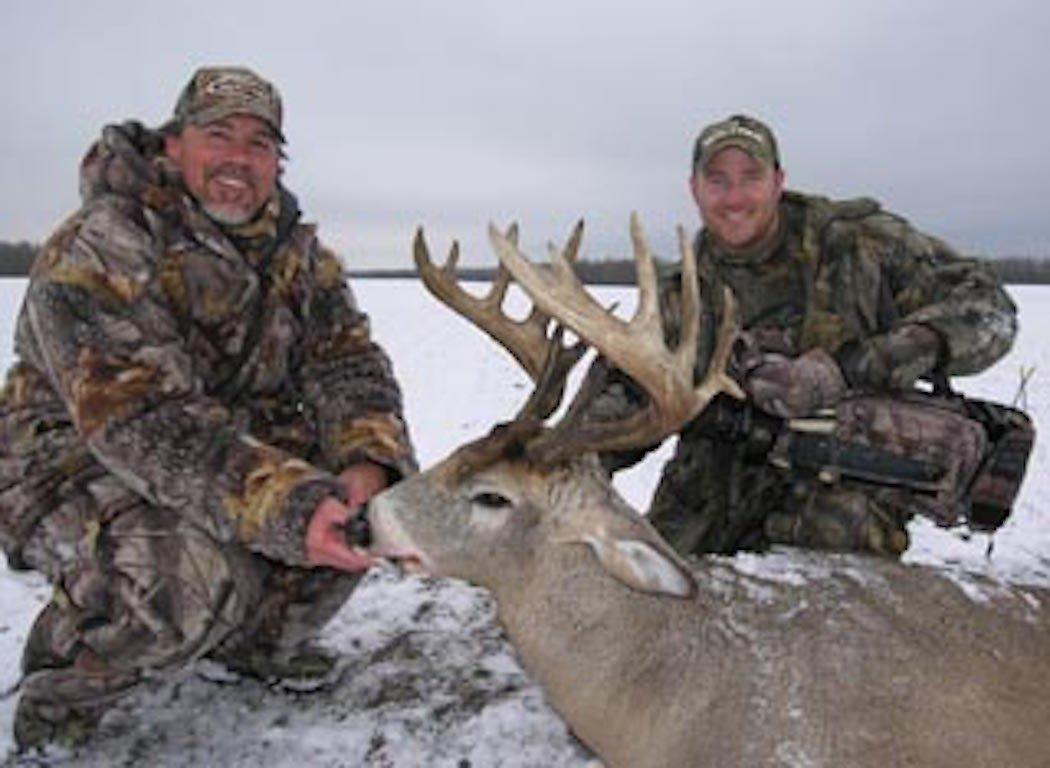 Hunters: Ned Yost, manager of the Milwaukee Brewers and David Blanton
Location: Alberta, Canada with Ron Nemetchek of North River Outfitting
Dates: October 28-November 5, 2006
Weapons: Guns and bows
Weather: Snow with temps dipping to 10 degrees
The reason I enjoy hunting in Alberta so much is because of the awesome people that I get to spend time with, and because you never know what quality of deer is going to step out in front of you. Alberta has some monster bucks. If you spend a week hunting there, you can reasonably expect to kill a 150- to160-class deer, but I go with even higher expectations. This was my fifth year to hunt Alberta, and I wanted to go home with an Alberta monster.
When we arrived in Alberta this year, I was pleased to discover that the weather was a lot cooler than it had been the previous year. Last year, we hunted for 12 straight days but didn't kill a deer because the weather was too warm. Knowing that the temperatures were much cooler made this hunt a little bit more exciting.
Since gun season wouldn't come in for two days after we arrived, I spent those days riding around with Ron checking fields. We'd watch the fields until 9 a.m. and then we'd go back to camp, rest and eat lunch. After lunch, we'd go back out to check the fields some more. In Canada, there are so many places to hunt, and you have so much ground to cover that you don't scout like you would in the States by looking for scrapes and rubs. All of that hard work is done by the guides before you get there. They put your stands up near where deer are most likely to be. All you have to do is hunt.
The plan was to hunt the fields in the mornings and late afternoons and hunt the woods in a stand set up along a pipeline or cutover from late morning until about 3 p.m. We tried to get on the fields 1.5 hours before sunrise. We knew we'd have a good hour to watch deer as they filtered down the trails on the way from the field to their beds.
We didn't see any decent bucks the first morning, but we did see numerous bucks in the woods during the early afternoon. I decided to pass on a nice mid 140-class deer.
On the second day, we woke up to an ice-cold and clear morning. We climbed into our stand before daylight and saw three or four bucks as it got light. A nice 150-class deer walked up to within 40 yards of us. I thought about taking him, but it was the second day of the hunt and I knew that I'd see more good deer.
Later that morning, we went to a few different cutovers and rattled. We rattled in a 140-class deer that came over the rise and ran up to within 50 yards of us, but we passed on him just as we had the others. We got back on the field that afternoon and saw 25 to 30 deer, but no shooters.
On the morning of the third day, we returned to the field again. We planned to hunt the fields in the morning, rattle in the woods until 3 p.m. and then return to the fields that evening. Just like the previous mornings, we got out to stand well before sunrise. A bunch of deer filed past us. We saw four or five smaller bucks but no really big deer. At about 8:30 a.m. it started to snow. We decided to get into a new stand that the guides had just put up in a cutover that they had recently discovered.
We piled our stuff into the truck and headed to the next stand. By the time we got up into the stand at 10 a.m. it was snowing really hard. We strung up a blind between our stands that we could use for both cover and communication. Whenever one of us spotted a deer, we'd jingle the string on the blind so that we could alert the other one without making noise.
The wind picked up blowing snow into the windows of the blind. We had a lot of property to cover visually, so Al and I split it into half with him watching one side and me watching the other.
As a baseball coach I try to keep up with as much baseball news as I can. I looked at my watch and it was 10:30 a.m. I thought about getting my satellite radio out and listening to the news to see what was happening in the baseball world. All of the sudden I felt a tug on the window. I looked at Al who was pointing at the edge of the cutover. He whispered, Big deer over there.
I could see a buck standing there approximately 180 yards away. He had just stepped out into the cutover. I could see the white patch of snow on his back, but he had his head down so I couldn't tell how big he was. When he finally lifted his head and turned it my way, I could tell that his rack was big, tall and heavy, but I couldn't tell you at the time if he had six points or 10. I just knew that he was a big, mature deer. I grabbed for my .300 Weatherby Magnum. He was standing in a blind spot so I couldn't comfortably shoot out of the front or side window. I had to climb behind the seat and get on my knees to get a clear shot. He gave me a nice semi-broadside shot, which I took. The moment I fired, I knew that I had hit him.
The deer ran 60 yards into willows and stopped. Then he took two more steps and disappeared into the trees. Unless I see a deer go down, I won't go after it right away. I decided to give it 1 hour. I was so excited. I kept asking Al to replay the video. I asked him over and over again if he thought the deer would go 170 inches. He replied, It will go better than 170 inches. Hearing those words really pumped me up.
After an hour, we walked out to where I had lost sight of the deer and saw it lying there only 40 yards away. He was huge. I was in awe of his horns and of his body size. He was by far the biggest deer I have ever killed. I didn't know how much he'd measure, but I knew he was huge.
I couldn't wait to show him off to the other guys in camp. That's the most fun part of hunting. When David saw that deer, his look duplicated the one I had when I had walked up on him for the first time. His eyes got really big. He couldn't believe the caliber of deer I'd taken.
When he (Yost) pulled up in camp with the deer on the back of the truck, I couldn't believe my eyes. We put the tape to it and it grossed out at 192 inches.
I'm so glad I passed on those first decent bucks that I saw because that deer was well worth the wait. I couldn't have asked for a better hunt. The big deer was definitely the highlight of the trip, but I always have a good time hanging out with David and the other Realtree guys. We have a special relationship. Anyone who knows David knows he's easy to talk to and to be around. I really enjoy his company.
Ned called me on the radio after he'd taken his deer and told me that he thought it would go about 170. I was really excited for him. But, when he pulled up in camp with the deer on the back of the truck, I couldn't believe my eyes. We put the tape to it and it grossed out at 192 inches. It had incredible mass. It was just an unbelievable deer. In fact, it is the biggest deer filmed for Monster Bucks this entire year. I was so happy for him.
Ned was done hunting, but I had the rest of the week to go. I continued hunting with my muzzleloader and passed on some good looking young deer, but I never got another shot at a big deer. Although I went home empty handed, the trip was no doubt a success. As Alberta can do, it produced a giant whitetail for Ned. That's why we go up there. We love pursuing those giant bucks and just hanging out with each other. I can't wait until next year.
Don't Miss: Realtree Rewind: Blanton's Big Alberta Buck
Are you a deer hunter wanting to learn how to accomplish your goals? Check out our stories, videos and hard-hitting how-to's on deer hunting.