Mapping Trophy Bucks Is an Artform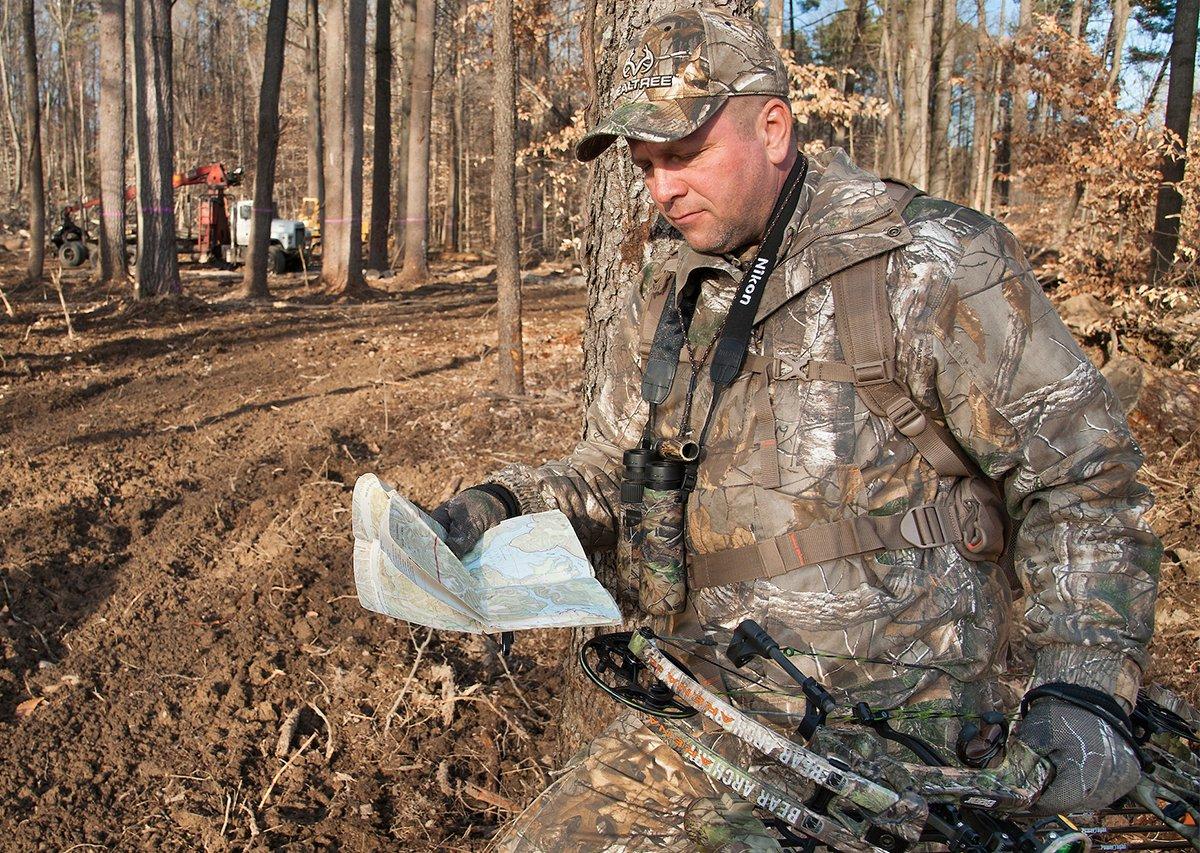 My wife, Carol Herndon, watched as the redness of the morning sun tinted the hardwood hills of southern Indiana with a rich, amber color. As the sun arched upward, this hue was replaced with the purity of bright sunlight. It was November of 1999 and it looked like the fall day was going to be like so many others before it — hot and dry. Slowly Carol watched the forest before her treestand, scanning slowly from side to side, watching for the any telltale sign of deer movement. Nothing was stirring. Except for some suspicious noise over the hill around 9:30 a.m., the entire morning passed without deer activity of any kind.
Finally, the sun reached its zenith and had begun its slow journey toward the west. The temperature by then had soared into the 60s, way too hot to expect any deer movement at the midday hour. Or at least most people would say this. But Carol knew better. Checking her watch, it revealed the time to be 12:55 p.m.
Looking up to once more study the nearby deer trails, Carol saw movement in the closest cedar trees, then tall tines flashing in the sunlight. A shooter buck! And he was closing in fast. Raising her 20-gauge shotgun, Carol had trouble getting on the buck because of brush, so holding on an opening barely 15 yards away, she squeezed off the shot as the deer's chest filled the scope's crosshairs. The buck bolted for about 70 yards, then stopped broadside in an opening. Another 20-gauge slug soon found its place in the mature deer's chest. He staggered a few feet and went down.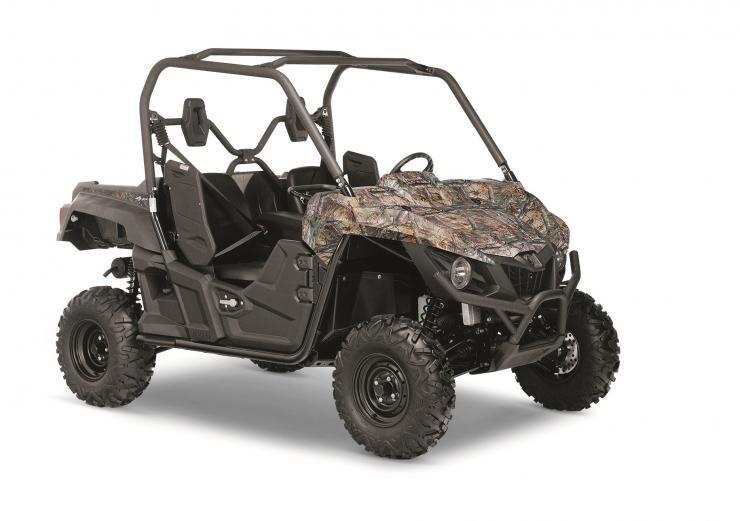 Yamaha 2016 Wolverine Side-by-Side (SxS) in Realtree Xtra
Getting down from stand, Carol quickly made her way to the whitetail's location. A broad smile creased her face as she examined all aspects of the deer. It had a tight, 8-point rack, good height, good mass, and decent main beam length. It was obvious the deer was mature, probably 4 years old, since he also had a massive body, a broad chest, and a large muscular neck. To put it mildly, Miss Carol was one happy hunter.
Consistency Counts
The deer Carol harvested in the story just related did indeed turn out to be a 4-year-old buck. While it wasn't a monster whitetail, it did gross in the 130s and netted 128 inches even. It field-dressed 200 pounds on the nose. This was certainly a dandy deer for the area of Indiana we hunt, and most hunters would consider it to be a trophy, one they would be very happy with. I've described this hunt because it's an excellent illustration of how a particular terrain feature can enable you to be successful on deer year after year, even on mature whitetail bucks.
For instance, Carol killed an 11-point, 3-year-old buck out of this same location in 1998. In 2000, she tagged a 4-year-old 9-point from this stand site. In 2001, she missed an opportunity on an excellent 4-year-old 8-point during bow season. It's noteworthy here to mention she has hunted this position for only four years. In other words, every year she has hunted this location she has had a crack at a mature deer. This type of stand site is what we're after as deer hunters. Within the chapters of Mapping Trophy Bucks you will learn how to use topographical and aerial maps to discover these hot terrain spots, how to set up on them, and how to use the wind to your advantage.
Location, Location, Location
Interestingly, the region where Carol has killed the bucks just mentioned is a region I hunted many years ago. Back then I hadn't completely mastered deer hunting and I spent my time on stand down in a gully where the deer sign was good and a nice funnel connected two hillsides. The problem with hunting this location was the wind swirled frequently and most deer coming through the funnel picked me off. In fact, I became totally frustrated with the area since there wasn't any other good spots to ambush whitetails and therefore I hunted elsewhere for several years.
Fortunately, as the years passed by I mastered the art of reading topographical and aerial maps and could easily pick out all of the strategic deer choke points in both flat and hilly land. In addition, I learned how to use the wind to my advantage, realizing if it was at all possible a hunter should hunt high in hilly regions where the wind could be used in his favor.
This growth in deer hunting knowledge enabled me to study — with new optimism — the area that had frustrated me so many years before. I was actually shocked when I looked at the region on a topographical map to discover dynamite choke points I totally overlooked years earlier. This included the inside corner where Carol has been picking off those buster bucks the past few years.
An inside corner, by the way, is easily visualized if you study the letter L. Imagine the letter L as a large woods of this shape and you'll be able to count five outside corners and only one inside corner. When deer are out traveling around during daylight hours they will travel through the inside corner just inside the timber because it is the shortest route from one end of the woods to the other. They also can remain concealed from view by using the inside corner.
Most often a field or pasture forms this inside corner and this provides a perfect entry to stand for a smart deer hunter who wisely uses the wind. The deer can't smell where he has entered his stand, plus the wind whisks his scent back out into the vacant field or pasture. It's an awesome — and often overlooked — setup.
Why Hot Spots Are Overlooked
Hot spots such as the inside corner are often overlooked because, number one, hunters don't know what they are looking for, and number two, the deer sign in these strategic placements is often less than eye-catching. Many people who I have shown Carol's inside corner to can't believe she hunts this location since the deer sign is rather dismal there. Yet her record on trophy bucks reveals the true value of the position.
In Mapping Trophy Bucks I share with you what we have learned over decades of hunting whitetails. I show you how to take topographical maps and pick out the hottest locations in the hills — inside corners, hilltop field funnels, saddles, points, and more. I'll also reveal how to take both topo and aerial maps and pick out all of the awesome funnels that are to be found in flat land. And the wonderful part about all this is that you can sit at home in your easy chair and discover these awesome deer travel corridors. This is especially useful in new hunting regions and on out-of-state hunts.
This full color book shows actual pictures of topographical and aerial maps so you can see exactly what each strategic funnel location looks like on paper. Then in well-drawn illustrations, I show exactly how deer trails will run through each choke point, where you should put your stand, the wind you need to use for each placement, and the best entry and exit ways to and from stand. And there's more.
Land of the Giants
Want to know where North America's greatest bucks are found? Who doesn't? Well, in Chapter 13 you'll find all of the top trophy regions listed in more detail than you've ever seen before. Listed are the top 10 states for Pope & Young bucks and the top 10 counties for top-end deer within each of these states. You'll also find the top 10 states for Boone & Crockett bucks in this section. And to top it all off, the all-time entry figures for P&Y and B&C bucks in every state, and province of Canada, is included, along with each one's top typical and non-typical buck of all-time.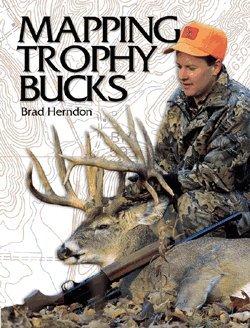 Mapping Trophy Bucks
Additionally, all P&Y and B&C entry figures for the past 5 years are listed so the trophy whitetail hunting locations of the future can be accurately predicted. By the time you finish reading this chapter you'll know all the hot spots for book bucks in North America.
Dot.com Deer Hunting
All of you reading this are obviously computer users. Mapping Trophy Bucks contains one complete chapter devoted entirely to everything that is on the Internet concerning topographical and aerial maps. All the ins and outs of map usage on the Internet are shared in this chapter, including some novel ways of using programs such as Maptech's Terrain Navigation to outsmart those wise old bucks that avoid hunters year after year. I'll also cover the useful myTopo maps in detail, their advantages, and why you should have one of them (see the myTopo link on this page).
In closing, Mapping Trophy Bucks will tell you where trophy whitetails are found in each section of North America. And the information contained therein will enable you to use topographical and aerial maps to quickly pick out the strategic terrain funnels these bucks will use when they move about. You'll also learn how to use the wind beyond the basics. This will allow you to use morning and evening thermals correctly and even predict how wind direction changes will occur. You'll also read some surprising information about the best times of the day to kill a monster whitetail.
Mapping Trophy Bucks contains more information about using topographical, aerial and plat maps in your hunting strategies than has ever been published before. The walls of many homes are lined with awesome trophy whitetails that have been taken using the exact hunting methods revealed within this book. All hunters I have known that have added map hunting methods to their whitetail hunting strategies have become more successful on all types of deer, especially trophy whitetails. You can do the same.
Editor's note: This article is a chapter reprint from Brad Herndon's book titled Mapping Trophy Bucks. The chapter is reprinted here by permission of the publisher, Krause Publications. This article was originally published in 2003.
Click here for more deer hunting articles and videos.
Check us out on Facebook.