Mike's Last Stand on the River
The legendary Milk River in northeast Montana is known for its monster whitetails. With its abundant deer and scenic terrain, it's by far Team Realtree's most favorite place to hunt. This year's October hunt proved a little more challenging than year's past, but Michael Waddell still left with a nice buck and a lesson he won't soon forget.
Hunters: Michael Waddell, Bill Jordan, world-class archers Jesse and Ginger Morehead
Dates hunted: 10/9/04-10/14/04
Hunting Weapon: All hunters were bowhunting
Hunting Strategies: We did a lot of stand swapping. The big deer were apparently in hiding, and we didn't locate them until the end of the hunt.
Location: Milk River in Montana
Outfitter Information: Montana Breaks Outfitting - This outfitter offers hunts in the Milk River region and the Missouri Breaks of Eastern Montana. It's located approximately 200 miles north of Billings. For more information, call 406-654-2249, or check out travel.state.mt.us
Weather: The weather was pretty cool for that time of the year. In the mornings, the temperature bottomed out around 30 degrees. Then it would warm up to the mid 70s and low 80s by the afternoon. The temperature usually cooled back down to around 55 or 60 degrees during our evening hunts.
October Abundance
When hunting in Montana in October, I say the cooler the better. October is a great time to hunt deer in the Milk River because the deer really start depending heavily on the alfalfa fields for food during this time of the year making them easier to spot. By October, that area of Montana has experienced several hard frosts that kill off the whitetail's other food sources. So the deer have to gather in the alfalfa fields right along the river's edge to graze.
Milk River is such a great place to hunt because the deer have to concentrate right around the river bottoms to avoid the thick hill country surrounding the river. They also bed in the alfalfa fields, which is the only dense vegetation around suitable for bedding. Hunters can get good antler shots along the river when the conditions are right. It's not hard at all to get a nice deer to within 40 yards of your stand in this region. To bust one, you just have to choose a tree, wait for the right wind and hope that luck is one your side.
Milk River's First Timers
This was Jesse and Ginger's first time to hunt the Milk River. They absolutely loved it. Bill, Jesse, Ginger and I all saw some great deer throughout our hunt. We saw shooter bucks each day that we hunted, although we didn't see the abundant numbers of deer that we're used to seeing around the Milk River.
We spent the first couple of days of our hunt trying to figure out just where the bigger deer were concentrated. We started the week off hunting in stands that we had hunted and had success from in the past.
The first day, Jesse hunted an area called the Pea Patch from a ground blind. Ginger and I both hunted in different alfalfa fields. We all got on a few deer right away, but again, we didn't see the numbers we were used to seeing. I actually only saw one shooter buck the first day of the hunt, which was really unusual for the Milk River. I'm used to seeing several shooter bucks a day along the river.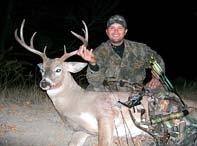 The moral to Waddell's hunting journal can be summed up with one quote from Yogi Berra: "It's not over, till it's over."
team realtree image
Missed Opportunities
After a couple of days hunting the Pea Patch, Jesse spotted a 10-pointer with a broken G2. On the third evening of the hunt, he finally got a shot at it from about 45 yards. Surprisingly, he missed it. Jesse was just sick about missing that deer.
The evening before Jesse's miss, Ginger had missed a good buck at about 60 yards. Even though they both missed really nice bucks, they were tickled to death to at least have the opportunity to harvest deer in this remarkable region of Montana. They both know that harvesting a deer is never a sure thing. So they had good attitudes about their misses and enjoyed every second of their hunts.
The Wrong Spot
During the first three days, I really didn't see a buck that I wanted to shoot. I apparently wasn't hunting in the area where the deer were concentrating. When you hunt the Milk River, you have to realize that the deer are either all in an area or they're not. They congregate in certain areas. You just have to figure out where sweet spots are.
After quite a bit of scouting and stand swapping, we ended up locating the larger deer in areas where we're not used to spotting them. We didn't find the big deer until the very end of the hunt. From day one, we were playing cat-and-mouse trying to get stands in the right location. That just goes to show that deer don't always do what you expect them to do. We really had to work hard during this hunt to locate the deer.
The Killin' Tree
The last afternoon of the hunt, I decided to give one of my favorite hunting locations a try. Bill had recommended that I hunt the Carroll's field from a tree we call the "killin' tree." Bill had hunted that field earlier during the hunt and had seen some nice bucks, but he hadn't gotten off a shot at one. He decided to give up on that stand and try another location where he had spotted a big deer across the river. Bill thought there was a good chance that some other nice bucks would come in to the Carroll's field, and he wanted me to have a chance at one of them.
I took his advice that last afternoon. The Carroll's field is a great location. I had taken two Pope & Young bucks out of the "killin' tree" in years past and hoped that it would bring me good luck again. It's a great spot that sits right at the corner of this alfalfa field. The deer basically cut the corner of the field right in front of the "killin' tree" before heading right into the alfalfa. They like to enter the alfalfa field right at the corner where the tree is located. The stand is in a big split cottonwood. It's really an unbelievable spot. If you get a good northeast wind, like the one I had that afternoon, you're in luck at that location.
I only had about 10 minutes left of daylight and was just hoping and praying that a big deer would show itself. I was just beginning to give up hope and accept the fact that I was going to have to go home empty handed, when sure enough out of no where, a nice, big-bodied eight-point appeared about 35-yards away from me. He snuck up on me without me even knowing it. When I spotted that buck, he was already looking up in the tree at me. He had gotten a whiff of my scent. By the time I slowly got my bow in to position, he was leaving. I stopped him at 40 yards with a grunt and shot him with my bow. I actually took that buck just 20 yards past where John LaCorte with Nikon had shot a really nice eight-point buck out of that tree earlier in the season. My 130 P&Y eight-point was the sixth deer I've taken out of the Milk River area and the third one out of that tree.
Lesson Learned
I was really cutting it close on that hunt with just 10 minutes of daylight left on the very last evening of the hunt. But that just shows you that you shouldn't give up until the very end. You never know what can happen the last few minutes of a hunt. Every second counts when you're deer hunting. And the last few minutes of daylight can often be the most productive. Patience really paid off for me in this situation.
Too Late
We all had a great time on that hunt, although it was very challenging. Bill didn't get a shot off at a deer, but he saw a really nice buck that he managed to harvest during the rifle season.
We ended up finding some enormous deer, but we found them late in the hunt. Toward the end of the hunt, we started seeing deer in the 140s and 160s class. In fact, on the last evening of the hunt, Ginger almost got a shot at one of the biggest deer we've sent at the Milk River. It was an awesome six-by-six 12 point. But the deer was just out of range.
The deer numbers were down a little bit, but the quality of deer was up. A lot of the smaller, weaker deer didn't make it through the harsh Montana winter, but the big bruisers were still there. More healthy bigger bucks were definitely thriving. We saw a lot of them, and we can't wait to get another chance at them next year.